10 Reasons to Choose a Galapagos Honeymoon
If you are reading this – congratulations! You have most likely met the love of your life, have tied the knot and are currently in the process of seeking an awesome destination for your honeymoon. If so, why not consider journeying to a remote archipelago in the Pacific Ocean for what is bound to be the most magical getaway of your life. Read on to find out why.
Galapagos Honeymoon Introduction
Looking for somewhere to continue your celebration as you voyage off into the world with your better half as newlyweds? Many couples decide to spend the week at a romantic beach resort, and there is nothing wrong with that. We are busy, and I personally could spend a romantic few days by the beach with my partner without feeling a need for change. But if you really want to spice up the trip and share passion, excitement, romance, and unforgettable memories together, take some time exploring the idea of Galapagos honeymoon.
The only thing better than witnessing something inspiring in life is to share the moment with the person you love. The Galapagos immerses you with countless opportunities to create unforgettable moments that you will cherish together for years to come.
Remember, consulting with GreenGo travel advisors is completely free of charge, even if you want to window shop and learn some information! Now, here are ten reasons why you should consider the Galapagos Islands as your romantic getaway.
1.  Connecting with Nature Together
Located almost 1,000km off the coast of mainland Ecuador, the Galapagos is one of the most geographically isolated regions on earth. If you are longing to just get away from it all, a Galapagos honeymoon is the perfect place to escape with your partner. There is no mall or cinema in the Galapagos and the WIFI on the islands is unsurprisingly so-so. All of this means that you can truly immerse yourself in nature and your partner, in full knowledge of the fact that you will be free from the distractions of 21st-century life. With stunning scenery, fascinating wildlife and views to infinity, you will be able to relax and unwind. So, take it slow, take it easy, take it 'tranquila'. You only get one honeymoon – so make it count.
2. Plenty of Islands and Stunning Beaches to Choose From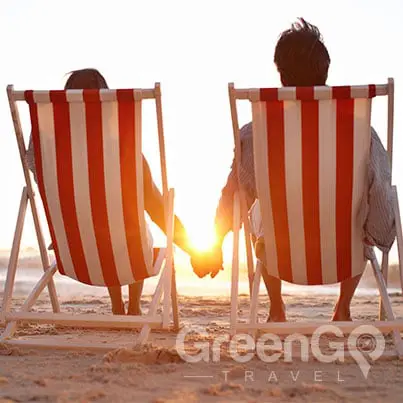 Can you feel the love tonight?
The Galapagos has four islands that are populated (Isla Santa Cruz, Isla Isabella, Isla San Cristobal, and Isla Floreana).
Most of the other islands are accessible by day tour, and others only by Galapagos cruises.
Each island has a different 'vibe' and has something special to offer.
Isla Santa Cruz is the most populated of the Islands and has a pleasant town with an abundance of cafes and restaurants. Isabella is arguably the most relaxed island, with stunning sandy beaches and a tiny town with dusty roads.
Floreana is fantastic for hiking and has a black sand beach. It also has a very intriguing and mysterious history, from love affairs and alleged murders (if you want to learn more, watch 'Satan came to Eden' on Netflix).
San Cristobal has great snorkeling spots and its beaches face west, treating Galapagos honeymooners to absolutely spectacular sunsets.
3. Unlimited Activities
An incredible fact about a Galapagos honeymoon is that you will never run out of things to do. Everyone can find something that they enjoy. Adventurous couples could find themselves hiking up the Volcano Sierra Negra, abseiling down Los Trillazes, diving at Gordon Rocks, horse-riding at Cerro Messa, snorkeling in San Cristobal or exploring historic caves on Isla Floreana. Couples who love wildlife and nature could find themselves on a day tour to Isla North Seymour, observing blue-footed boobies in their natural habitat or photographing giant tortoises in the highlands of Santa Cruz. Laidback couples who just want to relax can simply spend all day on the beach day soaking up the sun and getting a nice tan (don't forget the sunscreen).
4. The Scenery of a Galapagos Honeymoon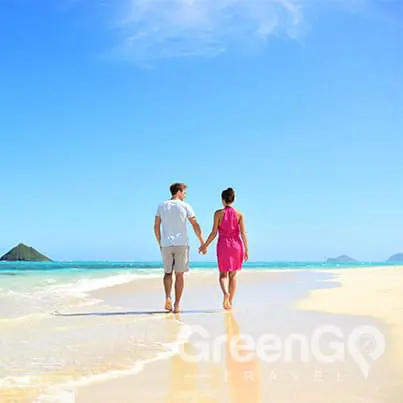 Can't get much better than this beach
The scenery in the Galapagos is absolutely breathtaking, both onshore and offshore.
Although many people have seen photos in books or have an idea of what the Galapagos is like from watching television shows, you really need to visit in person to truly appreciate it.
Sharing sunsets with your significant other will be some of the most memorable moments of your honeymoon.
You will experience new plants, animals, islands, and more.
With every new scene you soak in, you will be with the love of your life to share the special moments
5. The Wildlife
There are few other places on earth where you can share your honeymoon with blue-footed boobies, red-tailed swallows and iguanas, and more. With a Galapagos honeymoon, you will be sharing your space with endemic species. These are very special as you cannot find them anywhere else in the world! Furthermore, as they are "ecologically naive", you can get up close and personal with them as they are not afraid of humans. This will allow for some amazing pictures. This being said, please note that park rules require visitors to keep a distance of 2 meters from the wildlife.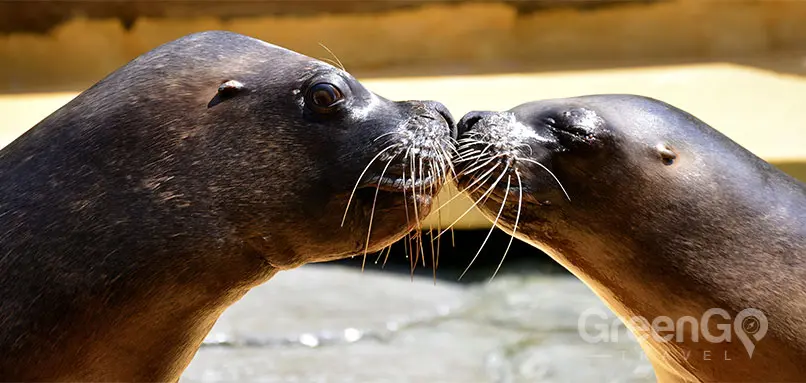 Nothing like sharing moments in the Galapagos Islands to set the mood
6. Opportunity to explore the underwater world  
In the Galapagos, there is absolutely no excuse not to get into the water (unless you are physically unable to do so) Beneath the surface, there is a world abundant with sea turtles, sharks, rays, sea lions and fish all waiting to be discovered. If you and your partner are lucky on your Galapagos honeymoon, you could even have the chance to see Equatorial penguins. These are frequently spotted off the shores of Isla Bartolome. In addition to the marine life, in some places, you can see beautiful corals and underwater volcanic formations. Many couples enjoy swimming in 'Las Grietas', a freshwater lagoon on Isla Santa Cruz formed between two steep cliffs. Don't forget to bring your underwater camera.
7. Mouth-Watering Cuisine
On your honeymoon, you should dine in style! During a Galapagos honeymoon, you will be spoiled rotten from all the choices in terms of restaurant choice offering high-quality cuisine. Many restaurants offer both Ecuadorian and Western food. However, make sure that you do not miss out on delicious Ecuadorian delicacies such as bolon, patacones, empanadas, ceviche and seco de pollo.
For those who do not want to spend a lot on food, you can head over to the popular 'kiosks' on Calle Charles Binford. These kiosks offer $5.00 meals which include soup, meal, and drink.  If you are looking for a slightly more up-market and comfortable dining experience, head to The Rock, Giodinnoi's or the Café above the Proninsular (which has a fantastic view of Academy Bay).If you are looking for something even fancier with top-notch service, Bahia Mar and Almar will not disappoint (both are located right next to the ocean with spectacular views).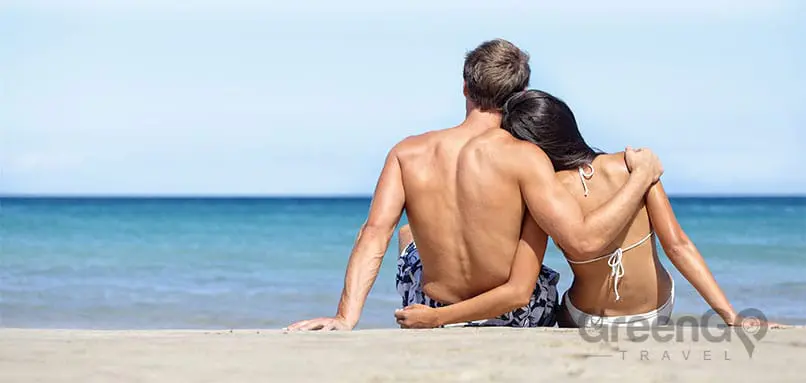 If you aren't already talking to a Greengo advisor about your honeymoon, Get to it!
8. Excellent Hotels – Galapagos Honeymoon
There are some absolutely incredible hotels to stay in. Many hotels are located very close to the sea (in Isabella some hotels are located literally on the beach). Nothing beats getting out of bed, drawing the curtains and being greeted by the sight and sound of the ocean every morning. Yet, for those who prefer greenery, there are some great eco-friendly places to stay in the highlands of Isla Santa Cruz (check out Semilla Verde or Pikaia Lodge). Beware, the prices are steep but you won't find better service elsewhere. And, as you will be on a Galapagos honeymoon – why shouldn't you indulge?
9. Learn Something New – Together!
The Galapagos is a place of great scientific endeavor and research. It is home to the world-renowned Charles Darwin Research Station (which just celebrated its 60th birthday). Located in Santa Cruz, the station is a fantastic place to visit in order to learn a thing or two about the geological formation of the islands and its unique flora and fauna. Although this may not seem like the most romantic thing in the world, a trip here will definitely guarantee some smiles as there are some really fun activities to participate in.
Additionally, the station is located right next to the Galapagos National Park Giant Tortoise Breeding Centre, so make sure you check out the cute baby tortoises. Also, visit the 'La Ratonera', a rocky stretch of beach that is normally secluded. Furthermore, on day trips, take advantage of your certified guide. These professionals know their stuff and becoming a guide for the National Park is no walk in the park.
10. Safety and Peace of Mind
On a final note, the Galapagos is safe and secure. Within its jurisdiction, you will not have to worry about the crime that plagues other parts of South America.  So, rest be assured that you will have hassle-free Galapagos honeymoon where you don't have to have a care in the world.
---