Frequently Asked Questions

Galapagos
The most common Frequently Asked Questions about The Galapagos Islands and more.
GOT QUESTIONS?
WE'VE GOT ANSWERS!
The most common Frequently Asked Questions Galapagos and more. We have gone into great detail to answer as much of those common questions as possible, which you will find divided in their corresponding categories below. Please feel free to reach us if you have any questions that remain unanswered.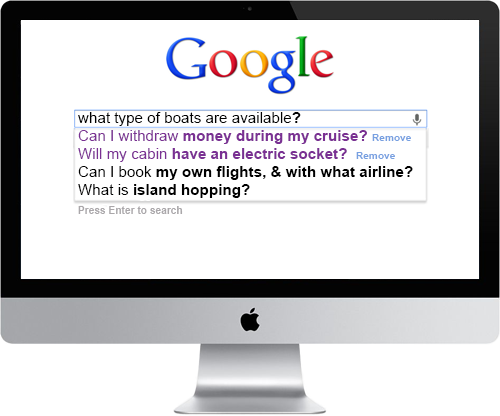 Galapagos F.A.Q
GENERAL QUESTIONS
What type of boats are available?
There is 4 types of boats available in the Galapagos: Motor Yachts, Motor Sail Yachts, Motor Catamarans & Ships. The average size for most of them are a 16 passenger capacity, and ships with a maximum of 100 passengers.
When is the best season to visit the islands?
The Galapagos is considered a great destination all year round, and something amazing is always taking place in the islands. Please read the following link to have a better understanding of the different seasons throughout the year: www.greengotravel.com/about-galapagos
Should I book well I advanced?
If you are particularly keen on a specific cruise, or you would want as much options as possible, then booking well in advanced (6 to 12 months) is recommended.
When can I book a last minute deal?
Last minutes are available from 3 weeks to a month prior to the departure of a specific date on a cruise. The closer you book to the departing date, the better the rate will be – yet the risk of no spaces been available will also inherently grow.
Can I book a last minute directly in the islands?
This is risky business but can definitely be done, all boat operators aim to have all spaces sold well in advance before the departure of their cruise, so booking in the islands is not ideal, yet there is operators in the port that can help you. If time is of the essence then you might want to reconsider this option, as it might be from 1 to a few days before you find something suitable that works for your particular case.
What time of the year is high Season in the Islands?
Peak months of the year-when tours in the islands are quite in demand are: July & August for summer / December & January for Christmas & New Year. Airlines in the Galapagos also have low and high season rates, yet time frames as to when these higher rates apply are constantly fluctuating based on demand. All boats in the islands have different dates to what they consider low & high season, you can find this information in each individual boat page.
Should I book a bigger cruise to avoid seasickness?
If you are prone to sea sickness, booking a bigger boat should be a no brainer as it would ensure the overall satisfaction of your tour. Order of stability from lowest to highest is: Yachts / Catamarans / Small Ships / Ships.
Is there any type of medication or vaccine required?
No, the Galapagos Park does not require any type of vaccine or proof of medication for visitors entering the islands, there is no risk of malaria, yellow fever etc. in the islands.
What will the first & last day of my cruise be like?
First Day: Even in cases where clients have entered the islands prior to day 1 of their tour, the morning will still be lost with the logistics of dispatching clients entering the islands that day by the yachts personnel. Only an afternoon activity will be available on day one.
Last Day: With all flights returning to mainland early to mid-morning, a short activity is covered before been taken to the airport, in a few yachts or bigger vessels no activity is scheduled at all on the last day, please have this in mind when deciding the amount of days you want to be on board of a cruise.
What are the documents required to enter the Islands?
The only requirement is your passport with at least 6 months of remaining validity, with the corresponding tourist visa stamp granted upon your arrival in Ecuador. The standard park entrance fee & Transit control Card will be paid for & issued the day you travel to the islands.
Is it required to have a certain level of fitness to partake on a cruise?
A moderate level of fitness would be required to partake & fully enjoy the activities offered by cruises. The overall trekking in a day can go from 2 to 4 hours per day, & snorkeling is a fairly common activity during the day.
Should I purchase travel insurance?
It is not required but strongly advised, even the most basic of tours in the islands can turn out to be a good amount of money, & been protected from any possible turn of events that could have a negative impact on your tour is a wise choice. GreenGo Travel does not offer travel insurance, but we do advise to seek the best alternative back home.
Should I bring money with me on my tour?
Yes, the Shuttle (Hotel-Airport-Hotel) is not included. Fees paid in both airports of mainland (Quito or Guayaquil) & Galapagos are in cash only, ($110 for Park Fee & Control Card per person). In most yachts- on board expenses such as: rental of snorkel & wet suit, alcoholic & soft drinks, tips & souvenirs can only be paid with cash. Depending on the length of your tour the required amount of cash would vary. A few high end cruises accept payment with Credit Card or travelers checks.
Can I withdraw money from an ATM during my cruise?
In short no, in very few itineraries clients will have some free time in the main ports of the Galapagos where they might have access to an ATM, it is best if you carry with you enough money to cover for your expenses during your cruise, better safe than sorry.
Will I have internet, Wi-Fi or cellphone reception in my cruise?
In the majority of cases no, very few high end ships offer Satellite internet connection, and rates are extremely expensive, in some cases rates are as high as $16 to $20 per mb, & the connection is neither fast nor reliable. Cellphone reception is available near main towns but in remote islands the connection is choppy at best.
Part of the charm of visiting the islands is to get unplugged from the world & the fast paced life's we have nowadays. A few days offline will invigorate & get you ready to start fresh!
Can I bring alcoholic drinks on board?
All yachts in the islands expect alcoholic drinks to be purchased from their on board bar as an additional service & prohibit bringing your own. You can always inquire with your travel consultant if the boat operator for your cruise of choice will allow you to bring your own,they might either charge you an uncorking fee or allow it as an exception.
Is bringing my own food allowed?
Cooks & on board Chefs for cruises will prepare your meals based on any dietary requirement you may have, therefore bringing your own meals is not necessary nor recommended, the Galapagos Park does have strict rules of what food items are allowed to enter the islands & some might not be allowed.
Am I allowed to smoke on board?
Smoking on deck might be allowed as long as you're not disturbing any non-smoking passengers. For common or private areas of the yacht it would vary from boat to boat, but in most cases it is prohibited.
Will my cabin have an electric power socket?
In most cases yes, a few yachts in the basic class might not have them in your cabin but will have them available in common areas. NEMA 5-15 sockets = 2 flat parallel blades at 110v are the standardized sockets in Ecuador, the same ones used in the United States.
What are the general guidelines/rules to follow in the islands?
Any visit within the protected area of the Galapagos Park, must be accompanied by an authorized naturalist guide.
Given the frailty of the islands, no items should be moved from their original location, or taken as souvenirs.
For your own security & to ensure the conservation of the unique heritage of the islands, please remain within the boundaries of marked trails & respect the signs at all times.
Keep a distance of at least 2 meters (6 ft.) from animals to avoid disturbing them. Respect both their space & freedom.
Galapagos animals do not need to be fed by humans, feeding them can create health problems.
Pictures & video filming should not make use of flash to avoid upsetting the animals. Professional photography & video for commercial purposes must be authorized by the Galapagos Park.
There are designated areas for camping, request authorization at the Galapagos National Park's offices with at least 48 hours prior notice.
It is your responsibility to not introduce food, animals or plants into the archipelago. Please cooperate with the inspection & quarantine officials at the airport & docks of the islands.
Do not buy any products or souvenirs made from banned substances such as coral shell, lava rock, animal parts or endemic materials. This is an illegal activity and must be reported.
Do not leave traces (graffiti) of your presence on the islands, instead take home unforgettable memories & experiences from your stay with photographs.
Please take your trash with you until you find a suitable place to dispose it. The centers of all populated villages have effective waste management systems.
Smoking & lighting campfires in the protected areas of the Galapagos Park is strictly prohibited. There is a serious risk of causing major damage by fires.
Fishing is not allowed, it is only permitted on recreational fishing boats authorized by the Galapagos National Park.
Motorized aquatic sports, mini subs & aerial tourism is prohibited in protected areas of the Galapagos National Park
Can I bring my own snorkeling equipment & wetsuit?
You sure can, most boats do not include the rental of the snorkeling equipment nor wetsuit in their rates, but have a minimum fee to be rented for the full length of your stay on board, if you want to ensure your specific size, please request it with your travel consultant in advanced.
What is the luggage weight restriction on the plane?
Luggage weight has a limit of 23kg (50 pounds) per person, plus a carry of maximum 7kg (15 pounds), additional luggage is permitted with a fee per add kilo.
What should I bring to avoid sea sickness?
Consult with physician back home, regular sea sickness medication might not be the best approach as it might not allow you enjoy your tour to the fullest, drowsiness & fatigue are known secondary effects. Both patches and wrist bands are a good viable options, some clients have had success with different forms of Ginger
What is the suggested Packing Checklist for my Cruise?
Packing light should be your top priority, the less you carry around with you, the more enjoyable & untroubled your tour will be. Keep in mind the limit of 50 pounds per person is enforced by airlines in Galapagos and not your cruise.
TRAVEL DOCUMENTS & OTHERS
Money belt
Passport, with waterproof pouch
Credit Cards (in case of an emergency or to pay expenses in boats that accept this payment method)
Cash (required for fees & optional on-board expenses)
Electronic Tickets
INGALA Registration Card
Book(s)
CLOTHING & FOOTWEAR
Cotton short sleeved t-shirt during the day, longed sleeved for afternoons
Cotton Tank tops & sweatshirts for sunny days
Light rain jacket or fleece for rainy afternoons
Shorts & light khakis/trousers/ cotton pants
Swimwear, more than 1 pair recommended
Light cardigan, or sweater for evening
Flip flops for wet landings & sport shoes for treks and dry landings
SUN PROTECTION & FIRST AID
Sunscreen with SPF 30+, apply multiple times during the day
Cap or hat
Sunglasses
Lip balmer or ointment with sun protection
Aspirin, medication for upset stomach, Band-Aids, Aloe-Vera Cream or gel for sunburn relief.
Sea Sickness patches, wristbands, non-drowsy medication, different forms of ginger.
ELECTRONICS & OTHER GEAR
Waterproof backpack for electronics.
Camcorder and/or Digital Camera with chargers
Telephoto Lens for DSLR cameras
Spare: Camera Batteries, High Capacity SD cards
Portable Tripod
Binoculars
Will flights be available that match my cruise dates?
Booking well in advanced-you are guaranteed to have your ticket(s) available for both the dates and route of your cruise. Boat operators have spaces reserved with the Airline of their preference that match their departures throughout the year.
Will GreenGo Travel arrange flights for me?
Most boat operators require flights to be booked through them, therefore we always encourage our customers to let us (boat operator) handle flights for them, this is to ensure the smooth operation of their tour on Day 1, we have a very minimum flight emission fee, this ensures you will arrive with all other cruise passengers.
Can I book my own flights, & with what airline?
If you wish to purchase your own tickets, please consult the possibility with your Travel consultant to know if the particular yacht of your choice would allow you to book your own flights. 3 different airlines are available in the islands, (TAME / LAN / AEROGAL), it varies among boat operators what airline and flight numbers they will use for their operation.
Can I choose to travel on a certain airline and flight?
If you are traveling on day 1 of your tour then unfortunately no, it is best if you speak with your travel consultant to know the best flight to take that day, in most cases this wouldn't be an option as boat operators require to handle this part of your booking. If you are traveling on different dates to your cruise, either flying in before or leaving the islands after your tour, you can book flights at your own discretion.
What Airport should I fly to?
Either flying in to Baltra or San Cristobal (only 2 airports available that receive commercial airlines) is dictated by the cruise you choose & where their itinerary starts, in most cases this part of your booking is handled by the boat operator, so your flight will be booked with the correct route. If you wish to book your own flight, please check with your travel consultant where your tour starts & ends, but most importantly if the boat operator will allow you to book your own flights. Please bear in mind that flying in to the wrong airport could lead to missing your cruise, as they are over 3 hours apart by ferry with ferries leaving once a day.
Can dates on my flight be changed after my ticket has been issued?
Yes, dates can be altered but in most cases a penalty fee will apply, and it is subject to availability. For last minute changes, the airport counter or offices for your airline in the islands will provide you with a more expedited service, and let you know if the change can be done or not. GreenGo Travel will be glad to help you with such changes but it might take longer.
Are there last minute or special rates for flights?
In short No, Last minute rates only apply for cruises when booking close to their departing dates, regardless of when you book your flight, the rate will always be the same & governed by the different airlines, season & nationality, and are even subject to an increase in cost.
Who has lower rates for flights?
Children under the age of 11 will have a 50% discount & Ecuadorians or those that have a local Ecuadorian ID (cedula) will have an approximate discount of 30%. Unfortunately there is no discounts for seniors.
Can my flights be arranged on different dates than my cruise?
Of course, the days you enter and exit the islands are for you to decide, as long as you request this well in advanced this shouldn't be a problem. Having dates changed near the departing date of your cruise will be subject to availability.
Can I check in online & do flights have to be reconfirmed?
Online check in is not available for flights to the Galapagos, it might be implemented in a future. Flight do not have to be reconfirmed, GreenGo Travel will check your e-tickets a few day prior to your departure – if your flights have had any alteration you will be notified as soon as possible.
What is the Check In time required?
Even though flights to the Galapagos are handled as domestic flights, 2 hours prior to the departure of your flight are required for check in.
Is the transfer to the airport included?
No, your cruise services will start start upon arrival in the airport of Galapagos, clients are responsible of making their own way to the airport, unless stated other in the inclusions of your tour.
What is the taxi fare to reach the airport?
It depends where and how far you are from the airport.
Quito/Hotel – Airport = $30 to $35
Quito/Cumbaya – Airport = $5 to $8
Quito/Puembo – Airport = $3 to $5
Guayaquil/Malecon Central Area – Airport =$5 to $8
How long does it take to reach the Airport?
For those staying in Quito it will take about 1 hour to reach the airport with no traffic, in peak hours an additional 30 minutes are advised. There is some Hotels near the airport that can take from 30 to 10 minutes to arrive. For clients taking their flight from Guayaquil it varies based on where their staying at, in the central area of Guayaquil near Malecon, please allow 15 to 20 minutes to reach the airport
Will someone assist me in the airport (Mainland)?
Airport assistance in Mainland (Quito or Guayaquil) is usually provided in high end cruises, staff members of the cruise will help you check in and provide you with further documentation for your tour, otherwise GreenGo Travel will provide with an instructional sheet of the steps to follow in the airport.
What is the order of things when I reach the airport?
First make sure you reach the airport on time, the order of things upon arrival in the airport are:
1. Transit Control Card Registration (Ingala = $10 in Cash per person)
2. Quarantine System (Sicgal)
3. Airline Check in & baggage registration
This will be detailed thoroughly with the documents provided for your tour.
Where do I meet my guide?
If you have entered the islands prior to the 1st day of your cruise, a meting point will be arranged based on the proximity of the first visit point the cruise will cover, in most cases returning to the airport is required. The meeting point will be detailed in the documents provided for your tour. If you are traveling on day 1 of your cruise, the tour guide will be expecting you upon arrival in the airport of Galapagos. Guides in the airport will be carrying signs advertising the name of their cruises, it is just a matter of simply spotting the guide that carries the name of your cruise. Tags are provided (if you come y our office) for luggage & stickers will be provided so they can spot you as well.
Will there be ATM's in the Airport?
There will be cash machines available in both Quito & Guayaquil airports, upon arrival in Galapagos both San Cristobal & Baltra Airports do not have ATM's, you would have to reach the main port of each island to find cash machines.
GALAPAGOS VESSELS
How is the cabin distribution on board?
It varies from boat to boat, from Superior Cruises & below – accommodation is usually in bunk beds. From First class onwards, lower twin beds, doubles & triples are available.
I'm a solo traveler, are singles available?
All yachts are based on a minimum of 2 clients per cabin, for solo travelers the norm is to share the cabin, the same gender in most cases is guaranteed. If you want ensure the cabin to yourself a single supplement would apply between 60 to 100% surcharge. Very few vessels in higher categories carry singles.
Are kids & babies allowed on board?
Policies vary from boat to boat, some boats require children to have a certain amount of years & have their parents' consent to be allowed on board. There is a few yachts and vessels available that offer family departures that would be more suitable for children.
Can my child sleep in my cabin?
Policies vary from boat to boat, but in most cases unless it's a baby, it would be required for children to be accommodated in their own cabin, regardless of the age – a child would count as a full passenger, if a yacht has capacity for 16 passengers, and the child shares the cabin with his parents, only other 15 passengers are allowed on board.
Will there be a window in my Cabin?
Most boats have portholes that allow sunlight to enter the cabin, windows that open are not common but are available in some yachts from first class onwards.
Are there triple cabins available?
In the majority of cases no, what most cruises or ships do in cabins that are slightly larger found in first class cruises onwards is to place a sofa bed to accommodate a third passenger, very few cruises offer a full sized triple cabin.
Is there cabins with no engine noise?
All cabins on board of yachts will have engine noise to some extent, depending on the cabins distribution, some might be quieter than others, modern vessels like catamarans have their engine rooms designed to keep engine noise to a minimum.
Is there a balcony in my cabin?
Balconies are found in some high end Catamarans & vessels from first class onwards, where space on board allows such amenities.
What services will be available in my cabin?
Standard services found in all yachts offered by GreenGo Travel are: Private bathroom, hot shower, air conditioning, life vest, room cleaning, toiletries & towels.
How is a usual day on board of a cruise?
A fairly common day on a cruise would be as follows, this is only a guideline but it's pretty similar to the operation all boats have in the islands: Early morning wake up call and breakfast. / Morning activity in the scheduled island 2 to 3 hours. / Board cruise at midday for Lunch & short nap or lounging in common areas, in some cases the cruise might sail during this time to reach the afternoon scheduled island. / Afternoon activity in the scheduled island 2 to 3 hours. / Board Cruise late afternoon, some free time will be available to take a shower or use common areas before dinner is served. / Briefing of scheduled activities for next day. / The cruise will set sail at night usually sometime after dinner so you can start with your next day activities early next morning.
What will I do in each island?
This varies per island, each Island & visit point offer different activities such as snorkeling, sightseeing, panga rides, free time in beaches, bird watching, treks etc, you will be briefed the night before of what you can expect to see the next day, and what kind of clothing to wear, If you are to go on a trek they will call it a dry landing, & you will need to wear some hiking shoes versus bringing sandals & a bathing suit if you are to go swimming & get off in the shore of a beach = wet landing.
What are Guide levels, & how good will my guide be?
All guides in the Galapagos are authorized and licensed by the park & local authorities, specialized in biology, geology & nature of the islands they are known as naturalist guides. There is 3 levels of guidance: 1 = Beginner / 2 = Medium / 3 = Expert. Guides of all levels are required to speak English, they usually work on a free-lance system, & their expertise on the islands & their English skills is noticeably linked with the category of the yacht, level 3 guides are usually found on high end cruises. Some boat operators have handpicked guides they have had a good working relationship with, & have them as regular guides on their tours, but this is not the case with all yachts – so booking a cruise based on a specific recommended guide is not advised. Something important to bear in mind is that the Galapagos Park has stopped issuing new licenses for a few years already, so the level of guidance is no longer a reliable indicator of how good your guide will be, a guide that was a level 2 a few years back could already be a level 3 with the experience he's garnered in the past years yet still holds a level 2 license.
What are the standard Inclusions on a Cruise?
Services included in all categories are: *Shuttle (Airport-Yacht-Airport) in Galapagos *Use of on board facilities *All visits according to the scheduled itinerary *Guided tour with authorized naturalist guide *Accommodation on board *3 Meals per day *Water Coffee & Tea.
What are the standard Exclusions on a Cruise?
Services excluded in all categories are: *Shuttle (Hotel-Airport Hotel) in Quito or Guayaquil *Return Flight *Park Entrance Fee *Entrance Control Card *Tips for Guide & Crew *Alcoholic & Soft Drinks *Souvenirs on Board *Snorkel & Wet Suit vary from yacht to yacht, some yachts might have any of the above services included in their rates.
How are meals on board?
Cuisine is varied, fresh and certainly compliments a memorable Galapagos tour. For Basic & Superior & some 1st Class Cruises you can expect a variety of set meals, fresh fruit, juices, snacks and seafood, both local & International dishes. For Luxury Cruises and ships buffets are usually the standard, which will be served throughout your stay.
I have a special diet, can the yacht cater my meals?
They most certainly can, at the moment of placing your booking you will be required to provide details regarding your dietary needs, this will be passed on to the boat operator to ensure your meals will be prepared accordingly. The variety of meals will also depend in the category you travel in, a list of what you can eat is always a great way of helping chefs on board.
What other additional services will I find on board?
This varies greatly, from the size of the ship to the category, regular additional services are: Library, Bar & lounge areas. Services usually found on higher end cruises are: Kayaks, Jacuzzi, big lounge & dining areas & internet Access.
What do wet & dry landing mean?
A Wet landing will have passengers disembark from a (panga ride = small motor boat) at the shore of a beach, while a dry landing will disembark passengers onto a dock or a rocky and dry surface.
Should I rent the snorkel & wetsuit?
If they are not included in your rate, (description in each individual cruise page) then it would be wise to rent them in order to enjoy your tour to the fullest, snorkeling is a big part of the activities in your tour, (once a day or more) & the cost of renting the equipment is minimum. As for the wetsuit, it serves multiple purposes, from helping with water temperature, buoyancy to protecting you from jellyfish stings.
In the case of a mechanical failure, what happens with my tour?
Boat operators exit operation every year-for a month or longer, to have their boats refurbished & in optimum condition while offering their services, reason why mechanical failures are very isolated incidents but nonetheless they do happen. Circumstances are not always the same, therefore the boat operator will try to find the best way of completing the services they have committed to with passengers. GreenGo Travel always keeps a close eye on these cases to ensure our clients get their money's worth, but in occasions there is discrepancies with the provided solution. We will always denote our customer's best interest in the best way with the boat operator, getting money back has proven to be a delicate matter and under extreme circumstances we might try to get some kind of refund from the boat operator or cut back our profit to provide you with some kind of compensation.
When & why do Cruises get swapped?
Cruise swaps are rare but can happen for any of the following reasons:
1. The yacht does not meet the minimum amount of passengers, and the few confirmed passengers are relocated in another yacht in the same category with a similar itinerary: This is a very rare case, most if not all yachts have confirmed departures & will operate their tours regardless of the amount of passengers.
2. Mechanical failure either before or during a tour: If the boat operator determines their yacht cannot continue to operate, you will be provided with another yacht either similar or higher in category (never in a lower category) & similar in itinerary.
In the case of an ill passenger, what happens with my tour?
Unforeseen illness of any passenger on-board of your cruise will be handled in the best way possible in order to avoid the interruption of your tour. Ships or larger yachts are better equipped to provide medical attention if needed, while smaller yachts which are the vast majority of cruises in the islands have limited medical care. In the case of severe illness it may be required to return to the nearest port so the passenger can receive proper medical attention. The boat operator will try to subdue lost time as much as possible, such circumstances are unpredictable and neither the boat operator nor GreenGo Travel can be held responsible, and no kind of refund or compensation can be offered for time lost under these circumstances. It is therefore strongly advised to purchase travel insurance to be protected.
What other circumstances can affect or hinder my tour?
Act of God such as storms, flood etc., Force Majeure or prohibitions enforced by the Galapagos National Park or other local authorities for the islands well being. There has been very isolated incidents of this nature, & no more than 1% of cruises have been affected in this matter.
Why do cruises combine Itineraries, is this bad?
This is fairly common practice in the Galapagos industry, even the most luxurious of vessels follow this trend.  The Galapagos Park enforces all boats to visit the islands authorized in their loops only once every 15 days. The combination of short loops allows them to reach a larger demographic of clients, those looking for short tours or combining them to offer longer tours as well. There is a common misunderstanding that time will be lost in the transition of one short tour to the other for those taking the longer tours, this is not the case as boat operators will have activities scheduled in the surroundings for those that continue with the tour, while other boat personnel will handle the swapping of passengers, dropping them in the airport and collecting the new passengers. The majority of cruises will have at least one full 8 Day itinerary, with no combinations or stops in the way.
GALAPAGOS EXPENSES
What are the payment methods you offer?
As of now the payment methods we offer are Local Bank Deposit, Paypal & Money Transactions with Money Gram/ Western Union & Xoom, we are working in easier and a broader range of payment methods.
Do I have to pay the full amount at the moment of placing my booking?
If you are booking well in advance an initial 30% is required to place your booking, the remaining 70% is required 61 to 91 days prior to your tour. For last minute bookings full payment is required in order to place your booking.
What are the flight rates?
Rates vary per cruise, departing date & Season, please consult with your travel consultant the exact rate for your cruise.
In the following link you can find an indicator of the average rates for 2014: http://www.greengotravel.com/about-galapagos
What is the cost for the Park Entrance Fee?
$100 Foreign tourists, non-residents of Ecuador over 12 years
$50 Foreign tourists, non-residents of Ecuador under 12 years
$50 Foreign tourists, non-residents of Ecuador over 12 years originating from a country part of Mercosur
$25 Foreign tourists, non-residents of Ecuador under 12 years originating from a country part of Mercosur
$25 Tourists, students not living in Ecuador who are enrolled in a national educational institution
$6 Tourists and foreign nationals residing in Ecuador, over 12 years (cedula required).
$3 Tourists and foreign nationals residing in Ecuador, under 12 years (cedula required).
$0 Domestic and foreign tourists under 2 years of age are exempt from this tax.
   * The above rates will be paid upon arrival in the airport of Galapagos in cash only.
What is (Ingala) Transit Control Card?
A regulation mechanism similar to a Visa, controlling passengers entering & exiting the islands. A one-time fee of $20 per person paid in main land (Quito or Guayaquil), applicable for both foreigners & Ecuadorians is required to enter the islands. Payment is accepted in cash only.
Where does the park entrance fee go?
Galapagos National Park / Parque Nacional Galapagos: 40%
Galapagos Municipalities / Municipalidades de Galapagos: 25%:
Galapagos Government Counsel / Consejo de Gobierno de Galapagos: 20%
Galapagos Marine Reserve / Reserva Marina de Galapagos: 5%
SICGAL / Agrocalidad – SICGAL: 5%:
Ecuador Navy / Armada del Ecuador: 5%
All of the above are active entities involved in the conservation & preservation of the islands, you can rest assured that your money is put to good use.
What is the suggested guideline for tipping the crew & Guide?
Tips on board of yachts are not an obligation-but are expected, the following rates are a general guideline, usually the same amount applies for the *crew (all crew on board) & guide, yet passengers should always tip the amount they feel comfortable with, after all tipping is an additional compensation for the good service & attention you were provided with during your stay.
Basic Cruises: $5 / Superior Cruises: $6 / First Class Cruises: $7-8 / Luxury & Ships: $8-10
The above rates are per passenger, per day, example: solo traveler on an 8 day basic Cruise = $80, $40 for the Guide & $40 for the crew.
What is the cost for the rental of Snorkel?
Rates vary from boat to boat and the length of time you rent them for. A general guideline would be from $15 to $40 for the 4 to 8 days tour. For exact rates please refer to each individual yachts page.
What is the cost for the rental of the Wetsuit?
Same as the rental of snorkel, rates would vary from boat to boat and the length of time you rent them for. A general guideline would be from $20 to $60 for the 4 to 8 days tour. For exact rates please refer to each individual yachts page.
Is there souvenirs on board that can be purchased?
Not standard for all boats, but for the most part of first class cruises onwards you will find souvenirs available to be purchased.
How much should I expect to pay for drinks on the Bar?
Rates would vary slightly from one yacht to another, the average rate would be between $2 to & $3 for soft Drinks & Beer, Alcoholic drinks from $5 onwards.
How much does internet access cost on board?
If the boat you will be on has the service available, (usually only found in ships) it will be quite expensive as they will have a satellite internet connection, either charging you for a length of time, or per mb. Rates can go as high as $16 to $20 per mb.
Will I have to pay for corkage if I bring a bottle of Liquor?
Will the airline allow me to exceed my luggage weight allowance?
They will, as long as you don't go overboard, they will charge an additional fee of $3 to $5 per kilo.
GALAPAGOS LAND BASED
Will I get to see as much from a land based tour?
There is limits to the places you will get to see & visit. Some islands are only allowed to be visited with cruises (example: Española), & other locations are not logistically possible given the far out location they have (example: Fernandina, Genovesa etc).
What is island hopping?
It is a tour package that offers you land based activities by moving you through different Hotels in main islands (San Cristobal / Floreana / Santa Cruz / Isabela) in order to cover the surrounding visit points. This is the best way of visiting the islands on land & make the most of your stay. Island Hopping tours we currently offer are only with Galadventure & Red Mangrove Hotels.
Can I choose what islands to visit on a land based tour?
Land hopping tours similar to cruises have prearranged itineraries, if you want to visit specific islands or visit points in the islands this can certainly be arranged with Hotels such as Silberstein, where they will combine public daily departures with accommodation & meals to offer you a custom tour package, as long as the places you have in mind can be accessed with daily tours.
Do you offer Galapagos Day Tours?
For the time being no, we are evaluating the best way to have this added to our portfolio.
Is there last minutes for land based tours?
No, last minute work for cruises given the nature of how they operate, with set departures they offer lower rates in order to fill remaining spaces left, land based tours for the most part are only arranged under request.
How can I dive in the Islands?
There is 3 different methods of diving in the islands:
LIVE-ABOARD DIVE BOAT: The best way of diving in the islands in order to reach the most remote and best diving spots in the archipelago such as Darwin & Wolf, but also quite expensive. These live-aboards will set sail throughout the islands to diving sites only with 2 immersions per day, in most if not all cases they will only operate 8 day tours, shorter trips such as 4-5 & 6 days are not offered. Dive boat of this nature are very few.
LAND-BASED DAY TOUR DIVES: This is the most common approach, for those wanting to dive at a budget, day tour dives can be arranged from either Santa Cruz or San Cristobal, the former been the best option in terms of variety & frequency.
LAND-BASED DIVING PACKAGES: Based in Hotels from Santa Cruz, diving packages will combine accommodation, meals & multiple day tour dives, the perfect combination for those looking to dive only for multiple days at a budget.
In which islands can I dive?
There is a variety of diving points that can be reached as day tours from main islands, we are currently working on a interactive map to make it easy to understand where diving points are located.
Do I need to be an experienced diver?
The majority of diving points in the Galapagos are friendly for inexperienced divers as long as you have a paddy license, yet there is certain locations such as Gordon Rocks that require divers to have a minimum of 30 immersions in order to dive there, mainly for the strong currents and the expertise required to dive safely in these waters.
What is included in a day dive tour?
All diving equipment, Transport from & to the dive Center, Snack & Lunch, Towels, 2 immersions, 1 Dive master for every 8 passengers.
What documents & information is required to book?
Information & Documentation required are: Padi License, number of immersions, Height, Weight, Shoe size etc. Signing a lease is required before partaking in your diving activities, signed either the day before or the day of your dive in the islands.
What is the best island for surfing?
San Cristobal is known for being surf friendly, with the right type of waves, variety in accommodation, ease to rent boards & surf lessons across numerous agencies, San Cristobal is the best approach for surfing.
In what islands can I arrange accommodation with Hotels?
San Cristobal, Santa Cruz, Floreana & Isabella. Santa Cruz being the most popular stop, followed by San Cristobal which is the Capital of Galapagos, Isabella is more limited in the variety of Hotels, and Floreana can only be arranged with Red Mangrove Hotel.
How can I travel between islands on my own?
Either taking the public ferry or using the internal airline that takes you to all 3 main islands: San Cristobal, Santa Cruz & Isabella.
PUBLIC FERRY SCHEDULE
FROM: Santa Cruz-Puerto Ayora
TO: San Cristobal-Puerto Baquerizo Moreno or Isabella-Puerto Villamil
SCHEDULE: Monday to Sunday at 14h00 pm
COST: $30 to $40 per person
FROM: San Cristobal-Puerto Baquerizo Moreno or Isabella-Puerto Villamil
TO: Santa Cruz-Puerto Ayora
SCHEDULE: Monday to Sunday at 06h00 am
COST: $30 to $40 per person
For internal flights  in the islands please reach Emetebe Airline regarding routes, schedules & rates: http://www.emetebe.com.ec/htm/destinos.htm
Other F.A.Q