Galapagos land-based tours – A comprehensive guide
The Covid-19 pandemic is still a major presence in much of the world, and data shows that travelers are changing their tourism behaviour. One of these shifts is avoiding ships and cruises. While multi-day yacht tours are one of the most popular options for exploring the Galapagos islands, it is by no means the best nor the only option. The second and only other method of experiencing the islands is through Galapagos land-based tours, either hotel-based or island hopping. This has many desirable benefits even when Covid-19 isn't part of the picture.
In this blog, I'll dive into Galapagos land-based tours, including the planning involved, island transfers, the differences between Galapagos land-based tours vs. cruises, the pros and cons, and lastly some of the popular places to stay and what they offer.
What is a Galapagos land-based tour?
Galapagos land-based tours are split into two categories, hotel-based and island hopping. Hotel-based is self-explanatory. The hotel is your home base, and day trips begin at the hotel or port and take you back in the evening. These hotels are located on the four habitable islands, Santa Cruz, San Cristobal, Floreana, and Isabela. Island hopping tours are similar to land-based, but the home base changes as you migrate between the four habitable islands.
The Galapagos arrival
Both Galapagos land-based options always start with a flight from the Ecuadorian mainland, where you either depart from Quito or Guayaquil and arrive on the island of Baltra (GPS) or San Cristobal (SCY). For all our offerings, you are greeted at arrival by a guide who will escort you to the next destination. There is nothing better than leaving the airport and getting that first glimpse of the Islands!
Some land-based tours head directly to the hotel, where you can unpack your clothes, get acquainted with the hotel, have a cocktail, connect to the wifi, and sit down for a delicious lunch.
Other itineraries jump straight into the action. For example, the adventure journey land-based tour carries you through the Santa Cruz highlands, prime Galapagos tortoise habitat, followed by lunch on a private ranch. Hotel Silberstein takes a pit stop to the impressive Gemelos twin craters. Gala adventure brings you to Tortuga bay. These are just a few examples, the options are infinite.
In the evening, partake in the fun activities that the hotels offer. Some land-based itineraries offer Ceviche cooking classes (Finch Bay), a trip to the Charles Darwin research station to see baby Giant tortoises (Hotel Silberstein), or even a nightcap in a one-of-a-kind 'Lava Lounge! (Galapagos habitat island hop).
Following days
The following days of a Galapagos land-based tour are dependent on the itinerary you choose. Galapagos hotel based options in Santa Cruz have plenty of flexibility, as you can alternate between relaxation and local exploration, and exciting day trips to islands like North Seymour, Bartolome, South Plaza, Santa Fe, and more. Even if you plan on staying six days and five nights, there is plenty to see with a hotel-based stay in the Galapagos, as the day tours visit many different islands and unique habitats teeming with wildlife.
7 day Galapagos island-hopping example itinerary:
Day one: arrival in Santa Cruz.

Unpack bags
Eat delicious lunch
Explore Santa Cruz.
Dinner at the hotel. Optional drinks or explore the city further

Day two: Santa Cruz-Floreana

Las Grietas lagoon tour in Santa Cruz.
2 hr ferry to Floreana.
Explore Floreana.

Day three: Floreana
 Day four: Floreana – Isabela

2 hr morning departure to Isabela Islands
Hike Isabela's stunning Sierra Negra volcano

 Day five: Day Tours in and around Isabela.

Tintorera islet or snorkeling in Los Tuneles
Giant tortoise breeding center
Beach and lookout point hike
Surfing lessons

Day Six: Isabela – Santa Cruz

2-hour speedboat to Santa Cruz.
Tortuga Bay hike + kayaking
Departure
GreenGo travel Land-based Galapagos and Island hopping tours
We offer a variety of island hopping and hotel-based Galapagos tours. Whether you want a relaxing seaside hotel or glamping in the wild, we have it all.
Pikaia Lodge
Galapagos Safari Camp
Villa Escalesia
Hotel Silberstein
Galapagos Habitat
Galapagos adventure
Finch Bay
Adventure Journeys
Benefits of a Galapagos land-based tour
Unwind and relax
Galapagos cruises are non stop. I've been on multiple cruises, and even for a fit person in their 20's, the 3x daily excursions (hiking and snorkeling) and the 7-8 am wakeup calls wear you out, especially after accumulating for multiple days. Trust me, this isn't a bad thing, and it is worth it. You can even skip out on an activity if you need it. At the same time, it is also really nice to have some downtime to recuperate.
The land-based options afford you more time to take it easy and take things at your own pace. This is especially the case for hotel-based Galapagos tours, where you have complete control of when you take day trips. Want to spend all day at the beach one day, and the next to go full out exploration? This might be for you.
Family
Some visitors prefer land-based Galapagos tours for families. The reasoning is that they allow more time for children to run around and explore without the rigidity of a schedule. Secondly, some kids may not feel comfortable cooped up on a boat for multiple days on end.  Adults for that matter too. However, there are many family-friendly cruise options. For instance, bigger cruise ships have more room to explore, and even have special areas and activities just for kids. Sometimes the larger capacity Galapagos cruises aren't full, providing even more space. With land-based Galapagos tours, you don't have to worry about space. Ultimately, this is a judgement call on your part. Think about what your kid would prefer or handle better.
Avoiding seasickness with Land-based Galapagos tours
This is an important one. Unless you plan to relax at the hotel for the entire stay in the Galapagos, in all likelihood you will spend a decent amount of time in a boat. As outlined above, Galapagos island hopping involves 2-hour ferry rides between islands. These rides can be rocky, and guests have experienced seasickness. Some visitors take all the preventative measures including medicine (Bonine, Dramamine, Meclizine), sea bands, sucking on ginger chews, watching the horizon, and they report avoiding this issue. Alternatively, there are options to take a puddle jumper plane from island to island, but this will have an added cost.
Additionally, day trips to islands will be on various forms of boats or yachts, which will also have you on the water for hours at a time. The point is, if you want to truly explore the Galapagos to its full potential, you are going to be on a boat, and there really isn't any way around that. So, if you have had the seasickness experience in the past, bring the meds. A quick note on cruises. The cruises, especially the catamarans and the larger capacity (40-100) ships, are going to be more stable than the ferries or day trip boats.
All this considered, a Galapagos land-based or island hopping tour means eating your big meals and getting a good night sleep on solid ground. For some, this is all the difference. A personal anecdote, the first time I went on a cruise (a 100 capacity ship), the sea was very calm, and the big boat cut through the waves nicely. The second time I cruised on a 16 capacity yacht in the Galapagos rougher ocean season, and it was pretty rocky. I didn't get sick like one other passenger, but getting to sleeping was difficult one of the nights.
Culture
The People of Galapagos
One of the prime benefits of a land-based tour is experiencing the culture of the Galapagos Islands, which is unique compared to other island cultures. The islands have a fascinating history, with a unique mix of 25-30,000 people. Roughly 70 percent are Mestizos (a mix of European and Indigenous). Other individuals include the descendants of Europeans arriving in the 1920s, the Salasacas indigenous group, and Afro-Ecuadorians. This diverse community has learned to thrive, coexisting both with the native wildlife and each other. By partaking in a land-based Galapagos stay, you spend tourism cash in multiple establishments, which helps the people of the islands.
The Galapagos island culture is influenced by its existence as a protected reserve. The major form of transport (63%) is bicycles, and the Galapagos has codes of social coexistence which promotes waste reduction and recycling. Throughout all age groups, a sense of care for the environment is described as a core part of being a Galapagos resident. Even school children learn complex ecological and environmental principles in their schooling.
The food of the Galapagos islands
No surprise, seafood is mouthwateringly delicious on the Galapagos islands. A lobster for lunch at an amazing price isn't uncommon. Many Ecuadorian staples have made the way to the islands, including various meats, potatoes dishes, grains, yucca. My all-time favorite is the fresh fruit juices that I promise you won't get back in the States or Europe. For any picky eaters, you can get pizza and other familiar dishes you'll find back home.
Restaurants, bars, and coffee in the Galapagos islands 
Santa Cruz Brewery – La Galapagueña
Who would think 600 miles off the coast of South America on a small set of small islands one might find a craft brewery! After an adventure exploring the Galapagos, enjoy a delicious beer flight to taste all the different flavours. This hotspot has a balcony, plenty of beer and appetizer options, and occasional live music.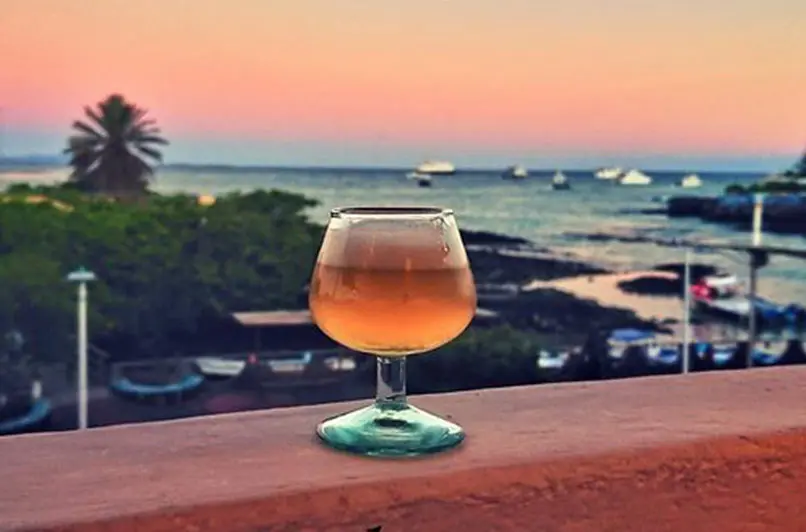 1835 Coffee Lab
Get the best coffee in Galapagos at this establishment run by friendly staff, who are world-class baristas to boot. Their business follows a sustainable model that considers not only the environment but also the people who grow the coffee.
Los Kioskos
A local hotspot serving all the seafood goodies, along with Ecuadorian staples. However, the fun starts in the evening, where the restaurant blocks off the street and sets up the tables in the middle of the street. It is a little block party, music and all.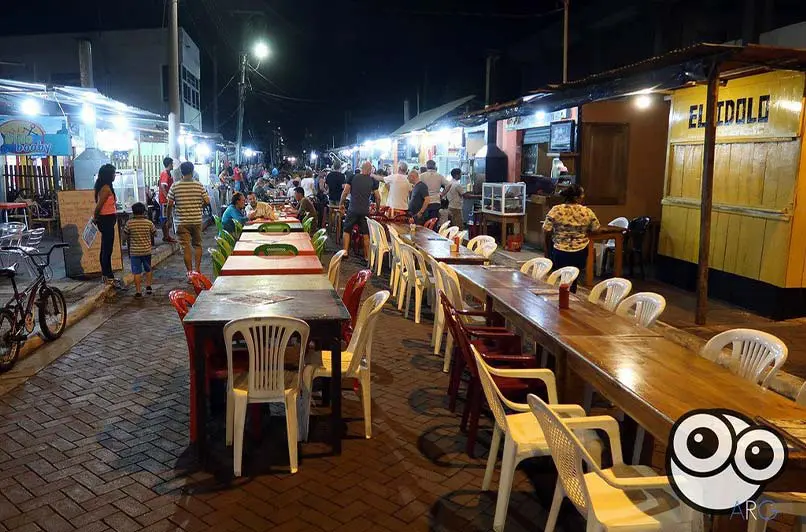 Finch Bay restaurant
Reviewed by many as a top restaurant, not only in the Galapagos but in the world. This is one of the nicer restaurants with a higher price tag, but man is the food delicious and beautifully presented. You can even reserve a water taxi to pick you up from the port.
Other special mentions
Almar Seafood and Grill
Bahia Mar Restaurant
 Midori Sushi & Pub
The cons of a Galapagos land-based tour
Transit
One of the cons of land-based tours is the transit time required to visit the different islands. The ferry to the four major islands (Floreano, San Cristobal, Santa Cruz, Isabela) varies from 2-3 hours. On cruises, navigation to islands is done while guests sleep. When you wake, the new island is right outside the window, and all you have to do is pop on the sunscreen, grab a bite to eat, and get into the dinghy boats for your adventure. Thus, many travelers report that they ultimately saw more during a cruise than land-based.
Accessibility
There are hidden gems that Galapagos cruises visit that the land-based tours do not. For example, you aren't going to visit Marchena or Genovesa (The famous bird island) on a land-based tour. It would be an entire day of transit. However, the same can be said about land-based tours. You won't get the opportunity for glamping (camping with more amenities and luxuries than traditional camping) if you choose cruise only, and you won't get as acquainted with the cities, people, and culture.
Surf and Turf – Best of both worlds
If the decision is too hard, you can always do both as many other travelers do. For example, some guests go to the Galapagos and stay in a hotel for a few days to appreciate the island culture and dabble in day trips, followed by a cruise. Personally, I would prefer the opposite, starting with an adventure-filled Galapagos cruise followed by decompressing on the islands with some light exploration/day trips. Don't you ever feel like you need a vacation from your vacation? Secondly, this method allows you to visit any attractive destinations that your cruise itinerary missed, which can be done in a Galapagos land-based day-tour.
Hope this land-based Galapagos guide was helpful. If you have any remaining questions, reach out to our traveler experts, who will give you detailed information on any enquiry you may have.
---