Galapagos cruise guide – Class differences
When scanning cruises or yachts for your holiday in the Galapagos islands, you find there are an unlimited number of options. In reality, there are approximately 85 different Galapagos boats to choose from. However, for planning purposes, the sheer volume of options means decision-making is pretty hard! Research has shown that too much choice can lead to "choice paralysis" and reduce satisfaction with a decision, even if it was a good one.  Thus, I have created a Galapagos cruise class guide that differentiates each cruise class category.
I've read others class guides on the web, but this is without a doubt most comprehensive and detailed. By the end, it should help you rapidly narrow down your choice to a manageable handful. I won't be naming any specific Galapagos cruises to remove all bias. Rather I highlight the most important differences in Galapagos cruise classes.
Timing
Of the 80+ cruises in the Galapagos, it's likely many are nearing capacity, or perhaps already are full. Why? Travellers are booking Galapagos tickets left and right, with tickets being sold six months to a year or more in advance. The Galapagos Islands, after all, is a UNESCO world heritage site and a bucket-list dream destination for countless individuals. So, before you get your heart set on any cruise, whether it was because of a friends recommendation or research, ensure there are enough spots for the number of passengers you have.
To help in this regard, our site has a handy search filter, where you can put in your dates to check cruise availability. Some have the status of "to be determined," as the agency must communicate directly with the cruise owners to check availability.
Secondly, if you find the perfect cruise, book in advance. Do your due diligence and complete your cruise research first, but don't procrastinate at the expense of losing your top choice/s. 
Galapagos Cruise class pricing 
This topic narrows options by roughly two-thirds. No surprise, Galapagos cruise class and price go hand in hand, where the price increases substantially with each jump in class category. However, with Covid-19 and new deals always being published, prices of one category can drop significantly. Ask us about any ongoing and unpublished deals. There are four yacht categories and one cruise ship category. Across the Galapagos cruise industry, the categories go by different names, and cruise and yacht are often used interchangeably. 
Features on all Galapagos cruise classes
All ships regardless of the category have private bathrooms with a hot shower, air-conditioned cabins, tasty meals throughout the day, a sundeck for soaking up the sun (don't forget lotion style sunscreen, Ecuador's sun doesn't mess around), a shared living space with a television, and basic toiletries.
Differences between Galapagos cruise classes
The biggest difference between each Galapagos cruise class category is the overall size of the ship, including the living spaces and quarters. Bigger boats have more room to play, affording more lounging areas, attractions, and furnishing.  The second difference is the overall level of service. As you jump up in categories, the experience will become more personalized. You'll receive more attention, the food and beverage options increase, the guides are more experienced.
Basic yachts 
Also known as economic or budget. These fall in the range of $300-400.00 per passenger per night. Typically, basic yachts have bunk beds, while a few offer a double bed on the bottom and a single bunk above, which affords guests triple occupancy. Check for a matrimonial suite for the best in basic. Notably, smaller Galapagos boats rock more compared to bigger boat, which is a factor for those prone to motion sickness.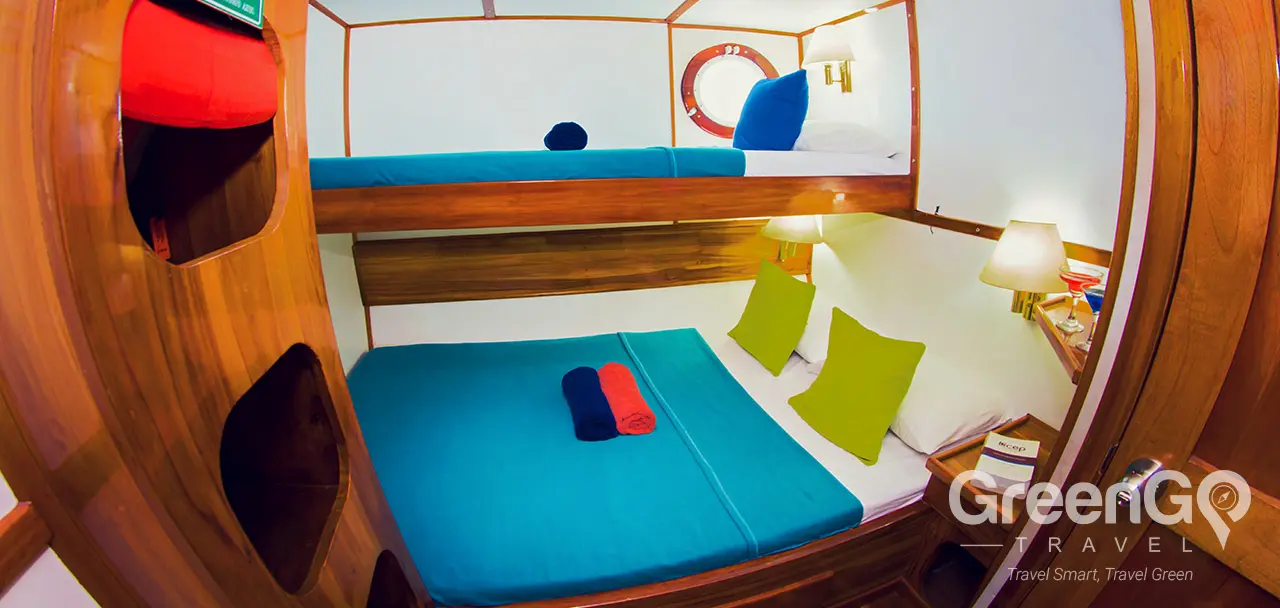 Bunk beds, common in basic classes
Superior Galapagos yachts 
Also known as mid-range, these run from $400-600.00. As you can see below, there is a noticeable increase in size, which offers guests bigger cabins, beds, and bathrooms, and getting around bunk beds. Apart from the cabin, shared lounge areas get bigger along with dining areas, and you'll have some more deck space for privacy. Additionally, some in the fleet offer full bars, kayaks, and libraries.  
First-class yachts
 $600-799.00. Again, another substantial increase in size across the board, which is moving toward the "hotel on the water" feel. The bigger yachts of this class offer more areas to find private space, whether it is in the lounge, or the decks situated in the front, back, sides, and solarium. This is great for those like me that need a few minutes in solitude to recharge.
The first-class category also introduces cruises with jacuzzis on the solariums (not all yachts), private balconies, interconnecting rooms, outdoor dining areas, indoor and outdoor bars, king-sized beds, 4 passenger availabilities, and in-room HD televisions.  Free inclusions including snorkel equipment, wetsuits, kayaks, and beer/wine with dinner are also great perks.
Luxury yachts
Luxury Galapagos cruises are the most expensive at $800.00+. Again, size increase across the board. Some of the cabins are equally as truly large as luxury hotel rooms. You'll have plenty of space to unpack or hang clothing, and some even have a laundry service. Rooms often have furniture and desks. A large percentage offer cabins with balconies, large windows, jacuzzis, glass-bottom kayaks, and large bathrooms. 
The level of attention and service on these cruises are unrivaled, even including an onboard cruise manager. This staff member ensures the cruise experience meets all expectations and holds the staff to the highest standards. Additionally, the bar is manned by a skilled bartender.
You have all the same inclusions as the first-class category plus some more. You can even rent-free 4k cameras on some ships for snorkelling.  My personal favorite is the professional room cleaning service, which on some luxury cruises occurs twice daily. They do this while you are out having fun on adventures, so you always come back to a spick and span room, which is particularly nice before bed. You'll also have some tiny surprises, but I won't give you any spoilers.
Galapagos cruise ships 
Capacity
The fleet of five Galapagos cruise ships differs from the yachts in a few important ways. The most obvious is capacity, with passenger limits of 32 (Evolution), 48 (La Pinta), Isabela (40), Santa Cruz (90), and the Legend (100). It is a little more complex placing ships in a "class" category, which I'll explain in detail. 
Differentiating features
Doctor
Cruise ships have features that are uncommon in all of the yacht categories. Perhaps the biggest is a doctor on board, which could come in handy for families with young children, seniors, or passengers with health conditions. My father was having some trouble with his back, and the doctor helped immensely in relieving his discomfort. It is always reassuring to have a health professional nearby. 
WiFi
Apart from the medical side, the majority of ships offer WiFi. As nice as it is to escape internet access for a few days, sometimes sharing your experience with friends or communicating with somebody is important. Check the pricing for Wifi, and if it is a data plan, try not to watch videos or open big pictures or you might burn through the data. 
Space and lounge areas
Other special features include gymnasiums with weight and cardio equipment, libraries, and glass-bottom boats (an alternative to snorkelling). Regarding the glass bottom boats, I think this is an important factor for any seniors. Taking part in every excursion (three to four per day) requires some stamina, and the physical demands of snorkeling are higher. Glass bottom boat, problem solved. 
Cruise ship Cabins
Regarding the cabins of Galapagos cruise ships, there is a range of options. You can select a cabin matching the standards of luxury, or one closer to the superior or first-class category.
Ultimately, the cabin you choose is what will vary the ticket price the most. The benefit is, for those interested in the superior class, you can find a cabin roughly equal in price and quality relative to superior, but you get the added bonus of a larger ship and its facilities, like the Jacuzzi, WiFi, and spacious decks. This is where you have to sit and think for a minute. Do I want the extra space a big ship affords or the intimacy of a yacht?
When my family and I went on a 100 capacity cruise, we lucked out as the ship only had roughly 50 passengers or so. You might be able to get a similar circumstance, speak to our travel experts and maybe they can work something out!
GreenGo Travel
Hope this blog provided everything you need to know on the differences between Galapagos cruise categories.  If you have any further questions, drop them in the comments and we will follow up, or speak with our travel agents who know the Galapagos like the back of their hand!
---