What's the Weather Like in Machu Picchu, Peru?
Temperatures, rainfall, when to visit, what to wear & much more!
When most people from North America think of South America, they think of hot, balmy weather. And, for the most part, this is true! South America is home to the Amazon, some genuinely amazing beaches, and even some hot, arid savannas. But what can you expect in Machu Picchu, Peru? It's located in the Andean mountain range, where the weather is notoriously brisk!
Actually, Machu Picchu is located in an area where weather can be hard to predict – at around 8,000 feet above sea level, it's between the steamy Amazon and the chilly city of Cusco. Some say that within a single day, you can get all four seasons – complete with cold rain, warm sunshine, chilly wind, and even snow!
What Affects Machu Picchu Weather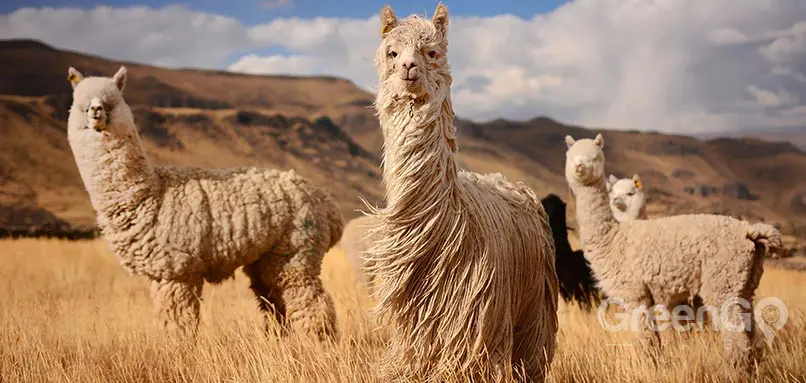 Windy days do not help our llama style ?
Machu Picchu is located at the front line of a battle ground between the cold winds of the Andes and the hot and humid air of the Amazon. This is why the weather can be so difficult to predict in this area – it changes almost instantly with any adjustment in the wind.
This, combined with fast-moving cloud cover can quickly turn the weather. You can experience hot sun, cold, wet rain, then back to hot sun in less than an hour!
Temperatures in Machu Picchu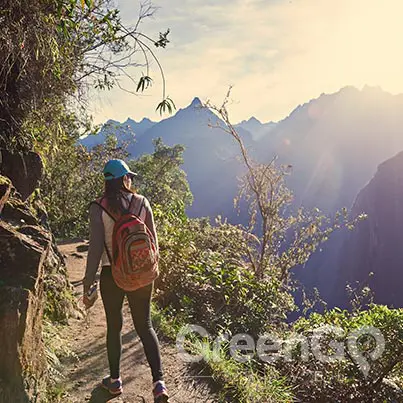 Hiker walking in sunny day in Machu Picchu
Average highs are actually fairly steady throughout the year in Machu Picchu – high 70's (25ish Celsius). Definitely T-shirt weather! But it's the lows that can sting – early in the morning and overnight, it averages low-to-mid 50's (around 10° Celsius).
The coldest nights are usually in June and July.
Keep in mind that these are just the averages. If there's one constant in Machu Picchu, it's that the weather changes regularly!
So what can you expect in terms of ranges?
Although it's pretty rare to get temperatures over 80°F, lots of travelers comment on how it feels hotter.
At 8,000 feet up, you're closer to the sun, and the air is a bit thinner. This can make the sun feel much more intense.
---
Sign up for Our Newsletter
Exclusive access for savings up to 50%, eligible for subscribed members via email only.

Signup for Peru, Offers & Discounts
---
On cold days, the temperature can dip down to just below freezing.
Rainfall
Cloudy Day in Machu Picchu
Machu Picchu weather has a rainy season that lasts from December to March, and the dry season is from April to November. That's just a general guideline, though. You can still get rainy weather during dry season, and dry weather during rainy season.
During rainy season, you can expect anywhere from 10 to 20 days of the month to be rainy, whereas in dry season it's more likely to be between 2-10 wet days in the month. Annual rainfall is in the ballpark of 80 inches, and the rainy season usually drops about 80% of that amount.
Fog can roll in at any time in this area. While the dampness can add to the chill, it also adds to the intrigue and beauty of this 7th wonder of the modern world.
When to Visit
Planing travel dates
Peak season is June to August. This is when it's the driest and easiest for walking. The weather is often nice and toasty when the sun is high, so this really is the perfect time to visit.
The skies are pretty reliably clear during this season, especially in the afternoons. This can lend itself to some absolutely phenomenal photography to immortalize your vacation!
January to February is probably the most difficult time to visit. This is when it's the wettest, and getting around can be difficult. Some of the roads are closed in February, too, when the rains are really heavy. This includes the famous Inca Trail, which is the traditional way to get to the ruins.
You can still get to the ruins in February, though. One option that is available year-round is the daily train from PeruRail. It takes about 4 hours to get to the site from Cusco. There are also hiking trails for the more adventurous, which can take 4 days to complete!
The months in between can still be a great time to visit. You can definitely expect a bit of rain, but the ruins are still very manageable if you have some good hiking footwear.
The thing is, Machu Picchu is an awesome place to visit whether it's rain or shine. If the sky is clear, you can get amazing shots of the entire ruins. If it's cloudy or foggy, you get an eeriness that can make the visit seem totally out of this world.
What to Wear
Clothes shopping
This is super important!!
You don't want to be like me – when I moved to Ecuador and flew in to Quito (similar altitude) I showed up in a t-shirt, shorts, and Panama hat. South America is hot, right? Man, I looked like an idiot!
The trick to the high-altitude areas in the Andes is to layer. That's the best way to be able to deal with below freezing and hot sun all within the same day.
Here's my recommendation:
Come with a small backpack. This will make it easy to unload layers as needed and not feel encumbered. Bring light full-length pants. I personally like ones that are quick-drying. You'll appreciate them if it rains.
The top half is really where the art of layering comes in. Wear either a cotton T-shirt or, if you want something higher performance for a bit more hiking, a synthetic base layer shirt that does a good job of wicking. Long sleeves will help keep the bugs away.
For a mid-layer, you're going to want something with a bit of insulation. Polyester fleece is great because there are a lot of options. You'll probably make best use of something that's light or mid-weight. In the US they use numbers to define "weight", so look for something with a rating of around 100 or 200. Alternatively, you could just use a hoodie or light wool sweater.
The outer layer, or shell, is important when it's raining or windy. If you have something that's classed "waterproof non-breathable", you'll probably be sweating uncontrollably. Usually "water resistant breathable" hits the sweet spot for the Andes, especially if you're going to be walking around/hiking.
Other than that, make sure you bring some nice, grippy hiking shoes/boots. Try to make sure that they're broken in before you do any extensive hiking in them. Some of the hiking spots can be a little slippery when wet!
Ultimately, Machu Picchu is listed as a wonder of the modern world for a reason. Come ready for machu picchu weather, and you can really get the most out of an awesome vacation!
Now that we have weather out of the way, hopefully we convinced you of visiting. Care to browse for some Peru tours? Our Peru experts are ready to help you get started. Our free trip planing has no strings attached. Contact us today!
---
Ready to get started with your Ecuador, Peru & Galapagos Adventure?
Reach a Galapagos Expert, Free Quote, Commitment Free!
---
The Best Galapagos Search Engine in the Market!



Tailor & narrow your Galapagos Cruise options – to your liking & specific requests. With over 10 filters, & more being added monthly. Search for your Ecuador & Galapagos dream tour today!
Find Offers & Availability Now!
---