Galapagos vs Caribbean – Where Should I Cruise?
All you need to know about cruising the Galapagos or the Caribbean.
Let's face it – cruises are awesome. Even if they're just a few days, they're memorable for years, and well worth all the desktop background pictures at work! When it comes to choosing an actual cruise, though, there are tons of destinations to choose from. Does it matter where you go?
Yes.
Different cruise destinations offer totally different experiences. You could hardly find more of a contrast between the eco-friendly Galapagos and the glamorous Caribbean.
First off, I want to make a confession. I love the Caribbean. I love the culture, the food, lifestyle – I even lived in a CARICOM country for 3 years!
But if you're looking for the perfect vacation/adventure, read on so that you can make sure that your cruise is right for you!
Aren't All Cruises the Same?
galapagos cruise
No.
Aside from climates being different based on where you go, the entire experiences are unique. Some cruises are focused entirely of the offerings of the ship, others are focused more on destinations.
According to some estimates, there are a total of 314 large active cruise ships worldwide, with a passenger capacity of over half a million people.
It's expected that these ships will end up carrying a total of 26 million people in 2018.
One thing is for sure: There are a boatload (see what I did there?) of choices when it comes to cruises!
How Much Does Destination Matter?
world of destinations
A ton.
Different ocean cruises are offered all around the world. Common destinations include the Caribbean, Alaska, the Mediterranean, Hawaii, Australia/New Zealand… if there's enough water, someone will put a big boat in it!
Here are some factors that change based on destination:
Weather
Type of ship
Number of passengers
Sights/excursions
Cost
Duration
Focus
The whole experience!!!
Really, in choosing where you're going to cruise, you'll be setting the tone for the entire voyage. That's why it's so important to know the differences in what's being offered.
What's a Caribbean Cruise Like?
Caribbean cruises are well known for being floating cities. Literally. There are dozens of large ships cruising the Caribbean that are capable of carrying well over 70,000 people!
The Ships
caribbean ship bow
These behemoths are famous for things like massive dining halls, casinos, theaters, live shows, all kinds of pools, you name it.
There are even a few things you might not expect on a Caribbean cruise ship. Attractions like:
Go-cart racetracks
Surf simulators
Full-on water parks with 10-story water slides
Skydiving simulators
Ziplines
Bionic bars (yes a robot will mix your drink!)
Rock climbing walls
An AquaTheatre (performed by divers)
Of course, these won't all be offered on a single ship. Seriously, though, there are a thousand other strange and wonderful things that could populate that list, but you get the idea. Caribbean cruises don't need to be just about relaxation any more.
---
Sign up for Our Newsletter
Exclusive access for savings up to 50%, eligible for subscribed members via email only.

Signup for Galapagos News, Offers & Discounts
---
The Beaches
caribbean beach
This is a little more along the lines of what commonly comes to mind when people think of the Caribbean. The wonderful, sandy, immaculate, breezy beaches.
As the floating cities pull in to harbor, you'll get a chance to hop out and spend a few hours on a beach.
Do what you want here. Lots of people just like to soak in the sun with a good book and enjoy the sound of the ocean.
That said, you're definitely not limited to swimming or sunbathing at these stops. Here are a few things that you might love to try out:
Snorkeling
Kitesurfing
Hiking excursions
Fishing
Diving with sharks, stingrays, or dolphins
Surfing
Shopping
Rappelling
Really, what you're able to do will depend a lot on how long the ship is staying put in one place. Make sure you carefully check the itinerary to see if what's offered is what you're wanting to do.
What's a Galapagos Cruise Like?
Totally different.
The ships, the type of luxury offered, the pace, the intimacy, the entire focus of the cruise – completely unlike the Caribbean cruises. Here's why:
The Ships
small group exploring galapagos
For starters, only a certain amount of people are legally allowed to be in the Galapagos at any one time. That's a protection measure that ensures that tourism here is sustainable.
What does that mean?
No floating cities. Actually, the max passenger load you'll see on a ship in the Galapagos is just 100 people!
In fact, many of the ships are considerably smaller. You'll find a good percentage of Galapagos cruises are offered on 16-person yachts. Really, you'll find a great selection of ships, yachts, catamarans, even sailboats, to choose from to explore the islands!
This makes the entire cruise much more intimate. There are no endless crowds of people competing for time at the attractions.
Instead, your tour guides will be able to get to know everyone's name within the first day, they'll get to know your interests, and be able to tailor the experience to suit what you want to get out of it.
What Kind of Ship Do I Want?
Each of the types of ship that are available in the Galapagos offer a different type of experience, so here's an overview to help you know what you want:
Yacht
galapagos yacht
This classic boat is the most common way to cruise the islands. Usually the yachts carry 16 passengers, and are a great way to enjoy the Galapagos in comfort. They often have luxury features like Jacuzzis and sun decks.
One of the perks of choosing a yacht is that there are the most options for cruises. GreenGo offers tours on 32 different yachts, more than any other style of boat.
Catamaran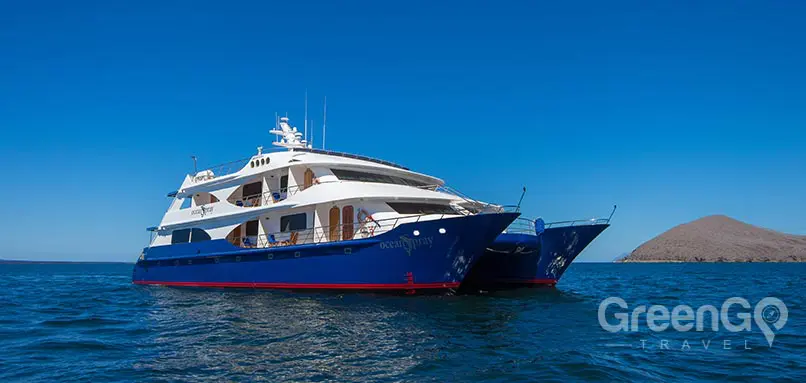 galapagos catamaran
This type of boat is famous for its stability. If you're prone to seasickness, this style really holds its own against the waves. It's also much easier to walk around during rough water. They have a natural buoyancy, so many people consider them to be unsinkable.
Catamarans are also well known for typically having a little more living space, due to the platform-style of construction. However, they're usually smaller vessels, typically with a 16 passenger capacity.
Despite being smaller, they're packed with luxury. Sun decks with amazing views, hot tubs, and bars are all things that you might find on yours. Choose from 21 different vessels with GreenGo.
Motor Sailor
galapagos sailor
These have a unique charm that really appeals to those that want an ocean experience.
In the Galapagos, though, the winds are usually very light. This means that the sailboats often have to rely on the motor to keep pace with the itinerary.
Even though they're uncommon, they can be a great way to add a unique element to your voyage.
Cruise Ship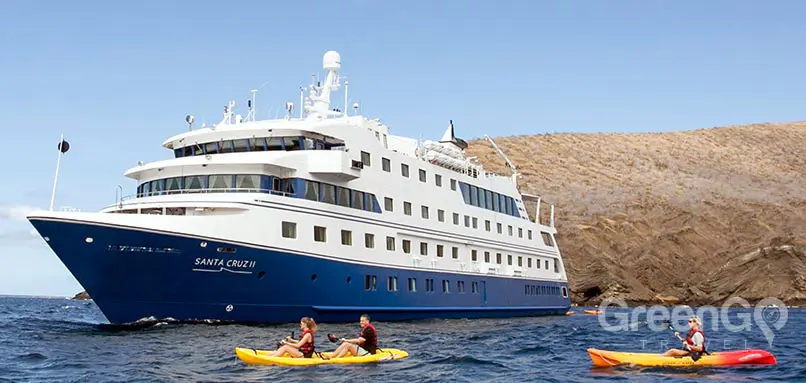 galapagos ship
These are the big ones. That said, cruise ships are smaller in the Galapagos to ensure sustainability. You can probably imagine what would happen if 70,000 people suddenly showed up on one of the tiny islands on a regular basis.
By law, cruise ships in the Galapagos can't exceed 100 passengers. You'll commonly find cruise ships here anywhere in the capacity range of 30-100 people.
Even though there are only 6 ships available to tour with GreenGo, there's a combined capacity of over 350 passengers!
This is the most comfortable way to travel around the islands. The cabins are typically larger, and these ships are usually complete with medical centers, boutiques, and other amenities.
To really get an idea of what to expect on a Galapagos cruise ship, let's take a look at one of the high-end ships that regularly tours the islands:
Celebrity Xperience
celebrity xperience
The Celebrity Xperience is a 48-passenger vessel. There are a total of 4 guides on board (certified bilingual), which works out to 1 guide per 12 passengers. There are two decks and 26 cabins.
Pictures really are the best way to express the quality of this cruise, so here are a few to give you an idea of what to expect:
xperience interior
Too see exactly what's offered on this particular ship, take a look at the packages offered by GreenGo.
The Galapagos Expeditions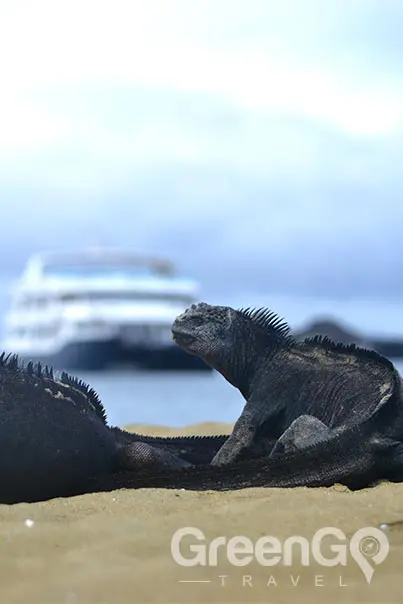 galapagos marine iguanas
The expeditions are really focused on nature.
Since there are so many species here that are endemic (restricted to a particular area), make sure that you take every opportunity to see them first hand!
Check out the giant tortoises, flightless cormorants, and sea lions on memorable hikes.
Go snorkeling with sea turtles, colorful crabs, and marine iguanas.
Enjoy the views of the active volcanoes that created this archipelago.
Hang out on a beach with a few penguins.
Wake up to a different beach every morning.
Kayak surrounded by volcanic landscapes.
Dive with the most bio diverse marine life in the world.
Ultimately, this is what makes a Galapagos cruise so special.
You won't see these things anywhere else in the world.
Which One is Best?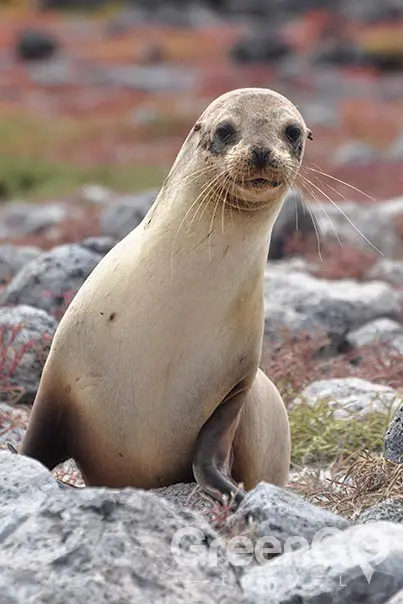 galapagos sea lion
There is no straight answer to that one. It depends on what you want.
Caribbean cruises can be a way to luxuriously experience what we're capable of building, along with a ton of amusement-park like attractions.Interspersed with beach days and tropical drinks, it can be a great vacation that's both relaxing and adventurous.
Galapagos cruises are totally opposite. Instead of being along with tens of thousands of people, the ships are small and cozy (comparatively). Ecotourism is the main attraction, and you'll get to be among the few in the world that have seen some of the most isolated, endemic parts of nature right where they're supposed to be.
By far the most remarkable feature in the natural history of this archipelago…is that the different islands to a considerable extent are inhabited by a different set of beings…I never dreamed that islands, about fifty or sixty miles apart, and most of them in sight of each other, formed of precisely the same rocks, placed under a quite similar climate, rising to a nearly equal height, would have been differently tenanted. – Charles Darwin
Why Would I Choose a Caribbean Cruise?
caribbean ship
Different cruise lines target different demographics – whether you identify with the spa/gourmet travelers, the food and entertainment mass appeal, or active families. There are loads of cruises and cruise lines to choose from.
In general, you'll be following the herd with a Caribbean cruise. With massive passenger capacity, these ship patrons can be competitive when it comes to getting what attractions you want in high season. You can also expect some pretty full beaches when the boat unloads.
Even though you'll be staying on the beaten path, you can still have some pretty amazing experiences.
I remember one time in Tobago, my wife and I were swimming around a very crowded Pidgeon's Point beach when a school of small fish made the water turn almost black around us. Within minutes, a flock of pelicans started plunging in the water and gobbling up the fish around us faster than I thought possible until there was almost none left.
That was a really cool experience.
The Caribbean culture is awesome, too. It's laid back, and the food is delicious.
The downside to the Caribbean cruise?
Hyper. Commercialized.
If you like following the herd, this might be just what you want. If you like the novelty of swimming in a wave pool on a boat in an ocean with waves, then a Caribbean cruise is definitely right for you.
Personally, the adventurer in me is always looking to run off that beaten path to see what local life and nature is all about. It's just more fun for me.
(By the way, if you're ever in Tobago, head straight for Pirate's Bay to the northeast – my wife and I had the beach entirely to ourselves for a whole day!)
Why Would I Choose a Galapagos Cruise?
galapagos wildlife
Unlike the commercialized Caribbean cruises, the Galapagos tours are all about
sustainable

,

eco-friendly tourism
.
The Galapagos is literally one of the most unique, bio-diverse places on earth.
The smaller boat sizes mean that the tour guides will get to know you on the trip, and they'll add an excellent personal flair to your adventure.
In contrast to the global 26 million people that go on cruises annually, the Galapagos only allows about 250,000 to visit each year, with tight controls on duration to limit the dangers of tourism to the area.
If you go on a Galapagos adventure, you'll definitely be one of the few.
Instead of massive crowds of camera-wielding, sunburned tourists, you'll have an intimate but luxurious experience as you explore a tiny part of the earth that is totally unlike anywhere else.
---
Ready to get started with your Ecuador & Galapagos Adventure?
Reach a Galapagos Expert, Free Quote, Commitment Free!
---
The Best Galapagos Search Engine in the Market!



Tailor & narrow your Galapagos Cruise options – to your liking & specific requests. With over 10 filters, & more being added monthly. Search for your Ecuador & Galapagos dream tour today!
Find Offers & Availability Now!
---