The Amazing Galapagos Kicker Rock
Found in the heart of the Galapagos National Park lies one of the most iconic geological wonders of the world. Jutting magnificently out of the crystal clear waters of the Pacific Ocean off the Northern coast of San Cristóbal Island, the breathtaking "Kicker Rock" attracts thousands of travelers every year.
It's a no brainer to visit kicker rock, but you've to do it right, so read our expertly curated list of all the information you need to prepare for the glorious adventure. Read on to discover various facts, the avian and sea life you can see, how you'll get there, the water temperature, pricing, snorkeling information, and everything else you can imagine.
Why is it called Kicker Rock?
First things first, a bit of background information. Kicker rock has been anointed its catchy name due to its boot-like shape when viewing it from the Northern vantage.
However, the original Spanish name for Kicker Rock is "León Dormido," which translates to the sleeping lion, (way cooler!). When you see Kicker rock from its southern vantage, you'll see that the Galapagos rock formation appears as so.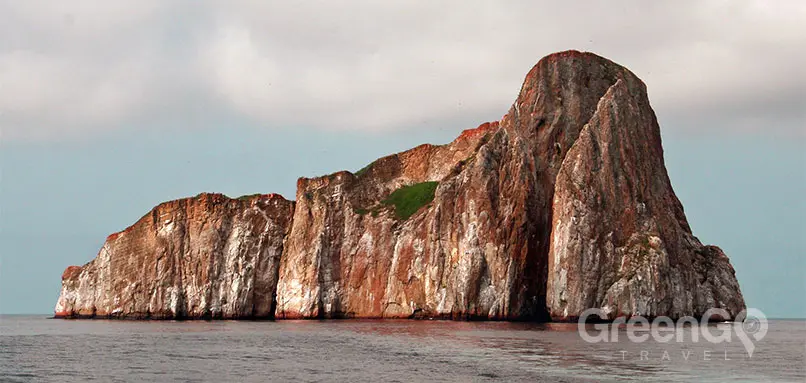 WildLife – Visiting Leon Dormida
Kicker Rock is a critical refuge for sea life in the Galapagos Islands. As Kicker Rock is a dive and snorkel destination, you will certainly experience a "wet landing", in other words, you'll gracefully jump into the water from a rubber dinghy.
While snorkeling or scuba diving, not only can you spot an array of colorful fish, you will swim amongst marine iguanas, sea lions, sea turtles, and spotted eagle rays.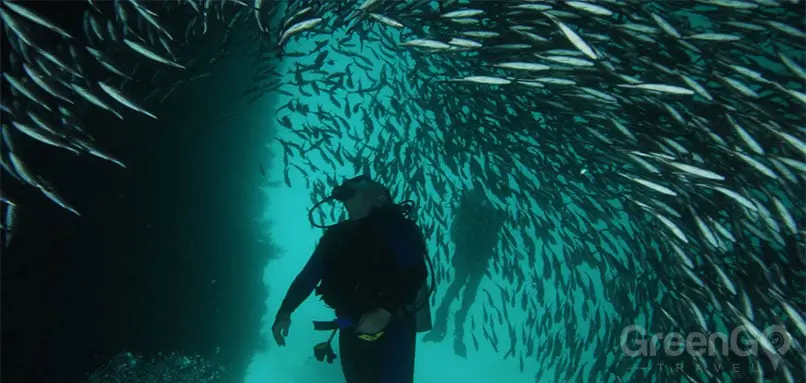 Leon Dormidois is also recognized for great opportunities to see a wide range of harmless Galapagos sharks including hammerhead sharks, white-tipped reef sharks, and black-tipped sharks.
In addition to tropical fish and sea creatures, you'll see native birds in the area including blue-footed boobies, red-footed boobies, Nazca boobies, and Magnificent Frigatebirds.
How deep is the water by Kicker Rock Galapagos?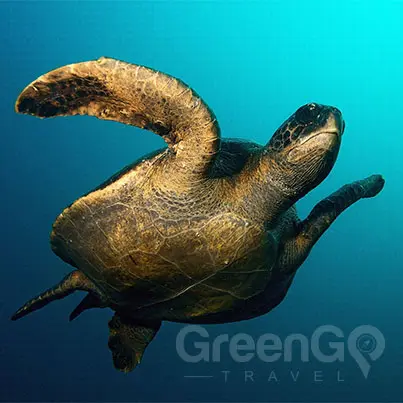 The waters around Kicker Rock range from 3o feet to 130 feet.
As for the Kicker Rock channel that you will swim through, the water is roughly 60 feet deep, while the width of the channel is approximately 70 feet (19 meters) wide.
Don't fret if you aren't the strongest swimmer.
Our tour providers distribute life jackets so you can safely explore the area, and are led by English-speaking guides who keep an eye on all guests on the tour.
The cost of a day trip to Leon Dormida – Galapagos islands
A trip to one of the most emblematic spots in the Galapagos costs roughly 179.00 USD, starting at 9 am and ending at 3 pm. Your tour includes:
Some of the most spectacular snorkeling around San Cristobal Island
Transportation and dinghy ride to the various points of interest. Depending on your departure date, your visit will also include a relaxation visit to either Punta Pitt, Cerrjo Burjo, Manglesito, or Galapaguera.
An English-speaking naturalist guide
Snorkel equipment (mask, tube, fins, and wet suit)
A towel to dry off
Hot and cold drinks, fresh fruit, snacks, and a box lunch.
Onboard the forty-five-foot chariot (yacht!) are two bathrooms, a lounge, and fresh water showers.
How to visit Kicker Rock?
Kicker Rock is not accessible unless by tour or Galapagos Cruise. A day excursion to Kicker Rock typically leaves from Puerto Baquerizo Morenos Dock and arrives at dawn. Normally, the tours last 6 hours.
Best time to go
Kicker Rock is open all year round, and the marine life is always excellent no matter the time you visit. However, there are a few important things to know that may sway your decision of when to do a Leon Dormida tour, or, your entire Galapagos trip for that matter.
Seasons of Galapagos – Kicker Rock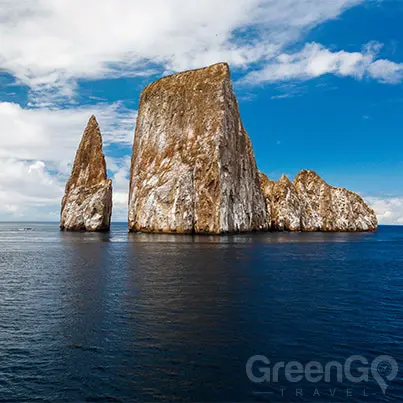 The warm season in the Galapagos Islands is between December and May, and this means the water will be much warmer relative to June to November. During the warm season, you can likely stay in the water for longer periods if you get chilled easily. Moreover, the water during the warm season is a bit calmer, and the waters more clear.
While the waters from June to November are colder and stronger (roughest between August and September), your trip during this period will likely have a greater abundance of wildlife. The colder water is brought on by the Humboldt current, which carries important nutrients that helps the local sea life flourish.
With colder, you'll likely need a wet suit, which is provided by our tour providers and available on many of the Galapagos cruises we provide. All things aside, you will always have plenty of wildlife whenever you go.
Tips for Kicker Rock:
Bring the Camera!
Make sure to bring your camera or phone to snap a few shots of this iconic destination, as its unique shape provides an excellent backdrop for beautiful photos, especially at sunrise and sunset.
Practice makes perfect for snorkeling
If you've never snorkeled, I wouldn't make kicker rock your first experience with it. Purchase a snorkel and do a bit of practice at your local pool. The conditions won't be the same as Kicker Rock of course, but learning to expel water out of the snorkel effectively takes some practice.
Sunscreen. Sunscreen. Sunscreen
The sun is no joke near the equator, and if you don't wear sunscreen, you will burn, and it will burn much stronger than it does in Florida. Apply and reapply, and get the certified reef-safe sunscreen to protect the reef.
How to book a trip to Kicker Rock
To book a trip to Kicker Rock and the Galapagos Islands, reach out our to our expert team of travel planners at GreenGo travel and get started with your dream vacation!
Reach a Galapagos Expert, Free Quote, Commitment Free!
---