Galapagos Snorkeling and Scuba Diving Guide
After snorkeling and Scuba diving in Costa Rica, Belize, Isreal's red sea, Florida, and Mexico, I can confidently say that snorkeling in the Galapagos is one of the best destinations in the world for the sport. With the extreme pressure to protect the waters and park, the huge conservation efforts in preservation, and millions of years in isolation, this destination is as pristine as it gets.
The stunning marine biodiversity of the Galapagos islands attracts thousands of visitors every year. Off the coast of this beautiful archipelago, you can stick on a mask and fins and you'll soon be swimming amongst coral reefs with the likes of Galapagos sea lions, Iguanas, hammerhead sharks, and much more. Read below to see our tips for maximizing your Galapagos snorkeling and Scuba diving experience.
Colorful reefs found on the Galapagos Islands. Take me back!
When to Go – Galapagos Snorkeling &/Scuba Diving
When to go snorkeling is a decision that comes down to two primary factors. The first, what water temperature are you comfortable swimming in? Secondly, which Galapagos marine animals do you want to see?
Galapagos Water Temperature 
The water temperature of the Galapagos can fluctuate significantly during the year. As this region straddles the equator, you only encounter two seasons: Rainy (hot) and Dry (cooler).  Below are the season descriptions in full detail.
Warm Season January – June  Snorkeling in the Galapagos
This season is the warmest and sunniest period of the year, with occasional sessions of drizzling. With air temperatures commonly between 75-85 degrees during the day, the water temperature is common in the high 70s F (25+°C ) and can even reach 80 degrees (26 °C). This is a pleasant and refreshing temperature for swimming, and you generally won't need a wetsuit.
Galapagos Wildlife & Highlights Throughout the Warm Season
My first Galapagos snorkeling experience was during this season on the Legend Galapagos Cruise. The best part was that every snorkeling tour I went on was in swimming trunks, snorkel and mask, and fins. No shirt and the water felt spectacular. I floated along with a huge crowd of Galapagos turtles, watched countless sea lions acrobatically darting through the water, witnessed marine iguanas torpedo down and chomp on algae. There were many vividly colored blue and red starfish, and huge schools of fish. Snorkeling during this season was spectacular, and I had no complaints! If you are a scuba diver, however, read on to see the benefits of the next season.
Season Highlights
Adult male marine iguanas on Española Island become brightly colored to attract mates (January)
Land Iguana mate on Isabela Island (January)
Galápagos sea lions breeding (May through January)
Whale sharks may be seen in the far northwestern islands towards late June
Galápagos green turtles arrive to lay eggs on beaches
July through December – Cooler Season
During the "garúa season", air temperatures average out at 76.4 F (24.4) degrees. The water temperature drops down to the low 70s surrounding most of the islands, and can down to nearly 60 degrees on the west side of Isabela.
On my second trip, I snorkeling in August on the Elite Galapagos Cruise, the time with the coldest air temperatures (70 F, 21 C), and it was a dramatic change. I had on a wet suit on every excursion except one occasion, and that instance took my breath away for a few moments! While many of the guests could snorkel a solid 45 minutes to an hour on my first Galapagos stint during the warm season, some guests were getting out of the water after 20 – 30 minutes on the second Galapagos Snorkel adventure. That being said, there were some benefits for snorkeling, which exponentially increases for scuba divers.
Galapagos Wildlife & Highlights throughout the Dry Season
If you care less about the cold and more about wildlife, then this is the time to come to maximize spotting marine wildlife. The Humbolt current, which flows from the Southern tip of South America, brings more than just cold temperatures to this tropical climate. Upwellings occur, a phenomenon in which winds push away warm nutrient-depleted waters and replace them with nutrient-rich waters from deep below the surface. This nutrient-rich water rapidly multiplies the number of smaller organisms, resulting in an explosive food chain reaction.
Season Highlights
Increased Whale and dolphin sightings
Whale sharks in wolf and Darwin Islands
 Galápagos sea lions give birth to pups
Galápagos penguins courting on Bartolomé Island
Highly active sea lions (September)
 Galapagos fur seal mating season begins (October)
Significant Galápagos Green turtle activity with peak mating season (November to January)
Wetsuit thickness Galapagos Snorkeling and Scuba Diving
For snorkelers, wetsuits of 3mm thickness for snorkeling in the Galapagos is sufficient, as you won't be diving deeply. If you are Scuba diving, 5mm thickness is recommended, with gloves and hood. And for those that get extra cold, bring the 7mm. Those going on liveaboard diving trips, consult with our trip advisors, as the cruise may have all the materials you need!
Top Snorkeling Sights in the Galapagos
1. Kicker Rock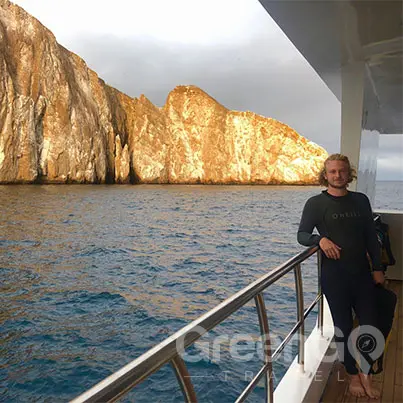 Kicker Rock is an immense lava cone jutting out of the Galapagos sea. This impressive geological site towers 500 feet tall (140 m).
When I snorkeling this site, we brought life jackets as the water is a little deeper. We snorkeled through the canyons that run through the middle, and it was full of wildlife.
While snorkeling, I saw Galapagos sea lions, 10+ sea turtles lazily floating by, two large sharks seemingly minding their own business and a massive schools of fish.
My guide swam underneath one school, and then up through the middle.
The thousands of fishing parted, surrounding him. It appeared as if he were in the middle of a tornado!  I think of all of the Galapagos snorkeling sites, this was my favorite. We weren't lucky enough to see the hammerhead sharks, but from time to time big schools of them drift past this area.
2. Devil's Crown
The devil's crown a site off of Floreana known for its stronger currents and incredible diversity of marine life. Instead of trying to fight the currents while snorkeling, simply relax and let the tide take you for a ride. You will see sea starfish, King Angelfish, Rainbow Wrasse, Pufferfish. If you get lucky, you may see hammerhead sharks!
3. Bachas Beach
Las Bachas beach is found on the northern coast of Santa Cruz Island. This site cannot be reached by road and requires a guide either through a tour or a multi-day cruise. This is a water entrance, leading to many beautiful creatures including butterflyfish, parrotfish, and dusky wrasses, eels, and silvertip shark. Galápagos green turtles constantly swim through this area and feed on algae-covered rocks, as Las Bachas is an important egg-laying site.
4. Pinnacle Rock and Bartolome
One of the greatest snorkeling sites of the world is located on the northeastern coast of Santiago island.
I swam with numerous shark species, sea turtles, Galapagos penguins, Galapagos sea lions, and hundreds of colored fish.
Bartolome is one of the most spectacular snorkeling sites of the entire Galapagos archipelago.
Bartolome is also accessible on a one-day boat trip from Porto Ayora, or on a multi-day cruise. Majestic schools of razor surgeonfish graze algae from rock to rock. Find hundreds of red starfish, beautifully colored parrotfish, king angelfish, Mexican hogfish, and the rarer squirrelfish.
5. Gardner Bay
This site is an islet nearby to Española, the southernmost island of Galápagos. This is the spot to swim with playful sea lions, that frolic throughout the waters. These strange creatures display impressive acrobatic movements. They often get up close personal, seemingly asking you to join in on their funny dances. You will also find marine iguana swimming in the water at this site, but the popular attraction is the sea lions!
6. Tagus Cove
Located off Isabela island, whalers and pirates made their mark on the cliffs with the names on their ships. Snorkeling here is world-class, with green turtles, stingrays, yellow seahorses for the luckiest ones! You will find rocky cliffs home to sponges, algae, gorgonians, and orange cup corals (rough corals with magnificent polyps of yellow, orange, or pink.)  You may also be fortunate enough to swim with the Galápagos penguin and flightless cormorant!
7. Los Tuneles
Located off the southern coast of Isabela Island. This name of this site translates to the tunnels, derived from the of pools, tunnels, and passages formed by lava flows. This area is comprised of a calm lagoon, where you will snorkel a site full of stingrays, rainbow wrasse, golden rays, seahorses, abundant sea turtles, and even sharks!
Galapagos Snorkeling Tips
To expel water from your snorkel, make a high hat sound "T" sound as hard as you can. Depending on the season, water may get in your snorkel from time to time
Put on plenty of sunscreen in the Galapagos, as the sun is powerful in Ecuador and you will burn within 15-20 minutes!
Get snorkeling Fins That Fit. While snorkeling or scuba diving in Galapagos, you want fins that are neither too tight, nor too loose. If you have any pain or discomfort, its time to try on a new pair. Read more about the different types of fins here
Swim Slowly! Exhaustion is a common problem for first-time snorkelers in the Galapagos. Swimming can sap your energy quickly if you overexert yourself. The best method for snorkeling is to stay relaxed and calm. The snorkel slightly limits your breath, so keep your activity level lower so you don't find yourself breathing too hard.
A Note On Cold Temperature – Galapagos Snorkeling
If you are somebody that is very sensitive to the cold, it might be better to visit the Islands when the waters are a bit warmer. The marine life will be incredible regardless of the time you visit. The question those sensitive to the cold have ask themselves is this: Is missing one or two species of Galapagos wildlife worth the 30 minutes you might miss out because you were too cold to go on?
Scuba Diving in the Galapagos
Onboard Scuba diving trips in the Galapagos are for divers with extensive diving experience.
Those that are comfortable with deeper dives, and currents of varying strengths, and colder waters.
There are day tours available for beginners and trainees, but for those that want scuba diving as their main activity in the Galapagos should be well versed in the sport.
There are various options to choose from, all with different itineraries and price ranges.
Speak with a GreenGo travel agent to ask any questions if you have any specific spots you want to see or marine species!
The advice is free and comes from professional trip advisors with years of experience in trip planning and working with other clients.
Species Encounter Scuba Diving in the Galapagos
28 Shark Species
28 shark species live within the realm of the Galapagos islands. Among them, you may witness:
Blacktip sharks
White-tip reef sharks
Scalloped hammerhead sharks
Galapagos sharks
Whale Sharks (depending on the season)
Fish Species Highlights
Groupers
Barracuda
Water jacks
Snappers
Grunts
Yellowfin Tuna
The bloody frogfish
Red-lipped batfish (Endemic to Galapagos!)
Rainbow basslet
Galapagos clingfish
Rock mover wrasse
Top Scuba Diving Sights of the Galapagos
1. Punta Vicente ROCA
This Galapagos Intermediate scuba diving destination features a slanted wall and several small caves. The maximum depth is 88 feet (27 meters), and the best visibility is found below 40 feet (12 meters). The sloping wall is covered in frogfish to seahorses and other crustaceans. However, the highlight is the Mola Mola, the ocean sunfish chomping at the corals. Adults can weigh between 247 and 1,000 kg (545–2,205 lb).  Keep an eye out for diving penguins and sea lions!
2. Gordon's Rocks
The Gordon Rocks dive site is off the eastern coast of Santa Cruz. The fascinating aspect of this site is that it includes a magnificent crater derived from an eroded lava cone. Its' specialty? Hammerhead sharks. If you want to see magnificent schools of hammerhead sharks brought in from strong ocean currents, this is the best spot to be.  This site is also known to the locals as the washing machine, meaning intermediate to advanced scuba diving skills is necessary.
3. North Seymour Ocean Side
Another beginner destination, the North Seymour close to Baltra Island is Scuba diving site is excellent for witnessing yellowtail grunts, blue-striped snapper salemas, and massive schools of eagle rays. You can also spot marble rays, manta rays, stingrays, jacks, hammerheads, marlins, and even watch blue-footed boobies divebombing for fish!
4. Camaño Islet
For those beginners, the Camaño island is perfect for you. This site is 33-50 feet in depth and has wonderful visibility making for a relaxed dive. Additionally, marine Animals that you can see while scuba diving includes groupers, batfish, sea lions, seahorses, and marine iguana!
5. Darwin's Arch
We saved the top two for last.  Darwin's arch is found on Darwin's island, a site renowned for the Hammerheads, Galapagos sharks, Silky Sharks, Blacktip, and Whale sharks up to 14 meters (45 ft) in length. Other species include Manta rays, Sea turtles, Dolphins, Eagle rays. The average depth of this site is 30 feet (9 meters). This dive site is Intermediate/Advanced.
6. Wolf Island
A long haul from the major island brings you to one of the most famous diving sites in the world. This is an advanced site only available for liveaboard cruises. The site is renowned for the Colossal whale sharks, swarms of hammerhead sharks and Endemic Galapagos sharks
Liveaboard Cruise Options for Galapagos Scuba Diving
For those that are looking for ultimate scuba diving experience, liveaboard yachts are the only way to go. These vessels reach the far off locations, those that day tours from land don't have permission for.  On these ships, you will find all the luxuries, amenities, and comforts of other first-class cruises, but these specialize in scuba diving.  Moreover, many even offer jacuzzis for after a long scuba session, large solariums for sunbathing, private bathrooms, and air conditioning.
Our top pick for scuba diving is the Calipso Galapagos cruise, which has all of the above luxuries and also has the option to stay on a few extra days for land-based excursions.
Have any questions? Don't hesitate to contact our professional team of trip planners. Looking for more of a hybrid approach to the islands with snorkeling and land tours?  Check out our fleet of Galapagos cruises and land-based tours!
---