Top Ecuador Souvenirs & Handmade Products
Traveling to Ecuador? Make sure you bring back handmade products you can get in Ecuador. Here is a list of the top Ecuador souvenirs
Have a trip planned for Ecuador? You need to know what the country is famous for, so you can bring back the perfect Ecuador souvenir for friends and family back home.  Below, we describe what is truly unique in the country, and the specialty Ecuador handmade products that you likely won't find anywhere else in the world. Here is your Ecuador Souvenir guide!
1. Ecuador's Eternal Roses
Usually, roses only last for a week or two before they go bad, but Ecuador has pioneered an industry of making roses last forever. Moreover, Ecuador roses grow in a unique area that makes them world-famous.  These roses grow at the equator, where the growing season is weeks longer, creating a voluminous shape and vivid coloration. These roses are without a doubt the most desired in the entire world, with top buyers from Russia, Europe, and the United States paying premium prices. These are the roses that would cost you a fortune back in the states, but are a great Ecuador souvenir to bring home with the cost cut by 90 percent or more!
Even better, most are Ecuador handmade products made with pride, and each gift is carefully inspected for perfection. The roses are treated with a secret formula allowing them to last perpetually. Additionally, they are carefully encased in an ornate protective casing. These encasings range from glass globes and boxes to unique shapes. These make the perfect gift for friends or that "someone special." Moreover, they are unbelievably inexpensive for what you get. A bundle of 5-10 roses in Ecuador will only cost 2-3 three dollars, while in the other countries you get a measly single rose for that amount. The roses come in a wide variety of colors, shapes, and sizes. The best part, they are straight from the source.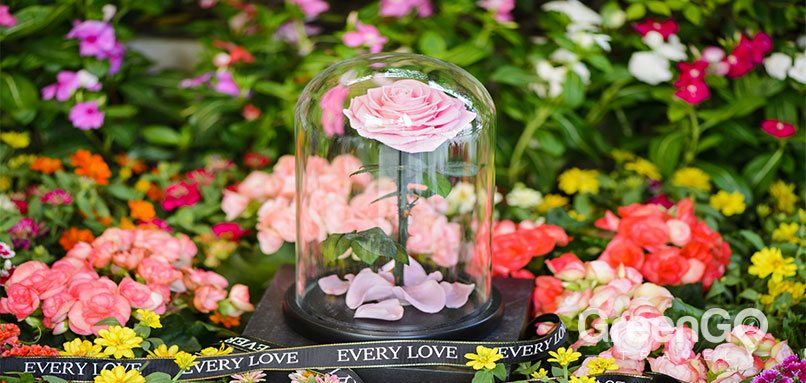 A rose that last forever
2. Alpaca Textiles and Apparel – Ecuador souvenirs
If you think cashmere is soft, wait until you get your hands on a handmade Ecuadorian Alpaca sweater, poncho, or rug. Markets in Ecuador and Quito are known for and even famous for these amazing Ecuador handmade products. This material is so soft you just want to pet the material like a cat! My parents bought a furry Alpaca rug, and they actually prefer laying on that over sitting on the couch.
You can find these Ecuadorian textiles in numerous markets. These products are expertly manufactured. The best part is that they are indigenous, hand made, and products of local indigenous communities.
I bought one of the Alpaca sweaters in the Otovalo market for such a steal after a little bargaining. I didn't have enough room in my bags so I brought it home in a colorful Ecuadorian duffel bag that would qualify as Ecuadorian art. It also cost about 5 or so dollars. What a deal!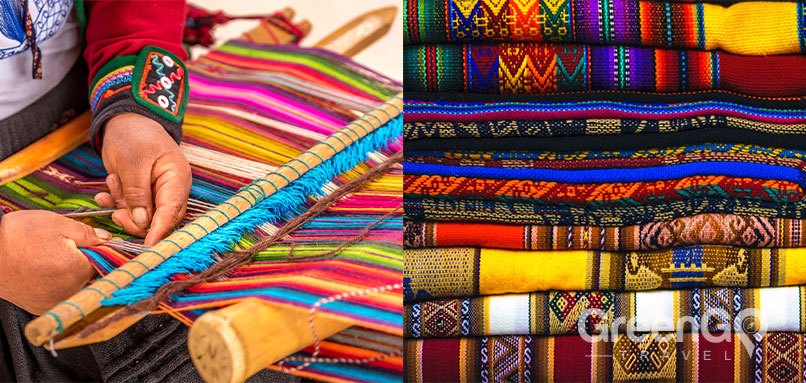 Alpaca products and handweaving are the best souvenirs!
Where to buy?
Otavalo market
3. Ecuador's Chocolate
Chocolate grows in tropical climates, think Africa and the countries of South America. So how did swiss brands become famous when they don't grow it themselves?
That is a question for another blog, but the important thing is that by shopping for chocolate in Ecuador, you are getting straight to the source. This means the freshest, most pure cacao trees are within miles of the sources. Trust me when I say, Ecuadorian chocolate is even better in many cases than the more famous brands you've heard of in your home countries.
Chocolate is the perfect Ecuadorian souvenir for that chocolate lover at home. Make sure you give them a good lecture like the one above before handing over the prize. Just make sure you pack it well so it doesn't become a mess on the flight home!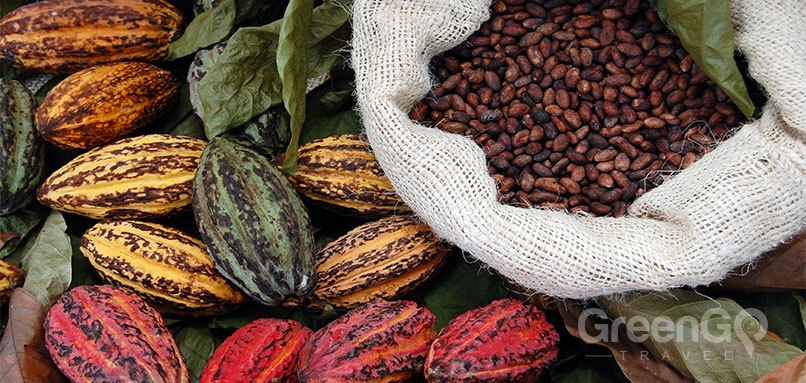 Chocolate straight from the source
Top Chocolate Brands To Try – Ecuador souvenirs
Picari – Flavored chocolates of many varieties such as banana chips, gooseberry infused, cherry, lemongrass, coffee, and many more.
Toak Chocolate – For the highest of quality with ancient strains of cacao trees, this artisanal chocolate is as pure as it gets.
Kallari – Cooperative of native Quichua people. This company is certified socially and environmentally responsible, and rainforest friendly.
Republica del Cacao – Nice creamy texture with many flavors with nibs added in some bars. They also have excellent ice cream!
 4. Panama Hats – Ecuador handmade products
But wait, aren't these made in Panama? NO! These Panama hats originate and are manufactured in Ecuador! They just got really popular being sold in Panama, hence the name. But these are in fact an Ecuador handmade product. These make very stylish gifts, seen on the heads of many prominent celebrities. You'll find them all over when shopping in Quito, Cuenca, and other large cities of Ecuador, especially within the markets
Starting at the turn of the 20th century, these fancy hats became fashionable as tropical accessories due to their ease of wear and cooling factor. It was even added to the UNESCO Intangible Cultural Heritage Lists in 2012!
They are great Ecuador souvenirs, but be careful when packing so they don't get damaged. Your best bet is to bring them to carry on. You can shop for these stylish and well-made hand made Ecuadorian hats for approx 20 dollars, or go our and spend 100+ on the best of the best.
Panama hats of Ecuador!
Best places to buy these Panama hats?
Cities: Cuenca and Montecristi
Barrancos Panama Hat Museum
EXPORTADORA K.DORFZAUN
5. Ecuadorian Leather Products – Ecuador souvenirs
Ecuador is a country that still hasn't faded from the importance of hand made products, and the leather industry is incredible. Many producers of these leather products use ancient highland techniques, maintaining the use of simple hand tools and traditional methods over machines. Additionally, they don't use harsh chemicals in the products commonly used in large companies. This also means more care, more quality, and more attentiveness when creating the product. If you spend enough time in the country, you can even have the option of custom made products.
Whether you want a pair of fancy dress shoes, a stylish belt or tote bag, a purse, a nice wallet, a hat, or even beautifully decorated saddles, you are bound to find it in one of the Ecuador markets or stores.
Head over to Cotacachi if you are really interested in getting a top-quality handmade leather Ecuador souvenirs. This is a quaint and quiet mountain town of Ecuador's Imbabura Province. It is internationally acclaimed for its leather artisans who offer various items around the main square and in the neighboring streets, stalls, and shops.
If you are shopping in Quito, visit 593 leatherco products, which have very nice Ecuador handmade leather products with unique designs.
593 Leatherco bag with Cotapaxi in the background
Where to buy?
For specialization,  visit Ambato, Otavalo, and Cotacachi. 
6. Mini Llamas and Alpacas
These are cute and very inexpensive Ecuadorian Gifts that are lightweight and don't take up much room. But really the reason to buy them is that they are unrivaled in adorableness. This is a great gift for children, although my mom and sister bought at least ten of these to give away to friends.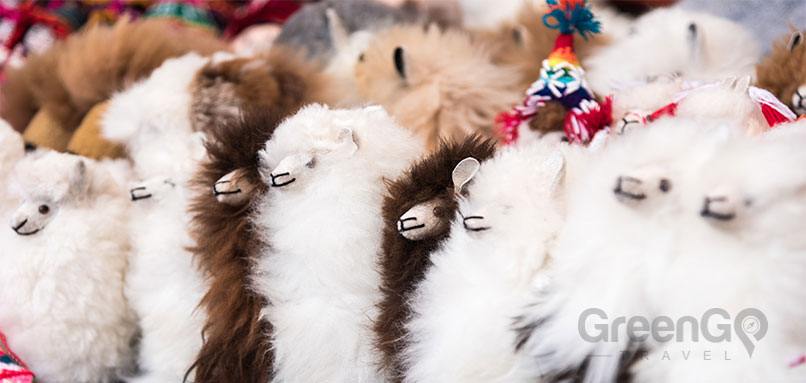 These little llamas are the softest little guys on the planet
---
Sign up for Our Newsletter
Exclusive access for savings up to 50%, eligible for subscribed members via email only.

Signup for Galapagos News, Offers & Discounts
---
7. Wood Carving and craftmanship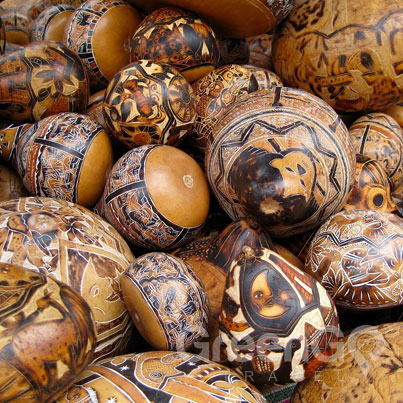 Wood carving in Ecuador
Shopping in Ecuador for souvenirs, you can find many superb handmade wood carvings.
Many of these works have indigenous influence, with tribal faces, wooden spears, knives, and even mugs and pots.
There is an unlimited number of options, and you'll have to stroll the Ecuadorian markets until you find something you like in this area.
There are many renowned artists across Ecuador such as San Antonio de Ibarra, producing some of the most prestigious woodworks of the country.
These artists sell high-end hand made Ecuadorian products that cost a little extra.
But if you are an art connoisseur, the hard work is definitely worth the price.
Shopping in Quito?
Check out this all woman's association, Rustico, who is crafting various Ecuador handmade products made from Ecuadorian material all for excellent prices.
Rustico woodworking
8. Ecuadorian Instruments
The Siku Andean Pan Flute or Rondador
Pan flutes are important indigenous instruments that make a wonderful Ecuador gift. The wooden pipes are typically made of bamboo, giant cane, or local reeds. Each pipe varies in length in order to get a different pitch.
It is not very common that you can find somebody that is talented and has truly mastered the pan flute, but you can find many artists in tourist areas in Ecuador. These are great gifts for that music lover in the family! Many markets contain a variety of are a variety of quality Ecuadorian hand made flutes.
Andean pan flute
Ecuadorian souvenirs – Ukuleles & Guitars
Have a musician in the family? you'll find most of these in any of the Ecuadorian markets found in many of the Ecuadorian cities. However, these are mostly inexpensive and not high quality. However, you can find specialized shops with fine Ecuadorian hand made guitars.
https://ameliaandjp.com/san-bartolome-ecuador-handcrafted-guitars/
9. Handmade Weaving Products
Weaving by hand in Ecuador is an ancient practice that has been passed down many generations, and there are still many masters of the art within the country. UNESCO officially recognized the art of ikat weaving as an intangible cultural heritage. However, this specific form of art is in danger of extinction as generations have passed.
Traditional backstrap looms are still in use today, where the weaver sits on the floor and does everything by hand. They then stain the works with natural dyes found in the wild!
Where to buy these Ecuadorian souvenirs/crafts?
Salasaca & Gualaceo
12. Ecuador Art
With Ecuador's rich history, it is no wonder that the art scene in the country is so remarkable. "America's Picasso," Oswaldo Guayasamin, is one of the most influential artists of all time.  Visit the art museum and bring back posters and postcards of the famous artist. There are also many cities where artists will paint you on the street. Many of the markets sell local vendors' work, and there is a lot of talent across the country.
11. Yerba Mate
This is actually an Argentinian product, but the popularity is growing in Ecuador. It is a concentrated tea drank in a specialized vessel with a filtered straw. And, the best part, it is high in caffeine. This is a great coffee alternative and is a very potent but healthy way to get your caffeine fix.
Many stores do not sell this product. You can contact vendors in the city and find the address easily online such as the link provided below
Argentinian Yerba Mate, packs a punch!
Best Galapagos Souvenirs – Ecuador souvenirs
Unfortunately, you can't take any baby sea lions or giant Galapagos tortoises. However, there are some great souvenirs to look into if you are visiting this Ecuadorian island.  If you are taking a Galapagos cruise, many of the ships have on display some of the locally made products, including jewelry, some of which is quite nice and not too expensive. If you visit towns like Puerto Ayora on your trip, you can step into many of the shops and find Galapagos stuffed animals, Galapagos shot glasses, silver jewelry, postcards, keychains, t-shirts, maps, books, and posters.
The legendary Galapagos islands
Markets in Ecuador
Where do you find these Ecuador souvenirs and gifts? You'll find the majority of these products within the many markets of Ecuador.
If you are coming to a South American country, the markets are a tourist site of their own. In these markets, you find a wide array of Ecuadorian art, crafts, textiles, unique juices and foods, and the best of the culture of the country. To any tourist, I cannot recommend enough that you walk into any of the markets and try one of the many fruit juices. I guarantee you've never tried them, as you can't find those fruits back home.
Quito – Markets in Ecuador
Otavalo Market
Otavalo is a 2-hour drive north of Quito. This is without a doubt the most prominent markets of Ecuador. There are many tours leaving directly from Quito. The days to go are Wednesdays and Saturdays, as these are the most active market days where the most action occurs. You can get Ecuadorian handicrafts and souvenirs at a bargain, perfect for your friends.
Otavalo is also renowned for the thousands of vendors that travel internationally to sell their products, If you have a local festival, you may have even seen them! The indigenous people are very warm. Don't hesitate to do a little bartering for the products. If you buy two or three, expect the price to go down!
Otovalo market in Ecuador
Santa Clara Market – Shopping in Quito
Best place for shopping food in Quito. If you want to see one of the bustling food markets, this is the place to visit. Here you find a wide array of spices in large sacks, exotic fresh fruits you've never seen, mountains of colorful vegetables, fresh fruit juices, roasted pork.  Make sure to leave your valuables at the hotel, as there are reports of theft in the area.
Cuenca – Markets in Ecuador
Mercado 9 de Octubre
This is a clean and diverse market with multiple levels. A great place to try the juices, sit down and eat roasted pork (Hornado), and just stare at the incredible presentation of food. Each day, inspectors check the food to guarantee it is fresh and meat handling follows sanitary procedures.
Plaza Civica Ecuadorian Market
A wonderful place to purchase handmade Ecuador crafts and souvenirs. There are plenty of outdoor and indoor vendors, where you can purchase local art, food. It is worth bargaining for a good price! If you are lucky you may witness curanderas there, the traditional healers. Tell them what hurts and see what happens!
Guayaquil – Markets in Ecuador
Mercado Caraguay
With over 750 vendors, the Caraguay Market has a little bit of everything to offer. It also specializes in seafood, where you can purchase the delicious Guayaquil crabs in one of the small stands.
Mercado Artesanal Guayaquil
Smaller market selling Ecuadorian gifts to bring back home. Vendors produce everything from Panama Hats to various flowers of artisanal chocolate. The patterned blouses, colorfully patterned cotton pants, locally made jewelry, vegetable ivory, and handwoven baskets are all favorite purchases.
I hope this handy guide on Ecuador souvenirs helps you pick out a wonderful gift for your friends and family. If you are looking to explore the Galapagos Islands, the Amazon rainforest, or visit Macchu Pichu, speak with the GreenGo travel team for free trip design and to have unlimited questions answered.
Plan your trip to Ecuador and get some souvenirs
I hope this handy guide on Ecuador souvenirs helps you pick out a wonderful gift for your friends and family. If you are looking to explore the Galapagos Islands, the Amazon rainforest, or visit Macchu Pichu, speak with the GreenGo travel team for free trip design and to have unlimited questions answered. If you want to add day tours to your trip that takes you through the areas where you can find the best Ecuador souvenirs, don't hesitate to reach out to our expert team for some free trip planning! We'll make sure to send you to the places with the best products.
---
Ready to get started with your Ecuador & Galapagos Adventure?
Reach a Galapagos Expert, Free Quote, Commitment Free!
---
The Best Galapagos Search Engine in the Market!



Tailor & narrow your Galapagos Cruise options – to your liking & specific requests. With over 10 filters, & more being added monthly. Search for your Ecuador & Galapagos dream tour today!
Find Offers & Availability Now!
---