Galapagos Tours from Toronto & Flights Toronto to Quito
Travel Tips Canada to the Galapagos Islands
Are you in Canada and looking to enjoy Galapagos tours from Toronto? If so, you are in luck as Air Canada has begun nonstop flights from Toronto to Quito. The Toronto to Galapagos Islands flight time? 6 hours, 42 minutes. Read on to see more information about Galapagos tours from Toronto, Galapagos tours from Canada and specifics of the new Air Canada flight to Quito.
Flights Toronto to Quito
Before heading off to the Galapagos, the first stop is in Ecuador. Unfortunately, there are no direct flights from other places to the Galapagos. However, this is actually a good thing because Ecuador has A lot to offer, as we wil detail later on. The Toronto to Galapagos Islands flight time is 6 hours, 42 minutes.
Flight AC1950 departs Toronto to Quito at 11:45 p.m. on Wednesdays, Fridays, and Sundays, arriving in Quito the next day at 6:30 a.m.
Flight AC1951 will leave Quito to Toronto at 8:30 a.m. on Mondays, Thursdays, and Saturdays, arriving back in Toronto at 3:05 p.m.
What is there to do in Quito?
Flying from Quito to Toronto? Take a day or two to explore.
There are lots of activities in Quito, the capital of Ecuador. Within hours of the city, you can find the breathtaking Amazon rainforest, stunning snow-capped volcanoes, and fantastic day-trips to purchase quality handmade clothing and products for cheap in Otavalo. Within the city, you'll find amazing architectural gems from the colonial era of Spain, hundreds of yummy and unique food joints, and the middle of the world museum!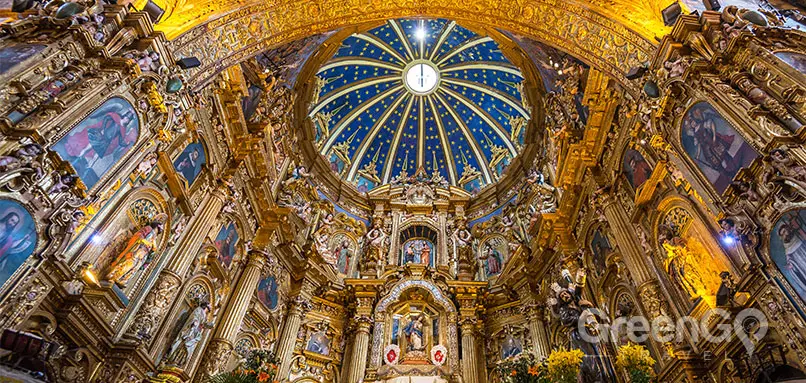 Quito church and monastery of San-Francisco
Galapagos Tours from Toronto: Galapagos Cruises
There are a lot of options for Galapagos tours from Toronto. The most recommended option would be a Galapagos Cruise, which really takes the work of planning out of your hands. All you have to do is bring the proper clothing, sunscreen, and a camera! These Galapagos tours allow you to visit multiple islands, and you will see much more than the land-based options. These Cruise-based Galapagos tours from Toronto have jam-packed days full of snorkeling and hiking excursions.
Snorkeling Galapagos Tours from Toronto
Explore the underwater world of incredible marine diversity in the Galapagos, including an oasis of coral, dolphins, Galapagos penguins, marine iguanas (only in the Galapagos is this possible), sharks, sea stars, and hundreds of species of fish. When you get back to the boat you'll have a warm hot tub and a snack waiting for you.
Top Snorkel Sites in the Galapagos
Tell our travel agents you are interested in some of these areas of snorkeling is a priority and they will make sure to hook you up with some good snorkeling.
Hiking Galapagos Tours from Toronto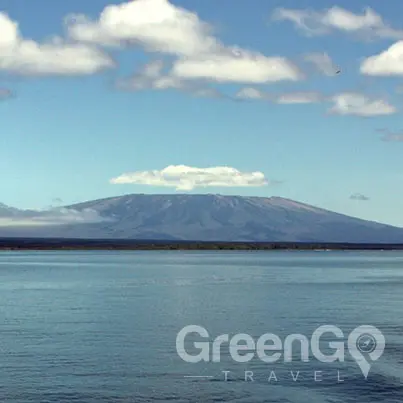 Galapagos Volcano
The Hiking excursions in the Galapagos tours from Canada include treks on active volcanic like the
sierra Negra.
Visit the land of the Giant Galapagos Tortoise, and the Charles Darwin research station where all the conservation efforts are underway.
See blue-footed boobies, flamingos, iguanas, hawks, and many more on incredible excursions.
And last but not least, walk on many of the most beautiful beaches in the entire world with powder-soft white and sand (See: Bachas beach with its pink flamingos)
Galapagos Tours from Toronto: Land-based Galapagos Tours
Prefer to keep your feet on the ground? The land-based tours allow you to sleep at a quality hotel at night, wake up early in the morning and go for day trips, and arrive back at the hotel at night. You won't be able to travel the islands as extensively as a cruise, but you still will definitely see a lot of the magic of the islands.
Hotel Silberstein land-based
The Air Canada Toronto to Galapagos islands flight time is only six hours and 42 minutes. This means that you will take off at night and be in the beautiful city of Quito by morning time. If you don't want to explore Quito, then you will be enjoying your Galapagos Tours from Canada by the afternoon of the very same day! The flight time from the Galapagos is very short, with a quick 30-minute flight to Guayaquil and another 45 minutes to the Galapagos.
Ready to book your Galapagos tour from Toronto or Canada?
Visit Greengotravel and begin a chat with our agents and get started today!
---