Traveling Solo to the Galapagos – Grand Queen Beatriz
Read about Galapagos Solo travel, to see if it would be something you would want to try!
Sometimes you just can't seem to sync up with your travel companions. Maybe they have a busy workload, or your family can't take the time off when you can. If this is the case, consider traveling solo in the Galapagos! It can be a ton of fun, especially in a destination as spectacular as the Galapagos. When I traveled solo, I went on the Grand Queen Beatriz, a smaller capacity cruise (16 people). Because there were fewer people, the atmosphere felt super intimate, and I got really close to my ship companions. 
By the end of the week, I felt comfortable walking into most of their rooms and sharing a conversation and a cocktail. I have to say I can highly recommend the Grand Queen Beatriz if you are considering a solo trip to the Galapagos Islands because of the low capacity, amazing itineraries, and the overall incredible design of the ship.

Isn't she a beauty?
Taking Time For Yourself While Traveling Solo in the Galapagos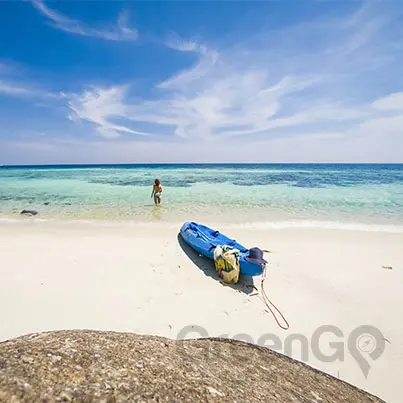 Amazing beaches of the Galapagos

One of my favorite parts about traveling solo in the Galapagos on the Grand Queen Beatriz was that I got to take a lot of time for myself.

When you have other travel companions, whether you are aware of it or not, you tend to make sacrifices for other people when you could be doing what you want to do.

Perhaps you prefer to sit in the hot tub another twenty minutes, but you don't want to leave your friend alone or miss out on any family activities.

When you are traveling alone, the world is yours. You can explore what you want, read when you want without distraction, and don't have to wait on anybody. It's nice taking your vacation at your own pace!
Travel Alone, But Not Lonely
Because I developed relationships with these once strangers, I always had people to share the incredible moments with. 
One family on the cruise was Ecuadorian. During a snorkeling trip, I was paired up with one of the younger Ecuadorian lads.
Even though there was a bit of a language barrier, we didn't need to communicate as we shared the experience of spotting an eel. Just pointing crazily and having a huge smile on the face was enough to create a wonderful memory.
The point is, even though you are traveling solo in the Galapagos at first, you quickly have a new group to share the memories with.
It may not be your best friend or your sister your sharing the moment with. However, there is something truly special about creating a relationship around the beauty and wonder of the Galapagos.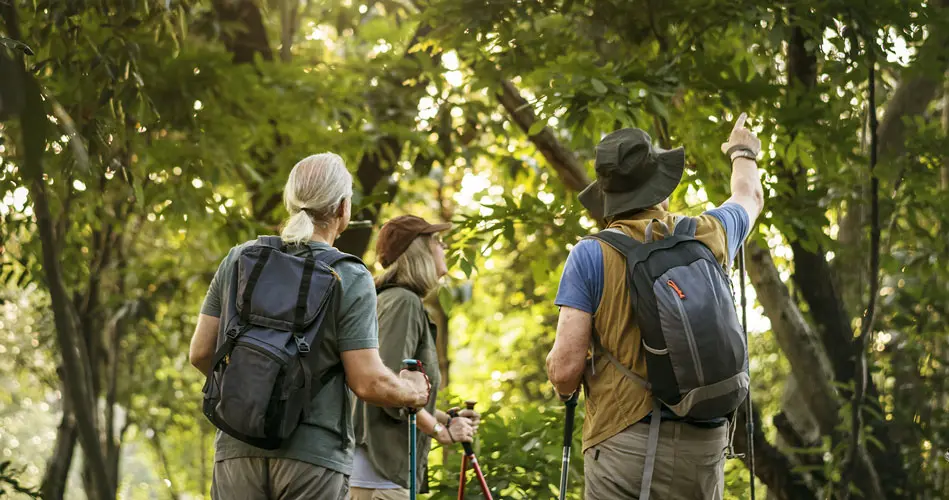 You'll always have a friend if you travel solo in the Galapagos
The Buzz of Anticipation Meeting New People While Traveling Solo in The Galapagos 
I had absolutely no idea about who was going to be on my Grand Queen Beatriz trip. And that was one of the aspects that made it really exciting. Before the cruise, thoughts kept popping into my head such as "I wonder what the people on the cruise will be like," or "I really hope my cruise mates are interesting and fun."
The great thing about travelers heading to the Galapagos is that most have an adventurous and fun spirit. They are traveling across the world to see the magic of the islands, and that already says a lot about the kind of person they are.
I feel that I got really lucky with my Grand Queen Beatriz Cruise companions because they were all very kind, funny, and enthusiastic to have genuine conversations. By the time my solo adventure to the Galapagos was over I had a handful of memories and hilarious stories. 
One gentleman on my trip was on a TLC dating show and we got to pull him up on youtube and watch him attempt to swoon the main character. We were all in tears. 
No distractions when traveling solo. Just you doing what you want to do
A Typical Day as a Solo Traveler on The Grand Queen Beatriz
Wake up
Wake up time was generally between 7-7:30. After ten or fifteen minutes of getting ready, I headed off for breakfast. This is served buffet style, and there is always an incredible selection of tasty food to choose from. I'm not a morning breakfast person, but I couldn't say no to what the Grand Queen Beatriz had to offer. The professional chefs on board really know how to get you hungry! 
 I sat at a table with five or six of my new Galapagos friends, who were all of the various different ages. We had a little small talk and then finished our meals. Later, I excitedly walked to my room to prepare for the first excursion of the day.
Daily Excursions Aboard the Grand Queen Beatriz
I took the five-day A itinerary of the Grand Queen Beatriz. The trips were amazing! Below I will be describing the highlights of each day.
Day One 
I wonder how old thi guy is?

After getting situated on the ship and having an incredible first lunch, we went to the Charles Darwin research station.

We all learned a lot of history of the Islands, and how the pirates used to take the turtles on these long destination trips because they lived so long without food or water. 

The highlight was seeing the cute little tortoises waddling about, and then soon after the 500-pound parents!

It was also very interesting learning about the conservation efforts by the park.

This day was a great start to my solo trip to the Galapagos
Day Two
After breaking, we visited Sante Fe Island. We went on a hike through an area with these giant prickly pear cactus. The guide told us some were over 100 years old! Along the way, we saw plenty of land iguanas.
We later walked to a beach and went snorkeling. It was a total dream come true because a couple of baby sea lions joined us in the water!
In the last part of the day, we went to a smaller island called Plaza Sur. Here we got to see the "Gentleman's Club," a gathering of sea lions too old or too young to get a piece of the beach.
Day 3 
On day three of my solo adventure to the Galapagos, we had one of the most amazing visits to Espanola Island.
The guide told us that it has the world's largest population of monogamous waved albatross.
We also walked through the nesting grounds of various booby species. They waddled around and presented each other with gifts (leaves and sticks)
This day we also snorkeled a reef off of Bahia Gardner that had various sharks, sea turtles, and angelfish.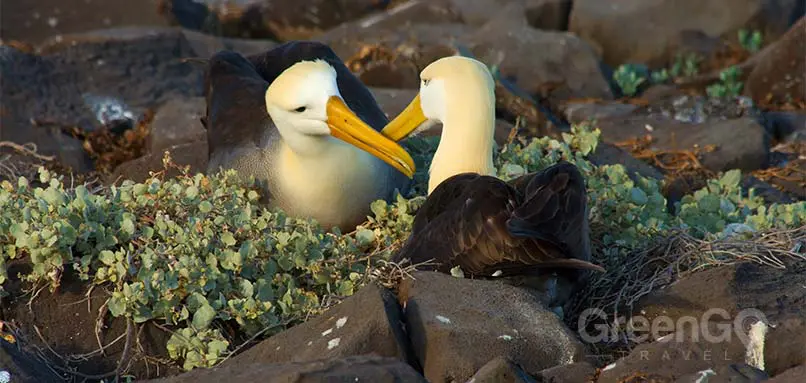 Monogamous Albatrosses of the Galapagos Islands
Day 4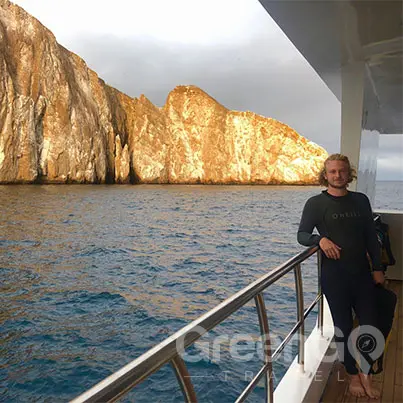 Me standing by kicker rock. What a trip!

Kicker rock is in my top five of Galapagos destinations, and I'm so glad it was on this itinerary.

We snorkeled through this massive rock formation (500 feet tall) jutting out of the ocean.

Our guide swam underneath and up through a massive school of fish and we were all mesmerized as they parted around him.

Seeing Hammerheads sharks casually swim by without taking notice was totally exhilarating!

We also swam with many sea turtles.
Day 5
The final day takes you to the Galapagos interpretation center, where you'll learn about the history, geography, and colonization of the archipelago. It is really fascinating to learn about the colonization process and the prisoners sent to the islands!  After this last day, my solo adventure to the Galapagos was done!
Ending Remarks
Leaving the Galapagos is a heartbreaking experience. For many, it is a once in the lifetime experience. For others, it will always call them back.  
Your mind will be blown away at how much you saw in such a short period of time. If you want a guaranteed good time while traveling solo in the Galapagos, cruise aboard the Grand Queen Beatriz and book with Greengo Travel agents for the smoothest possible experience.
---