Tipping in Ecuador and Galapagos
Last month, I wrote a blog on the customs and culture of Ecuador to help travelers become more culturally aware. In this piece, I'll discuss the topic of tipping in Ecuador and Galapagos.  Knowing the tipping customs of a region is always important. When traveling, you never want to insult anyone. Equally important, you don't want to be ripped off after paying for a week or more of tips.
ATM'S in the Galapagos and Ecuador
You'll likely want to visit and ATM in order to pay for the tipping in Ecuador and Galapagos. In Spanish, ATMs are "Cajero automáticos", and are dispersed throughout the cities of Ecuador. Keep in mind, banks such as Banco Guayaquil, Prodobanco, and Banco international have a fee significantly less than that of Banco Pichincha for international cards. Remember to stay aware when withdrawing money, and pocket the money to count later rather than in front of the machine.
Taxis – Tipping in Ecuador and Galapagos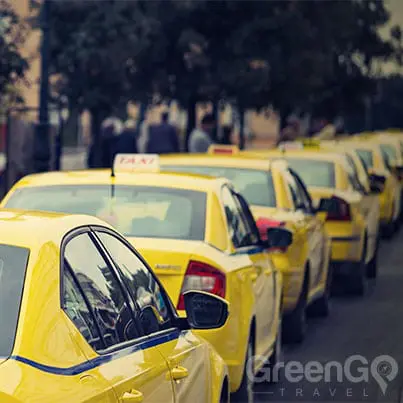 Typically, local Ecuadorians don't pay tips to taxi drivers or uber drivers. Even if tips aren't required for a ride, it is always appreciated.
More importantly, tipping is a good way to do your part to help the local economy of a country in which you are a guest.
This shows through the many expatriates that live permanently within Ecuador that continue tipping as they would back at home. How much should you pay? One dollar for every ten-minute ride will be greatly treasured.
Remember, if you are traveling with bags and the driver helps, provide 50 cents to a dollar per bag.
Restaurants
In Ecuador, restaurants commonly charge a  10% service fee.  If you feel that the service was excellent, leave an additional 5-ten dollars or an extra 5 percent.  Something to always keep in mind about tipping in Ecuador and Galapagos: what may seem like slow service in North America is common here. The waiter will not bring you your check until you ask for it, and they will not visit your table frequently to refill your drink unless you are in a higher-end restaurant. Smaller "mom and pop" restaurants typically do not charge this service fee.
In this case, give a couple of extra bucks directly to the waiter/waitress (Do not leave on the table, it might be taken) and they will always appreciate the kindness. If you are traveling to the beach or to one of the more touristy cities like Baños or Mindo and visit a restaurant, it is likely a few musicians will pop in and out and do a quick performance of two or three songs.  You don't have to empty your wallet, 50 cents or a few dollar coins will make them happy!
Tour Guides –
Tipping in Ecuador and Galapagos
If you are on a tour in Ecuador, each person within your group should pay 5-8 dollars for a half-day. For a full day, 10-12 dollars. As for tipping in the Galapagos, the range of pay can vary between 10 to 15 dollars per person depending on the activity and length.
Galapagos Cruises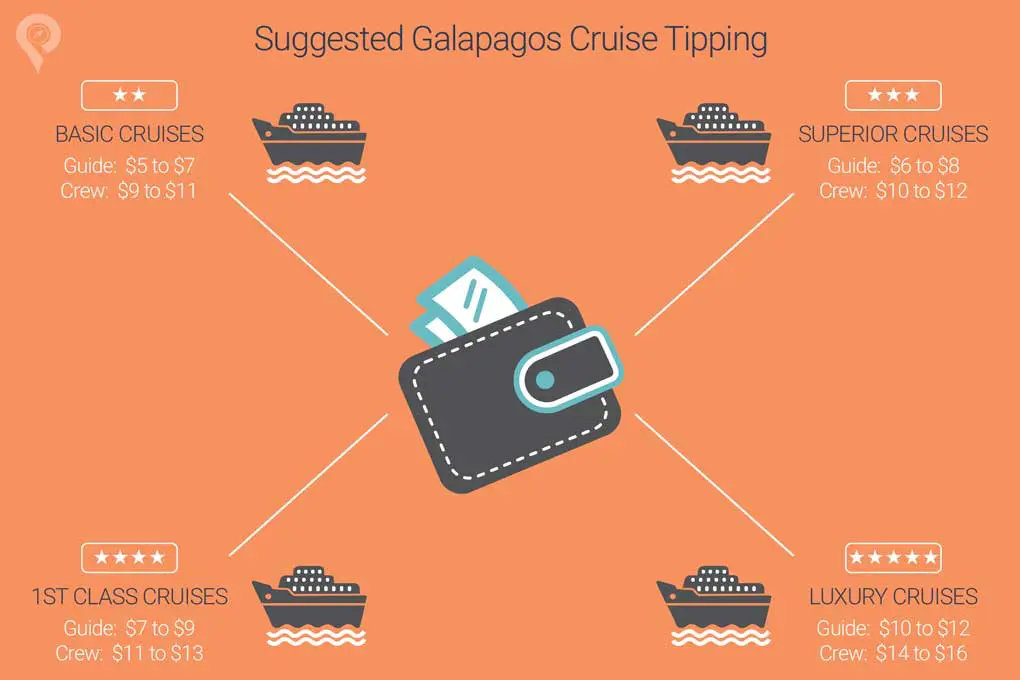 As for Galapagos cruises, the etiquette for tipping is always changing and varies between each cruise class (Basic, Superior, First-Class, and Luxury)Many cruises will provide a tipping guideline and envelopes, which can be paid at the end of each cruise. The staff typically prefer cash, as cards can take time to process while cash can be used on the same day. If the case that your cruise does not provide guidance, split the tip into two portions. One dedicated to the crew (Room service, chef, boat drivers, captain) and the other dedicated to the guide.  For the crew, pay 9-16 dollars per day, and for the guide, 7-16 dollars per day. Follow the infographic on tipping in Galapagos above for more details.
Hotel Industry
If you are staying in a hotel, it is common to pay the concierge two dollars for any assistance. A similar tip for the baggage porters, cleaning service, and valet goes a long way in Ecuador. Remember, tipping in Ecuador and Galapagos can go a long way towards receiving great recommendations for tours, restaurants.
Tipping in the Amazon Rainforest of Ecuador
If you decide to take a visit to the Amazon rainforest, you will quickly see how much effort the boat drivers, guides, and lodge staff put into your stay. Bring cash, as there is no way to pay with a credit card. If your stay includes a visit to an indigenous community, expect to pay $20.00 to the Shaman and community members. Pay 10-15 dollars for the guide per day, and 5-8 dollars to the lodge staff will be greatly appreciated.
Begging in Ecuador
While walking through Ecuadorian cities, you will undoubtedly see several beggars.  While it will likely tug at your heartstrings, we always recommend utilizing caution and decisionmaking. If there are many beggars insight, you could end up in a situation with a line, or worse pickpocketing. Never should you pull out your wallet and flash money on the streets. It is, for this reason, we advise travelers that want to make a difference to donate to an organization that helps those in poverty, which we are happy to help with. If you decide to take the risk, make sure you have a few coins already in your pocket ready to go and do not stop for any conversation.
---