Amazing Food Served on 2022 Galapagos Cruises! (Video)
Food and travel; one of the most natural pairings of the universe. So with a destination as amazing as the Galapagos Islands, what can you expect to experience for cuisine? In this post, Learn about food served on Galapagos cruises – one traveler to another 🙂
Ecuadorian Dishes – Food served on Galapagos Cruises
sea food

There's one thing I've learned from my travels around the world. If you let a great chef cook a meal that he grew up eating, he'll knock it out of the park every time.

Ecuador has some amazing dishes that are truly unique to this country. Traditional coastal foods do a great job of showcasing what can come from the ocean. A cruise is quite possibly the best setting to enjoy seafood!

Let me introduce you to some traditional Ecuadorian foods that I've absolutely fallen in love with!
Ceviche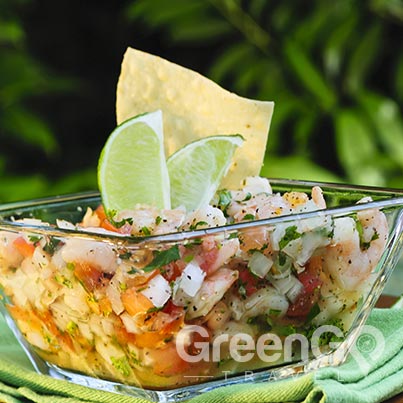 ecuadorian ceviche
This needs to be at the top of every list. It's an absolute staple on the coast.
For example, in the little surfing town of Montañita you'll see ceviche stands peppering the beaches. It's such an every day food along the coast that the recipe has been completely mastered.
Ecuadorian ceviche is different from what you'll taste in other countries like Peru and Mexico.
Instead of being strained or packed with chili heat, Ecuadorian ceviche is traditionally eaten as a soup that focuses on the citrus acidity, aromatic fresh herbs and mild heat from thinly sliced uncooked red onions.
It's usually made from shrimp, fresh white fish like corvina, or both. It's typically served with plantain chips and popcorn. The popcorn and soup might sound like a strange pregnancy craving, but it actually goes together surprisingly well. That's one of the cool things about traveling – you'll come across flavor combinations that you'd never have thought of otherwise.
The chilled dish is the perfect way to enjoy a warm afternoon.
Seco
ecuadorian stewed meet
This is a stewed meat. Seco de pollo is stewed chicken, seco de chancho is stewed pork, seco de chivo is stewed goat. One of my favorites is seco de carne – stewed beef.
You'll typically see this plated with rice, menestra (a bean stew), a fresh veggie salad, and garnished with fresh herbs like cilantro.
Usually, the stew is itself is made from tomatoes, peppers, onion, and garlic. Fresh herbs really make the flavors come out. The best secos are stewed for hours, so the meat is so tender and the flavors so thorough that you'll definitely be asking for seconds!
Encebollado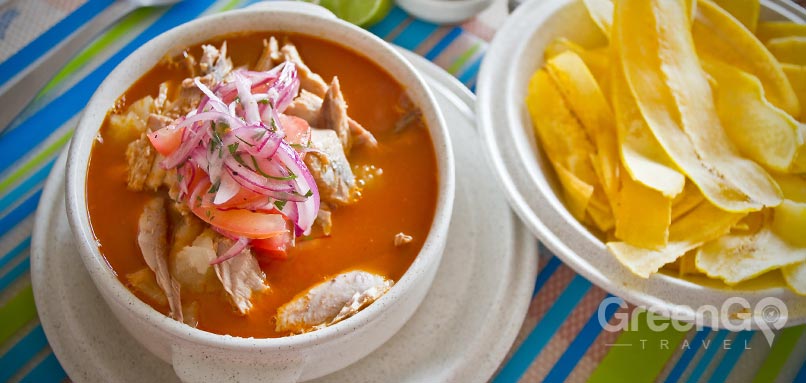 ecuadorian fish soup
This is probably one of the most common breakfasts in Ecuador. I know, it sounds strange to start the day with soup, but don't knock it 'till you try it!
Encebollado is a hot fish soup that's made with albacore tuna, cooked with cassava and red onion. It's usually served with crispy plantain chips (delicious) and popcorn.
Locals swear by it as a cure for hangovers. I haven't tested it out myself, but either way, it's delicious.
Churrasco – Food served on Galapagos Cruises
ecuadorian steak
This technically translates as "steak", but the actual dish is very different.
It's a thin-sliced piece of beef that's well seasoned and grilled. It's actually very flavorful, and one of my go-to's for an almuerzo. You'll typically see it served with a fried egg, rice and fries. It's also common for it to be served with a kind of salad, like with lettuce, tomatoes, red onion, green peppers and avocado with a light dressing.
Brocheta de Carne

Ecuadorian kebab's
This is the Ecuadorian shish kebab, and it's a common sight on the coast (especially Guayaquil). It's typically seasoned with achiote and garlic, and grilled on a barbecue. You'll often get a skewer that's loaded with chicken, beef and pork. This is one of those things that are always good, so you can't really go wrong with picking this off a menu.
---
Sign up for Our Newsletter
Exclusive access for savings up to 50%, eligible for subscribed members via email only.

Signup for Galapagos News, Offers & Discounts
---
Hornado
roasted pork
If you're looking for pure satisfaction, get some hornado. It's roasted pork.
In the mountains, you'll see entire pigs roasting on a spit. Where I'm from, this was more of a special-occasion type of meal – for weddings or big family get-togethers in the country. In Ecuador, it's a daily sight.
These whole pigs are roasted right on the streets in the mountains, giving the entire neighborhood that delicious aroma of a great meal. In smaller establishments, like on cruises, they'll often get a large section of the pig to serve up.
The meat is so tender that it pulls off with a fork (or with your fingers) and the natural fats flavor the meat so well that there's little more that needs to be added. This is one of the food items served on Galapagos Cruises and it is incredible! The presentation on the Elite Galapagos cruise was beautiful
Pescado Encocado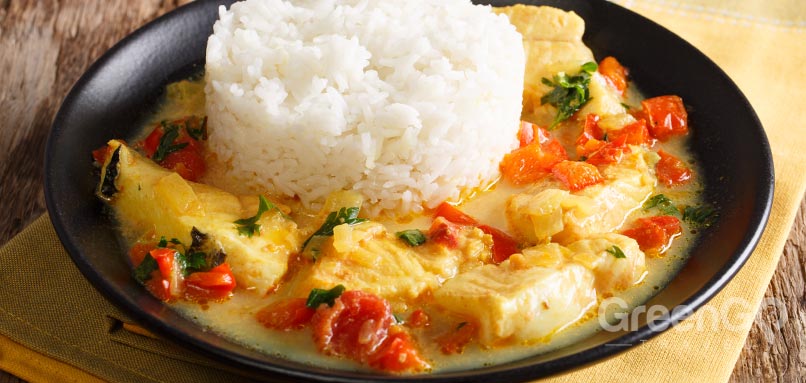 fish stew in coconut milk
Ok, if I have to pick my favorite Ecuadorian dish, this is it!
Pescado Encocado is chunks of fish (like cod or corvina) that are stewed in coconut milk, usually served with rice and patacones (known as tostones in some other countries).
I make this one at home all the time with my wife. It's a family favorite.
This dish is so creamy and rich that you'll wonder why it's not on every menu in the world.
Llapingachos
llapingacho ecuadorian dish
This is quite possibly one of the world's best sides.
Llapingachos are fried potato cakes that are sometimes stuffed with cheese.
These are a staple and can be seen sold as street food in every corner of Ecuador. There's a reason that they're so popular. They're delicious!
If you're ordering them as a meal, you'll commonly see them served with chorizo (a Latin American sausage), a fried egg, tomato, avocado slices, and hot sauce. It's one of my favorite breakfasts, although they're served throughout the day here (and commonly for lunch).
Obviously, there are too many local dishes to list here. Hopefully, this is enough to whet your appetite and give you an idea of what you can expect when you try Ecuadorian food.
International Cuisine – Food served on Galapagos Cruises
western & common meals
For those that are looking for comfort food that they're familiar with, you can also get "
regular
" meals like pizza, pasta, and burgers.
Here's where it gets tricky, though.
Most Galapagos cruises will claim to cater to international tastes. In reality, it's the first-class and luxury cruises that will give you what you expect.
The good news is that the first-class/luxury cruises have some amazing chefs on board, so you can fully expect every meal to be incredible, regardless of where in the world the dish comes from.
Another perk of the high-end cruises is that the custom is to have a massive, over the top goodbye meal the day before the cruise ends. Bring your appetite!
Drinks – Food served on Galapagos Cruises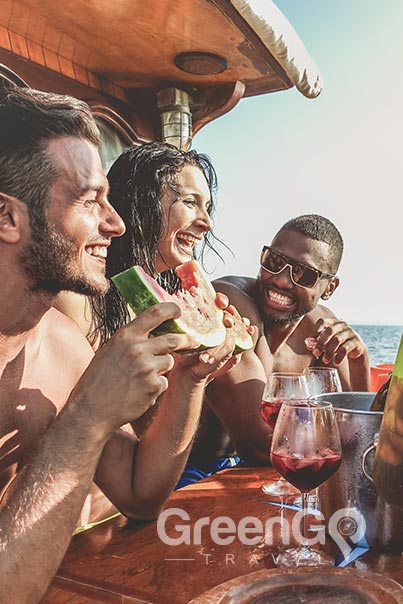 all fresco drinks
While typically not all-inclusive, drinks are reasonably priced on board. Beer, wine, cocktails… just ask and you'll get it.
If you're feeling like really getting to know Ecuadorian culture, though, why not try a few traditional drinks?
Canelazo is really popular. It's a hot drink that's made with cinnamon, sugar and local Andean brandy. Sometimes it includes orange or naranjilla juice, anise, cloves, and lime. You'll see it as a popular drink especially during the Fiestas de Quito, which is a week-long celebration that starts at the end of November and ends on December 6th.
On a cool evening, this is a great way to warm up.
That local Andean brandy used for Canelazo is called El Pájaro Azul, or "blue bird". It's a bluish liquor made in the province of Bolivar and it's made from sugar cane. Other ingredients include orange leaves, tangerines, and even chicken broth. If you're looking for a cultural experience, this is a drink that's dear to the heart of many Ecuadorians.
If you want something non-alcoholic, Ecuador is known for its fruit juices and shakes! Common local fruits include naranjilla, passion fruit, prickly pear, guaba, mango, and tomate de arbol (tree tomato).
Another common drink you'll see offered are batidos, or smoothies. Along the coast, one of the most popular smoothies is batido de coco, or a coconut smoothie. It's typically made with coconut, condensed milk and sliced fruit. It's one of the things you have to try at least once if you're visiting the coast!
Cruise Ship Dining
al fresco dining
Galapagos cruises have some phenomenal settings to enjoy your meal.
I'd recommend trying to book a cruise on a ship with an area for "al fresco" meals – outdoor dining areas. The ocean breeze paired with a great meal is one of the best ways to soak in your adventure!
Otherwise, the meals are typically served in a buffet-style in a gorgeous dining hall. Sometimes you'll be asked to place your dinner order around lunchtime so that your meal will be ready as soon as you sit down.
Dietary Restrictions
catered meals
Regardless of which cruise you decide on, any dietary restrictions that you have will be accommodated.
Whether you have sensitivities or allergies to dairy, gluten, seafood, or nuts, or if you're vegetarian/vegan, you'll have some great alternatives.
A good idea, though, would be to give the crew a heads up in advance.
If you tell them before launch, then they can plan accordingly.
There are professional chefs on board, so they'll know exactly to handle any requirement you throw at them.
Bringing your own snacks isn't necessary, however some guest(s) that are fond of a specific type of snack(s) – can consider bringing something along. Please check with your trip advisor, as there are restrictions on what is allowed that you can bring with you.
Overall, the dining experience on a Galapagos cruise just adds to the beauty of everything that you'll get from your adventure.
Video – Food served on Galapagos Cruises
Not quite sure about a Galapagos cruise yet? maybe a Galapagos land-based tour would suit you better? No problem, our trip advisors are here to help!
We have the fastest & most efficient service in the market! Our travel planning services are free, with no payment or commitment involved. Visit Quito and its surroundings sustainably.

---
Ready to get started with your Ecuador & Galapagos Adventure?
Reach a Galapagos Expert, Free Quote, Commitment Free!
---
The Best Galapagos Search Engine in the Market!



Tailor & narrow your Galapagos Cruise options – to your liking & specific requests. With over 10 filters, & more being added monthly. Search for your Ecuador & Galapagos dream tour today!
Find Offers & Availability Now!
---