Quito Ecuador: THE BEST REASONS TO VISIT THIS CITY
Quito Ecuador is a "one of a kind" city, one that I enjoyed so much when I visited that I actually decided to uplift my comfortable life in the United States and live there for a year! The city is like a movie that you can watch over and over. A city with something new every time you visit and never gets old. Just a 4-hour flight from Miami and you are immersed in a destination full of unique culture, classic architecture, delicious cuisine. You can easily spend entire days exploring the cobblestone streets, where you stumble across historic sites, beautiful squares, charming cafes, and sampling delicious food and fruit juices from the bustling food markets.
My Favorite Thing to Do in Quito, Ecuador
Without a doubt, my favorite thing to do in Quito, Ecuador is to walk through the historic center. Even after a year of living in the city, the beauty of the city never ceases to amaze. Within a short time, you'll stumble across the beautiful plazas, such as Independiente and San Francisco. Within the San Francisco Plaza, enjoy a truly spectacular lunch or dinner, along with a beautifully crafted cocktail at the Casa Gangotena Hotel. This mansion was built in 1924 and is open for both dining and accommodation. Don't forget to head up to the third-floor terrace and enjoy unrivaled views of the majestic mountains and volcanos, along with views of the Plaza San Francisco.
Other spots you have to see within the historic center are the massive and ornate churches, both beautifully designed during the period of Spanish colonization.
My Favorite Places to Eat in Quito, Ecuador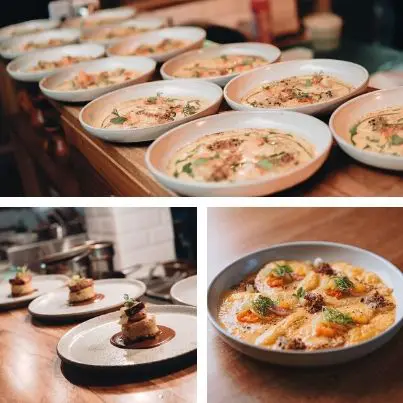 After walking around the city for hours, you'll have quite the appetite. Luckily, Quito is one of the best places to enjoy a meal that you won't forget.
I highly recommend SOMOS, a Latin, Ecuadorean, contemporary style restaurant that will knock your socks off.
You have to order the flatbread (GUAGUASAS) and the lamb is I-N-C-R-E-D-I-B-L-E. Not to mention the cocktails, which I guarantee you will order more than one!
For the upscale dining experience with mouthwatering cuisine, head over to Zazu.
Just a quick skim through the reviews on google and pictures of the dishes, and you'll see why it's worth the hype.
For the Best Views in the Quito, Ecuador
Take a taxi to the Telferiqo, which is a gondola that takes you up into the Pichincha mountain range which overlooks the city. It gets a bit windy and chilly, so bring a windbreaker or a sweater. Also, don't forget the sunscreen, the UV rays are unforgiving at such heights at the equator!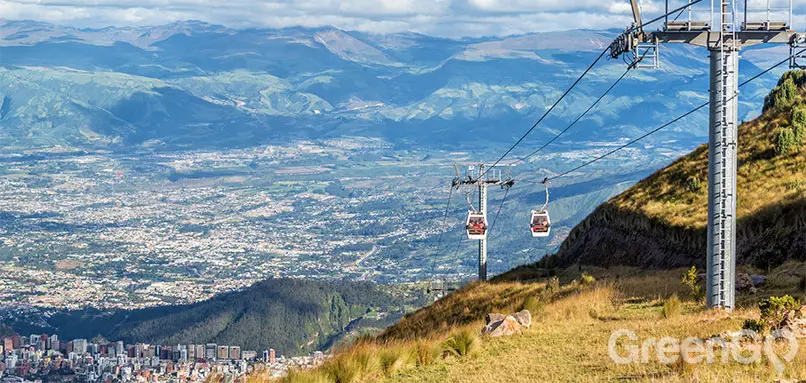 For a rooftop bar with a stunning view, head on over to Hotel Carlota in the historic center. They specialize in gin cocktails, but also have a wide selection for those that prefer other spirits.
Where to stay in Quito, Ecuador
La Casa Sol
La Casa Sol is located in La Mariscal, in the northern part of the city, the most touristic, modern and commercial district of Quito. With large balconies and gardens, beautiful patios and large windows, La Casa Sol Quito offers travelers a cozy stay in a typical Andean style hostel.
Mercure Hotel Quito
The Mercure Hotel of Quito is located just a 2km walk from the Basilica church. This hotel has 144 rooms with free Wi-Fi and is near the financial and commercial center of Quito. Two restaurants Spicy Bistro for business or more conventional breakfast, lunch and dinners, or Alameda Q coffee shop for a quick lunch taking delicacies from our bakery and ice cream shop.
Places of interest nearby Quito, Ecuador
Papallacta
Papallacta is the hot springs in the Andean Highlands. There are tons of pull of all different temperatures, and it is just a short one hour and a 20-minute ride to the site.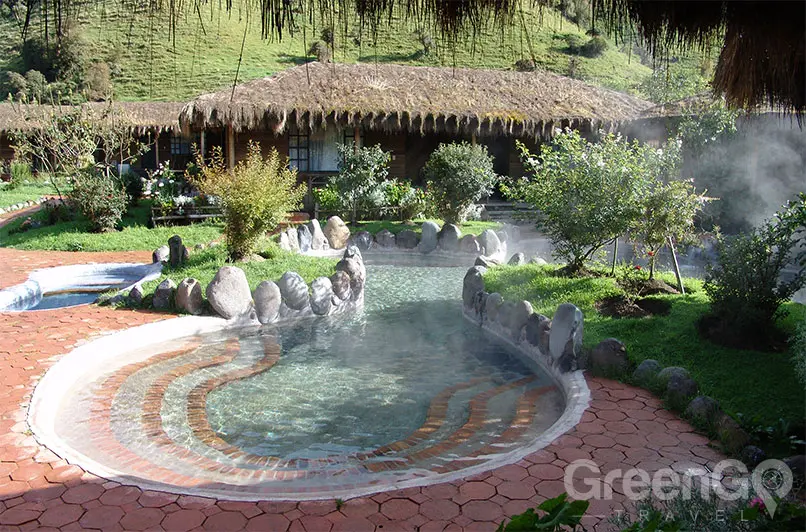 Mindo
Just under two hours from Quito, Mindo is a mega-diverse cloud forest with unlimited adventure and nature activities. Nature hikes, butterfly gardens, birdwatching, rafting, repelling down waterfalls, and waterfalls are some of the things you can do here. I went here and stayed in a cabin in the middle of the forest a 15-minute walk from the town center, and it was amazing sleeping in the cabin while the rain came down.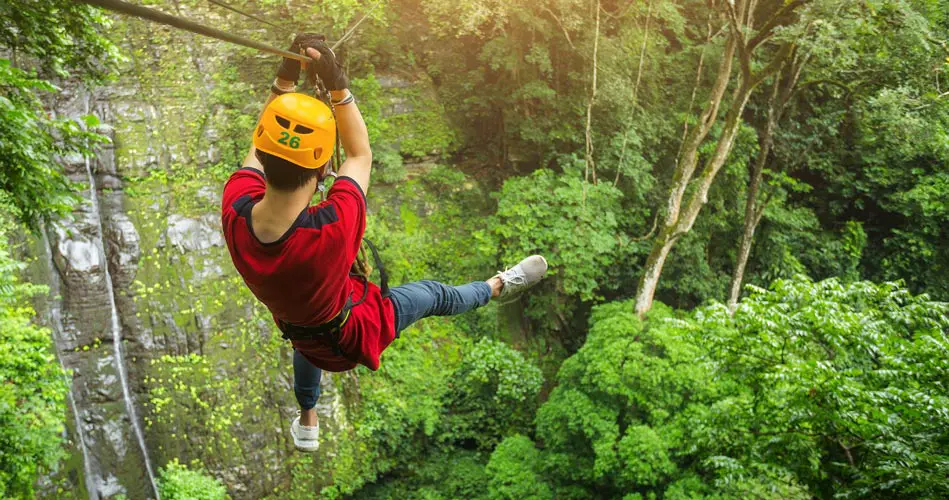 Baños de Agua Santa
Baños is another famous tourist area full of nature and adventure opportunities. You can explore the entire town on foot within hours, and you'll see a bridge that you can bungee jump off just minutes walking from the town center. You'll be suspended into a canyon with huge rapids and waterfalls all around. It's only 20 dollars or so, a huge deal for those that want to check off their first extreme activity! Banos is also famous for the Pailon de diablo, a massive and powerful waterfall. The name translates to the cauldron of the devil, derived from the massive bowl at the bottom. A staircase takes you behind the falls, so you will get a little wet if you decide to go toward the end of the path. It is truly breathtaking and highly recommended.


Galapagos Islands

There aren't enough words in the world to describe the magic of the Galapagos Islands.
If you are going to Ecuador, part of the reason is likely to visit this destination.
Full of unique and unafraid animals that allow you to get up close and personal to witness their behavior.
The snorkeling is world-class, the landscapes are breathtaking, and the adventure is unlimited.
There are various cruises or land-based options that can fit the budget of every traveler, whether you are a solo traveler or family. I've been two times, and both experiences were unique and unforgettable. Every day you witness something new and spectacular, and it is a place unlike any other on this earth.
Amazon Rainforest
The true nature experience of Ecuador, deep within the rainforest of the Amazon. I visited the Siona lodge in Cuyabeno, one of the superior class lodges and we had a wonderful time. We saw prehistoric-looking birds, spotted caimans in the waters, saw snakes, and at least five different kinds of monkeys.
Motorized canoe rides take you through a pristine river teeming with life, and after hours of adventure, an ice-cold beer awaits you. The part that meant the most to me was the community visit, where we got to speak directly to members of the Siona community, including a Shaman and community leader.
Cotapaxi Mountain
I love the fact that in Quito, Ecuador you are hours from the beach, the Amazon rainforest, but also close to massive breathtaking snow-capped mountains. The Cotapaxi volcano is a short two hour trip from Quito, and you can hike up the base camp which sits around 15,570 feet (4,810 Meters) From there, you witness spectacular views of the surrounding area, and you may stumble across some Paramo creatures.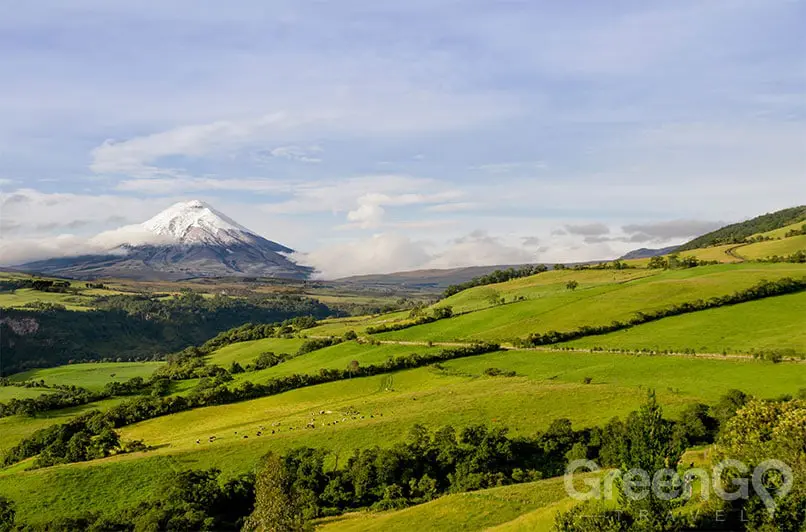 ---