Mary Anne Galapagos Airfare – Flight Guide
20 years of trip advising wisdom put toward creating a practical airfare guide for the Mary Anne Sailing experience. Don't miss out!
If you're looking for a truly unique cruising experience in the Galapagos Islands, the Mary Anne should be at the top of your list in terms of vessels worth considering. It truly is one of a kind. Before looking into Mary Anne Galapagos airfare, read through this guide first.
In this guide I'll introduce you to the ship and highlight why it's a great choice for a Galapagos cruise. Then I'll share some practical information and tips regarding how to plan your travel to make sure that the logistics for your cruise are taken care of as smoothly as possible.
Meet the Mary Anne
The Mary Anne is considered the most authentic sailing experience in the Galapagos Islands. There is a very limited number of motor sailors in the islands, and the Mary Anne is the most impressive and largest of these vessels to cruise the islands.
In all honesty, motor sailors are the most misunderstood vessels in the Galapagos. Since the islands don't often have strong winds, these ships will most often have to rely on the onboard motors to get around. When conditions are right, though, sailing silently in the Galapagos is a truly unique experience. Shutting off the motors will attract whales and dolphins, and the wind propelling you across the water will really let you enjoy nature.
What makes the Mary Anne unique is that it's got the most sails out of any ship in the Galapagos. That means that it gets the most time with the motor shut off. The Mary Anne is a barkentine (I admit to having to look that up) which means that it has three large masts, with the front sail being big and square for maximum efficiency.
Out of all the motor sailors in the Galapagos, the Mary Anne will give you the most authentic sailing experience.
Given the nature of motor sailers, cabins are for the most part limited in size and will feature primarily bunk cabins. Mary Anne has large, spacious lounge areas which set it apart in comparison with other sailing vessels available in the Galapagos. It's basically the least cramped motor sailor on the water.
Environmentally friendly, beautiful, and swift
Features of the Mary Anne
Here's a quick overview of what you'll find aboard the ship:
Snorkel gear
Kayaks
Wetsuit rentals available
Air conditioned cabins
Single cabins for solo travelers
Beyond that, there's something really cool about the ship's design that makes it a great choice for sensitive seafarers. The tall masts and deep drafts do a lot to stabilize it on the water. Some say that it's the most stable out of all the sailing ships in the Galapagos. So if seasickness is a concern, or if you just prefer to not be rocked too much, this is a great vessel to check out. On an important note, remember that when considering Mary Anne Galapagos airfare that you don't need to bring extra baggage carrying snorkeling equipment since its all included!
If you want to see all the features that you'll be able to enjoy aboard the Mary Anne, check out this info page.
Itineraries Overview
The Mary Anne prioritizes the amount of time in the islands catering to a wider audience with shorter programs. This means Marianne is only available for 8 day departures, with no stops on the way to allow for shorter cruise itineraries.
Very few cruises have this approach. Really, though, the Mary Anne is a popular ship, and it's worth doing a full tour on it. Most people feel that a 4 or 5 day itinerary is too short anyway, since so much time is spend boarding and traveling. It leaves very little time to enjoy the cruise itself.
In terms of island coverage, the Mary Anne has two programs called the East and West itineraries, which visit the corresponding Western or Eastern Islands.
Both available programs aboard the Mary Anne start and end in the central island of Santa Cruz, in the airport of Baltra. As is common with many other cruises in the islands, the Mary Anne Galapagos airfare must be purchased through them in order to guarantee the logistics of the cruises starting and ending days. This is how they make sure that all their passengers show up when they're supposed to.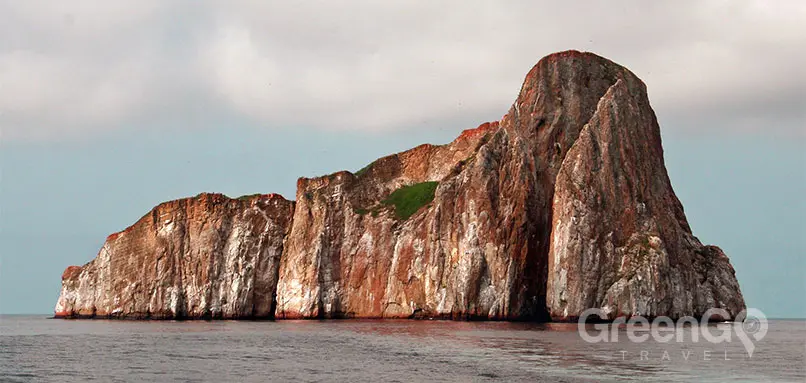 Kicker rock on San Cristobal Island. Some of the world's best snorkeling
Seasonal Rates
You put your right foot in, you put your right foot out..

The Galapagos Islands is considered a year-round destination, however keep in mind certain Galapagos cruises will have different rates throughout the year for their departures based on demand and other internal data. The Mary Anne has three seasonal rates, described here:

Discount Season: July 1st, to August 31st and December 1st-15th, 2019
Low Season: September 1st, to November 30th, 2019
High Season: January 1st, to June 30th, 2019

In terms of deciding when to cruise, I'd really recommend that you don't entirely base your decision on whether it's high or low season. There are always different offers and discounts coming and going, and the guys at GreenGo will help you to find them.  Also, the prices for Mary Anne Galapagos airfare may change based on how far in advance, so take this into consideration if important to you.

Instead, base your decision on the Galapagos seasons. When you go will affect the wildlife you see, as well as their behavior. For example, if you want to see albatross during the mating season, come between March to January. If you want to see fur seal pups, come in October. If you want to see the hilarious blue-footed booby mating dance, come between June and August.

For a complete explanation of what you can see throughout the year, take a look at this article about Galapagos wildlife.
Itineraries Breakdown
Cruises need to have their programs authorized by the Galapagos National Park. Once approved, this means they are able to operate on a given day of the week. Most cruises will have their departures available Monday through Friday, however, it is very rare to find cruises starting their programs on a Saturday. The Mary Anne happens to be the exception and runs their weekly departures every Saturday of the week.
The official airline to operate all Mary Anne's programs is LATAM – LAN
EAST & WEST ITINERARIES / 8 DAYS – 7 NIGHTS
Inbound Flight: #XL1415 / Departs UIO 07:05 (Quito) / Arrives GYE (Guayaquil) 08:00 / Arrives GPS (Galapagos, Baltra) 09:55
Outbound Flight: #XL1414 / Departs GPS (Galapagos, Baltra) 10:35 / Arrives GYE (gyauaquil) 13:30 / Arrives UIO (Quito) 15:10
Galapagos Airports: Starts and ends in Baltra airport
Operational Days: Saturday to Saturday
Extended Visits
Impressive sails, and they aren't just for show

The Mary Anne makes it dead easy to combine their itineraries, considering they only offer 8-day departures. This means it's only a matter of connecting both of their itineraries back-to-back in order to cover most of the corners of the Galapagos aboard the Mary Anne for the perfect sailing experience. You basically just hang out while the other passengers come and go, then enjoy Part Two of your cruise!
If you're looking for some guidance on planning your cruise on the Mary Anne, reach out the travel agents at GreenGo. They're absolute pros at working out all the details and logistics of Galapagos cruises, so you'll be in great hands.
If you're getting ready for your cruise, here are a few additional articles that could help you to be well prepared:
Do I Need to Watch Out for Bugs in the Galapagos?
---