C
ruise the azure waters of the Galapagos aboard the extraordinary 16 passenger Bonita Galapagos yacht. Completely refurbished in 2019, this vessel is up to date with all the modern luxuries, technologies and comforts. Highlights of the Bonita Galapagos cruise include the flexibility in accommodation, spacious cabins, luxurious interior and exterior areas, and all-encompassing itineraries. Flexible accommodation allows for a choice between a single double or two twin beds, perfect for any traveller/s. Each spacious cabin contains large panoramic windows providing fantastic views of the Galapagos landscapes, bountiful storage space, ensuite private bathrooms with hot showers, and all necessary biodegradable toiletries. For the adventure of a lifetime, look no further than the Bonita Galapagos Yacht
Unforgettable relaxation provided by the Bonita Galapagos Yacht
Head down to the bar of the Bonita Galapagos cruise and order a premium spirit or delicious tropical cocktail crafted by your professional barman. Enjoy your refreshing beverage up on the upper deck solarium, offering stunning panoramic views of the Islands, magnificent sunsets of many colors, and an unfathomable amount of
stars
. In the evenings, settle down in the tastefully decorated salon area, where your Bilingual Galapagos guide will brief you on the next day's adventure on a large flat-screen television. Soon after, enjoy a five-star meal prepared by the Bonita Galapagos Yacht professional chef. These
mouthwatering dishes
are typically a mix of local and international cuisine, ones that have you asking for the recipe afterwards!
Itineraries and crew of the Bonita Galapagos Yacht
Taking care of you, a world-class staff, professionally trained in the service industry and prepared to assist in any way. This includes the onboard sous chef, who can work with any dietary restriction, a bilingual naturalist guide with the infinite wisdom of every aspect of the Galapagos islands, and a captain who safely takes you on your adventures. Lastly, enjoy the carefully crafted itineraries that provide adventures of a lifetime and fun fueled exploration throughout the islands of the Archipelago, each with their own magic and charm. Each route includes world-renowned snorkel sites, pristine beaches, breathtaking
wildlife settlements
, and fascinating historical sites.
Bonita Galleries
Bonita Features, Decks & Notices
Itinerary, Rates & Availability
rates are per person in usd, unless otherwise stated
2020 - 2021 - 2022

swipe, click sideways
7 days – 6 nights
Itinerary A West Program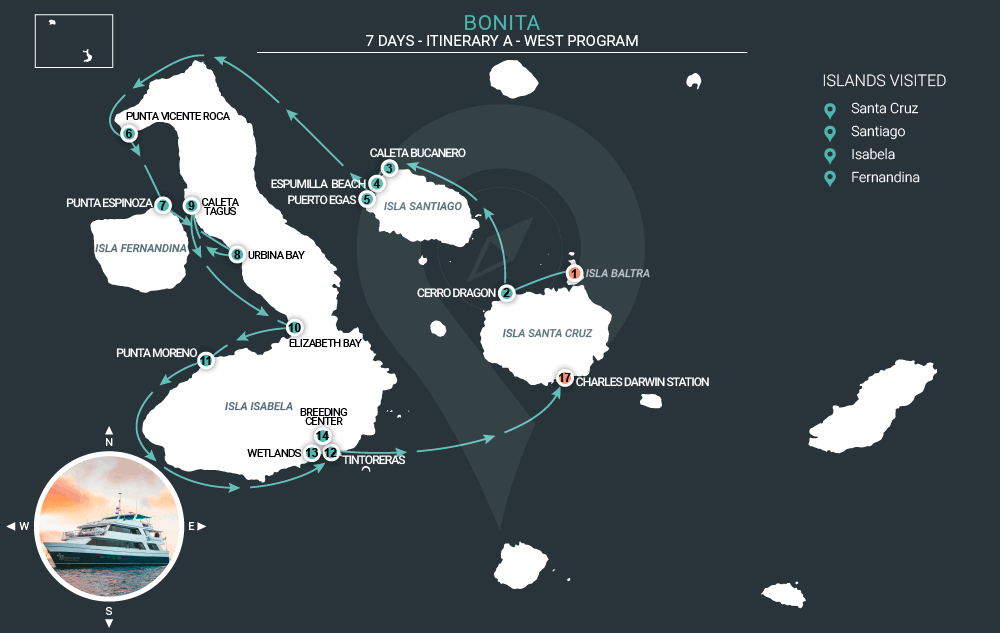 5 days – 4 nights
Itinerary B South Program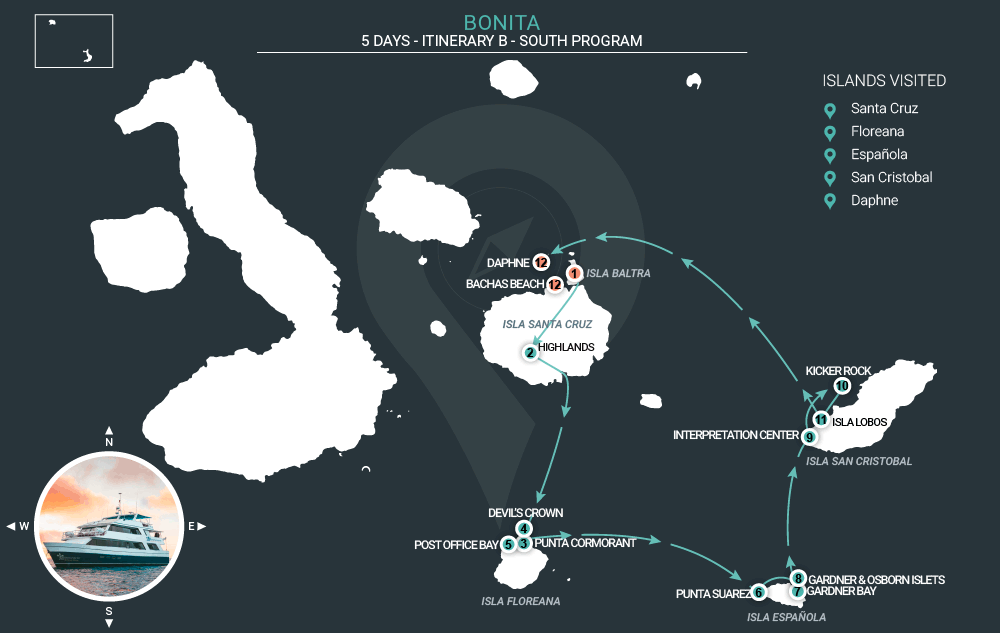 5 days – 4 nights
Itinerary C North Program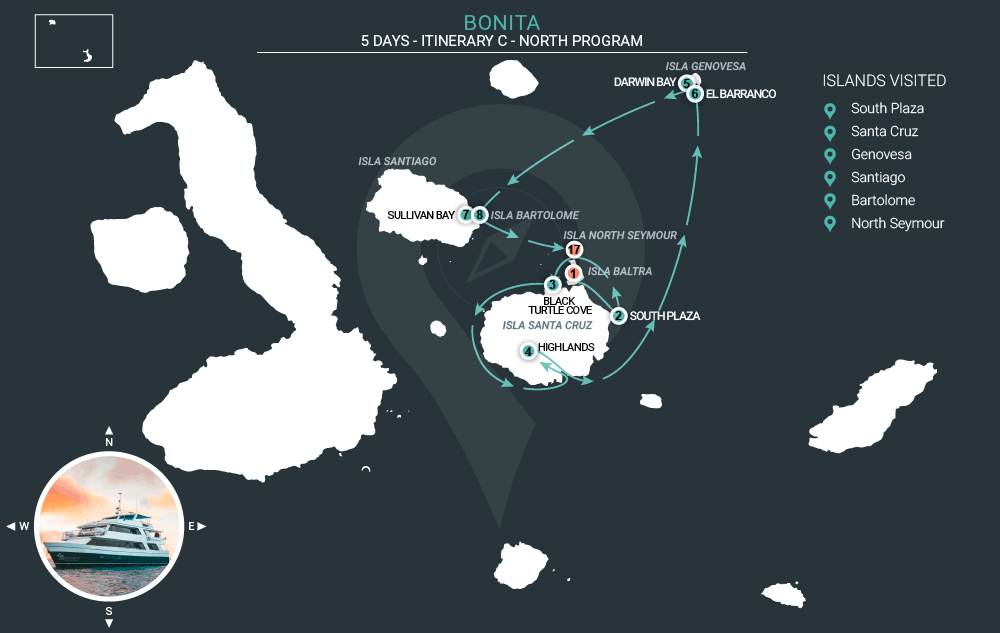 Financially protected deposits




Best Price Guaranteed
Extended & Combined Itineraries, Notices, Terms & Conditions
Bonita Inclusions & Exclusions
INCLUSIONS
Accommodation, use of onboard facilities
All meals, unlimited purified water, coffee and tea
All activities, sea kayaks
Certified bilingual naturalist guide
Transfers in galapagos
Snorkel equipment
EXCLUSIONS
Park fee & TC card: $120
Round flight (mainland-galapagos-mainland)
Alcoholic & soft drinks

Wetsuit rental

Personal expenses, tipping & travel insurance
Quito shuttles (hotel-airport-hotel)
Bonita Technical Specifications
Type: Motor yachts
Capacity: 16 guest per yacht
Length: 25 Meters / 83 Feet
Beam: 7.5 Meters / 24 Feet
Max speed: 9 Knots
Guide: Level 2
Crew: 9 + 1 guide
Balconies: Not available
Layout: 3 Decks / 9 Cabins
Lower deck: Cabins 1 = Twin
Lower deck: Cabins 2 & 3 = Bunk (triple)
Main deck: Cabins 4 & 5 = Double
Upper deck: Cabins 6 = Twin
Upper deck: Cabins 7, 8 & 9 = Twin or double
Beds layout: Twin, bunk, double & triple
Rooming: Private cabins only
Sharing: Not allowed
Private bathrooms
Beach towels
Air conditioning
Toiletries / towels
Hair dryer
110v electricity
Lifeguard vest
Closet – Drawers
Jacuzzi
Lounge areas
Bar and boutique
Sundeck – Solarium
Kayaks
24h coffee, tea station
Media Center, library
Guide-guest ratio 1-10