Quick Tips to Finding Restaurants in Quito
You usually choose a restaurant by type of cuisine, atmosphere, reputation, or price. Here are some quick tips for navigating the spectrum of restaurants in Quito.
Restaurants in Quito Ecuador
Quito is the the capital of Ecuador, and has an entire life and culture surrounding cuisine. This importance placed on food has created a plethora of restaurants options. These range from tasty and humblest hole-in-the-wall spots, to the most innovative gastronomical experiences. With more than 7,000 restaurants in Quito of all flavors and colors, standing out from the ban be difficult for even top restaurants. Classifying these restaurants is also not as easy task. Yet, we have taken a thought-out approach of functionality, so that we may directly categorize and evaluate based on what you're actually seeking.
In order to organize ourselves and find the ideal restaurant at the ideal time, we have classified them according to their specialty, location, and occasion.
Types of Cuisine
In Quito, as in any moderately-cosmopolitan city, there has been an important gastronomical boom in the first decade of the 21st century. It is now possible to find a diversity of local and international cuisines. We therefore think it most convenient to classify the many options according to the origin of gastronomy and its location. We've created the following categories:
Mediterranean Restaurants
The city has always had a close relationship with Spanish, French, and Italian gastronomy. However, in recent years, the number of these restaurants throughout the city has increased dramatically. It's now possible to find a variety of prices and quantities; however, all are very good and are around a price of between $15 – 25 USD for a dinner or lunch.
German or Nordic Restaurants
Strangely enough, there are not many establishments specializing in this cuisine. However, the best ones are in Quito's north-central zone and in Cumbaya. Their prices vary and are always accompanied by the consumption of artisanal beers. Their price ranges start at $9 USD, and go up from there.
Japanese Restaurants
Quito has developed an authentic "passion" for sushi and the complements of Japanese gastronomy. With more than 25 restaurants, it has a great diversity of flavor and price. The restaurant, "Spicy," and its sushi, is one of the most recommended options in the city.
Ecuadorian Restaurants
Because it's the capital, Quito logically possesses an authentic set of diverse flavors and colors of Ecuadorian gastronomy. "Spicy," the flagship restaurant of the Mercure Hotel Quito, offers a menu and an exceptional daily buffet menu for visitors.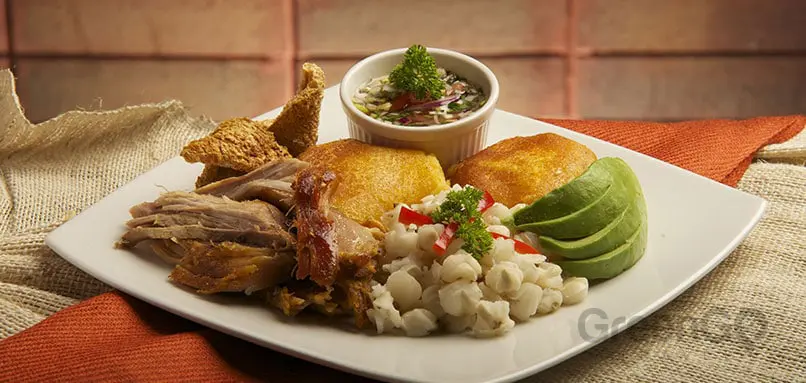 Typical Ecuadorian Dish
North American Restaurants
With a diversity of sweets, high in fat and carbohydrates, the North American gastronomy has great local reception. There are an enormous number of restaurants dedicated to there recipes, with special concentration in the center-north and north of Quito, as well as the valleys of the Chillos and Cumbaya.
Quito's Ideal Restaurants for Leisure & Rest
If you are in Quito and want to taste local cuisine, we can suggest these hotspots:
On the north side of the city, from Avenida Gaspar de Villaroel, contains an enormous variety of restaurants. Here, you can especially find fast food, international, and typical local cuisine. It's the ideal area for a family outing or a chill night with friends.
The Centro Norte area, from Avenida Gaspar de Villaroel to Avenida Patria, in addition being to the commercial and banking center, is also the newest hub of gastronomy. There are a number of places to enjoy the local cuisine, including the traditionally-touristic area of Mariscal. Within this area are Spicy and Alameda Q (part of the Mercure Hotel Alameda, Quito), which both come highly recommended for their Ecuadorian-International fusion cuisine.
The Historic Center—from Patria Avenue to the south, to Rodrigo de Chavez Avenue—is covered with restaurants of typical gastronomy, combined with modern proposals and traditional flavors of Ecuador. It is the ideal sector to accompany a trip of leisure and discovery in the city.
The Sur (South) zone, known as the true cradle of candies, is full of small, well-managed restaurants that preserve the authentic flavor of Quito's gastronomy. This is perfect for those with a sweet tooth, who will totally enjoy checking out the local candies.
Quito's Restaurants Great for Business
Having a business breakfast, lunch, or dinner is already part of the corporate environment in Quito, so we recommend you follow these foodie cultural norms:
Breakfast
If you are closing a business deal or sale, breakfast between 8:00am and 10:00am is the Quiteño executive's preferred time. Buffets are perceived as more elegant, even better if it is located near office buildings. In this case, Spicy and Alameda Q, the restaurants part of Mercure Hotel Alameda Quito, are great options; they will impress with their buffet variety, exquisite bakery and pastry products, unsurpassable coffee, and natural juice of the day.
Lunch
Considered the ideal moment to close a business deal, lunches require something more high-class. The type of cuisine, the level of restaurant, and perception of the level of luxury are all key to influence the will of the Quito executive.
In this sense, the Spicy restaurant in Quito of the Mercure Hotel Alameda Quito is an excellent option. Its buffet as well as menu are to the nines, besides being easy to access with a convenient parking lot. The daily buffet and seasonal promotions of local gastronomy give pleasing options to any visitor.
A professional chef improving the presentation of his beautifully crafted soup by carefully stacking herbs on top
Dinner
Considered of very high level, and always focused on closing big negotiations, dinners are preferably held in Quito's specialty restaurants. Whether local or international cuisine, the ambiance should convince the guest that this dinner is as important as the topic of discussion that will accompany it.
These simple tips will help you maximize the quality of your visit in Quito, and enjoy the different options of the city's wonderful restaurants.
---