Tip Top V Galapagos Cruise Highlights
Research the highlights of the Tip Top V Galapagos Cruise and the onboard technical aspects. By the end, you'll know if this ship is right for you!
The Top Top V is a First-Class cruise built and designed in 2019. The Tip Top line of cruises has an extensive history in ecotourism and Galapagos cruising, and their newest ship is truly something to brag about. Onwards you'll find highlights of the Tip Top V Galapagos Cruise along with onboard technical aspects. By the end, you should get a good idea if this ship is the right fit.
History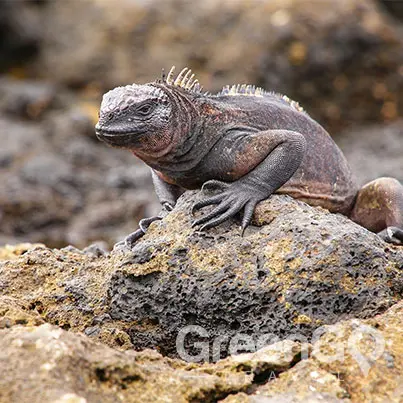 Excited to snorkel with these guys?
One of the biggest incentives to consider the Tip Top V is the history and expertise of the company.
The Tip Top owners are pioneers in the industry.
The cruises all began in November of 1969 with Rolf Wittmer.
That is when we landed on the moon folks!
That means 2019 should be a 50-year celebration of the legacy.
With this experience, Tip Top has everything down to an exact science.
Moreover, they know what guests want out of a cruise, tour, and itinerary. They have perfected the process!
The Yacht –
Tip Top V Galapagos Cruise
Highlights
The Tip Top V has integrated modern design, elegant style, and utility on every square inch of the ship. Since it is so new, all technology and design is state of the art quality.
Cabins
One of the most unique benefits of the Tip Top V Galapagos Cruise is that each cabin has a private television. I took a luxury cruise, and even that ship didn't have this feature.
These TV's include movies and documentaries for viewing purposes, but also are useful for hooking up your camera and looking at your photos on the big screen.
Beautiful cabin of the Tip Top V
Each Tip Top V cabin includes:
Private bathroom (toilet, shower, washbasin, and vanity)
Hot showers
Toiletries – Towels
Locker and drawers
Hairdryer
Safe for important items
Air-conditioning
110v electricity
Main Deck: (2) Cabins 1 & 2
Cabins include one king-size bed (6.5' x 6.5')
Total of 210 square feet
Main Deck: (2) Cabins 3-6
Cabins have two single beds (3.15' x 6.5')
Total of 210 square feet
Upper Deck: (2) Cabins 5 & 6
One king-size bed (6.5' x 6.5')
200 square feet plus 70 square foot balcony
Upper Deck: (4) Cabins 7-10
Single lower beds (6.5' x 6.5')
170 square feet each plus 35 square foot balcony
Living Areas – Tip Top V Galapagos Cruise
Highlights
One of the reasons many guests choose the Tip Top V over other first-class cruises is the amount of space onboard. Additionally, the spaces are gorgeous and cozy. One of the highlights of the Tip Top V is the deck areas with ample seating.
For instance, the Tip Top has two spacious living areas on the ship with large couches and seats in a square formation seating up to ten people. Spend time with your family or friends talking or watching movies on the large flat-screen TV.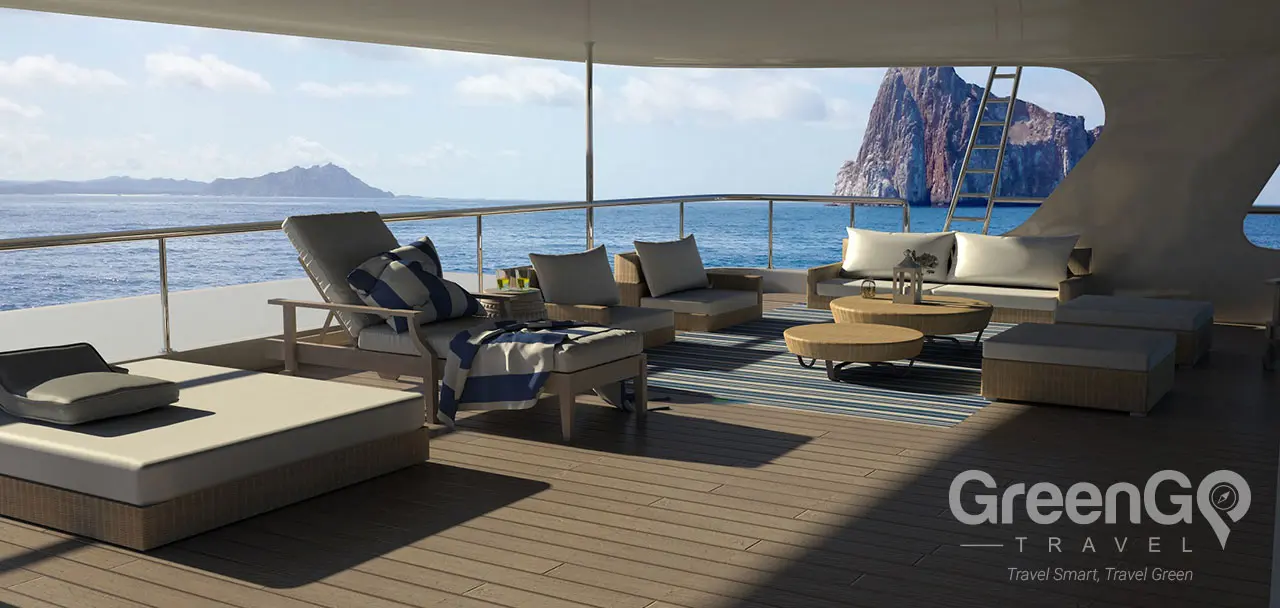 Ample living areas for all guests on board.
The Dining room and Bar
The Dining room has a very intimate feel with round tables. That way you aren't shouting at your family from across the table! Here, you will be served some of the best meals in your life, usually buffet style.
Additionally, there is an amazing selection at the bar with a professional bartender to whip up whatever your heart desires. Delicious tropical drinks on a Galapagos cruise? I think so!
Lastly, the outdoor Solarium is great for relaxing and sunbathing, especially after a good snorkel session. Make sure you stay hydrated as all the activity and hot sun can quickly tire you out!
Itineraries – Tip Top V Galapagos Cruise Highlights
There are two itineraries available aboard the Tip Top V. They are both long cruises of eight days. If this seems like too much time, look at the Grand Queen Beatriz with plenty of duration options (And a Jacuzzi!)
The best thing about these long-duration cruises is that you get to see a ton of islands, a plethora of animals, and you'll observe many of the spectacles the Galapagos has.
East Islands Program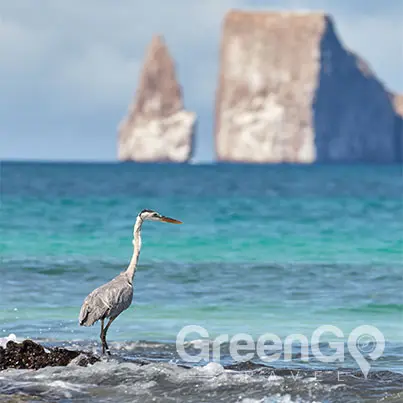 See that massive rock formation in the distance? Kicker Rock
Witness the largest populations of sea lions on Mosquera, and climb prince Philips steps to the bird paradise of Genoseva with thousands of petrels and the
famous boobies
.
You'll witness the colonies of hybrids marine iguanas on South Plaza, ugly and cute all at the same time.
One of my all-time favorite excursions is snorkeling through a massive rock formation of the famous kicker rock where you'll find various sharks and sea turtles.
Another highlight of this Tip Top V itinerary is the brackish lagoons with pink flamingos on Floeana's Cormorant point. On Espanola, you'll walk across gorgeous white sand beaches and see the Giant waved albatross.
Northwest Islands Program
Seeing sea lions cuddling is common in Galapagos
The Northwest itinerary immediately starts with the amazing site if Bachas beach. Walk on one of the prettiest beaches in the entire world and view marine iguanas and pink Galapagos Flamingos.
Soon after you will visit a tourist favorite, the gorgeous Rabida Island. Its red sand beaches, large colonies of sea lions, and the huge variety of Galapagos birds always have visitors in awe. One of the main highlights of the Tip Top V Galapagos Cruise northwest Islands program is the hike of Tagus Cove, where you'll trek a favorite spot of whalers and pirates of the 1800s. In the end, you'll see the lava fields of Darwin Volcano!
Ride the pangas, also known as zodiacs, to the "Chinese hat" site and see Galapagos penguins, eagle rays, sea lions and marine iguanas.  One of my all-time favorites is visiting the highlands where you will see the massive Galapagos tortoises. These gentle giants can weigh up to 500 pounds or more!
Remember, each spot you visit will also have two or three opportunities for snorkeling. You'll swim with sea turtles, land iguanas, exotic fish, and even sharks!
Inclusions
Important to notice is that the flights to the mainland and back (Quito or Guayaquil) are included on this cruise. On most cruises, you have to book separately.
Accommodation, use of onboard facilities
All meals, water, coffee & tea
Round flight (mainland-Galapagos-mainland)
All activities as listed & transfers in Galapagos
Certified bilingual guide
Snorkel equipment
Exclusions
Park fee & TC card: $120
Single supplement
Alcoholic & soft drinks
Wetsuit rental
Personal expenses, tipping & travel insurance
Quito shuttles (hotel-airport-hotel)
Final Words – Tip Top V Galapagos Cruise
Highlights 
If you are looking for an incredible experience in the Galapagos, the Tip Top V Galapagos highlights of the Tip Top V Galapagos Cruise Cruise prove to be the best in the business.
With spacious living areas, amazing itineraries, generous inclusions, televisions in every bedroom, you can see the Top Top V goes above and beyond for first-class cruises. Don't hesitate to speak with GreenGo travels and see if there are any discounts. Start booking early so others don't beat you to it!
---