Galapagos Packing List & Galapagos packing tips
Make sure you don't forget anything when you pack for your Galapagos adventure. GreenGo has you covered with our Galapagos packing list.
Before you excitedly start to throw items into your suitcase, take a moment to read our Galapagos packing list and Galapagos packing tips to ensure that you do not forget anything important and follow all the rules. Your upcoming trip to the Galapagos Islands is bound to be one of the best vacations of your life. These far-flung lands never fail to impress, and constantly leave a lasting impression on anyone fortunate enough to visit. Make sure you have the right Galapagos preparation
1. Reef safe Sunscreen – Galapagos Packing List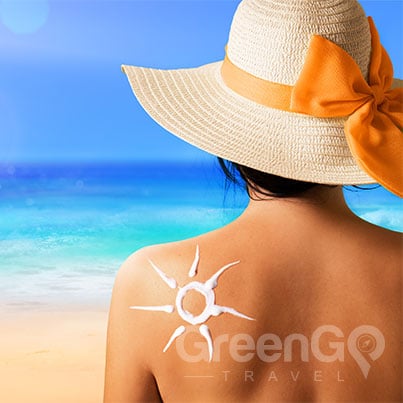 Don't end up a lobster, bring sunscreen
A burnt tourist is not a happy tourist, so this is number one on our Galapagos packing list. Remember to pack it checked the entire way, or it will be taken away by airport security. Moreover, if you bring an Aeresol to make sure it has a top, or it may spray everywhere and create a sticky mess.
Don't let your holiday be ruined by failing to apply your sunscreen. Sunburn is no joke here: the islands are situated right on the Equator, and the sun's rays are unforgiving. No matter what your skin color is, you will not be spared!
Apply high SPF sunscreen at least three times a day and always before and after swimming. If you can, bring Reef Safe Sunscreen to protect the unique flora and fauna of the island.
A friend of mine spent a day in bed after getting badly burnt and missed out on swimming with Galapagos Penguins (his No. 1 thing to do). Don't let something similar happen to you.
Please note that the sunscreen here is expensive (around $20 for a small bottle), so it is best to bring your own before arriving. Further, bring hats, a shawl and maybe an oversized t-shirt in the case that you feel yourself burning up. Remember when compiling all the items in your Galapagos packing list, put the sunscreen in the checked bag or they will throw it out!
2. Accurate of Clothing – Galapagos Packing Tips
The Galapagos has two seasons: the 'dry', warmer season (between December and June) and the 'wet', colder season (between July and November).
For the 'dry' season, make sure you bring lightweight, breathable clothes such as safari shirts, t-shirts, shorts, and summer dresses. For the 'wet' season, you definitely need to bring a raincoat, a jacket, a jumper, and jeans or sports joggers.
On day tours, it is normal to walk up to two to three hours each day, so ensure that include comfortable footwear such as trainers or hiking boots in your Galapagos packing list. Blisters and sores are no fun, so bring good decent socks too.
During your cruise, you will hear the term 'wet landing'. This means that in contrast to a 'dry' landing, you will disembark from the zodiac right into the water (usually ankle-deep). For such landings, water shoes are ideal. Don't forget your swimming outfit either.
3. Camera (plus chargers, SD cards, and waterproof cases)!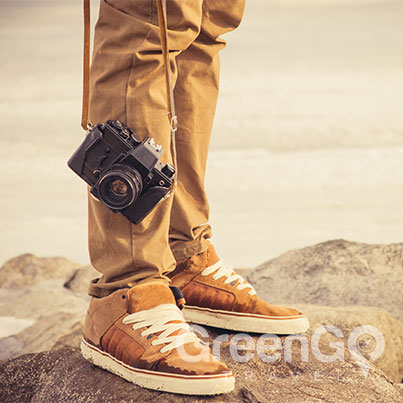 You'll get the best shots in the Galapagos
The Galapagos Islands are a photographer's paradise. It is one of the only places on earth where you can get up close and personal to the wildlife. Some of the animals are what naturalists call "ecologically naïve". This means that as they evolved in habitats free from predators, the presence of other animals (including us) does not faze them as they never had a reason to be afraid. They are so tame that you could go over to them and pick them up (although this is forbidden due to
Park Rules)
. This phenomenon is best demonstrated by the Flightless Cormorant, a bird who lost its ability to fly.
So, get ready to snap away at your heart's content. For those who do not have a waterproof camera and use their iPhone instead, I highly recommend purchasing a 'Sea Wag' to include in your Galapagos packing list (check out: http://seawagusa.com/).
4. Polarized Sun Glasses – Galapagos Packing List
When I first tried wearing polarised glasses, I was genuinely amazed by their effectiveness. At the time, I was on a zodiac off the coast of Cerro Dragon (Isla Santa Cruz), and the glasses enabled me to spot marine life such as sharks, turtles, and stingrays far more easily. Unfortunately, as I only tried these glasses four days into my cruise, I felt like I had been missing out on seeing more. All in all, they are definitely worth including on the Galapagos packing list, even if just used for this one trip.
5. Sports Water Bottle – Galapagos packing tips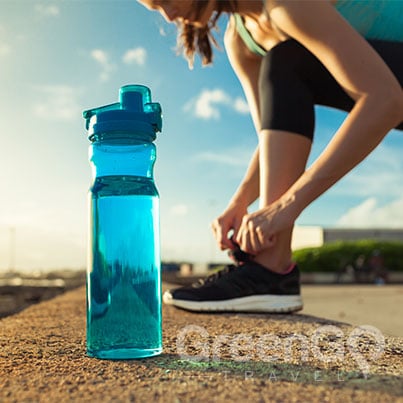 Respect the environment and bring a reusable
A thirsty tourist is also not a happy tourist! When you find yourself adventuring through awesome terrain and having the time of your life – remember that there will not be a shop in sight! There will be nowhere to cool off and buy a refreshing Coca-Cola.  So, in order to avoid becoming dehydrated, bring your own refillable bottle and fill it up on the cruise ship prior to heading out on your day tour. Besides, you will be contributing to saving the oceans by not using a plastic water bottle (a dreaded single-use plastic).
6. A Backpack – Galapagos Packing Tips
During day trips, it's a good idea to bring a light travel backpack with you. Keep this light, and only include essentials such as your water bottle, sunscreen, and camera. A waterproof backpack is best as you will be traveling from the boat to shore on a Zodiac. Foldable hiking sticks can be helpful for the slightly older traveler.
7. Medicine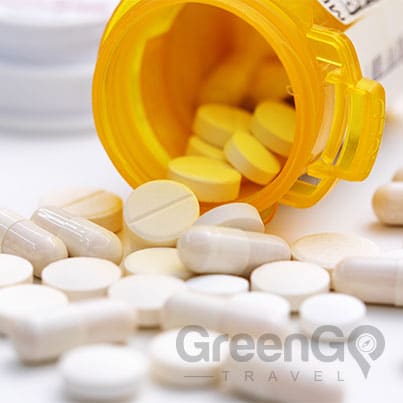 If your meds are important, pack them first!
If you need to bring medicine – bring it.
In the Galapagos, only very basic healthcare will be available should you fall ill.
For the majority of your trip, you will be in very remote locations and hours away from the nearest hospital, so never take any chances with your health.
Those with hay fever, make sure that you stack up on the Piriton.
We stress highly to put your medicine in your luggage first in a spot that you know you will find it.
Don' take any chances that would ruin an amazing Galapagos trip.
8. Music player and headphones
An absolutely essential item on your Galapagos packing list. Your music is needed for the time you just want to sit back, relax in your cabin or go on deck to sunbathe or gaze out into the ocean as you listen to your favorite songs. It is also nice to have them on airplanes. They do pass them out on airplanes internationally, but they are never great quality.
9. Tablets for seasickness
In case you are prone to becoming seasick, be prepared! If you do not like taking tablets, there are some excellent remedies out there such as wristbands and ear patches.
10. Passport/Credit Cards/Cash
A no brainer, of course. However, do make sure you bring some cash with you (at least a few hundred dollars to be secure). Smaller bills are better. Upon arrival to the Galapagos, you will need to pay the $100 entrance fee and $10 INGALA control card. Do not lose this card as you will need to present it at passport control when you leave the Islands.
Furthermore, you need to be aware that on Isla Isabella, there are no ATM machines that cater to foreign cards and you will be required to pay a $10 entrance fee. These facts are not advertised and many a traveler – including myself – have run out of money on Isabella. So, be prepared!
GreenGo Travel can help you plan the perfect Ecuador & Galapagos experience from start to finish! Contact us and receive our free travel planning service with no commitment or initial payment involved. Our Galapagos & Ecuador experts are waiting to help you today!
---