Endemic Dummies Guide – Must Read for 2019
Quick walkthrough of the basics to conisder when visiting the Galapagos aboard the Endemic Cruise
Cruising the Galapagos aboard a big catamaran is a truly unique experience. More stable by design, they're among the most comfortable ways to be on the water. In this Endemic Dummies guide, I'll go over some planning steps that can help you get sorted for your trips. I'll also share some tips to help you learn the ins and outs of planning a trip to Ecuador.
Planning Your Visit

Endemic Activities
The first step of planning your trip is definitely research. The Galapagos is different from
month to month
. Even though there's no "wrong" time to visit, you can see completely different wildlife and behavior at different times of the year.
For example, are you more interested in hiking tours or in snorkeling? Are you wanting to see some of the interesting animal behavior during mating seasons? Or do you want to see cute animal babies? Depending on your interests, there might be an ideal time of year for you to travel.
This is where the Endemic really shines. They have great programs year-round that will let you enjoy these seasonal highlights. It covers a wide range of the islands through various itineraries. It'll be very likely that there will be a great itinerary that corresponds well with what you want to do.
Setting Priorities – Endemic Dummies Guide
Machu Picchu in Peru
If you plan on doing a bit of a tour of South America (which most visitors do) I'd really recommend that you prioritize what you plan. Some destinations are harder to plan and more difficult to get to.
For example, if you're planning on swinging by Peru, Machu Picchu is dead easy in terms of planning. The only caveat to that is if you want to take the Inca Trail to get there, it is closed in February.
Overall, though, it's a pretty easy place to visit. There might be more of a crowd during the busier season, but you're not going to be stopped at the gate. If you book a bit in advance, you shouldn't have any problems whatsoever.
The Amazon lodges in Ecuador are, for the most part, also very easy to book. The same is true in the highlands, Mindo, Otavalo, and most of the other things to do on the mainland.
Compare that with a Galapagos cruise. Especially during peak season, cruises can be fully booked even a year in advance!
The point is, one of the best practices we reccomend in the Endemic Dummies Guide is to book your Galapagos cruise first. Moreover, plan in advance, and then plan your other stops around that. The Galapagos isn't really a placed that's easily "squeezed in", especially when it comes to cruises. These other activities, though, are fairly straightforward to sort out once you've got your dates set.
Requesting Holds – Endemic Dummies Guide
Vacations On Transit
This is a cool thing that's common in Ecuador, and most people don't realize that you can do this. You came to the right spot in our Endemic Dummies Guide
Interested in a particular cruise on a particular date but aren't ready to commit yet? A GreenGo travel planner can place a certain amount of spots on hold for you with the cruise line.
This won't cost you a cent, and it'll let you iron out some of the other aspects of travel to make sure that everything works out. Getting time off work, for example, or coordinating with the rest of your travel group.
A hold will generally last for one week. So if you find an itinerary that you're excited about, ask a GreenGo travel planner to place it on hold for you while you sort everything else out. There is pretty well nothing worse than finding the perfect cruise only to find it sold out the next day while you were making sure that it would work for everyone.
The Endemic is notoriously accommodating when it comes to holds, and they often will allow customers to take a bit longer before finally committing. If you're thinking about booking, ask to place it on hold while you decide.
Endemic Add Ons – Don't Rush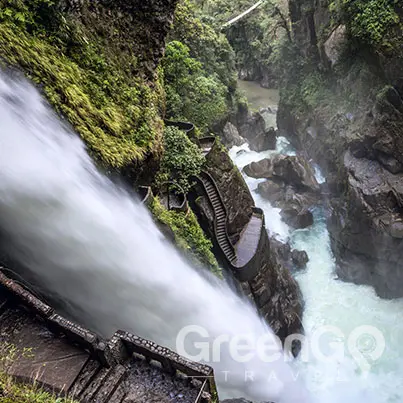 Banos - Pailon del Diablo
The absolute last thing that you'd want to do is book yourself so tight that there's no room for error. This is a number one point in the Endemic Dummies Guide
One common mistake that people make is to book their flights to arrive just the day before the cruise.
Please don't do this.
It's recommended to book your flights into Ecuador at least 48 to 72 hours before a cruise departure. International connections can on occasion have severe delays, and there can be a lot of things that go sideways if you plan an unforgiving whirlwind tour.
A Galapagos cruise isn't just a quick and cheap detour, so it's worth doing everything that you can to make sure that nothing can interfere with it.
There are lots of other really fun "filler" activities that you can do while you're in Ecuador, too. For example, there are loads of places to visit within 2-3 hours of driving from Quito that are totally worthwhile.
Baños de Agua Santa is the adventure capital of Ecuador, and a great place to go zip lining, white water rafting, rappelling down waterfalls and jumping off bridges (with a rope). The Mindo Cloud Forest is a beautiful place with a butterfly sanctuary and world-class hiking trails. The Teleférico is a cable car right on the edge of Quito that will give you one of the most amazing views of this big city right beside its active volcano neighbors. The Otavalo open-air market is the largest in all of South America.
These are all really cool things to do, but they're also easy to plan and cancel. If something happens and you can't do one of them, it's not nearly as devastating as missing the boat for your Galapagos cruise.
Come 48 to 72 hours before your departure and you'll be doing a lot to guarantee that everything goes as smoothly as possible.
Endemic Guidelines – Travel Insurance

Insurance for Travel
It's honestly pretty rare that there will be an emergency on a cruise, but it's always better safe than sorry.
It's also worth knowing that some cruises will actually have travel insurance as a requirement. If a chopper needs to pick you up and rush you to a hospital, you'll be glad you paid a little extra to be covered. It's one of those small things that are extremely worthwhile. There are many travel insurance companies you can find online, Travel Nomads seems to be quite popular among past customers, with some great coverage. Definitely recommended to check them out.
There you have it, our Endemic dummies guide, I hope you found some of these tips to be useful. If you're thinking about coming down for a cruise, it's really best for you to reach out to a travel planner as soon as possible.
Locking in an itinerary is something that requires a lot of planning. A GreenGo travel planner can do a lot to help make sure that you get exactly what you want, even if you don't know what that is yet.
---