Sustainable Travel to the Galapagos Islands + Tips
Tips on how you can support the mission of sustainable Travel to the Galapagos Islands to keep the enchanted Islands pristine and magical.
Sustainable Travel to the Galapagos Islands is a hot issue right all over the major news sources. Currently, there is a lot of speculation about the prediction of a sharp spike in prices for the Galapagos Nation Park entry free. But why is all this occurring?
If you look in the news, they all attribute the answer to a huge increase in tourism and efforts to increase sustainability and conservation. The ministery of tourism, agriculture, and environment has suggested doubling the price from one hundred to two hundred dollars. Additionally, they proposed even higher prices for visitors that want to stay less than two nights in mainland Ecuador.
At Greengo travels, we understand that this may cause some visitors to become upset. This is especially so for those traveling in large families or groups. An extra $100.00 dollars per person isn't exactly cheap.
With that being said, it is important to give the utmost importance to the wildlife and conservation efforts going on in the park. With so many visitors, it becomes harder and harder to maintain the perfect and pristine nature of the parks. So although the bump in price may be a little rough, we must also understand that it will make your experience and the guests after you the best it can possibly be.
So if you are planning a visit to the Galapagos, what can you do to support the mission of Sustainable Travel to the Galapagos Islands and the world even further?
Tips for Sustainable Travel to the Galapagos Islands
Support the Local Economy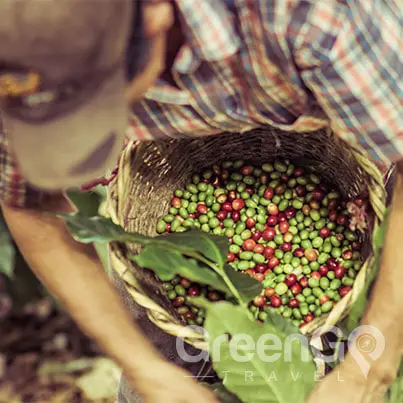 Support the locals and try new cuisine
Most people cite one of the major advantages of traveling is to learn more about the world, to expand their ideas, and become a better version of themselves. Equally important as improving yourself is to support the country, economy, and people whose land you are visiting! This goes along with a common boy scout saying, leave the campsite better than you found it.
One of the best ways to do this is to support the local economy by purchasing a local coffee, tasting the local craft brew or wine, and eating the delicacies at restaurants. The people will be warm and welcoming, and you'll learn a lot about a country just by doing your best to support the people. Most people are very patient and you can practice a bit of your Spanish and learn about another culture. Lastly, this money will go into conservation efforts and keeping the Islands clean.
Choose Smaller Ships – Sustainable Travel to the Galapagos Islands
There are a lot of cruises in the Galapagos, and a few of them can hold up to 100 passengers. Unfortunately, these big ships tend to create more waste and rely more heavily on plastic products. By choosing a ship with a lower capacity you will be choosing a more sustainable travel method.  Moreover, you'll also have a more intimate Galapagos experience.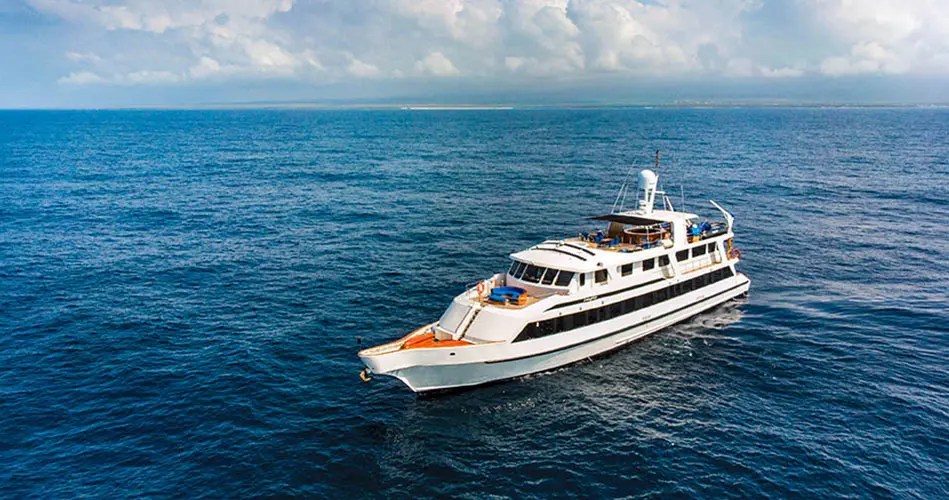 The Integrity Yacht
Stay at a Sustainable Galapagos Eco-Lodge – Land Based Trip
For those wanting to do landbased Galapagos tours, Greengo travel is partnered with some of the best eco-lodges in the Galapagos, including finch bay lodges and the sister company Scalesia lodges. They are making headlines for their amazing eco-friendly lodges and services. Moreover, they always make every effort to conserve the environment and make smart green choices. This is great for any guest that prioritizes sustainable Travel to the Galapagos Islands.
Eliminate the Use of Single-Use Plastic Products in the Galapagos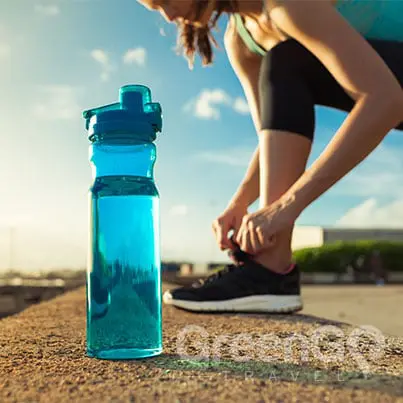 Protect wildlife with reusable products
Cruises like the Elite Galapagos yacht are making eco-friendly choices by offering water bottle refill stations.
This cruise also gave a free water bottle to fill up for excursions.
By avoiding the use of plastic, many of the creatures both on land and sea will benefit.
Sometimes accidents happen where the wild blows a plastic bottle overboard.
Over time this breaks down into microplastics that are toxic for our underwater friends.
I would always suggest bringing a refillable water bottle no matter the destination, especially if you decide to visit Quito or Guayaquil.
You'll get thirsty walking around the city, and it's always nice to have a source of cold water.
Pick a Travel Designer like GreenGo Travel that Plants Trees on Your Behalf!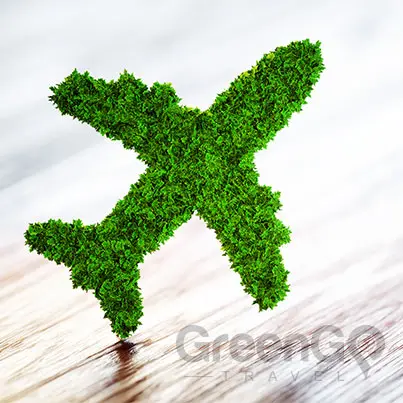 Offset your carbon through planting trees
Did you know that a single tree can soak up 2,000 pounds of carbon dioxide in its lifetime? When traveling overseas to the Galapagos, your individual contribution of taking a flight will likely be around 1000-1,500 pounds of carbon dioxide. To offset this pollution, Greengo travel is dedicated to planting trees for every guest. These trees will sequester carbon and continuously pump clean oxygen.
How do we plant trees for every guest? By Teaming with Canopy Co, a local carbon offset and Development Company. Keep your Travels to the Galapagos Islands sustainable!
Another initiative of Greengo travel designers is to limit the paper used to a bare minimum. All information and ticketing will be cloud-based. No more wasting any paper. Moreover, you don't have to carry as many things to the airport, and the airport assistants will have everything ready for you.
Use Reef Safe Sunscreen – Sustainable Travel to the Galapagos Islands
Reef safe sunscreen is sunscreen that doesn't have any toxins known to affect sensitive corals or marine wildlife. This is truly not a gimmick, and Hawaii has even banned all sunscreen using oxybenzone and octinoxate in their ingredients as they have been proven to cause coral bleaching! Here is a website with an updated list of products of reef-safe sunscreen.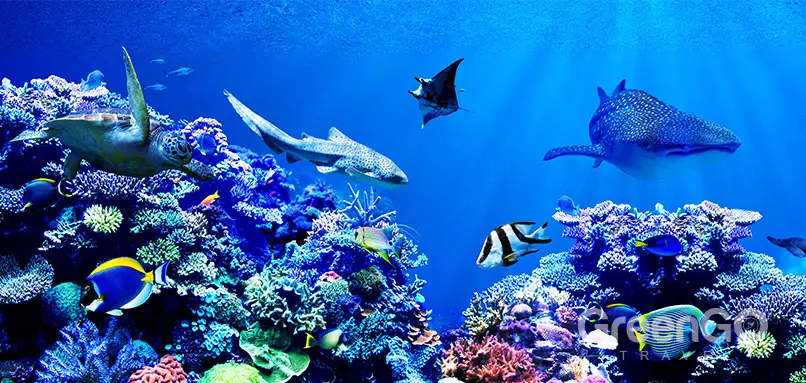 Protect the reef with reef-safe sunscreen!
 Use Deet FREE Insect Repellant
Galapagos isn't very buggy, but then again my girlfriend seems to be able to get bitten even if we were are in the middle of Antarctica. So if you decide to bring bug spray, make sure it is natural and free of DEET.
There are effective DEET free products, and they won't leave toxins in the environment that hurt the ecosystem.
Follow the Galapagos National park rules!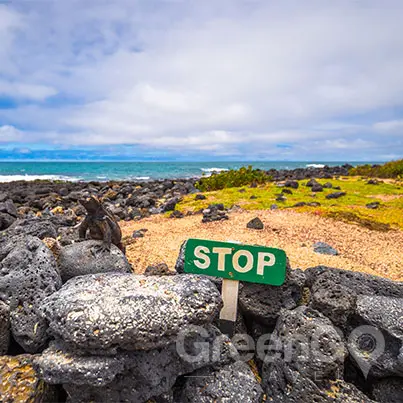 Follow the rules!
This is the last tip, but definitely one of the most important. The Galapagos assigns natural park guides for two reasons. One is to provide an entertaining and informative experience as you tour the islands.
The second is to make sure guests are following the rules. These rules are unfortunately occasionally broken. I even once saw a guest pour a bottle of water on a helpless baby seal, and the guide patiently but firmly reprimanded him, warning that actions like that can result in a restriction to the ship.
Make the life of the guide easier. Pay special attention to signs so you don't end up walking through nesting zones! Stay two meters from the animals. And as cool as it would be to touch a sea turtle swimming by, hold that impulse back! It'll scare it off and make it more frightful of humans.
Sailing – The Extra Mile in Sustainable Travel to the Galapagos Islands
If you want to go the extra mile for the Galapagos, consider a vessel that relies on the wind. A ship like the Mary Anne is a sailboat that relies mostly on wind energy when cruising the Galapagos and will use less fuel than most ships.

Ultimate energy saving. Harness the Winds
---