A Guide to the Weather of the Amazon Rainforest
Are you thinking about visiting the Amazon rainforest? This is one of the most biodiverse areas on the planet, and great choice for a trip. Before you go, a little research on the seasons and weather will be helpful to get an idea of when to visit and what to wear! All this and more in the Amazon rainforest seasons and weather guide.
Introduction
Visiting the Amazon rainforest should be on the bucket list of every wanderlust adventurer/traveler who is looking for a truly novel, exciting, and memorable experience.  I would need to grow many more hands if I wanted to use them in listing off every experience that is unique solely to the Amazon.  There is bountiful nature, radically different cultures, delicious cuisine, and breathtaking vistas. You were probably already convinced to go even before reading this little introduction from its notoriety, so I will quickly outline what this blog is going to be about. As you read on, you will learn about the weather and seasons of the Amazon rainforest, the recommended time to go, and what to bring.
You will never be prepared for the shock and awe that this tropical haven brings to all who step foot within, but after this read you will be prepared with the wisdom of how to enjoy it to its fullest!
Weather and Seasons of the Amazon Rainforest
The Amazon rainforest is a big place. However, the country of Ecuador has a fairly small longitudinal range making the climate and hours of daylight relatively constant. Throughout the entire year, the sun will always set between six and six thirty depending on the month.
There are great benefits to the predictable climate of the Amazon. You won't have to deal with a random spike in temperature, like the tourists facing a 109-degree spike in Paris.
Nor will you be stuck in the airport on the way home due to a massive snowstorm.  Rather, you find yourself in a constant, where the annual temperature is going to average at 78 degrees Fahrenheit. Temperatures also range between 75-95 degrees based on season or month visited.
Now, we have an understanding that the weather of the Amazon rainforest is relatively predictable. Now, let's go into a little more detail of the rainy and dry seasons!
 The Amazon Rainforest Dry season
Ecuador does not go through four seasons as the many parts of the world experience.  Rather, there is a rainy season and a dry season. The previous link describes the average Amazon rainforest average temperatures. The dry season runs from December to February, and those are the hotter months.
If you are going to one of the lodges like the Guacamayo Lodge or the Dolphin lodge, you will find temperature during the dry season average 78 – 79 degrees. The Max temperature CAN reach 88 degrees, but on average that will not be the case. In my packing list, I'll make sure you prepare for whatever comes. Either way, you'll be comfortable in the recommended list.
Keep in mind when planning your vacation, The dry season isn't actually dry. It still rains quite frequently, just not as much as the wet season.  A tropical rainforest will always have rain, and at some point during the trip the raindrops will fall!
The Amazon Rainforest Wet Season
Brilliantly colored Toucan of the Amazon Rainforest
This season runs from the end of February to the end of November.  If you go to the aforementioned link with the weather information, you'll see the average low is seventy-six degrees.  You definitely won't be shivering your lodge unless you live in a hot desert all year long!  So this means the "lowest temperatures" in the Amazon rainforest are going to be in
June, July, and August.
  The "lowest" temperatures only vary by two degrees cooler than the other months.
However, if the temperature is important to you, the stars could not align any better for travelers.  Why? A recent poll shows the majority of people decide to take their vacations in guess which months?  June, July, and August! Sounds like a nice plan to visit the Amazon in the cooler months when most have the time off for a vacation.
One thing to keep in mind, however, is that the rain is stronger in these months.  That shouldn't be a deterrent to visit necessarily.  As it is constantly raining, even in the dry season, it won't cause you to miss out on wildlife. The animals are accustomed to it and are active regardless of the condition. Moreover, the rain, although frequent, generally doesn't last for too long, but rather comes and goes rapidly.
Highest Period of Wildlife Activity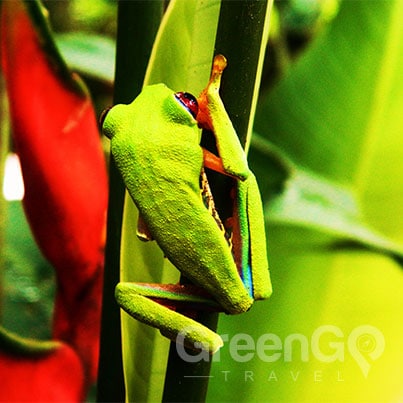 Vivid colors of the Amazon rainforest
People come to the Amazon for many reasons. One of the biggest incentives is wildlife. So the question is when are the forest creatures most active?  This answer seems to vary online, so I want to clear it up
The reproductive time where MOST species are breeding in the rainforest is between February and March.  Why is this important?  Well, every animal is going nuts looking for a "girlfriend". This comes in the form of singing loudly, odd courtship rituals, exploring into areas they normally wouldn't as they hunt for their mate.
Hormones and breeding cycles are driving animals to be more active, and that is when you are going to see the most wildlife.  Moreover, the rainy season is just beginning, not yet hitting its peak. Therefore, you won't get the worst of the weather of the Amazon rainforest in terms of rain. Dr. Nivia Luzuriaga, an ornithologist (bird expert) from the Central University of Ecuador recommends visiting in March if your goal is to see as many species as possible.
Now, this doesn't mean that other months aren't worth visiting. Regardless of the Amazon season and month you choose, it is going to be a blast. You'll see plenty of animals, and the weather won't be radically different as shown by the averages.
Ultimately, whatever time to choose is going to be a great time. If you want to take the vacation when the summer months line up, you'll get the benefits of the cooler temperatures.  If you want to choose the Amazon rainforest season with the most wildlife, visit in February and March.
But, if you want to go on a Christmas adventure or with your or take an exotic honeymoon in September because that is the only time available, I say why not? I can guarantee you will be enchanted by the wildlife and unique culture regardless of when you decide to visit.
Final Note
The majority of lodges at the minimum fans, with some of the luxury lodges providing air conditioning such as the Kawapi Eco Lodge. If you are worried about getting a good night of sleep away of the heat, don't!  Generally, at nighttime, the weather drops low enough that you will actually want to use a blanket. Better yet, as night time as night rolls in, you will get to experience a nice drizzle or strong downpour to help you fall asleep.  There is really nothing like the sounds of nature and pitter-patter of rain on a thatched roof to lull you to sleep.
The weather of the Amazon rainforest-
Packing List
Rain Jacket/Poncho
USD in quantities of $20.00 or less
Lightweight tall socks. The smart wool kind area my favorite!
Binoculars (As a ecologist, I can't recommend these enough)
Headlamp + Extra Batteries
Sunhat
Rubber sole Sandals – Chacos, Keens ect.
Personal first aid kit. Great Kits on amazon.com
Water Flask/Container. Stay Hydrated!
Two Bathing suites- One to wear and the other to dry
Quick dry/water resistant pants.  One per every two days
Moisture wicking t-shirt for adventures. One per day.
Lightweight cotton t-shirts for the afternoon or hot days.
All personal toiletries
Insect repellent and sunscreens. Checked, no carry-on!
Good pair of hiking boots. Break them in before traveling
Blister pads.
Double-check with the lodge you want to visit. They may provide some of the items above!
Notice the rain ponchos. If not provided, make sure to bring at least a rain jacket
Some final advice.  Finish up your snacks before you get off the bus or plane to your lodge.  When ants find a tasty snack that you bring into your room, they communicate with their family with a "chemical signal." This pheromone released by their glands is irresistible. It is said a couple of drops is enough to trace a line across the planet!
Vaccinations and Travel insurance
If you want to visit the Amazon, the world health organization recommends a vaccination or two. https://www.passporthealthusa.com/destination-advice/ecuador/ It is always better to be safe than sorry. You don't want to bring anything home with you besides your luggage and souvenirs. Take a visit to your local "shot nurse" and get them over with.
As for travel insurance, it is also highly recommended.  It is impossible to predict events of the amazon rainforest seasons that could cause a delay in your trip or even a cancellation. Play it safe. Discuss with the GreenGo Travel advisers on recommendations for travel insurance.
---