Galapagos Islands vs African Safaris
Choosing between the Galapagos Islands vs African Safaris is certainly a tough choice. Either option is undoubtedly going to be an unforgettable adventure, and both should be on the bucket list of every wanderlust traveller. So if you haven't done either, which should you do first? We'll go over a few of the major factors, and let you decide!
Animals in the Galapagos Islands vs African Safaris
An African Safari is a tour where you never know what you may see. What most are looking for are sites the big 5 in their natural habitat, the lion, leopard, rhinoceros, elephant, and Cape buffalo. However, there are many more, including cheetahs, wildebeest, zebras, giraffes, crocodiles, and many colorful birds. You may get lucky and see a predatory cat chasing a zebra, magnificent elephants up close and personal or breathtaking views of massive herds of animals, or a hippopotamus lurking beneath their waters with only eyes and ears above. African Safaris have an appeal when it comes to animals unlike any other, except for maybe…the Galapagos Islands!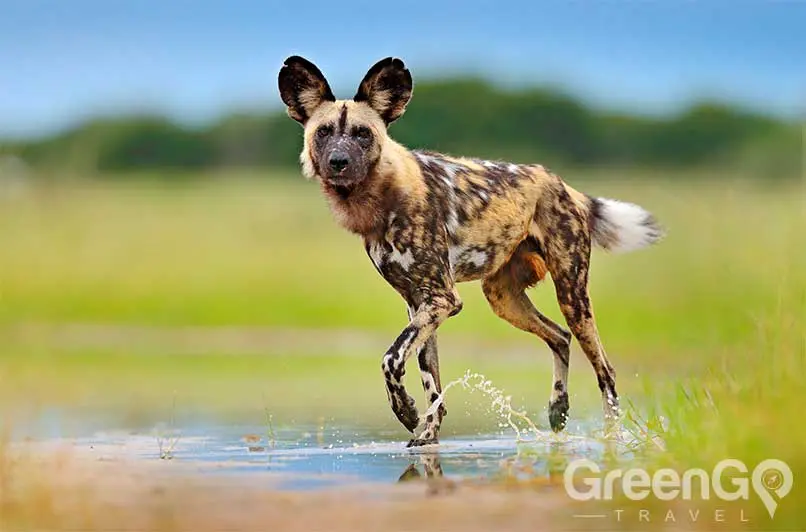 In the Galapagos Islands, animals are completely unafraid, typically easy to sight, and you are guaranteed to see a lot of them. Some of the most famous animals include the collosol Galapagos tortoises, 500-900 pound mammoths wandering about looking for prickly pear cactus fruit. The intimidating but harmless hammerhead Sharks, adorable and agile Galapagos penguins, green sea turtles, blue and red-footed boobys, Galapagos Flamingos, fur seals, sea lions, and of course the waved albatross. There are many more to be sure, and you will likely see the grand majority of those listed.
Excursions of the Galapagos Islands vs African Safaris
During an African Safari, most people choose to do guided tours. These tours typically navigate vast national parks in open 4×4 vehicles in search of legendary African Wildlife, glamping in beautiful areas in large canvas tents with suite bathrooms, electric lights and mosquito netting. Alternatively, sleep within lodges featuring pools to watch the breathtaking sunsets. Many tours feature hot air balloon rides, bird watching, and visits to local populations within Africa to learn about their way of life. Many tours span through multiple countries, national parks, and different environments each with unique wildlife. If you love the idea of riding around in 4×4 and taking pictures of spectacular animals, this is the option for you.
In the Galapagos islands, you can choose between landbased options and cruises with capacities of anywhere from 16-100 people. A typical day during a Galapagos cruise includes sailing to various islands, with rubber zodiacs carrying you to visit points and hidden gems across the islands. From these visit points, trek through volcanic landscapes, explore exotic wildlife settlements, walk along pristine beaches, and much more. The best part about
the Galapagos islands is that safety is no concern with the wildlife, so you can walk up close to the animals (You must stay 2 meters away!) and they won't skitter away.
This makes the Archipelago an attractive location, as rather than just spectating the wildlife as in an African safari, you are in the middle of all of the creatures. Think standing in a circle of marine iguanas or to float along with green sea turtles with no barriers! The adventure is endless, with up to two or three snorkelling excursions daily, where you can explore an underwater metropolis flourishing with green sea turtles, sharks, and colourful fish.
For those that don't like the idea of sitting in a vehicle for large periods, but rather partaking in the action through up to five hiking and snorkel excursions per day, the Galapagos Islands might be for you for the first trip.
Costs of the Galapagos Islands vs African Safaris
The costs of both trips vary greatly. A budget safari averages $175 per night per person, a mid-range $350 and luxury $750. The extreme top-safaris can set you back $1,500 per night, or more. For a five-night safari for a family of four, that adds up to $3,500 for budget, $7,000 for mid-range, and $15,000 for luxury, not including tips and international travel. As for flights, this is dependent on how far ahead of time you book, the country you visit, and if connections are necessary. An international flight to Africa costs between $750-950 depending on the country.
The Galapagos Islands also varies greatly. For cruising options, expect to pay around $400.00 per night per person for budget, $400 to $799 for First-class, and $800.00+ for luxury. Luckily, most cruises offer discounts for children. Alternatively, you can find land-based options, last-minute cruise deals, or even create a DIY trip if these options are out of range. International flights to Ecuador range from $400.-850.00 depending on the season, and to Galagos Islands cost approx $250-300.00.
Distance / Travel Time
The total flight duration from New York City to Cape Town South Africa is approximately 16 hours, and 15 hours to Kenya. The total flight time from New York City to Guayaquil is 6 hours and thirty minutes, and from Guayaquil to Galapagos 1 hour and 45 minutes, for a total of eight hours and 25 minutes. From North America, the flight duration and cost is significantly shorter to South America than to Africa.
---