A Guide to Whitewater Rafting and Kayaking in Ecuador
With over 2,000 rivers flowing through the South American country of Ecuador, the opportunities for aquatic adventure sports are limitless. Among these sports include canyoning (waterfall repelling), ziplining, hikes taking you through chains of magnificent waterfalls. In this blog, we focus all our attention on rafting and kayaking in Ecuador. I am going to give an overview of the top spots, safety, and pricing, and more.
Introduction to Rafting and Kayaking in Ecuador
With the sheer quantity of rivers along with the Andean mountain range providing numerous elevation changes, Ecuador affords visitors, of any level of skill, wonderful opportunity to enjoy the great outdoors. Whether you are an advanced sportsman looking for class 4 and 5 rapids, or a beginner looking for a thrilling but safe adventure, there is something out there for you.
Class system for Rafting and Kayaking in Ecuador.
Ecuador's white water class system also follows the international classification system. It is important to keep in mind that the number doesn't necessarily equate with how fun a rapid is, as the system is based on the rapid technicality and danger. Keep in mind that a class three rapid can be more exciting to raft than a class four. For beginners in rafting, one should stick to mostly class three and four rapids. For beginner Kayakers, class two and three rapids.
Class I:
Flowing water with a few riffles and small waves. This includes little to no obstructions in the water. This is perfect for the first time kayaker.
Class II:
Straightforward and simple rapids with smaller waves and clear routes that are easy to navigate. Some manoeuvring might be required for kayaking. if you have one kayaking experience with class II rapids behind you, this level is for you. Safe for beginner rafters.
Class III:
Rapids with taller, irregular waves. Some narrow passages mandate precise manoeuvring. After a few experiences kayaking on class two, you are ready for three. Safe for beginner rafters.
Class IV:
Long, difficult rapids with constricted passages that often require complex manoeuvring in turbulent water. The course may be hard to determine and scouting is often necessary. Safe for beginner rafters
Class V:
Notably difficult, composed of long, and powerful rapids with highly congested routes. Before attempting, scouting should be assessed from the shore. Rescue conditions are difficult, and there is a significant hazard to life in the event of a mishap. The upper limit of what is possible in a commercial raft. Intermediate/Advanced experience in rafting.
Class VI:
The difficulties of Class V, but to the extreme. These are nearly impossible and very dangerous. For teams of experts only. Not commercially raftable.
Kayaking school in Ecuador
Like your first time skiing, whitewater kayaking can be a little intimidating. Luckily, there are schools and introductory kayaking classes to get you into the groove. Among them, a four-day school that starts you on basic and simple rivers to get your confidence up. Otherwise, take a one day introductory course to get your feet wet for the first time!
The Top Places for Rafting and Kayaking in Ecuador
The top places for these adventure sports include Quito, Baños de Agua Santa, Tena, Puyo, Maca. Take a look below for some of the rivers and descriptions.
Quito
Quito is the capital city of Ecuador, and plenty of day trips are available from within city that will have you at home in the evening, with enough time to shower off and head to a delicious restaurant.
Quijos River
A day trip out of the capital city of Quito, Ecuador takes you to a spectacular river of the Quijos Valley. The Quijos River provides is one of the most renowned whitewater rafting destinations in all of South America. This location even hosted 250 of the worlds best whitewater rafters in a world championship. The river contains class III-IV rapids, full of fantastic waves, turbulent torrents, and adrenaline pumping rapids.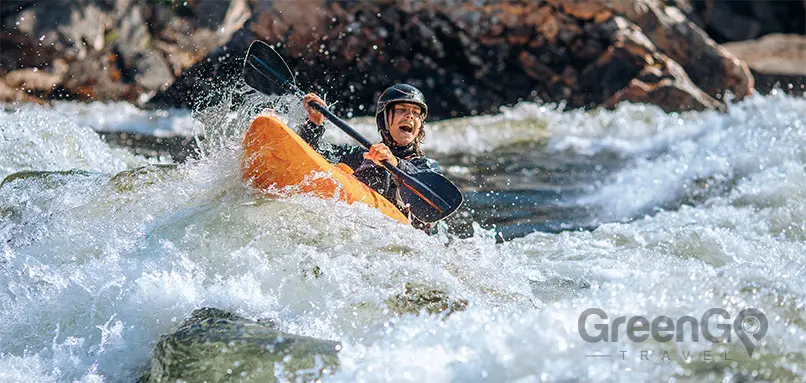 Who needs a little kayaking adventure?
Toachi Blanco
Perfect for first-time rafters and kayakers searching for a more relaxed rafting excursion. A day trip out of Quito takes you through a beautiful cloud forest, eventually leading to a part of the coastal Andes with long sections of whitewater. This trip has led to many hundreds of addictions to whitewater for first-time kayakers.
Banos de Agua Santa
Banos is a small city three hours outside of Ecuador, with a great majority of its economy reliant on tourism. Its become incredibly successful for the huge variety of wildlife and adventure sports. Among this is some of the best waterfalls, rafting, and kayaking in Ecuador.
Pastaza river
The Pastaza river is one of the best rafting sites in Ecuador. If you are just starting, check out the class three or three plus, or if you are a little more comfortable get straight into the class three and four. Get ready for a 5 hours tour taking you through the pristine Sangay National Park rainforest and the Llanganates. This river is the main tributary of the Amazon river, containing some of the best rafting in Ecuador.
Option 1: Rafting Pastaza River level III – III+
Option 2: Rafting Pastaza River level III – IV
Tena 
Tena is the capital of the Napo province of Ecuador found within the Amazon rainforest. Besides awesome rainforest tours and lodges, you can enjoy spectacular Ecuador rafting and kayaking, with three amazing rivers.
The Jatunyacu River
This river is full of class three rapids, perfect for both beginners and intermediate. No experience is required for this rafting adventure, but the adrenaline is definitely there with a constant roller coaster of waves and rapids each finishing in a calm pool below. This trip runs through the LLanganates national park, a pristine nature paradise.
The Jondachi Hollin River
This Ecuador rafting adventure combines the best of both worlds, a jungle adventure and rafting. Get ready for adrenaline and teamwork as you paddle around the obstacles dispersed throughout Ecuador's world heritage site, the Sumaco Biosphere Reserve. As you approach the Hollin river, the volume of water increases, rapids grow, more adrenaline, and the landscape transforms into a pristine paradise. Who's ready?
The Anzu River
A more tranquil Ecuador rafting experience, with exciting, bouncy class 1 and 2 rapids followed by calm sections perfect for taking in the beauty of the passing jungle. These rapids are easy and perfect for families with young children or those that just want to float down and relax.
The Anzu river is wide and deep, with a tropical temperature year-round. Consisted of pristine pools, beaches, curves, and slow currents surrounded by beautiful jungle, this is the best for an easy-going adventure. As you float down the river, you are likely to see fishermen, people panning for gold, and kids from nearby communities.
Puyo
The city of Puyo is an Amazon city, with the pristine Palora river running through the area. This section of the river is perfect for a heart-pounding adventure for either beginners or expert rafters, with class three and four rapids.
Macas
The city of Macas contains the Upano river and exciting adventures for beginners and experts alike. Enjoy class three and four rapids through wide valleys and towering canyons, with massive boulders producing incredible rapids, some of the best rafting in Ecuador.
How to set the plan?
Ready to get on the water? Let the GreenGo travel team set your trip up for you, free of charge! Whether you are a beginner or veteran, we will place you in the right hands for the adventure of a lifetime. It's as easy writing in the chatbox, or give us a call and we will make your dream trip come true!
---