Why go to the Galapagos Islands? ?️
There are thousands of fascinating destinations in the world. It is hard to make a choice when you have fascinating African safaris, stunning waterfalls of the Hawaiin Islands, the unbelievably gorgeous landmarks and foodie paradise of southeastern Asia. So what puts the Galapagos islands up there as a bucket list destination that justifies your hard-earned cash? Below, take a took at some of the features that make a good argument to the question: Why go to the Galapagos islands?
1. Pristine Beaches – Why Go to the Galapagos Islands?
There are 13 major islands in the Galapagos, and each has its own unique beaches. There is also a huge variety, from red sand beaches on Rabida island to powder-soft white sand of Bachas beach. Right of the shores, you can put on a mask, snorkel, and fins and swim with the likes of sea turtles, sea lions, fish of all colors and sizes, and even Galapagos penguins in some areas. Some of the beaches can only be reached by private tours and on itineraries of Galapagos Cruises, but there are also plenty of options if you are doing a hotel-based stay.
Tortuga Bay, Santa Cruz Island 
This beach can be visited without a guide, and the trail leading to the beach is a fascinating trek where you will encounter various Galagos creatures including the famous finches of Darwin's studies, mockingbirds, lava lizards, and the prickly pear cactus that can grow huge to hundreds of years of age. You'll pass through several other protected beaches on the way, and finally reach the stunning white sands of Tortuga bay. You can snorkel right off the shore, where you'll see marine iguanas, harmless reef shark species, blue-footed boobies, and sea turtles.
Bachas Beach, Santa Cruz 
Bachas beach got its name from the Spanish word "barge" after two American ships were abandoned during world war 2. Interestingly, remnants of the barges still remain on a section of the beach making for a wonderful picture and unique history. This beach is private, only accessible by tour or on cruise itineraries. The sand is unrivaled in terms of beauty, powder-soft, and brilliantly bright white. You'll find vividly colored red sally foot crabs skittering across volcanic rock areas, tropicbirds and aerodynamic frigates flying overhead. A short stroll from the landing point takes you to a cove with a brackish lake full of Galapagos flamingos filter-feeding their heart away along with marine iguanas swimming through the waters. During a typical visit, you will visit the Flamingos, stroll along the beach, and snorkel off the shores. I snorkeled in 2019 here and saw two marine eels, multiple sea turtles, sea lions, and parrotfish chomping on coral.
Red Sand Beach, Rabida Island
One of the most unique beaches you will ever visit, the red sand beach of Rabida Islands are of another world. Additionally, the sands always contain charismatic guests that will be very interested to meet you: The Galapagos sea lions. When you sit on this beach, the sea lions will definitely pay you a visit and waddle up close. Once one snook up behind me and put its head on my shoulder!
2. Incredible Cuisine – Why Go to the Galapagos Islands?
Galapagos Cuisine is a mix of Ecuadorian cuisine, seafood, and it is absolutely delicious. While walking by the bay of Puerto Ayora, I saw a few fishermen that are in the same spot every day with a large haul of lobster. I bought a huge one for 10 dollars and brought it over to the restaurant across the street and they steamed and prepared it and brought out butter to dip it in. It was an incredible meal, something that would cost 50 dollars in the United States that costing 20 bucks on the Islands!
Other common dishes include ceviche, a dish typically made from fresh fish cured in citrus juices, such as lemon or lime, and spiced with ají, chili peppers or other seasonings including chopped onions, salt, and coriander. Ecuadorian cooking commonly contains plantain, which is in a variety of breakfast and lunch dishes, along with a plate of potatoes and rice.
3. Animals Galore – Why Go to the Galapagos Islands?
What most people come to the Galapagos for is the unrivaled amount of wildlife, many of which are only found on this island. They are generally totally unafraid, and many have charismatic qualities. The Galapagos is a living museum, with animals that are free to do as they like in a natural setting.  The species have evolved for millions of years in isolation, making quite the unique display of nature.
Galapagos Tortoise
One of the visitor favorites is the goliath gentle giants, the Galapagos Tortoise. This 500+ pound creature lazily walks between plants, eating the fruits of the prickly pear cactus and foliage of trees on the islands. These creatures were a crucial source of protein for pirates and buccaneers visiting the islands, as they can survive for months without eating and they are absolutely enormous! These creatures have a magic about them, as they have evolved for thousands of years in isolation, are some of the most massive tortoises on the planet, and have earned a title as a successful create in evolutionary terms. Nowadays, conservation projects are in place to increase their population on every island, including the Charles Darwin research station which is doing cutting edge research to protect the islands and all its species.
Galapagos Sea Lions and Fur Seals.
These playful creatures are completely unafraid of humans, and will often be laying across the trekking trails you will venture on. On the beaches and snorkel sites, they are a reliable source of entertainment, frolicking through the water and waddling across the sand. They often bark and scream at their companions, an absolutely hilarious experience.
Blue Footed Boobies
These unique creatures, famous for their cute little blue feet, are abundant throughout the Galapagos Islands. Right when you step out of the airport and pass by the ocean, you will see these creatures acrobatically diving into the water from high up to catch fish. During tours, you will see them in various nesting grounds trying to impress their mate. They scrounge around the desolate area for nice sticks and items that their spouse might find interesting.  These creatures also have an unusual and amusing mating dance. https://www.youtube.com/watch?v=lcPHFQP9GN0
Marine And Land Iguanas
These creatures are fascinating, commonly spotted while snorkeling and sunbathing on various islands. You will visit huge colonies, with hundreds of these creatures warming up in the equatorial sun and sneezing our saltwater, their natural way of removing excess salt. While snorkeling, you may see these little guys dart down many meters to the seafloor to get a bite of algae. The land Iguanas are unique in that the males become brilliantly colored during the mating season, trying their best to seduce the female land lizards.
Magnificent Frigatebirds and Waved Albatross
These are two large birds, each captivating in their own right. The magnificent frigatebirds' males have a large red balloonlike sac on their neck that swells up to attract females. These birds are talented thieves, tracking down other birds who recently caught fish and steal their prey, oftentimes in midair. If you visit Genovesa, you are guaranteed to see these guys along with Galapagos hawks and owls! The waved albatross breed almost exclusively on Galapagos, with the largest populations on the islands. These large, flightless birds are massive and an amazing sight to behold. They have a wingspan of up to 250 centimeters (8.2 feet). You can only find this bird on Española Island.  
4. Breathtaking Landscapes – Why Go to the Galapagos Islands?
I am shocked to this day by the sheer amount of stunning landscapes on every island while traversing the Galapagos Islands. I took a cruise, and every site we visited was like a picture out of planet earth. Waking up in the morning to a new picture-worthy vista was something that I will never forget. The geographic formations, volcanic landscapes, colorful vegetation, unique beaches, and fantastic sunsets afford incredible pictures. All you need is a smartphone and your pictures turn out spectacular.
Kicker Rock
This is an impressive lava cone jutting 500 feet out of the water. With the sun shining on its rocky face, it appears like one of the walls out of Yellowstone national park. The best part? You can actually snorkel throughout this site, swim through the canyon in the middle, and spot plenty of sea turtles, schools of fish, and hammerhead sharks if you are lucky. The current is pretty calm, and you will follow your guide throughout the tour, where he will help point out all the incredible highlights You can see the ocean floor, and witness incredible biodiversity. Definitely one of the top snorkeling spots on the planet!
Pinnacle Rock
A massive, shark tooth shapes rock jutting out diagonally from Batholomew island. This magnificent rock is adjacent to a beautiful semicircular beach that leads to the turquoise Galapagos waters with touches of green and blue. The bright green vegetation on the island poking out of the desert-like landscape truly makes a wonderful photo. Make sure you bring a nice camera and even a tripod if you love photography because this area affords some of the best landscape shots of all of the Galapagos Islands. As you sail around the ledges, you might be lucky enough to spot one of the Galapagos Penguins, the only species of penguins living north of the equator.
South Plaza Island
A Volcanic landscape dotted with bright red vegetation, ancient prickly pear cactuses, sea lions, and bright blue skies. Walking across these landscapes gives off the atmosphere of another planet, and the vivid colors are truly sensational.
5. Easy Add ons – Why go to the Galapagos Islands?
One of the top perks of visiting the Galapagos islands is the easy and affordable add- ons that can be added on in Ecuador and Peru. Ecuador is a brilliant country full of snow-capped volcanoes, stunning waterfalls, historic districts built during the Spanish colonial era, indigenous culture, and the Amazon rainforest. There are bountiful dazzling churches in Quito, Guayaquil, and Cuenca featuring gothic, renaissance, baroque, and mannerist styles. Hours from the city, you can travel incredibly biodiverse adventure-filled towns with ziplining, nature tours, birdwatching, waterfall tours, rafting, and canyoning.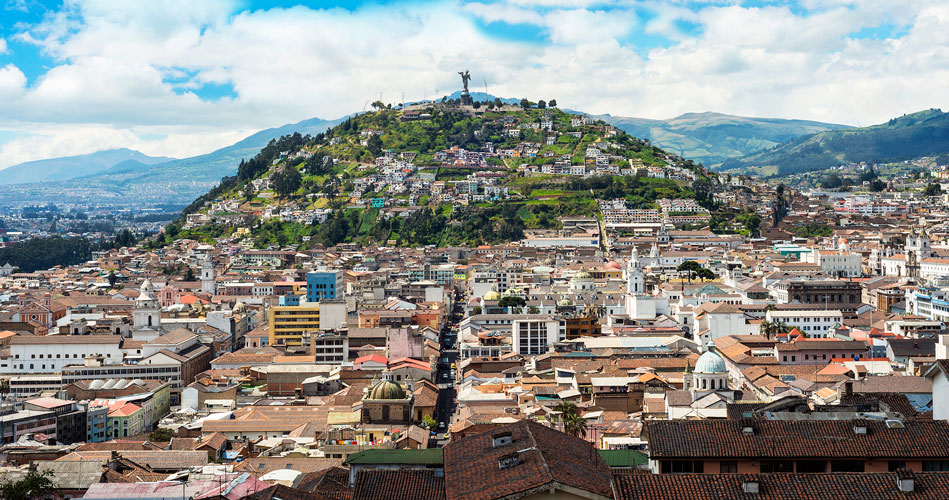 In Peru, you can visit beautiful ancient towns with colonial squares, hike the famous Inca Trail, and visit various ruins including Machu Picchu. If you are interested in visiting the Galapagos islands, take a look at our website and blog full of useful information. Our travel advisors are always prepared to take on questions, free of charge and expert advice.
---