Ultimate Galapagos Savings Guide: How much will a Galapagos trip cost?
A detailed guide on Galapagos trip costs, and tips on how to save loads of money when you visit the enchanted islands. Read now and start planning!
You glance at your bank account, then to a gorgeous picture of the Galapagos, and then back to your bank account. What are the Galapagos Trip costs? Is Galapagos expensive? Can I keep my Galapagos vacation on a budget? And most importantly, what can I do to save money?  These questions are the most searched regarding pricing in the Galapagos, and we have the answers.
Top Tips for savings in the Galapagos
Internally negotiate with your Travel agency sales teams. Website price listing isn't everything
Book international flights outside of the holiday season for savings up to 500 dollars
Book ahead of time  with a travel agency for complimentary services and getting your first choice
Consider booking during low season to get the best discounts
Four Huge Factors in Galapagos Trip Costs
Let's begin this blog with a bang, and show some hard facts with visual evidence of what is going on during the Galapagos season that can majorly impact the price of your trip: flight cost, low season pricing, internal negotiating and planning ahead of time.
International Flight Prices – Galapagos Trip Cost
The basics for flights: Buying international flights to Ecuador outside of major holiday seasons you can save hundreds of dollars. Consider planning on less traveled holidays such as labor day, Good Friday, Easter, Mother's and Father's day, and Martin Luther King Jr day. We are talking of Galapagos savings of up to 400 dollars per person. Galapagos price trends are wildly obvious during the peak seasons, with prices fluctuating hundreds of dollars. Below are some Graphs of flight prices out of new york and arriving in Quito (One of the primary cities you will visit before transferring to the Galapagos). These were searched on Nov 5th.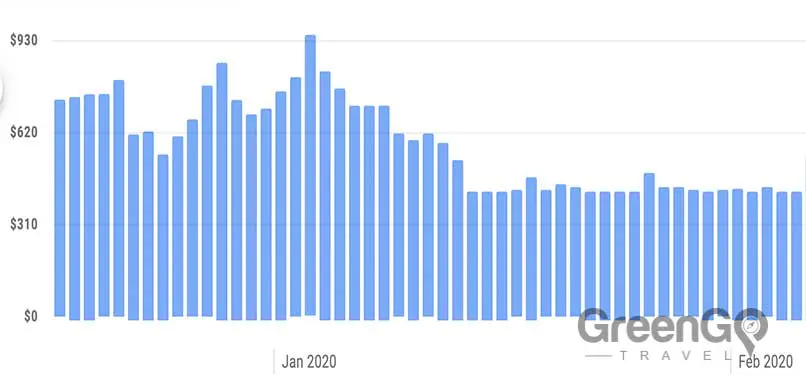 Huge 300-400 dollar flight drops in mid-January. Holiday Craze dropoff
As you can see, 95 percent of flights are above $620, most in 800 range, and one even running up to 930 during late December and early November. Then all of a sudden mid-January hits and prices fall to nearly $440. You can easily save a quick 300-400 dollars a person waiting until December craze is over.
This Galapagos flight expense trend repeats itself in the summer months, with flights over 600 dollars, and again dropping to 440s.
Same trend, huge decrease after popular summer months
This low price drop also occurs in May and June before the summer months
Once again, huge price drops
Internal Negotationing
Do not be dissuaded by prices on the website because 9 times out of ten times, prices can be negotiated. If you are going on a honeymoon, or have a ship you really want but can't quite reach the budget, start negotiating! The fact is all trip designers that have agreements with cruise liners and have certain prices they are required to post on the website.  However, internally, there is some wiggle room. In order to find out what you can negotiate, you do have to follow the rule below.
Booking Ahead of time
If you book ahead of time for the Galapagos, you will find the ship that matches your personality and desires. Moreover, you can work with our organization internally to get the best prices possible. Do not let the prices of the website discourage you, as often times we can find a better price for the ship that you are interested in. Besides pricing, oftentimes there are special deals including complimentary hotels, transportation, and the holy grail: flights to the Galapagos. These are not possible with the last-minute option. Book at least 6 months ahead of time for the best negotiating, and remember that year to year the prices of Cruises WILL go up.
Last-minute Galapagos Deals. Yes or No?
The majority of last-minute deals to the Galapagos are announced during the month. Every cruise liner has its own dates and ideas of low season, none are the same. Galapagos last minute deals are like walking into a store with a 40 percent discount. If you have a specific item that you want, you generally can only find it in sizes that are too big and too small. Or, the product is sold out and you can't find what you like. This is the risk that customers face that want to risk going to the Galapagos for a discount, but can't find a ship they want.
This may be appealing to a crowd that isn't too picky about their ship (Adventurous backpackers with no expectations), but if you are a big planner that considers this trip a once in a lifetime, or have specific requirements, a big group, or a family, avoid last-minute deals!
Low Season Deals in the Galapagos
If you want the savings, this is a safer option over last-minute deals.  There are certain dates during the low season that are generally slow and you will find lower prices. In September and October prices can be significantly cheaper, but the availability of ships can drop by 20%. This is due to work on the refurbishing and maintenance of yachts. Make sure to check with Greengo if you have a ship in mind so they can check if the ship will be running during this time!
Land-based Versus Cruise
There is much more opportunity for good deals for cruises. This is because hotels consistency can provide accommodation even if they are not running trips. With cruises, if there are not enough people the cruise cannot run, so you can find giant deals of 10-50 percent during certain time periods.
However, the big question is can you see yourself on a cruise ship for 4-10+ days, or do you prefer to fly from island to island/take the speed boats?
Take into consideration that cruise ships have all meals and activities included, so the land-based option can add up depending on the land-based program you choose. However, a benefit of the land base cruised is you have the ultimate customization of itineraries.
Land-based Tour Prices – Galapagos Trip Cost
Hotel Silberstein
There are various Galapagos hotels to stay at, with different pricing.
If you want to save a little bit of money, you can stay at the Hotel Silberstein and pay between $1,229 – $2,759 per guest before negotiation, depending on the duration ( 4 days three-night stay ($1,229) to eight-day program ($ 2,759). This hotel is packed with amazing day trips, that returns you to your hotel. Here, you can get a good night's rest without any rocking sensation! A great way to explore the Galapagos for anyone that wants to save some money and has had experience with seasickness!
Hotel Silberstein Galapagos Hotel
Inclusions:
Hotel Silberstein accommodation, use of facilities (tours & lodging only)
Meals & drinks as listed (lodging: 1 meal only)
Bilingual naturalist guide (tours only) / Bilingual diving master (diving only)
All activities as listed
2 daily immersions (diving only)
Galapagos airport shuttles (tours only)
Galapagos Habitat Land-based Adventure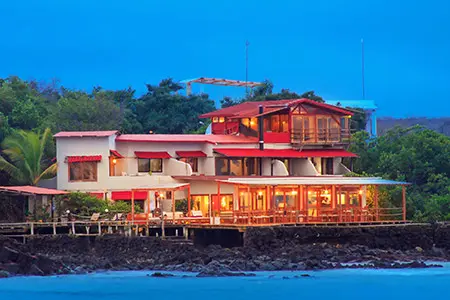 Habitat Hotel of Galapagos
If you are looking for the top of the line experience and want to spend that hard-earned cash on a well deserved luxury vacation, check out the
Galapagos Habitat hotel.
Galapagos prices here range from $1,998 to $5,288. depending on duration and room type (standard, superior, or suite).
This place has incredible features and luxurious rooms with everything you could ask for.
Inclusions:
Accommodation – Breakfast included
Transportation during the stay & sea transfers in Galapagos
Naturalist guide & activities as listed
Visits as specified in the itinerary
Snorkeling equipment for daily tours (mask and tube)
Transfers in – out from/to Baltra airport
Cruise Ships – Galapagos Trip Cost
Galapagos cruise ships have huge ranges in price. On the website, the list begins at 300 and below up to 800+ per day. However, remember about internal negotiation and complimentary services for booking ahead of time. I've been on the most luxurious, and I've also been on one that would be considered budget-friendly. The website lists the ranges of 400 –  Both were spectacular, and blew my mind! The main difference was the cabin size and headcount on the ship. Both had spectacular food, great places to relax, a hot tub. The extra money pays for the intimacy of a smaller yacht, less competition for the hot tub, and balcony. All I can say was that both experiences were dreamy and more than I could have ever expected!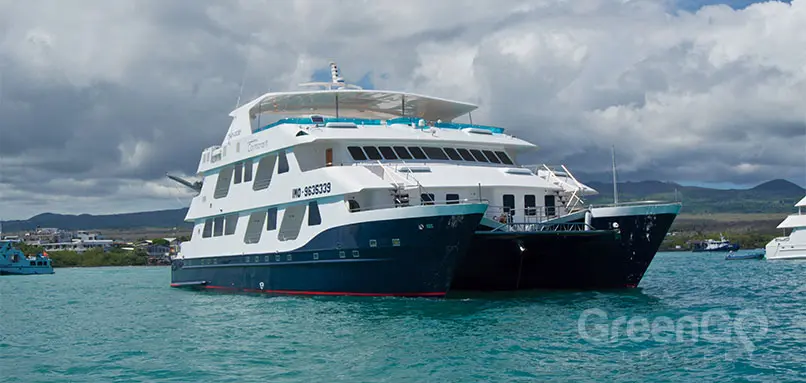 Cormorant Galapagos Cruise
Cost of Food in the Galapagos
The good thing about the cruises is the generous inclusions they provide. Land-based seem to provide breakfast only, so you'll be forking over 15-30 dollars for lunch and dinners. The cruises provide all the food and yummy snacks, so no extras fees. The only additional spending you will have will most definitely be cocktails or beer, which will range from 5-12 dollars.
If your itinerary includes visiting one of the cities like Puerto Ayora, keep a lookout for a guy along the bay with a bunch of lobsters. Buy one for less than 15 dollars and then ask a nearby restaurant to cook it for you for another 10-15 dollars. They are to die for!
Want more information about budget cruises? Check our blog on budget cruises in the Galapagos!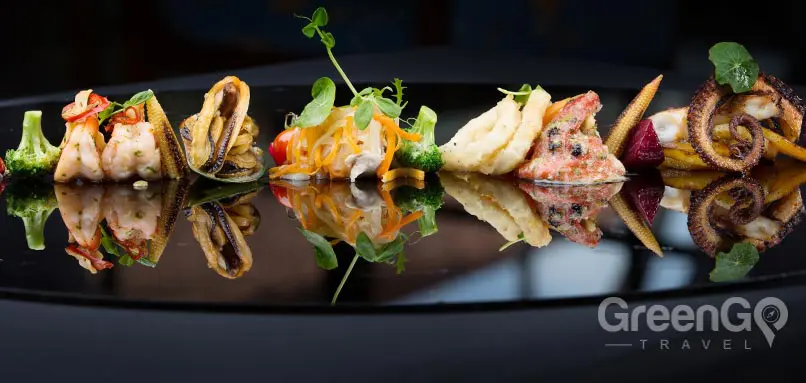 ---