Can you stay on the Galapagos Islands?
The Galapagos Islands is a paradise unlike any other. But, the big question is, can you stay there? Yes! You can, but not without some caveats of course! Of the 13 Galapagos Islands, there are three in which you can spend the night. Alternatively, you can spend the night on a cruise, which will shuttle you to various loops across the Galapagos Islands.
The three Galapagos Islands to stay:
Isabela
Isabela is the largest and youngest of the Galapagos Islands. With a small population of 1,748, this island is one of the most relaxed and easy-going. You'll find fewer shops and a smaller city, which is great for those that are trying to escape it all and connect with nature. This island is known for its high biodiversity of marine animals, with the likes of dolphins, whales, sea lions, fur seals, sharks, tropical fishes, and more.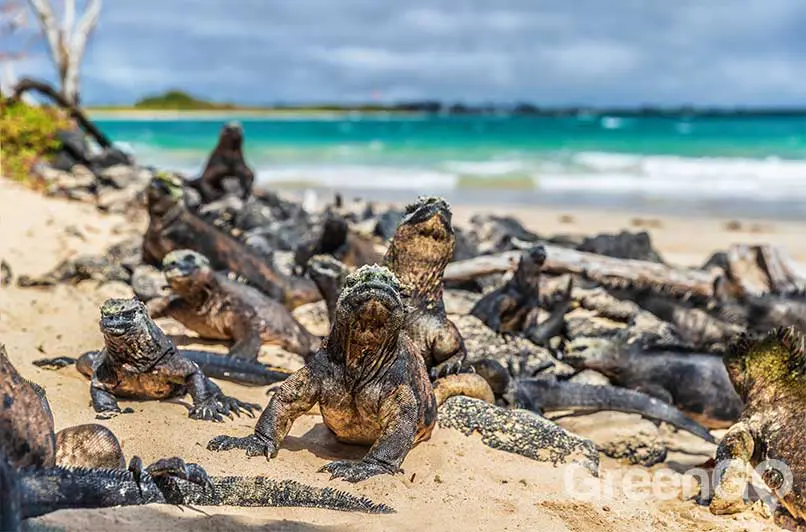 Additionally, this island is known for its many volcanoes, the largest being the active Sierra Negra volcano which is trekkable. Isabela also has a tortoise breeding center, where visitors can get an up-close view of tortoises in all stages of youth before being released into the wild.  Isabela island also has unique seabirds such as flightless cormorants, boobies, pelicans, and penguins. Along the pristine beaches, you can find Sally Lightfoot crabs, marine and land iguanas, and lava lizards. One of my favorite parts about Isabela Island is because it is so large, it is a lot to explore.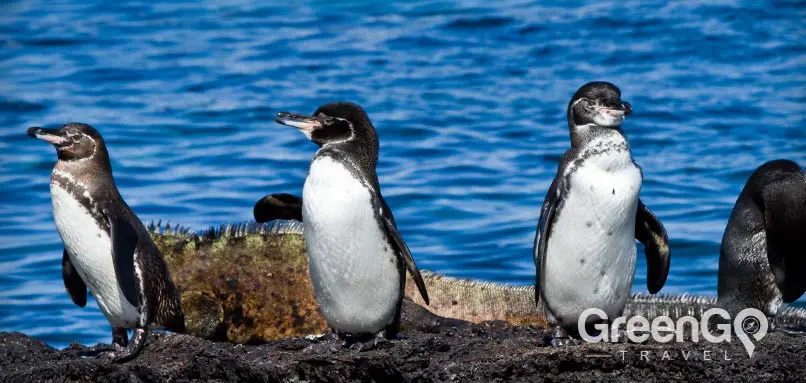 Santa Cruz – Can you stay on the Galapagos Islands?
Santa Cruz is the most central island of the Galapagos Islands, and it has a population between 18-20 thousand. This island has some of the most gorgeous beaches in the world such as Bachas beach. This area has a flamingo lagoon and remnants of some barges from WW2. Being centrally located, visitors have the great perk of being the main hub for tours and activities. Moreover, nearby islands are quickly traversed by boat for tours. Less travel = More exploration. Some of these very close and unique visit points include Bartholomew, North Seymour, South Plaza, Floreana, and Santa Fe. A second perk that comes with a higher population is that are more establishments. This means more selection when choosing restaurants, convenience stores, hotels, and tours.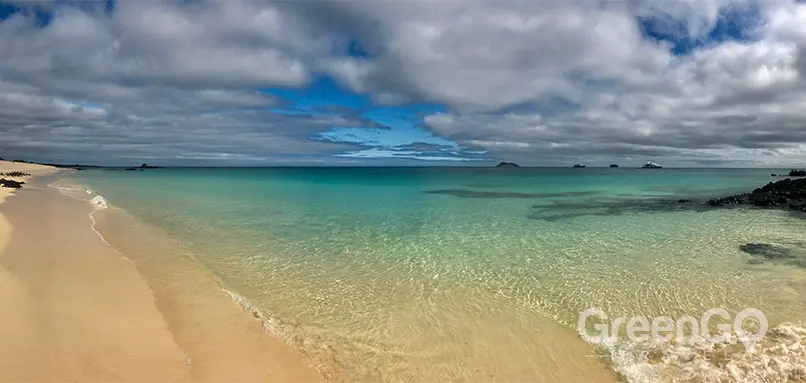 Besides these two attractive perks, this highland is also a megadiverse paradise that not only attracts humans but also animals. Santa Cruz Islands contains large mangroves, the perfect nursery area for juvenile sharks.  Additionally, the highland areas of Santa Cruz provide habitat for the giant tortoises, allowing visitors to see them in their natural habitat. Some of the life in the ocean include sea turtles, sharks, and rays. On land, you'll find large populations of the iguanas (land and marine), and lots of birds – eight different species of finch live here. Beyond the animals, guests can explore the islands lava tunnels, and pristine white sand beaches. Last but not least, visitors have the Charles Darwin Research center. This center is similar to the one found on Isabela island but is first made for the conservation of tortoises.
San Cristobal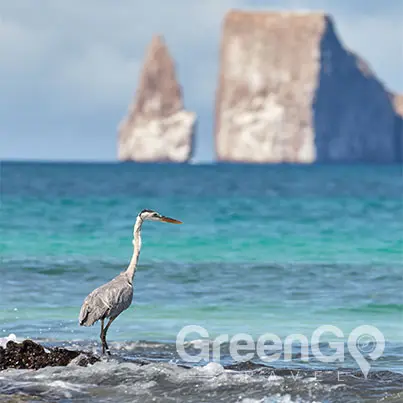 San Cristobal Island is an Eastern Island of the Galapagos with a population of approximately 8,000 inhabitants. This island is typically the first or last visited, as it has one of the two airports on the islands.
San Cristobal is famous for its stunning beaches like La Loberia where you can snorkel with sea lions and marine iguanas.
Visitors can see the Galapagos tortoises out in the open at Galapaguera, and explore the unique highland areas with the impressive crater lakes. One of the guest favorites, visiting the frigatebirds at Cerro Tijeretas, aka frigatebird hill.
Perhaps the most impressive place of this island, and one of the best activities in all of the Galapagos is snorkeling the famous kicker rock site just off the coast. This area is one of the best for seeing hammerhead sharks, sea turtles, sea lions, and all sorts of marine creatures.
Where can you spend the night in Galapagos?
The Galapagos Islands have a plethora of options for accommodation. Some guests prefer to book with AIRBNB, while others prefer all-inclusive hotels that also have tours included with optional add-ons. Speak with one of our travel advisors to find out what fits your budget and what interests you the most.
Additionally, there are great options for Galapagos "glamping" or glamorous camping. Imagine a large luxurious canvas tent in the forest that can fit up to six guests, with a large bed, bathroom, and all the comforts. There are glamping locations on both Santa Cruz island and Isabela Island. Some of our guests choose to do a short glamping retreat before or after their cruise!
Traveling between Islands – Can you stay on the Galapagos Islands?
It is definitely possible to visit multiple islands.  While some can only be visited by tours and cruises, the three islands you can stay on can be visited via speedboat or puddle jumper planes.  Keep in mind the speedboats do take 2.5 hours per way. Additionally, the ride can sometimes be bumpy and cause an issue for those that are prone to seasickness. The cost is 30-45 dollars. The routes are as follows: San Cristobal – Santa Cruz and Santa Cruz – Isabela. The puddle jumper flights run 30-45 minutes and cost 150 – 240 USD per way.
Ready to visit the Galapagos?
Planning a trip to the Galapagos can be a hassle unless your an expert. Tell us your parameters (Dates, budget, animals you want to see, accommodation preferences) and let us do the rest, We'll plan your trip from point A to point B free of charge, and you'll get advice from local experts that know all about safety and regulations.
---