The wildest, most memorable, and best things to do in Ecuador!
If you are the type of traveler interested in visiting Ecuador, you likely fall under the adventurous archetype. You're looking for an experience that is out of the ordinary, memorable, exciting, new, and maybe even a little crazy. I want to help you achieve these goals, so I've compiled a list of exciting things to do in Ecuador along with some unforgettable places to visit in this gorgeous, biodiverse, culture-filled country. You might see some similarities in places and activities in other lists of what to do in Ecuador, but I promise, none will include the hidden gems loved beloved by the locals, nor the absolutely wild things you can experience in this country. That's enough intro, get reading!
1. Try Cuy, or better yet, Cuy ice cream!

Whats Cuy? Guinea pig. That's right, Ecuador serves up a Guinea pig, roasted on a skewer rotisserie-style over a flame. It's the oddest thing to see if you are from the Americas or Europe. But it's one of those things in life that you've just got to try, just to say you did it. As for the locals, some people love the flavor, and some just feel meh about it. It gets better. There is one shop that makes a Cuy ice cream. I'm just gonna leave the link here for ya, and let you decide what to do with it.
2. Try lime-flavored ants and roasted Chontacuros in the Amazon rainforest
Most people have tried eating at least one bug in their life. In the Amazon, one of the most bio-diverse places to visit in Ecuador, there is an ant species, Myrmelachista schumanni, also known as the lemon ant, which is endemic to the South American continent. This little ant produces a substance that is used to kill plants for the purpose of creating a nest site. This natural herbicide, called formic acid, turns out to taste lemony-flavored. Eating one measly ant isn't too adventurous, but the Chontacuro is another level. These generously sized white grubs are roasted over a fire, and you eat them right off the stick.
If those two options don't strike your fancy, you can try the safer option, Maito, freshly caught trout cooked in a banana leaf. I can attest that this is absolutely delicious, and fun to eat as well.
3. Climb to the top of an immense gothic Basilica built during Spanish colonial rule

The churches in Quito, Guayaquil, and Cuenca are gorgeous. You could spend a whole day going from church to church if we are being honest. My personal favorite is the Basilica of Quito, which you can climb to the top and get a gorgeous view of the capital of Ecuador, Quito. If you are looking for something quick to do in Ecuador, this is a free, easy trip to do on foot.
4. Party in the beach town of Montanita 
There are a precious few destinations on this planet where the party never ends, seemingly running a 24/7 party at all times. One of these places in Montanita and this is the place to go if you want to have a memorable experience. You can visit a different club every night, with Lost Beach renowned for electronic music, with the most excitement on Monday nights. On Saturdays, all the action is at Caña Grill, and Fridays are for Poco Loco. This area also has gorgeous beaches, and if you are a family looking to avoid the big parties, there are plenty of areas on the outskirts.
5. And then fix the hangover with encebollado and a crisp pilsner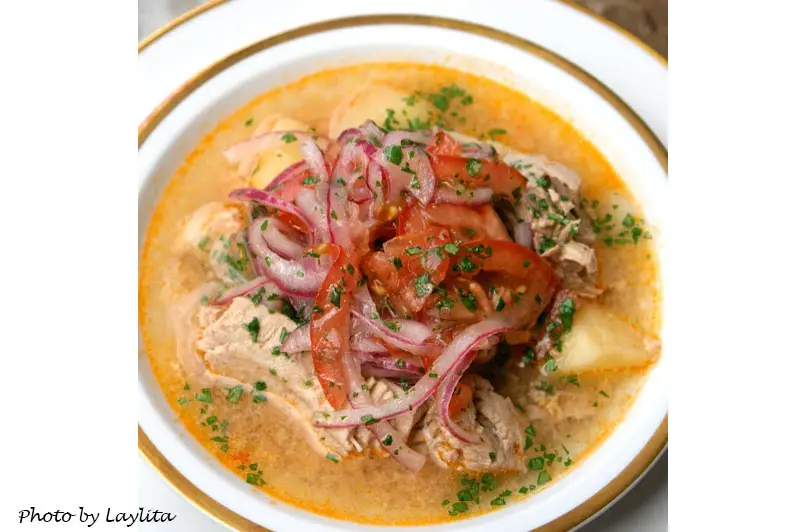 Whether or not you decide to party up in Montanita, or whether or not you have a hangover, you've got to try encebollado. Every country and household has its own hangover mix. For Ecuadorians, it's a hot and delicious bowl of soup called Encebollado, and one of the domestic Ecuadorian lagers, pilsner or club. It's a heated Ecuadorian debate which domestic beer is the best, but most of the Ecuadorians I know lean toward Club. As for the soup, it's a fish soup, with onions, yucca, diced tomatoes, chunks of albacore tuna freshly caught from the coast, cilantro (optional), and a squirt of lime juice. If you are interested in this foodie thing to do in Ecuador, fortunately, you can find this dish in most restaurants!
6. Walk along Mompiche's black sands beach – the "Playa Negra"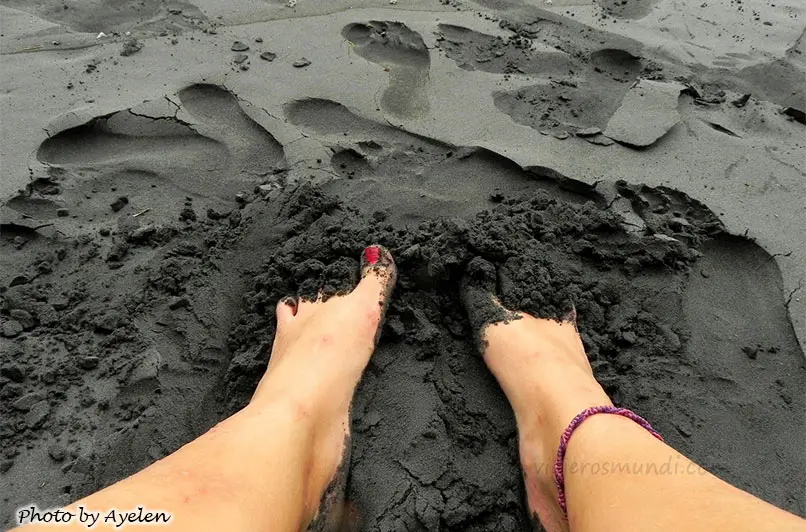 Mompiche is a relaxed surfer town and fishing village, with a unique jungle-like feel. Think palm trees, tropical flowers, surfing, and delicious sea-food. There is 16 km of beach stretching across this region, but the real hidden gem is the Playa Negra beach, a 30-40-minute walk from town. Another fun tip, Mompiche is one of the places in Ecuador where you have a high likelihood of spotting Blue-footed boobys outside of the Galapagos. Other areas include Montanita, and Puerto Lopez.
7. Try the delicious juices and smoothies in the Markets 
Ecuador has all kinds of fruits that you most likely have never tried before. Some of the most unique include Naranjilla, tomate de arbol, mora, pineapple, banana, coconut, guanabana, and taxo. I'll purposely leave out the descriptions, to give you a surprise experience. So where do you find them? Every city has a sprawling market. Quito has Inaquito, Mercado central, Mercado Santa Clara. If you choose another city, there are some great foodie markets in Guayaquil, and Cuenca as well. The juices are cheap, a dollar or less per huge cup, which they often refill halfway for free. If you see Salchi papas (Fries with sausage) or llapingacho ( fried potato pancakes, typically served up with a fried egg), you've got to try them.
---
Sign up for Our Newsletter
Exclusive access for savings up to 50%, eligible for subscribed members via email only.

Signup for Ecuador & Amazon News, Offers & Discounts
---
8. Yoga session with Galapagos sea lions


The Galapagos Islands is a destination that will burn in your memory forever. I might even argue that the Galapagos is the top place to visit in Ecuador, but its hard to say with the Amazon rainforest. The Galapagos is endless excitement, the type of excitement that makes you feel like a kid again because every hour you are witnessing or experiencing something totally new. I remember pointlessly screaming underwater to my snorkel buddy as I saw a school of sea turtles float by, and once again after seeing a massive popping out of the sand. I danced with sea lions underwater and witnessed giant tortoises meandering along without fear of humans. You've seen nature documentaries, like planet earth, my octopus teacher, and ocean life. It's like you are living inside the documentary. It's hard to put the magic into words, you've just got to do it.
9. Spot whales in Puerto Lopez, and get a $30 Galapagos sample

Don't have time for the Galapagos, or perhaps it's too pricy? Puerto Lopez has whale watching tours, and a really cool place to visit, Isla de la Plata, also known as poor man's Galapagos. I've been myself, and I had a great time spotting sea turtles, magnificent frigatebirds, blue-footed boobys, and manta rays!
10. Bungee jump over a rushing river hundreds of feet in the air in Baños
There is nothing more exhilarating than jumping off a bridge over a powerful river, and then swinging back and forth with a view of multiple waterfalls. Here is a video of my significant other making the leap of faith in the adventure town of Baños de Agua Santa, which is also home to Pailon de diablo, one of Ecuador's most treasured waterfalls. When I did it, It must have been 10-15 dollars per person. It's hard to miss the bridge, as you can walk across the length and width of the entire city of Banos in about 20 minutes.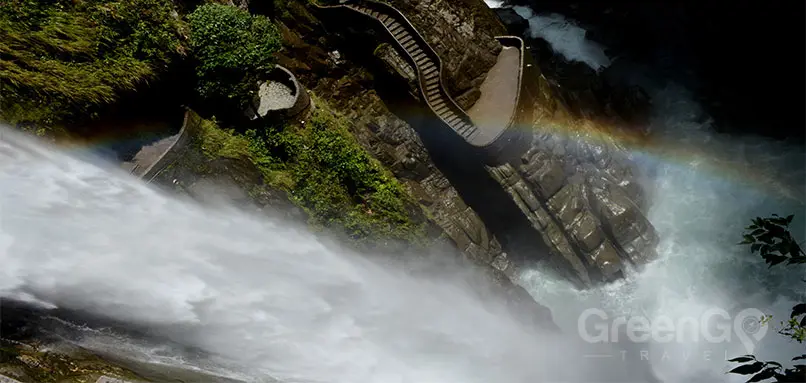 11. Experience the Golden triangle – Coast, Andean Highlands, Amazon rainforest
The proximity and variety in landscapes are one of my favorite parts of Ecuador. No wonder the country has so many expats. When I lived in the USA, I had to travel 6 hours to the nearest beach, the same as the nearest mountains, and we just don't have any tropical rainforests in the states. The coast is full of gorgeous beaches, delicious seafood, unforgettable sunrises, and whale watching opportunities. The highlands are full of vibrant culture, colonial architecture, gorgeous plazas and squares, and giant national parks surrounding volcanos. Lastly, the Amazon rainforest is one of the most biodiverse places on the planet, with pink river dolphins, anacondas, caimans, and a weird bird nicknamed the stinky turkey that looks prehistoric and apparently smells so bad nothing will eat it. Check out my guide to Yasuni and Cuyabeno, which will help you decide which park to visit. I stayed in the Siona eco-lodge for my anniversary, which was heaps of fun!
12. Stand on the highest peak in the world – Chimborazo

..or at least get to the parking lot and hike 30 minutes to the Chimborazo base camp. Hiking to the base camp is a nice challenge for the adventurous folks and summiting is an extreme challenge for the rebels. Either is worthy of the top things to do in Ecuador. The elliptical shape of our planet causes the equator to bulge out, like your belly after thanksgiving dinner. Put a mountain and top of that bulge, and you've got the highest place on the planet, closest to the stars. If you can't make it to that volcano, you've got lots of options in Ecuador. Whether you decide to make Quito, Guayaquil, or Cuenca your home base, there is an abundance of volcanoes. However, there a lot of volcanoes closer to Cuenca and Quito. Ecuador is famous for them, and the highway stretched through the middle of the country is coined the avenue of volcanos. Don't miss out on this, you've got to scratch off a volcano hike on your Ecuador bucket list, and if you can get ole Chimbo scratched off, you've got quite the story to tell and some great pictures and captions for social media. Take a peek at Cotopaxi my summit attempt.
13. Try Yahuarlocro at Mitad del Mundo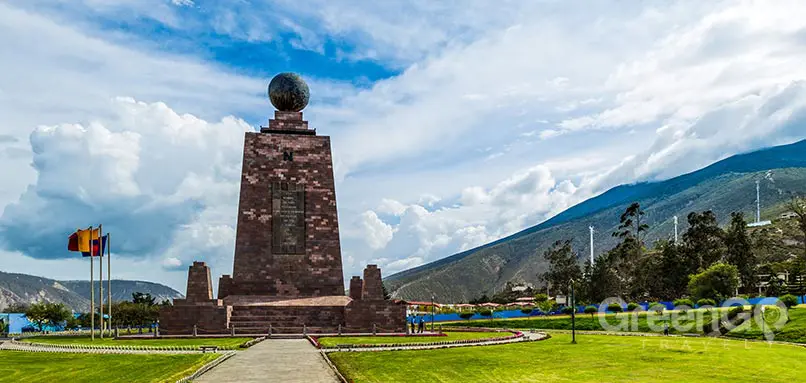 You'll find plenty of posts about Mitad del Mundo, with the famous middle of the earth monument and museums. It's a pretty cool feeling standing directly in the middle of the world. I go above and beyond in this guide, giving you the local experience of Yuhuarlocro. In Kichwa (the ancient Incan language spoken by the indigenous), Yawar means blood, and Lukru means soup. This is a potato-based soup, like all locros, but it comes with a small side of dried lamb blood, which you can opt in to dump into the soup and stir it up. I've tried it, and it is actually really tasty. It is a little hard for me to get over the blood part, but it's definitely something you've got to try at least once to say you tried it. Who knows, you might just fall in love with it.
14. Go Shopping for Souvenirs & Handmade Products
Nothing is more memorable than bringing back a cherished souvenir from Ecuador to share with loved ones. The country offers an incredible assortment of unique keepsakes, ranging from the world's finest chocolate to the largest handicraft market in South America and the iconic Panama hats. Ecuadorian chocolate delights the senses with its exquisite flavor, crafted from the finest cacao beans. The bustling handicraft market showcases a vibrant array of traditional and contemporary creations, from woven textiles to carved sculptures. And let's not forget the famous Ecuadorian Panama hats, elegant accessories that originated in the country. With these remarkable souvenirs, you can share the essence of Ecuador's culture, flavors, and craftsmanship with family and friends.
To read the full story, and go on a shpping spree! Make sure to check out our Top Ecuador Souvenirs & Made Products article.
---
Ready to get started with your Ecuador & Galapagos Adventure?
Reach a Galapagos Expert, Free Quote, Commitment Free!
---
The Best Galapagos Search Engine in the Market!



Tailor & narrow your Galapagos Cruise options – to your liking & specific requests. With over 10 filters, & more being added monthly. Search for your Ecuador & Galapagos dream tour today!
Find Offers & Availability Now!
---