Best one week South America Holiday Ideas
Looking for something new and exciting for your Holiday season? If so, South America is bursting with extraordinary, gorgeous, and most importantly safe destinations! We've compiled a list of the best one week South America Holiday ideas to help you narrow down which destination is right for you! Whether you are looking for South America adventure trips, all-inclusive package trips to South America, or simply a backpacking trip, there is something for you.
Ecuador Holidays – Best South America Trips
Ecuador is a relatively small country in South America directly below Colombia, and it has a HUGE diversity of holiday options. Because the country's many landscapes are so different, you can experience something new every day. Want to relax on a gorgeous beach? Check. Want to zipline through rainforest canopies and raft rivers? Check. Immersion in a different culture with friendly people and delicious cuisine? Check. Looking to see exotic animals and breathtaking landscapes? CHECK! Want to visit or even climb a snow-covered mountain? CHECK!
Ecuador contains four major landscapes, each very unique and distinguishable from the other:
The Andean highlands, the mountain range hosting tons of snow-capped volcanoes running through the middle of the country.
The coast, where you have warm tropical weather, gorgeous beaches, and a mix of cloud and dry forests hosting hundreds of exotic birds
The Amazon rainforest – Immense stretches of rainforest, containing indigenous communities, plenty of animals such as 8+ monkeys, pink river dolphins, toucans, sloths, giant river otters, anacondas, and much more!
Urban – Take a walk through history in the cities of Quito, Guayaquil, and Cuenca, where you can explore architecture from the time of Spanish colonial rule.
Ecuador can easily be done as a one week South America Holiday. Alternatively, if you like the idea of a multi-country South America trip, consider pairing with Galapagos and Peru. The close proximity means you aren't spending significant portions of the trip flying, maximising the time spent exploring.
Galapagos Holidays – Package trips to the best South America destinations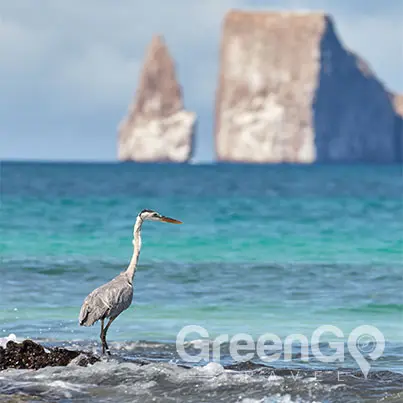 If you are going to Ecuador, you might as well pop on over to the Galapagos Islands on your South America tour. After all, the islands are only a 40-minute flight from the mainland, and it is one of the most fascinating destinations on the planet.
The islands garnered fame after Charles Darwin began writing the theory of evolution after witnessing the otherwordly creatures of the Islands, which captured his fascination. These creatures include the famous giant tortoise, the only marine iguana on the planet, blue and red-footed boobys.
More than just the land animals, the Galapagos islands offers a stunning underwater world. The unique location is a protected ocean zone full of unique nutrients.
This offers a sanctuary for marine creatures, where you can snorkel or scuba with sea turtles, rays, eels, hammerhead sharks, and hundreds of tropical fishes.
Peru – Best South America Trips
Another South American holiday destination that can be done by itself or combined with Ecuador and Galapagos vacation packages. Peru is famously known for containing one of the seven wonders of the world, Machu Picchu. If you are up to it, there are plenty of options to even hike the Inca trail. Otherwise, you can take the gorgeous train ride through the Peruvian mountains up to the top, spend a few hours in wonder before taking a bus back to the city.
Humantay Lagoon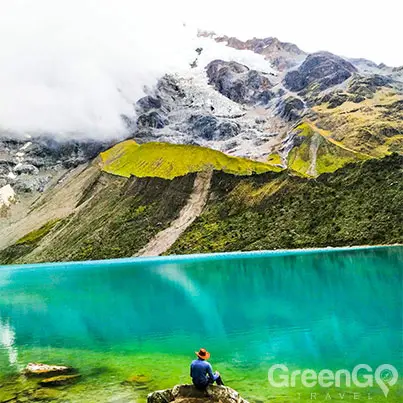 Another famous site in Peru is the gorgeous glacial lakes of Humantay.
This site is famous for the breathtaking snow-capped mountains and within the valleys gorgeous turquoise glacier lakes that are so blue on social media that they look fake.
The amazing thing: They aren't. The unique mineral composition from the runoff causes certain colours to reflect, which visitors see as the beautiful bright blue hues.
You can visit Humantay with a multi-day hike to Machu Pichu, or simply as a day trip!
However, don't expect to go swimming in these waters. They are frigid!
Rainbow Mountain – Winikunka
Now a social media sensation, and one of my personal favourites, rainbow mountain. Long before the rainbow mountain became famous, it was considered as a holy site by the locals of Cusco. Many locals still visit this site to make a religious or spiritual pilgrimage. They call this site Winikunka.
What causes the rainbow mountain in Peru to have these gorgeous pigments? The unique composition of minerals in the Ausengate mountain range along with tectonic activity is the reason for the seven colours of the unique Peruvian mountain
Cusco
Cusco is a city in the Peruvian Andes, historically the capital of the Inca Empire. It is renowned for the mix of Incan archaeological remains and Spanish colonial architecture. This makes the area fascinating, as you can witness two captivating historical periods, along with the vibrant culture of the present. Cusco is also famous for its incredible fusion cuisine, vibrant indigenous shopping centres, and much more.
Chile – South America Holiday ideas
Chile is a narrow country stretching down the Southwestern coast of South America is one of the best places for a South America holiday. The country has a diverse landscape like Ecuador, making for a destination interesting for a wide variety of travellers. One of the most enticing features is the unending amounts of national parks and nature sites.
Patagonia 
Making up the Southern tip of South America and bottom half of Chile and Argentina is this gorgeous region of Chile composed of numerous national parks and stunning landscapes. Historically only a site for adventurous backpackers, tour agencies have made this site accessible for any visitor looking for a chance to explore the wilderness in its fullest.
Torres Del Paine National Park
A gorgeous nature park in South America featuring glaciers and beautiful glacial lakes, and most famously the three 2,850-meter granite peaks of the Paine Massif.
Atacama Desert
Infinite starts, and a sample of one of the most famous deserts in South America. This rough, inhospitable landscape brings in many visitors as people want to experience what it would be like standing on the surface of the moon. There is even a place in this desert, the valley of the moon, where erosion of the sand and stone over millions of years has created a moon-like pattern.
Easter Island 
I know you've all seen pictures of the funny looking head statues peeping out of the ground. That's off the coast of Chile! Interestingly, most visitors don't know that they in fact also have bodies!
Benefits of Booking a South America holiday with GreenGo Travel
If these sites piqued your interest, then head over to our main page and explore some of our vacation options and speak with our travel experts. Booking with GreenGo Travel guarantees the lowest prices, superior tailored trip design and support, and provides travellers sustainable, eco-friendly tourism option that provides support for locals of the destination and green initiatives offsetting carbon by planting trees. Lastly, GreenGo travel is local to South America, so we know the region better than anyone, and can even provide support during your holiday, which is especially important during Covid-19.
---