Quito in 3 Days: The Best Things to Do!
Make the most of your stay, must see places, easily accessible with day tours
Quito is the capital of Ecuador, and it's a massive city with roughly two and a half million people. It has a large international airport, and more than likely this is where you'll enter the country. So is it worth it to spend a few days in Quito before heading out to explore the rest of the country?
Yes!
Basilica Dome
Aside from being a major hub of activity, this large city is packed with beautiful parks and other attractions.

It's historical district was the first (along with Kraków, Poland) to be declared a UNESCO World Heritage Site (1978).

There are tons of really outstanding monuments, buildings and sculptures that display rich culture and history.
Actually, according to UNESCO, Quito's historic center is the best preserved and least altered in all of Latin America. You'll see, both in architecture and art, a fusion of Spanish, Moorish, Flemish, Italian, and indigenous influences in the monasteries that this city is famous for.
Quito is more than just a history and cultural hotspot, too. The city is also a central start point for many different activities that will let you explore what the Andes naturally offer.
Here's my list of the best things to do if you're going to spend 3 days in Quito:
Day 1, AM – Tour Colonial Quito
San Francisco Church
You really should see for yourself what the hype is all about. The walking tours of the 16th century monuments and churches are a great way to spend a half day!
Here are some of the common places to visit on one of these tours:
The Convent of San Francisco – the oldest monastery in South America!
The Convent of Santo Domingo with the gold-covered Virgen del Rosario chapel
Iglesia de La Compania de Jesus, with Baroque architecture, one of the most ornate structures of Ecuador
Presidential Plaza
The Basilica, one of the largest Gothic churches in South America
GreenGo offers a package that includes pickup and drop off at your hotel if you're interested in doing this trip. This is a half-day trip
Day 1, PM – La Mitad del Mundo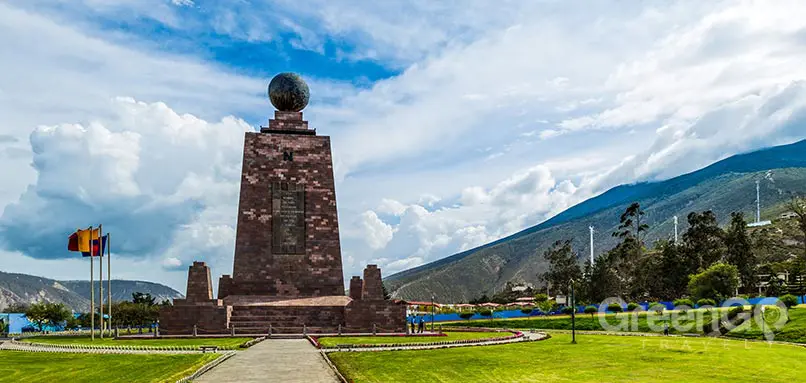 Mitad Del Mundo Monument
No trip to Quito would be complete without setting foot in both North and South hemispheres at once.
Just a half hour drive from Quito will take you to the monument that separates the two halves of our planet. Definitely a picture worthy place!
If you book with GreenGo, you can visit a few other locations all in one afternoon.
For example, the Pululahua Crater is one of the world's largest volcanic craters, and is one of two populated volcanic craters that were first inhabited by the Incas.
Another stop is the Inti Nan museum. This is essentially a trail of historical artifacts with guides explaining the use and meaning. There are also demonstrations of some fun tricks that are done on the equator, like water draining in opposite directions.
---
Sign up for Our Newsletter
Exclusive access for savings up to 50%, eligible for subscribed members via email only.

Signup for Ecuador & Amazon News, Offers & Discounts
---
Day 2, All Day – Mindo Cloud Forest
Mundo Hummingbird
If you like nature, you really have to do this one.
The Mindo Cloud Forest is 2 hours away from Quito and is packed to the brim with 450 species of birds, a high percentage of them being hummingbirds.
The misty orchid gardens are full of vibrant butterflies and frogs.
Clear rivers and waterfalls really add to the hike through this park.
You can take a cable car above the forest canopy, and even go swimming in the chilly water.
This is really an out-of-this-world place to visit!
Day 3, All Day – Option 1 – Papallacta
Papallacta Hotsprings
Do this if you feel you need to recharge.
Another 2 hour drive from Quito, Papallacta has hot springs that are fed by a nearby volcano, the Antisana.
They have several hot thermal pools with water jets and one freezing polar pool.
The grounds are extremely nice, and you'll have no problem spending an entire day here.
There are also several short hikes that you can do in the area that will take you over mossy bridges by clear mountain streams.
It's extremely tranquil and a great way to get in touch with nature.
Preferred by most guest before or after a Galapagos cruise.
Day 3, All Day – Option 2 – Quilotoa
Quilotoa Lagoon
Choose this if you're ready for more exploring!
Quilotoa was created about 600 years ago when a volcano collapsed and created a large "caldera", or crater, which later filled with water.
Now it's a stunning green lake that's over 800 feet deep! The color is due to minerals that have been dissolved in the lake, which makes it a really unique place.
You can get some phenomenal panoramic shots of this area. The hike is a little more involved, especially with the altitude. It's almost 13,000 feet above sea level!
There are hikes that you can go on around the entire caldera, but they can take several days to complete. They're absolutely incredible if you like camping, but they're also not for the faint of heart.
Just stay hydrated, though, most people are fine. That's also why I recommend doing this on the 3rd day. Your body has had a little more of a chance to acclimatize.
The day trips from GreenGo are really manageable. They take care of transportation for you and you get to see all of the amazing sights.
Cotopaxi Trekk
Really, there are a thousand things that you could do around Quito. Here are a few alternatives to the options listed above:
Visit the Otavalo Valley, with the largest open-air market in South America
See the other side of Mindo, with zip lining, tubing and hiking!
Do a Quito at Night tour to enjoy the lit-up architecture in an evening walk
Climb the Cotopaxi Volcano (one of the top 10 in the world!!!)
Ride the Teleférico – a cable car that gives you all of Quito and the Pichincha volcano in a single view
Take a double-decker bus tour, especially if you don't feel like walking
Go on a cultural tour that includes artisan chocolate tasting 🙂
Lots of people come in and out of Quito without even realizing how much there is to do around here.
Add some of these things to your bucket list and stay a few extra days next time you're in amazing city!
---
Ready to get started with your Ecuador & Galapagos Adventure?
Reach a Galapagos Expert, Free Quote, Commitment Free!
---
The Best Galapagos Search Engine in the Market!



Tailor & narrow your Galapagos Cruise options – to your liking & specific requests. With over 10 filters, & more being added monthly. Search for your Ecuador & Galapagos dream tour today!
Find Offers & Availability Now!
---