Why You Should Do an Ecuador Amazon Cruise
Torn between an amazon lodge or cruise? here are some insights, that might entice you for a cruising experience.
There is nothing that I love more than exploring the rainforest in South America. I've done it in several different countries, and it is never a letdown for the adventurous.
I've chased caiman, caught piranhas, slept in hammocks and tripped over anacondas. Those were some of the happiest moments in my life.
Most people, though, are probably looking for something a little… milder.
If you want to explore the Amazon rainforest with more comfort (while not missing out on nature), then a river cruise in Ecuador is probably exactly what you're looking for.
What's an Ecuador Amazon Cruise Like?
guest in anakaonda's cruise, cabin balcony
For the record, I'm not talking about floating down a river in a dugout canoe for a week.
Actually, you can explore the rainforest on board a really comfortable ship.
The Anakonda is the most modern luxury vessel that runs through the waters of Ecuador's Amazon.
This cruise will take you through the Yasuní National Park and the Cuyabeno Natural Reserve on the Río Napo.
On a longer cruise, you could even travel along the Río Aguarico (rich water) that separates Ecuador and Peru.
While there's a lot of opportunities to get down and dirty in the rainforest, you'll also get the chance to experience the jungle via "glamping" (glamorous camping).
In other words, instead of sleeping in hammocks with mosquito nets, you can get hop off the boat and sleep in tents that are on wooden platforms.
Raised beds and champagne are all part of the experience.
What to Do on an Amazon Cruise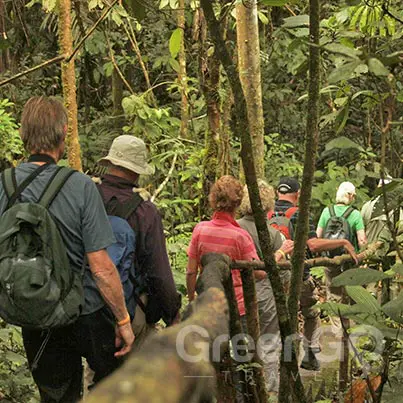 guests hiking the rainforest
An Amazon cruise is really an unusual experience that exposes you to both luxury and nature.
Of course, there's all the things that you'd expect on a luxury ship. Fine dining, relaxing lounges, outdoor jacuzzis… all the things that need no introduction.
But the real adventure begins outside.
Paddle around in kayaks and canoes to explore the area at your own pace or in small groups. Swim in the jungle water.
One of my favorite things to do is a night hike that will give you a chance to see all the nocturnal wildlife. It's amazing how the rainforest wakes up when the sun goes down!
Hike up to a lookout point to watch birds fly over the canopy, and enjoy a horizon to horizon view of the sunset over the Amazon.
See some of nature's unimaginable secrets, like the Parrot Clay Licks. Or try to find the elusive giant otters, pink river dolphins and gentle manatees.
The trail guides will help to point out all sorts of incredible insects, frogs, and birds. Maybe you'll see a tapir, ocelot, caiman, anaconda, howler monkey, or a harpy eagle.
Actually, Ecuador's Amazon is estimated to be home to:
800 species of fish
350 species of reptiles
300+ species of mammals
600+ species of birds
You can find 70,000 species of insects within a single acre of rainforest
The Amazon cruises aren't only about the wildlife, though.
You'll also get a chance to meet some of the people that have worked out how to live in this wild and untamed environment for centuries. Learn about their culture and how they integrate into the rainforest to survive. Let them share some of their knowledge of the healing powers of the Amazon's flora.
Maybe something that will inspire you more than anything else is enjoying the night's sky above the trees while listening to the life of the forest. See for yourself what sparked the imagination of tribespeople for thousands of years.
---
Sign up for Our Newsletter
Exclusive access for savings up to 50%, eligible for subscribed members via email only.

Signup for Ecuador & Amazon News, Offers & Discounts
---
Why Cruises are Different from Lodges
anakonda experiences
You don't get the same experience in a lodge. There are some perks that only a river cruise offers.
Now, let me backtrack a little: Lodges are amazing. You still get all the adventure that a jungle hike will offer, and you'll be able to experience local culture and cuisine.
The lodges themselves can be absolutely luxurious, too.
So what's the difference then?
On a cruise, you're not out searching for the next point of interest. You're taken to your next adventure by the river's currents. It's like the water is showing you the Amazon rainforest.
You get a daily change of scenery. You can sit in one of the outdoor Jacuzzis and soak in the sights.
Why Explore the Amazon in Ecuador?
amazon frog
Ecuador is one of the most biodiverse countries on the planet. Within a single trip, you can climb to the furthest point from the earth's center, enjoy the wonders of the Galapagos, relax at beautiful coastal beaches, and adventure in the Amazon.
No other place will pack as many unique experiences in to such a small area.
For example, the country of Ecuador has an estimated 1600 species of birds. That's double the amount of bird species found in all of North America in this one country alone!
If you want to see for yourself just how dense the fauna is here, why not try turning over a few fallen leaves while on a hike?
Aside from that, cruising through the areas protected in guarded nature reserves on a tributary to the mighty Amazon will get you extremely close to nature. You don't have to go to it – it comes to you!
You want to see nature? This is where you'll find it.
Practical Tips
guest photographing wildlife
Try to avoid bright clothing. The more camouflaged you are, the closer you'll be able to get to wildlife.
Speak quietly on hikes so you don't scare anything off.
Protect your gear from water. If your camera isn't waterproof, get a cover for it. A dry bag or waterproof day pack can be a good idea too. It's called a rainforest for a reason.
Wear water resistant, breathable clothing for comfort. Quick-drying is always a good idea. Don't bring jeans.
A light sweater can be a good idea for a breezy evening on deck.
Good, grippy  footwear for hiking in wet, muddy areas is really important, but bring something comfortable for on board too.
Do as many outings as you can. The ship is a great place to relax, but the adventure doesn't happen when you're lounging in a housecoat.
If you want a relaxing experience that gets you close to the wonders of nature, you'll hardly find a better choice that an Amazon cruise!
Enjoy the comfort of a cruise, while navigating through pristine nature, and the known, in the midst of wildlife and nature!
---
Ready to get started with your Ecuador & Galapagos Adventure?
Reach a Galapagos Expert, Free Quote, Commitment Free!
---
The Best Galapagos Search Engine in the Market!



Tailor & narrow your Galapagos Cruise options – to your liking & specific requests. With over 10 filters, & more being added monthly. Search for your Ecuador & Galapagos dream tour today!
Find Offers & Availability Now!
---