Galapagos Travel for Puerto Ayora (Infographic)
All you need to know about transport to/from Puerto Ayora & Baltra Airport
Updated with new park regulations as of July the 30th 2018. New cost for bus service from/to Baltra airport.
So..galapagos travel for puerto ayora, it should be pretty straight forward right? board my plane, reach baltra airport, all that's left is reach the nearest town called Puerto Ayora.
Did you know Seymour airport became the worlds first green airport in 2012?
Baltra (Seymour Airport)
Baltra is usually the first place most visitors set foot when arriving to the archipelago, unless you are due to board a Galapagos cruise as soon as you get off the plane. ✈
It is up to you to get yourself to the nearest town and let the fun begin.
Alright, so where do i take a cab? better yet, let me call an uber 😎
Sorry folks, no uber here, what about a cab? that wont work either… at least not directly. So how do you exactly reach the nearest town? (Puerto Ayora).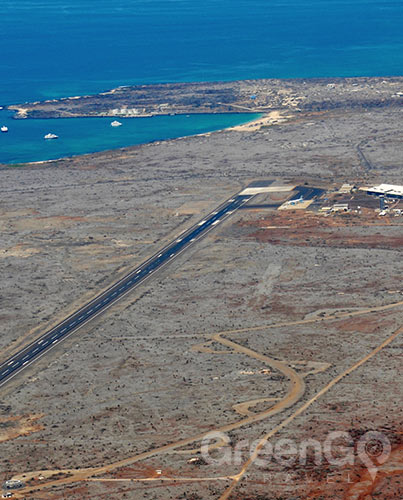 Baltra airport air view
Transport to Itabaca Channel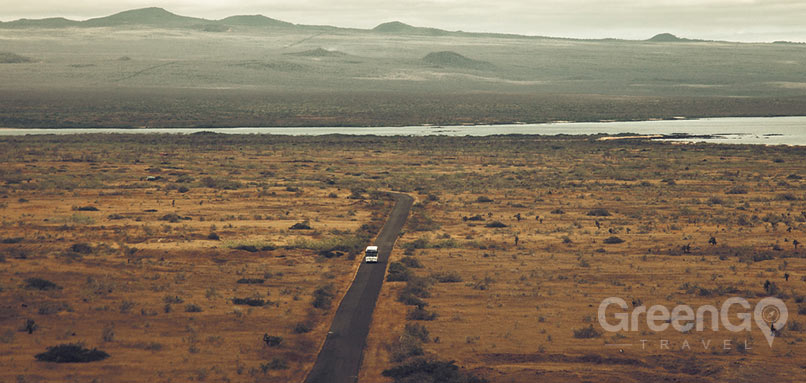 Road to itabaca channel
It is a common misunderstanding to to think you can find lodging in Baltra, as you can tell from the picture above, the island is a pretty desolated place 😱, so not much going on here other than the airport.
Now that we have that out of the way, if you're on your own, you want to continue to Itabaca channel (Canal de Itabaca in spanish), here you can board a ferry, and catch a bus on the other end to main town. 🚍
Cost
Priorly, Galapagos airlines would provide this bus service, (airport to Itabaca Channel/boarding docks or back) at no additional cost.  However this service was not frequent, and could use some improvements. Galapagos authorities green-lighted this service to be provided by an independent company. This will have a cost of $5 per person, each way. This is an exciting new development, as it is meant to ensure that passengers receive a higher-quality service.
Itabaca Channel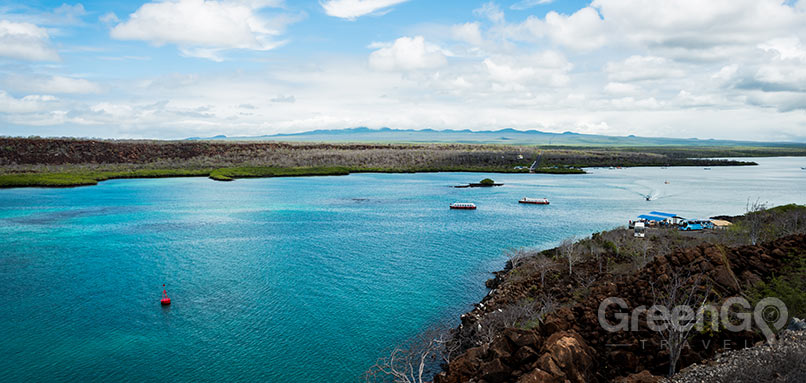 Panoramic View-Itabaca channel
You may have already had a glimpse when landing, but this is where the magic really kicks in, at this point you can already start spotting mangrove swamps, black lava walls & wildlife in your surroundings 🐠.
Currently this is the only way of reaching Puerto Ayora, the nearest town to the airport where you can find lodging, restaurants, small local agencies and more.
A short ferry ride will get you to the other end (highest northern part of Santa Cruz Island)
Galapagos Travel for Puerto Ayora (Infographic)
So you might be thinking, this all sounds great…. but very vague, I'm going to need more to go on. The last thing you want is to end up in the other port (for guest boarding a cruise). This infographic should cover all your questions and more! 🤓


Now if all of the above seems like to much trouble, our trip advisors can have all of the above set up for you 🙂 For more information about transfers, Galapagos cruises or land based options, contact our trip advisors and get started with your dream tour today!
Speak with a trip advisor today
Your dream holiday is only a click away!
---