Taking a taxi in Quito – Know the In & Outs like a Local
Taking a taxi in Quito isn't rocket science, although the noises, sounds, and bustling chaos often makes it seem that way! Here, we give you some advice from the locals, so that you can own street navigation like a true Quiteño.
TAKING A TAXI IN QUITO AS A TOURIST
Quito is a particularly interesting place to take a taxi. It extends almost 65 km from end to end, and yet is only 5 km at its widest part. This leads to almost exclusively north-south transfers, with only select crossings and turns to reach specific points. Keep that linear routing in mind, in case your driver starts to take you in circles!
Key Avenues in Quito, Ecuador
Quito has several key longitudinal avenues; if you look at a map, you can see them, here listed as they appear from West to East:
– Av. Antonio José de Sucre
– Manuel Cordova Galarza Avenue (which leads to the Middle of the World monument)
– Av. De La Prensa
– Av. Amazonas
– Av. 10 de Agosto
– Av. 6 de Diciembre
– Eloy Alfaro Av.
– Simón Bolívar Avenue
– Pedro Vicente Maldonado Avenue
– Av. Teniente Hugo Ortiz
All these provide movement from south to north, and vice versa. It is important to mention that the Pichincha Volcano provides a basic reference in the whole city; it always is visible and is located in the west.
Taxis and other Beasts in Quito
Legend has it that, since taxis arrived in the city, there were always two kinds: legal and not. In fact, confusion as to taxi legality and logistics even managed to paralyze the city in the 90's. But the reality is this: every legal taxi traditionally belongs to either a "cooperative" or "company." This sometimes makes things difficult because, according to the current regulatory framework, cooperative taxis are allowed to circulate the streets while company taxis may only do door-to-door service. However, either type may be found on the streets during peak hours. Simply call the service center on the phone or use a trusted mobile, and either a cooperative or company taxi will fight to be the lucky driver that helps you.
---
Sign up for Our Newsletter
Exclusive access for savings up to 50%, eligible for subscribed members via email only.

Signup for Galapagos News, Offers & Discounts
---
How to Take a Taxi
Taxis can be taken in several ways: here is a brief introduction to the nuances. Follow these tips to be seen as a Quiteño, and not a helpless tourist.
Taxis on the street
The traditional method to catch cab: just stretch out your hand and the taxi will come to you—even if it must cause an accident to get there.
When boarding, tell the driver where you are going. Of course, take notice of whether or not he has a taximeter. The minimum run is 1.5 USD (increasing in price depending upon the distance), plus a starting fee of $0.50 USD. With that in mind, indicate your destination. We suggest that you ALWAYS put on your seat belt; many taxi drivers' passive-aggressive driving style can be a slightly thrilling adventure.
It is important to mention that if the route leads to Cumbaya, Tumbaco, La Mitad del Mundo, El Valle de los Chillos, or another sector, taxis will charge a flat rate starting around $10 USD. If your destination is to one of these sectors, negotiate before getting in the cab.
Taking a taxi from the front of the hotel
For obvious reasons, hotels in Quito and taxi companies have an agreement to benefit their passengers—so that they do not have to wait or risk taking an unsafe vehicle on the street. This is usually very helpful and comfortable. Talk to the hotel service to get a taxi, which is normally the same price as a cab you'd catch on the street.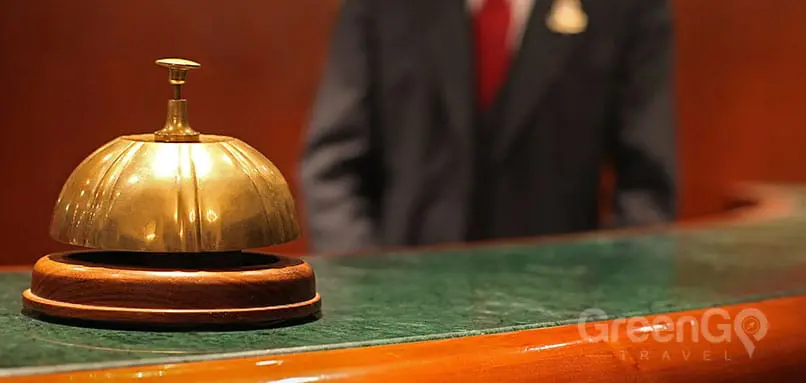 Hotel Concierge
Taking a Taxi to or from the Mariscal Sucre Airport
Quito's airport is approximately 30 km away from the north-center of Quito. The cost into the city is officially $25 USD; but the actual going rate is $27 USD, negotiable with the driver depending upon the sector to which you're heading.
Taking a taxi using mobile Apps
In Ecuador, there are several mobile taxi apps that you can download. These include Easy Taxi, Uber, Cabify and others.
Security tips for all choices of travel
These safety tips will make you feel more like an experiences Quiteño, and less like an unsuspecting tourist. Take them into account when catching your cab:
The taximeter, 4-letter municipal identification, on-board video surveillance cameras, and seat belt are all basic and necessary security elements. If any of the four are missing, do not board the taxi. You could have a very unpleasant ride. It is important that you know that, by law, the taxi driver must force his passengers to wear a seat belt.  However, traditionally, the only belt that works is that of the front passenger seat.
In his blood, the taxi driver has engrained the need to try squeezing a few extra bucks out of tourists. If he does not agree to turn on his meter, a very typical thing after 19h00, you must negotiate the fare before getting in. As a reference, transfers between Avenida Patria to the north and the bicentennial park or similar, will cost you about $5 USD. If the trip is farther, add an average of $2 USD; if the trip is to the south of Quito, the fare is around $6 or $7 USD.
Always carry $1 or $5 USD bills with you; $1 USD coins or smaller are also accepted with total joy. It's often difficult to get change for larger bills, which, as a rule, leads the taxi driver to charge you more for the transport. When you pay, make sure that you're given the correct change, as the driver may want to get away with an extra $0.05- 0.10 USD.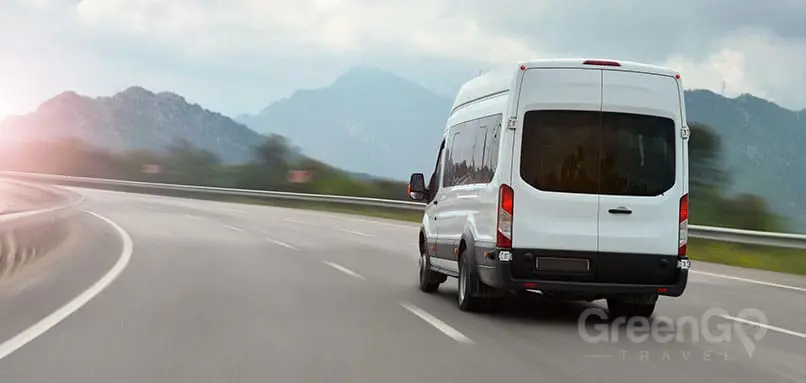 Van Transfers
---
Ready to get started with your Ecuador & Galapagos Adventure?
Reach a Galapagos Expert, Free Quote, Commitment Free!
---
The Best Galapagos Search Engine in the Market!



Tailor & narrow your Galapagos Cruise options – to your liking & specific requests. With over 10 filters, & more being added monthly. Search for your Ecuador & Galapagos dream tour today!
Find Offers & Availability Now!
---