20 Amazing points of interest in Ecuador
20 fun things you can do in Ecuador!
Ecuador is a small South American country situated between the countries of Columbia and Peru. The location is famous for its rich history, delicious cuisine, and the incredible ecological biodiversity found within its many landscapes. One of these, the Galapagos Islands. For many, this is a bucket-list destination attracting 200,000 visitors a year. We go beyond and explore all of the Ecuador points of interest that you have to see. Read on to the end to get the most out of this informative guide.
20 points of interest in Ecuador – A Brief History
One of the reasons Ecuador is such a fascinating destination to explore is due to its hybridization of Spanish and local indigenous history. Moreover, this rich history has provided the country with a diverse culture and plenty of intriguing sites. Before diving into the 20 things to do in Ecuador, learn a little bit about where these things came from.
Pre Inca Civilization
Before the Spaniards claimed Ecuador under its dominion, numerous indigenous cultures flourished for 4,500 years until the rise of the Incan Empire. These pre-Incan groups subsisted in clans. Later, they eventually developed into great tribes. These tribes left evidence of their existence in incredible archeological sites and artifacts that tourists can still witness to this day.
Incan Dominance of Ecuador
In 1436, the conquest of Ecuador began under the authority of the ninth Inca, a great warrior named Pachacuti Inca Yupanqui. It was a short reign of fewer than 100 years, full of brutal conflicts. During this period, the Incan Emporer favored Ecuador so much he established the site of Quito as the second Incan capital city. Unfortunately for the Incans, the reign soon ended with the Spanish Conquest.

Spanish Conquest
An Incan civil was ongoing when the Spanish arrived with Francisco Pizarra. The Incans become severely weakened due to this war. This allowed the Spanish empire to easily conquer the area with a superior weapon. Additionally, for the very first time, the Incans saw Horses. It wouldn't be until August 10, 1809, that Quito gained its independence from Spain. Later, in 1830, Ecuador separated from Gran Colombia becoming an independent republic.
20 POINTS OF INTEREST IN ECUADOR
1. Stand in two Hemispheres at the Equator "Mitad Del Mundo"
Some things you just have to do in life. One is taking a cheesy picture standing between the Northern and Southern hemispheres. There are a few sites relating to the Equator. The major site is the "Mitad del Mundo" or middle of the world. Here you will find a giant 90-foot monument. Nearby is the Intiñan museum with neat presentations and experiments including the changing of the Coriolis effect in the different hemispheres. Also, you'll try balancing an egg on a nail, and witness a museum with models of shrunken heads. (A practice with an indigenous culture of Ecuador)

2. Backpack the Quilotoa Crater 
One of the most stunning points of interest in Ecuador. Quilatoa is a gorgeous 2-mile wide crater filled with water. It formed from the collapse of a volcano approximately 600 years ago. The lake is 820 feet deep and has a bold blue hue that makes it a picturesque destination when the sun is shining.
Do keep in mind that this point of interest sits at 3,914 m (12,841 ft). The elevation is no joke. Do your research on altitude sickness, and make sure you spend a few days acclimating in Quito before attempting this journey.
Additionally. if you decide to camp at night remember that it does get chilly. There are hostels along the way, but bring some warm clothing either way!
How can I see it? – Things to do in Ecuador
Book a day trip or if you are a backpacker take a bus. There are various ways to explore this site. If you want to just have a nice view, it is free to enter the park and look over at the crater. Feeling a little adventurous? Hike down 30 minutes, a 280-meter descent, where you can explore the water and hike back up 1-2 hours or camp for the night (It's cold)
 There is also a four to five-hour hike around the caldera (whose diameter is just over 3 km). If you are an adventurous backpacker, you can do the 4-5 day backpacking loop where you will sleep in cabins along the way. Most travelers follow the route from Latacunga > Sigchos > Isinlivi > Chugchilan > Quilotoa > Latacunga. The hike has a total of 2152 meters/7,060 feet of ascent and 1184 meters/3884 feet total of descent, across approximately 30 kilometers/18.6 miles.
For full details look at this wonderful guide
https://practicalwanderlust.com/hiking-the-quilotoa-loop-ecuador/
3. Stroll into the Past with a Tour of the Spanish influenced Historic Districts of Quito & Cuenca
With Spanish occupation came Spanish culture, architecture, and religion. This has led to the designation of the historic districts in Quito and Cuenca as UNESCO world heritage sites. As you tour these districts, you find a plethora of large ornate churches. Additionally, the buildings are constructed with various styles. Some of the points of interest you have to see include:
The magnificent Gothic Basilica of Quito

The San Francisco Monastery

The Iglesia de El Sagrario

Catedral Metropolitana de la Inmaculada Concepción.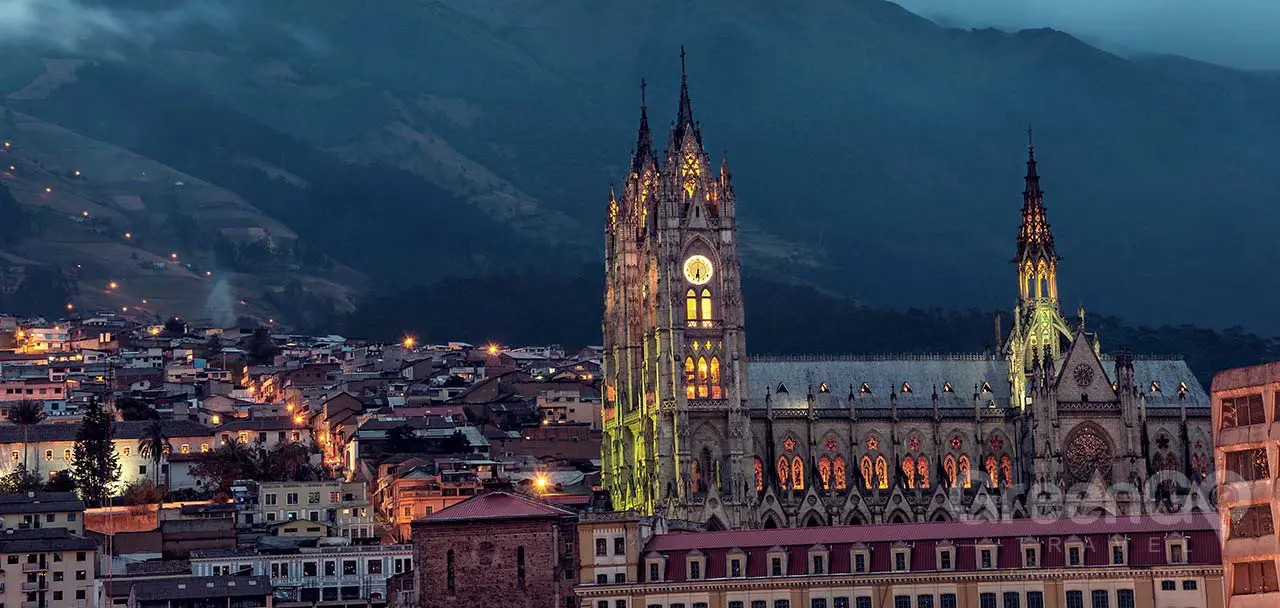 Peruse through cobblestone roads leading to large squares. All contain beautified green spaces. Generally, you'll find statues of historic figures who shaped history in the country. 
You can travel through these centers on your own time. However, take a guided tour if you desire lessons of what you are viewing. 
Pro Tip: Some walking tours are available for free within the larger cities. Do a quick google search to find them.
4. Trek through Cajas National Park
This Ecuador point of interest a massive national park on the outskirts of Cuenca. It's notable for gorgeous trails crisscrossing evergreen cloud forests and lagoons. Witness wildlife like the Ecuadorian sigil Andean condor, giant hummingbirds, and raccoon-like coatis.
5. Get Misted in a Massive Waterfall – El Pailon de Diablo
Ecuador is full of waterfalls, but the Pailon De Diablo takes the cake. It translates to Devil's Cauldron, derived from the ultra-powerful waterfall plunging into the bowl-shaped basin of the Rio Verde. (Green River). This destination is 25 minutes from Baños de Agua Santa, so it should be combined. You will get wet, so bring a poncho. Otherwise, bring a second set of clothing, or just enjoy the refreshing water!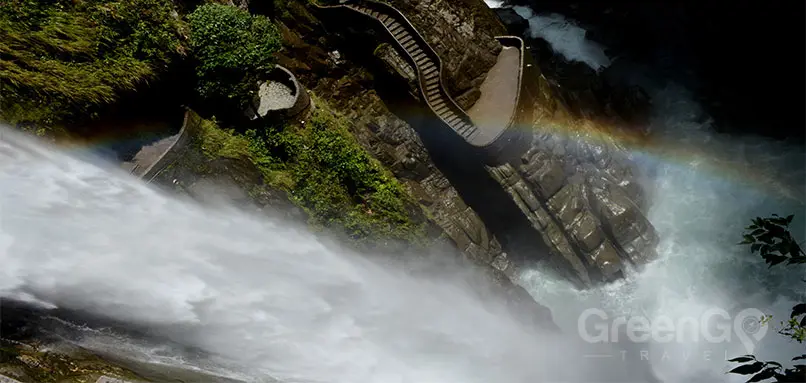 6. Witness the magnificence of Ecuador's snow-capped Mountains
Ecuador is a country sprinkled with breathtaking snow-capped volcanoes. You can take day trips to these volcanoes where you'll trek to the base camps. Here you will see climbers preparing for a journey to the summit. (You can too!) Grab a hot chocolate or cocoa tea, and then a bicycle down to the bottom!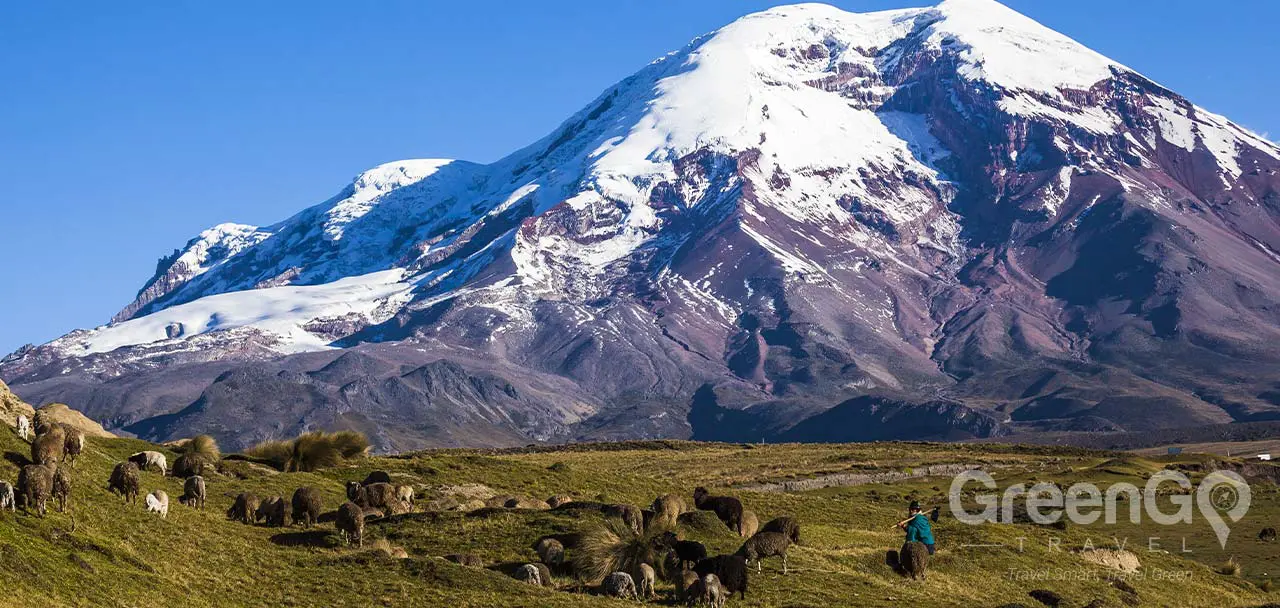 One of Ecuador's "claims to fame" is the Chimborazo Volcano, the highest volcano in the world. I know you are thinking Everest, but this mountain is higher measuring from the center of Earth. Because of the bulge of Earth at the Equator, Chimborazo is the closest point to the stars!
Other impressive Volcanoes include Cotapaxi, Antisana, and Chimborazo. All are climbable but pretty tough!
7. Shop in the Otavalo Market
The Otavalo market is known for its large indigenous markets.  
Within a farmer's market, you will find customers farmers purchasing animals and vegetables. This will give you great insight into the world of the agricultural sector.
The Otovalo craft and clothing market has a treasure trove of items. You'll find a wide variety of affordable products. These include hand made leather items, world-famous Alpaca sweaters and carpets soft as cashmere. Other famous products include stylish ponchos and Panama hats. A little known secret, Panama hats originate from Ecuador! Make sure to check out our Top Ecuador Souvenirs & Made Products article, for other shoping points in Ecuador!
Pro tip: Don't purchase the first stall. Many of the stalls have the same items. Visiting them all, you can get a good idea of the worth of the product. If you buy more than one, that should shave a dollar or two off of every product. Make sure you bargain!
8. Take a picture at the Panecillo in Quito
This is a statue of the Virgen of Quito sitting on a high hill in the Southern sector of Quito. In 1976, the Spanish artist Agustín de la Herrán Matorras was appointed to construct a 45-meter-tall stone monument of a madonna. Called "Virgin of El Panecillo", it is composed of seven thousand pieces of aluminum. 
This is a picture worth site, but make sure you take a uber or taxi to the top. The word is that walking to the spot can be dangerous, especially if alone!\
9. See all of Quito from the Teleferiqo
Take a ski lift for $8.50 ($6.50 children) that climbs towards the mountain of Ruca Pichincha. From here, take beautiful pictures on the swing overlooking the Quito skyline. Enjoy a hot chocolate and a snack at the restaurant. Bring a coat, as it gets cold!
10. Stroll the Malecón 2000 boardwalk in Guayaquil
One of the most famous sites of Guayaquil. Scroll along the boardwalk overlooking the Guayas River. Along the pathway, enjoy the elaborate parks and plazas, lagoons, museums and malls. If you need a break, catch a movie at the IMAX, and eat at an unlimited number of restaurants. Additionally, enjoy excellent seafood and a refreshing Ecuadorian beer available. 
The highlight on the boardwalk is the Rotonda. this is found on the street 9 de Octubre Avenue. It holds a monument dedicated to the secret meeting encounter between José de San Martín and Simón Bolívar. These liberators discussed tactics to liberate the area of Spain's rulership.
---
Sign up for Our Newsletter
Exclusive access for savings up to 50%, eligible for subscribed members via email only.

Signup for Ecuador & Amazon News, Offers & Discounts
---
11. Visit the stunning Los Frailes Beach
The beaches in this free park are a local favorite. It contains the most beautiful in Ecuador, Los Frailes. It is an easy day trip from Puerto Lopez. You can take a moto-taxi or hike to get to this location. To get to the beach, you will cross two other beautiful beaches. The first is Playa Prieta, where you'll see dozens of crabs creating sand balls. Keep walking the path taking you to the little turtle beach. Continue onwards onto Los Frailes. From here, relax for the day, ready a book, and dive into the amazing waters. Don't forget your sunscreen, the sun is powerful and unforgiving in Ecuador!
12. Soak in the Thermal Pools of Papallacta
One of my all time favorite points of interest in Ecuador, the thermal springs of Papallacta. They are about an hour and a half Quito by car. Otherwise, go 2-3 hours by bus. This is a tranquil place to soak in hot springs of various temperatures. These range from lukewarm to scalding hot. You can do this on your own by taking buses and taxis and pay less than 15.00 per person. For the deluxe Spa and extra privacy, pay 39.00. To avoid the hassle, book a day tour to Papallacta from Quito. This will cost a little more but arrive much quicker than a bus.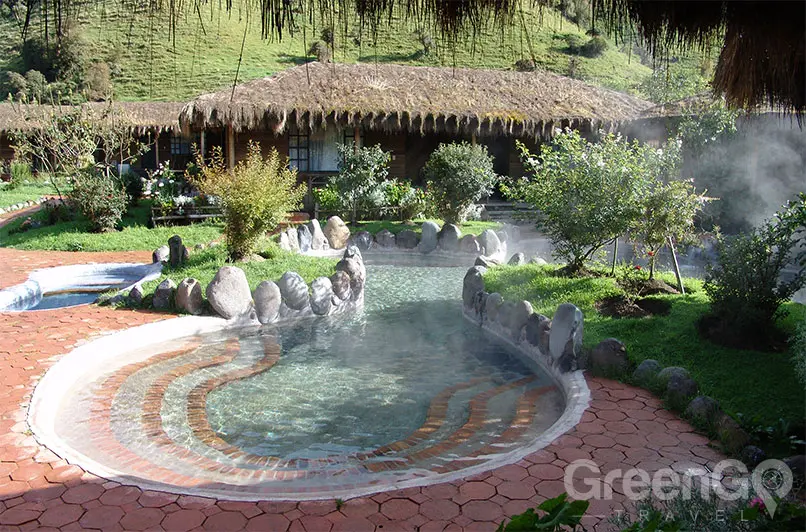 13. Adrenaline fueled adventures in Banos
Banos is famous for two things. Bountiful nature and adrenaline-fueled adventure. It is a small quaint town three hours from Quito. You can take a bus , or book a day tour from Quito. Because Mindo seems to be a little richer, I prefer to do the action in Banos and nature in Mindo! You can go mountain biking, ziplining, rafting, waterfall rafting, and repelling. If you are heading to Quito before or after Galapagos, this Ecuador point of interest and the next are perfect to do before or after if you want to see a little more of the country of Ecuador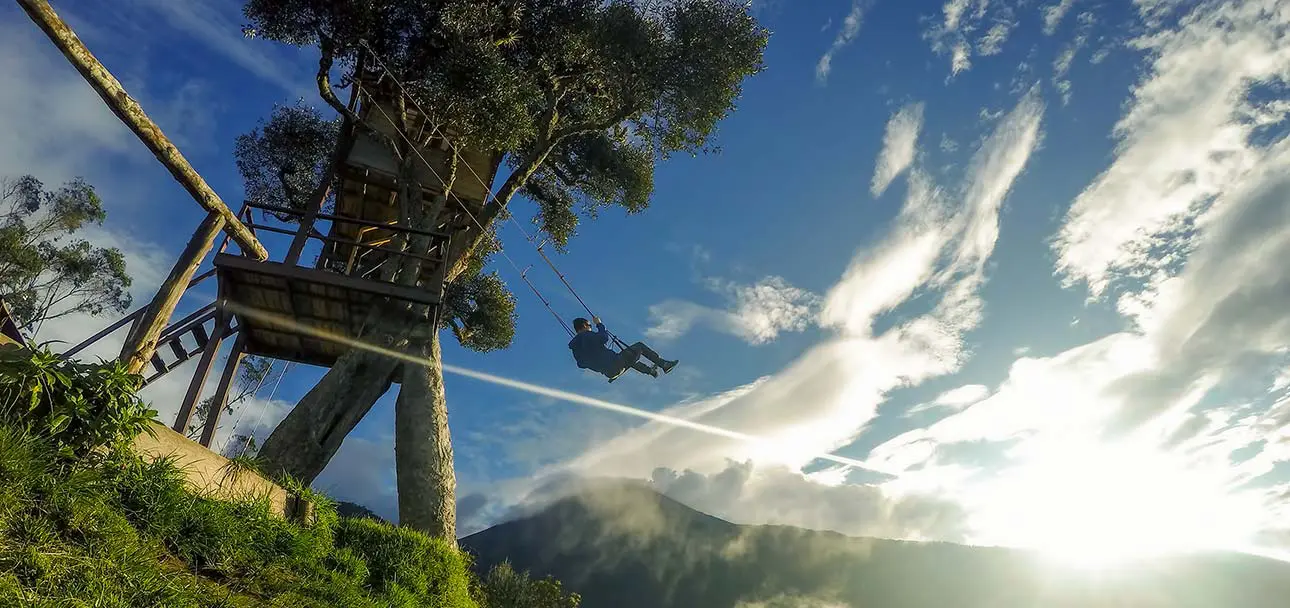 14. Explore nature in Mindo – Things to do in Ecuador
Mindo is about two hours from Quito and is brilliant for exploring nature. A tourist favorite is the butterfly sanctuaries. Are you interested in tropical birds? Wake up early and take a tour, and walk through the cloud forest with binoculars. You'll see hundreds of them. You can also do adrenaline activities in this town. This is often preferable if you don't have the time to visit both!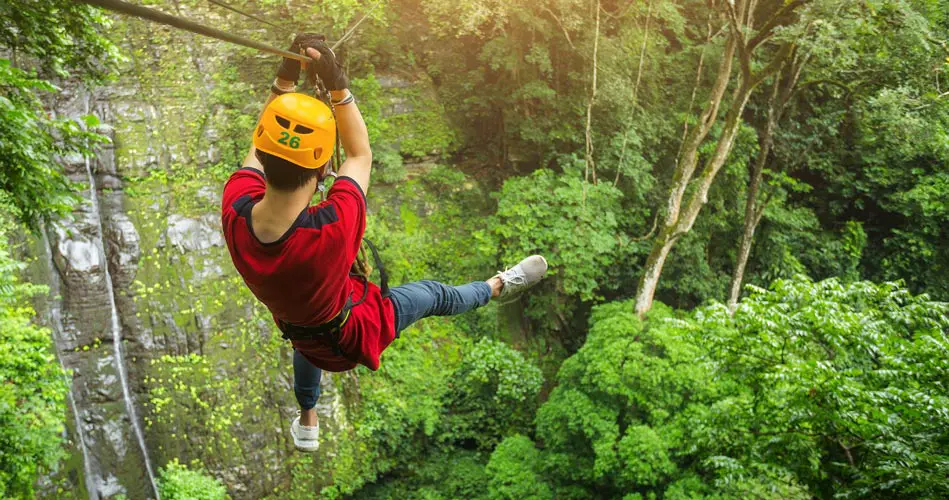 15. Tour deep into the Amazon Rainforest in a lodge
By bus or plane, you will fly to Coca. From there, you will take a motorized canoe deep into the Ecuadorian rainforest. This will lead to an Amazon lodge, where you get a real taste of life in the jungle. Experience the culture of the local tribes, and go on nocturnal tours to see various reptiles and bats. During the day, go on excursions to see pink river dolphins, otters, leaf cutter ants, monkeys. The brightly colored tropical birds and parakeets are incredible
16. Surfing in Ayampe
If you want a relaxed environment to learn surfing, this is the place you need to be. The conditions for surging are great all year round. With the warm weather in Ecuador, you can visit any time. There are many other places for surfing in Ecuador to explore, this is just one of the best!
17. Eat your way through a Foodie paradise – Things to do in Ecuador
Ecuador has almost too many options for cuisine. Because of its climate and location, it is a hotspot for trying new fruits and fruit juice. Likely, you won't find these back home. The ones you need to try?
 Maracuya

Tomate de Arbol

Guanabana

Babaco

Naranjilla

Taxo. 
As for food, there are hundreds of restaurants and open markets to sample new fruits and foods. There are many famous dishes. Take a look at these to check off your foodie list!
Ecuadorian ceviche –  Like Peruvian ceviche, but Ecuadorian fish is cooked beforehand.
Maito de Tilapia – A filet of tilapia cooked in the Incan method of wrapping a fish in a Banana leaf.
Couy – is Guinea pig cooked rotisserie style. The best are in Ambato and Cuenca
Patacones – Slices of plantain mashed and cooked in oil like french fries.
Encebollado –  Composed of tuna, red onion, yuca, cilantro. Then all topped with plantain chips and toasted corn 
 Hornado – Roasted pig, cooked whole. Don't worry, you don't have to order the whole thing.
Lastly, you have to try high-quality Ecuadorian coffee. Columbia is one of the kings in the coffee industry, overshadowing the lesser-known Ecuadorian coffee. There are many farms where coffee is grown in permacultural settings. They produce high-quality coffee strains. Try them at several places in Quito like Isveglio coffee.
18. Visit Cacao plantations and try a chocolate workshop 
Ecuador contains various regions with Cocoa trees of strains with the highest purity of cacao beans. These beans transform into delicious chocolate bars and candies. Visit these farms, watch how chocolate is made, and participate in creating it yourself!
19. Ingapirca – Things to do in Ecuador
If you are interested in seeing remnants of ancient civilizations, this Ecuador point of interest is for you. Ingapirca is a town in Ecuador's Cañar province. Here you will discover an archaeological complex north of town containing ancient ruins and Incan masonry. The ruins include the Temple of the Sun. This is a large oval construction formerly used for ceremonial and astronomical purposes. Close to this area, explore the Museo Sitio de Ingapirca which contains an ancient skeleton, tools, and other artifacts recovered from the area.
20. Follow in Darwin's footsteps to the Galapagos National Park
The Galapagos national park is famous for the wide array of animals you will only find on these islands. The highlights are the snorkeling and trekking excursions, where you can get up close in personal with the animals for great pictures. Some of the famous species include the goliath Galapagos Tortoise, blue-footed boobies, whales, hammerhead sharks, Galapagos penguins, fur seals, and magnificent frigates.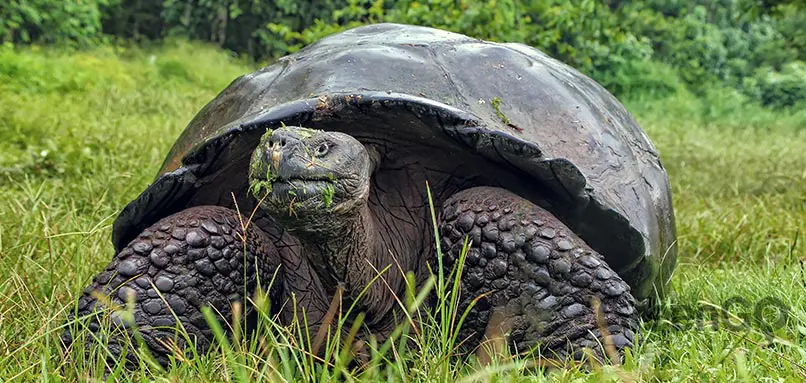 There are a lot of islands, with many different itineraries to explore. You can choose between land-based options if you don't like boats, or spent some time on a liveaboard yacht or cruise ship of various classes. These trips can often be expensive but are well worth the money.
---
Ready to get started with your Ecuador & Galapagos Adventure?
Reach a Galapagos Expert, Free Quote, Commitment Free!
---
The Best Galapagos Search Engine in the Market!



Tailor & narrow your Galapagos Cruise options – to your liking & specific requests. With over 10 filters, & more being added monthly. Search for your Ecuador & Galapagos dream tour today!
Find Offers & Availability Now!
---