As you enter the realm of the rainforests, you will become aware of life at every step: mushrooms and fungi below, tree trunks festooned with liverworts, lichens and mosses, giant ferns reaching up to the light above, swirling mists and clouds of moisture. And then, from nowhere, comes the sound of rushing water, a waterfall amid this glistening, green world, where you can revive your senses. The wonders waiting at Mashpi Lodge will delight the worldliest nature lover. Perched at 900 m (3,116 feet) above sea level and surrounded by lower montane rainforest and cloudforest, Mashpi Lodge is surrounded by a profusion of plant species, from ferns and bromeliads to hundreds of orchid species, many newly-discovered. A staggering 500 species of bird – including some 36 endemics – are estimated to inhabit the forest, fluttering through the canopy. Monkeys, peccaries and even puma make their homes inside the Reserve crisscrossed with waterfalls between dramatic, verdant hills.
Mashpi Lodge Galleries
Mashpi Lodge Details
Lodge Comfort: Luxury
Capacity: 44 Guests
Guidance: Local & Bilingual Guide
Location: Andes West Slopes
Park-Reserve: Tandayapa Valley
Lodge Immersion: Primary Cloudforest
Transport Methods: Private Transportation
Amount of Rooms: 22 Rooms
Rooms Type: Twins, Suites, Interconnected
Rooming Options: Private Rooms
Room Sharing: N/A
Boots & Poncho: Provided
Other Gear: Available At Boutique
Toiletries: Provided
Private Bathrooms
Hot Showers
Towels
Closets
Safe Deposit Box
Hair Dryer
Bathrobe & Slippers
Computer Station & WiFi
Spa Treatments & Jacuzzi
Outlets In Room & Lodge
Water, Coffee & Tea Area
Fine Dining Catered Meals
Big Scenic Terrace
Bar
Route: Quito-Mashpi-Lodge
Travel Time: 3½ hours
Cost: Included in rates
Pick Up Time: 08:00 am
Pickup: Old & new city Quito hotels
Drop off: Old & new city Quito hotels
Yaku Suite (3 Suites)

The lodge's three Yaku suites extend over an expansive 37 square metres (400 sq ft). They are located on the first floor, at the lodge's northwestern end. Each features a large bathroom with twin washbasins and a Philippe Starck-designed bathtub-with-a-view. All of them have king-size beds, stylish easy-chairs and coffee tables, designer rugs, desks and lamps.
Closets with safe deposit boxes
Bathrooms with luxury amenities and hairdryers
Desks, chairs and furniture
Bathrobes and slippers
Wayra Room (19 Rooms)

The 19 Wayra rooms all cover a generous 34 sq m (366 sq ft). Fifteen Wayras have two full-size beds, three rooms located at the end of the northwestern wing (next to the outside terraces) and the rest along the southeastern wing. Four of the 19 feature king-size beds. For families or groups of friends, three pairs of Wayra rooms inter-connect, two pairs on the second floor and one pair on the ground floor, each with a king-size bed connected with two full-size beds.
Closets with safe deposit boxes
Bathrooms with luxury amenities and hairdryers
Desks, chairs and furniture
Bathrobes and slippers
Mashpi Lodge Features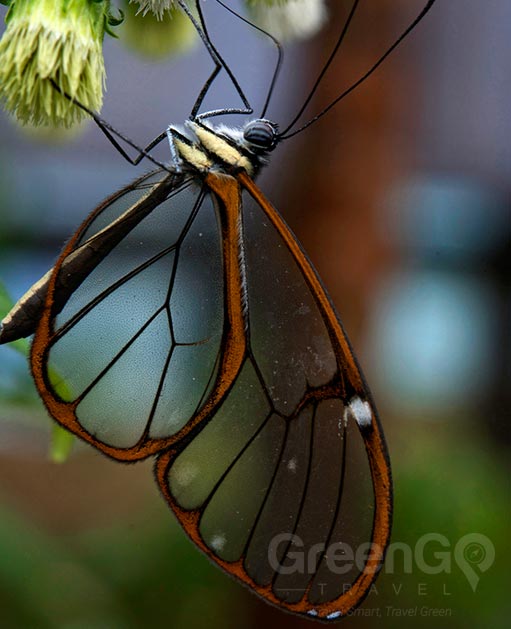 Mashpi Lodge butterfly

Nature Trails
The two main trails are the Howler Monkey and Cucharillo (named after an oak). Both link up with the Cotinga Tower of the canopy gondola system. Along the trails, guests will learn more from both their Naturalist Guide and Local Guide about the myriad plants, insects and animals that inhabit this biodiverse universe. Due to Mashpi's mountainous topography, trails are rarely flat. The trails' steepness is an advantage since the hillsides enable more light to penetrate the forest, thereby increasing the diversity of plants and animals that one can observe at each stratum.
Night Walks
The Mashpi forest is transformed at night, with far more activity than during the day. Optional night walks will head out from the hotel after dinner to discover its nocturnal creatures and their behaviors, ranging from moths as big as your hand, to miniature glass and tree frogs, croaking toads, birds, owls, rodents and mammals, and even fox fire, an Avatar-like luminous fungus. It's a magical world, often astounding at the micro level, and seldom explored, ready to be discovered in expert company.
Sky Bike
Located close to the hotel, the aerial bicycle makes for an original and exciting way to explore the forest canopy up close. Designed for two people to use at once, one person pedals the bike along a cable stretched between two points in the forest, around 200 m (655 feet) apart, crossing a gorge above a river flowing between rocks and trees below. Silent, easy-to-use and fun, it's an activity for children over 8 years-old accompanied by an adult, providing guests with another chance to observe the natural world close to the lodge and even spot its denizens. Several bicycles are planned in the Reserve.
Mashpi Lodge Programs 2018
Day 1
The departure point in Quito is the Hotel JW Marriott. Departure is at 8:00am. Guests staying at other hotels in the city will be picked up by Mashpi Lodge's own transport beforehand and driven to the JW Marriott. We take the highway north of Quito, passing the Equator Monument and Latitude 0. Climbing up to the western pass, we detour for a short break at the viewpoint of the Pululahua Crater, a dormant volcano. From here on, it's downhill towards the Pacific Ocean, turning off the main highway onto rural roads about 30 minutes after this stop. About two hours after leaving Quito, we reach the archaeological site-museum of Tulipe,where we stop to explore the grounds and learn about the Yumbo people who created the waterpools and structures here.
About an hour and a half later, we arrive at the entrance to the Mashpi Reserve which extends over the surrounding 1,300 hectares (3,212 acres) – a haven for wildlife and biodiversity – and then continue to the Lodge itself, arriving at between 12.30pm. Here guests are welcomed with a refreshing drink and checked in to their rooms. According to arrival time, guests will meet their Naturalist Guides for a short briefing about the reserve and activities. Lunch is served soon after, followed by a short time to relax. After lunch, the afternoon's activities begin (please view activities tab). These will depend on factors such as group size, physical abilities and weather conditions. Optional night walks head out from the hotel following dinner (these excursions can be taken any night of the package).
Day 2
For those who want to enjoy the beauty and magic of dawn in the forest – which is when most birds are active and calling, as well as when views are often most spectacular – early morning activities are organized before breakfast. Following breakfast, we head out from the lodge to explore, returning for lunch and a rest, before enjoying an afternoon amid Nature, then dinner, night walks and sleep.
Day 3
On the last day, there's an early breakfast, followed by a morning activity. Guests return to the lodge and check out. Departure at 11:00 am. We then drive back eastwards, winding our way up the Andes towards the capital, arriving at Quito hotels between 3 and 4 pm (depending on traffic, location and number of passengers).
Canopy Gondola
The highlight of anyone's trip to Mashpi is the 'canopy gondola', or aerial tram. The two gondolas on the system will glide guests through and above the forest canopy on an exciting exploration of the Reserve's ecosystem. The gondola cable system extends over 2 km (1.25 miles) between two end/boarding stations, with one tower in the middle for possible embarking and disembarking. On the way out, it will travel dramatically above the trees' upper canopy and on the way back through the forest understory, at a very slow pace. Each way takes about 35 minutes to complete. The canopy gondola's route enables guests to explore different areas of the Reserve as well as appreciating the trees' ecosystem from root to tip, creating a complete vision of the various life-zones and types of forest.
The first time guests board the system, they will enjoy a round-trip journey of discovery, taking around two and a half hours in all to complete. The system can then also be used by guests to combine hikes of varying difficulty with travel by gondola. On return journeys following a hike, if the other gondola is empty, guides can stop if the group spots a creature in the forest, enabling exciting, prolonged observation of plant and animal life. The gondola carries six guests, plus their Naturalist Guide. It is roofed, with rotating seats, safety rails and places to hang day-packs.
Life Center
Close to the lodge, the centre is conceived as a place for learning and discovery, but also where guests can disconnect, where they can contemplate the views, sit in comfortable chairs, read a book, enjoy a fresh cane juice. Guests will learn more about the butterflies that inhabit the region, being shown the process of these creatures from eggs to pupae to chrysalis to winged wonder. Some 200 species of butterfly have been identified to date in the Reserve, with nearly a dozen observable at the Centre. Other points of learning dozens of species of orchids, bromeliads and passion flowers all around the structure.
Close to the Centre, we have established an area for growing medicinal plants (ideal for a reviving herbal infusion) and beyond, many varieties of bushes and fruit trees, including banana and plantain, manioc, cacao, tobacco, coffee, bread fruit and heart of palm. These attract all sorts of wildlife, from birds to rodents to mammals – making for easier observation from the comfort of the Centre's expansive wooden deck. Most of the interpretation at the centre will be imparted by local guides or people involved with the project from local communities. Guests will find ingredients from these gardens in the dishes prepared back at the lodge.
Observation Tower
There are few easier or better ways to appreciate the beauty of the Mashpi Reserve's forest and hills than climbing the Observation Tower. Here, guests are able to enjoy an exciting bird's-eye view and the dramatic panoramas that surround the lodge from the observation tower. This is a metallic structure, with a staircase that climbs to about eight-stories high (26 m or 85 ft.), ideal for wildlife observation, particularly at dawn or dusk. Species that can be spotted here include toucans, woodpeckers, barbets, tanagers and parrots as well as raptors. The tower lies a 10-minute walk from the lodge.
Hummingbird Viewpoint
The forests of Mashpi boast 22 hummingbird species identified to date, inhabiting different specific altitudes, with around 16 species alone observable by guests. In order to make it easier to see these amazing creatures, a shelter with seating provides the ideal setting, feeders for the birds strung from its roof. The site is located at a natural viewpoint, which, on clear days, provides breathtaking views of the Reserve's forested hills.
Refreshing Waterfalls
Water is key to life in Mashpi, and there's nothing like a refreshing dip at the end of a walk. Several rivers cross the Mashpi Reserve close to the hotel, many forming beautiful small waterfalls, cascades and pools. The water temperature is between 18 and 20°C (64 and 68 F).
Leks
Leks are places where certain bird species gather to take part in fascinating and often elaborate displays to seduce females. One has to imagine them like the bird equivalent of a youth-club disco. Males, often brightly coloured, engage in vocal, mechanic and choreographic "performances". They provide an incredible opportunity for us to view certain species, capitalising on their regular schedules which allow us not only to know where butwhen they will display.
We have found four leks to date: two of the Long-Wattled Umbrellabird, (Cephalopterus Penduliger), one of the Andean Cock-of-the-Rock (Rupicola peruviana) and one of the Club-Winged Manakin (Machaeropterus deliciosus). These leks can be visited but require very early starts in some cases and long strenuous walks in others.
Mashpi Lodge Rates 2018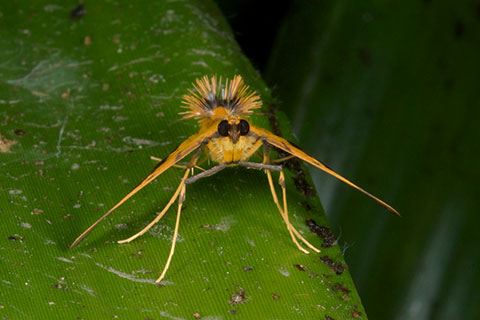 2 days – 1 night
2 Days Program - Standard Comfort
$1359
wayra room, single/twin/double
BOOK NOW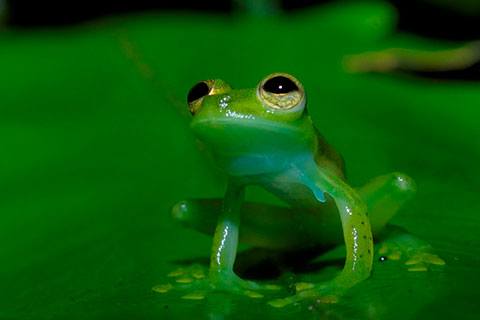 2 days – 1 night
2 Days Program - Superior Comfort
$1649
yaku suite, single/twin/double
BOOK NOW
* To view available deals for this & other tours, check our offers
HERE
* Prices are per person, and subject to change without prior notice
* All prices are in USD
OTHER RATES, T&C, NOTICES
Itinerary

Length

Deck

Season

Cabin

Rate

No results
Inclusions & Exclusions
INCLUSIONS
 
1 Night accommodation at lodge
Transport (quito-mashpi-quito)
All meals & soft drinks
Certified bilingual guide
Use of lodge facilities
All activities & briefings
Hiking gear (wellington boots, Poncho)
EXCLUSIONS
 
Bar consumptions
Personal expenses, boutique, tipping & travel insurance
Private guidance or added transfers
Dragonfly, all activities that incorporate this service
Spa services & treatments
Add ons (kayaking, rafting, biking, canopy)
Christmas, new years (dinner supplement)
Departures any day of the week
Add on excursions excluded with surcharges
Restaurant & bar payments: cash & credit card
Rates are subject to change without prior notice
Single guests have a private room
Information verified by the lodge operator
Pickups available from main Hotels in Quito only
Christmas, new year supplement: $70 per person
Last information revision: 30-November-2017
Special interests accommodated under request
Activities are based on guests physical condition
Transport out includes a stop at Tulipe Museum
Children allowed: Yes
Children minimum age: None
Considered child: Under 12 years
Child discount restriction: None, available all year
Interconnected Family rooms: (09-10 / 20-21 / 22-23)
Yaku Suite: $430 per night, per child
Wayra Room: $359 per night, per child
Maximum 2 children & 1 adult per room or suite
A crib or bed can be added to rooms: 10,14,20 & 22
Child rate applies for sharing room or suite with an adult
Terms & Conditions
The above Terms & Conditions/Policies do not represent to a full extent all the terms & conditions by the Lodge, the most important and relevant clauses have been listed as a guideline, and are enforced by the tour operator to GreenGo Travel as your acting travel agent and subsequently to the end customer. In cases such as the initial percentage of payment required, the amount of days prior to cover the final balance & cancellation fees will be subject to our terms and conditions. A higher/lower initial payment, and additional time may be required to process your reservation.