Features 1/3
Cotopaxi National Park
The Cotopaxi national park is a protected reserve encompassing over 333.9 km of forested surroundings with approximately 200 plant species. The area holds Cotopaxi volcano as it main attraction among other neighboring volcanoes. With an elevation of 5,897 m, the volcano is a beauty to behold and a clear landmark of the area. The park is home to many animals in wild like Andean Hawks, Condors, Horses, the Andean Fox, Weasels, birds & others. The park houses a variety of vegetation zones with humid mountain forests predominantly taking over low elevations.
Features 2/3
Limpiopungo Lagoon
At 3800 meters high, Limpiopungo lagoon is a scenic stop on your way towards Cotopaxi's first refuge. Marshy areas, small ponds and surrounding mountains are home to many andean bird's, wild rabbits and horses. Stunning paramo views – perfect for photography and with some luck – clear weather for a good view of Cotopaxi. A flat trail around the lake usually takes about 1h30 minutes, a good way of settling in the altitude. Weather changes rapidly so keeping a jacket handy is recommended. The ever present clouds intertwining in and out valley mountains create striking landscapes.
Features 3/3
Cotopaxi Refuge
With an altitude of 4800 meters high, getting this far in a day tour is a merit in itself! Located in the northern flanks of the volcano, it can easily be spotted from afar. The starting point to reach the refuge is begins from the parking lot with an altitude of 455 m. You can expect a hike from 45 minutes to an hour, varies on physical fitness per person. an additional 30 to 40 minute hike on the right side of the volcano can get you to the glaciers. Climbers wanting to summit Cotopaxi rest most of the evening and depart the refuge at midnight.
Cotopaxi Day Tour Program 2019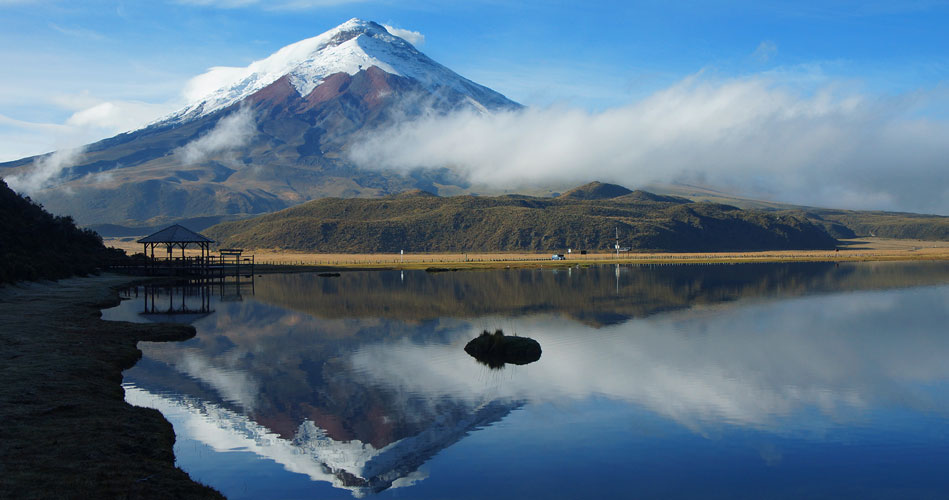 | | |
| --- | --- |
| Pickup: | Please be ready at your hotel lobby for an early pickup, 7am |
| Cotopaxi Park: |  Approximately 2 hours of travel to reach Cotopaxi National Park |
| Limpiopungo Lagoon: |  A short hike in the surroundings and viewpoint of the scenic lagoon |
| Jose Ribas Refuge: |  45 minutes to an hour hike. 4550m to 4810m, hike at your own pace |
| Glaciers: |  *An optional hike of 30 to 40 minutes to reach the glaciers |
| Lunch: |  Once back at the refuge/parking lot you will be provided with a box lunch |
| Cotopaxi Museum: |  A museum featuring a collection of stuffed animals local to the park |
| Dropoff: |  Tour ends, your guide will drop you off in your hotel at approx 4 to 5pm |
ℹ Available 07:00 to 17:00 any day of the week. *Optional activity is time dependent.