Anakonda Amazon Cruise Ship Adventure Story
A recount of a wanderlust traveler on the Anakonda Amazon Cruise Ship. Learn about day to day Amazon activities and advice to have a successful trip.
As an ecologist, the Amazon rainforest was always a destination that constantly drew my attention. The amount of biodiversity is unparalleled in wildlife, plants, trees. This also goes for the languages and culture hidden away in the forest. So when I was told that I had the opportunity to take the 5-day Anakonda Amazon cruise ship adventure tour, I died and went to heaven a hundred times.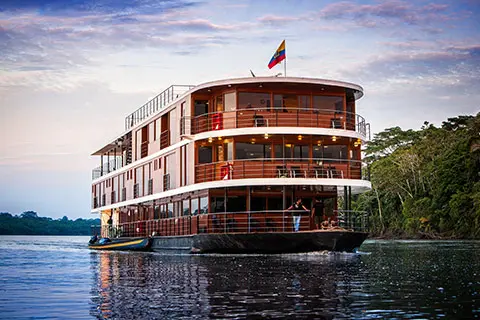 Anakonda Amazon Cruise
Day 1. Adventure Begun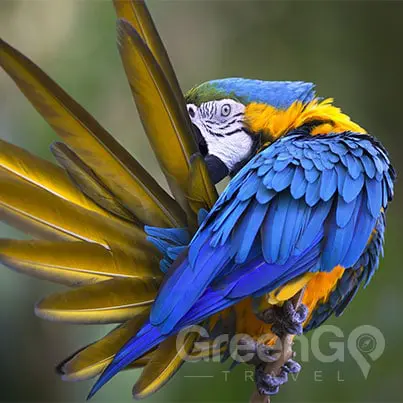 Polly want a cracker?
The Amazon adventure started with excited anticipation as I stepped onto my plane. I knew I was soon going get my first glimpse of the Amazon rainforest. I was pleasantly surprised after we banked after tanking off and got an impressive view of a radiantly white snow-capped volcano peeking through billowing puffs of clouds. It was fascinating watching the landscape change from the bustling city to the Andean mountain range and finally the immense jungle
A short time later, I could see a dense jungle on the horizon, and minutes later this was the only thing in view all around. I felt as if I was scrolling through Google Earth's satellite view, only with much better clarity.
The flight landed about 30 minutes later, and we met our friendly guides that would be transferring us to the cruise. Right from the start, this adventure was incredible. Our belongings were placed on a large motorized canoe, and we took a ninety-minute journey down the Amazon.
Within minutes I saw various parakeets soaring overhead, squawking loudly. I overheard a chorus of insects chirping and trilling and the swift current of the Amazon, mighty and powerful.
After arriving at the Anakonda Amazon Cruise Ship, the staff helped us with our luggage onto the cruise, and we were given a delicious welcome beverage. (A delicious fruit juice, fresher than you can get anywhere in the U.S.)
The Cabins
After, I got my first look at my room and was pleasantly surprised. The Anakonda Amazon Cruise Ship rooms were very commodious and homey.
Additionally, there was floor to ceiling windows that provided breathtaking views of the river. I fell asleep like a baby every night with that view. There were many places to sit, read, and hang out.
Moreover, there is a TV if you want to watch it, although why bother when the nature on the balcony is something out of the discovery channel!
There is wifi when the boat was stopped, which I utilized to share some pictures midway through the adventure!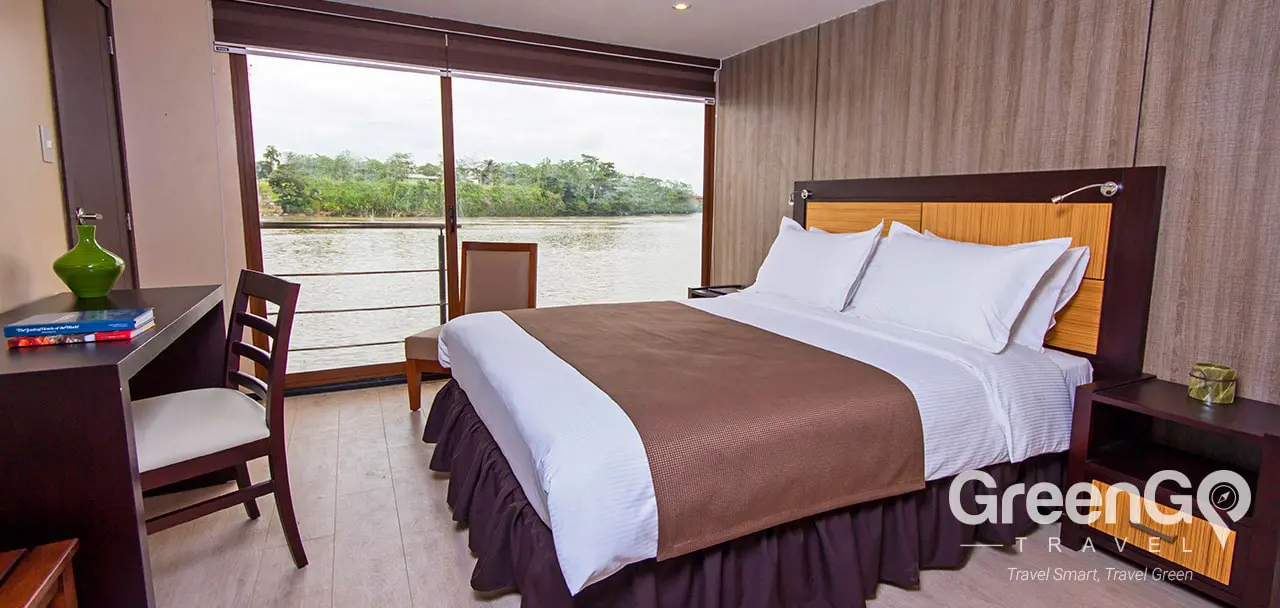 A look at the Awesome rooms of the Anakonda Amazon Cruise
Nocturnal Adventure
The forest never sleeps. Poison dart frog
On our very first night, we departed the Anakonda Amazon Cruise Ship for a nocturnal Amazon tour that was fascinating. Our indigenous guide seemed to know the forest like the back of his hand and showed us many interesting creatures.
We saw unique insects, poison dart frogs, and some scary looking giant spiders. I think my favorite was the long trail of leaf cutter ants.
Apparently, a single drop of ant "trail pheromone"  used to communicate the fastest path to a nutritious tree is enough to create a trail around the world!
Even more fascinating is that the trees produce their own chemical defenses, and even spread the word to neighboring trees of the same species to turn on the defenses!
Day 2. Amazon Avenue – Amazon tours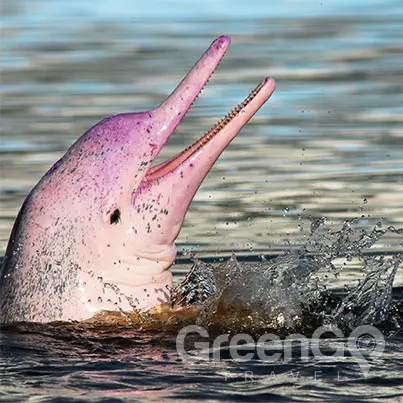 Largest river dolphin on the planet
The next day was even better, as we were all settled in on the Anakonda Amazon Cruise Ship and got to spend the whole day on an adventure. We first visited the Yasuni national park and witnessed
exotic pink river dolphins
. It was very unique seeing a dolphin outside of the ocean and in a dense jungle! These guys can live up to 30 years old and are the largest freshwater species in the world growing up to nine feet long.
We also did some excursions on foot, where we got to see an Anaconda and a super strange turkey-looking bird called the hoatzin, that sported a hilarious mohawk. Later on, we took a motorized canoe tour. We missed out on the manatee, but we did get lucky and see some river otters. We also spotted a huge leafcutter ant colony, which was much more massive than I expected. At this point on the adventure I had already seen a handful of exotic creatures, and I was entirely satisfied with the results.
Day 3. A Walking Tree
Indigenous of the Amazon
On the third day, the amazon tour highlight was visiting an indigenous
Kiwcha
community. They were incredibly friendly, funny, and happy to share their culture, ancestral history, and lifestyle.
Our guide showed us these "walking palms" that have dozens of small trunks. If other trees around it are blocking the light, it will literally move, albeit very slowly.
Later that night we boarded the Anakonda Amazon Cruise and had a really fun cooking lesson with the professional chef, where he taught us how to prepare and cook delicious some local cuisine. The rest of the evening I spent relaxing and mingling with the other guests on the cruise. They were really interesting and enthusiastic about everything. I think we bonded when we tried eating ants that taste like lemons in the forest!
After watching the sunset and eating dinner, and having a beer, a few of my cruise companions and I gazed at the stars from the deck. With zero light pollution, the difference in stars was incomparable to any other location. It was as if someone "turned the brightness up" on the galaxy.
Day 4. Animals Galore
Quit monkeying around!
Day four on the cruise was bittersweet. I saw so many animals that day, but in the back of my mind, I knew our Anakonda Amazon Cruise journey was almost complete. We saw at least two or three different kinds of monkies. Our guide told us how they tend to stick to certain paths, a sort of monkey highway. They also tend to the trees they use, breaking weak branches so their buddy behind them doesn't fall.
Every once in a while, our guide would stop us an instruct us to listen. We really got to soak in the energy and sounds of the forest. It is a vibrant, powerful feeling closing your eyes and experiencing the energy the forest has.
He constantly stopped, showed us a plant or tree that has a medical benefit, or ingredient used in cancer medicine. It was utterly fascinating.
In the evening, our amazon tour was a canoe ride and this time saw some impressively giant caimans, an alligator-like species that inhabit the river. We also saw piranas flashing just under the surface of the water.
Day 5. Departure Arrive 
On this day, we took our last adventure, departing the Anakonda Amazon Cruise Ship and took the 90-minute journey back to coco and the flight back to Quito. Although it was heartbreaking to leave, I knew that Amazon would continue to pull me back until the day it does!
Meals
I personally thought the meals on board the Anakonda Amazon Cruise was excellent, unique, and there was quite a variety to choose from. I have no food restrictions, but the ship can help with that if you ask. It was really unique eating while you hear the music of the forest around you.
Pro Amazon Tour Tips
Bring your own headlight or flashlight, it will make the experience better if you have your own. Also, the batteries can be a little pricey.
Grab some DEET-free insect repellent. Respect the forest by not leaving toxins behind. They are just as effective, I promise!
Bring a nice camera and some binoculars. It'll help you store the memories and see all the strange creatures too far for the eye to clearly see.
DO bring a refillable water bottle and keep hydrated!
Bring Amazon appropriate clothing: Hiking pants, T-Shirts, sun hat, closed-toe tennis shoes, jacket for night time.
If this trip sounds like something you would be interested in, check out the Anakonda cruise home page. Prefer keeping your feet on the ground? Check out the Amazon Rainforest Lodges.
If you want to expand your trip and see more of South America, look into the Galapagos Islands and Peru.
---