Categories:
Luxury
,
Hotel
,
Galapagos
,
$150 & Over
,
Island Hopping
,
4 to 8 days
,
1 to 5 Days
,
Luxury
,
First Class
,
Land Based
,
$300 to $599
,
$300 to $599

The Red Mangrove Galapagos hotels consist of strategically located hotels in the main islands of Santa Cruz & Isabela in the Galapagos, services vary between Galapagos land based tours & diving tours.
Red Mangrove Galapagos Highlights:
Red Mangrove Galapagos hotels are the perfect approach to a land based program with a high level of services and comfort. Accommodation is in the luxury range by Galapagos standards, their programs offer flexibility in rates with different type of rooms, and flexibility with their schedules as you are not tied to specific departing dates. A Galapagos land based program seamlessly put together to highlight the best of the Galapagos on land or underwater.
Red Mangrove Galleries
Red Mangrove Facilities & Services
Standard, superior & suite rooms
Fully equipped dive lodge
Land based & transfers service
Laundry service, Wi-Fi access
Restaurant, cafeteria & bar
Seafront & mangrove room views
Air cons with remote control
Ceiling fans
Safety deposit box in rooms
Reading lamps
Hot Showers, hair dryers
Biodegradable amenities included
Check in: Flexible with arriving flights
Check out: Flexible with outgoing flights
Bar: 07:00 – 22:00

Breakfast: 07:00 – 09:00
Lunch: 12:30 – 14:30
Dinner: 18:30 – 21:00
Standard

The guest rooms in this category have mangrove views. Located on the ground and upper levels.
Air cons with remote control & Ceiling Fan
Bathroom with amenities and hairdryer
King, Queen &/or Twin Beds
Safety Deposit Box
110v. Electrical Outlets
Superior
Only 2 Superior Rooms, 1 with private balcony on the upper level & the other on ground level.
Air cons with remote control & Ceiling Fan
Bathroom with amenities and hairdryer
King, Queen &/or Twin Beds
Safety Deposit Box
110v. Electrical Outlets
Red Mangrove Features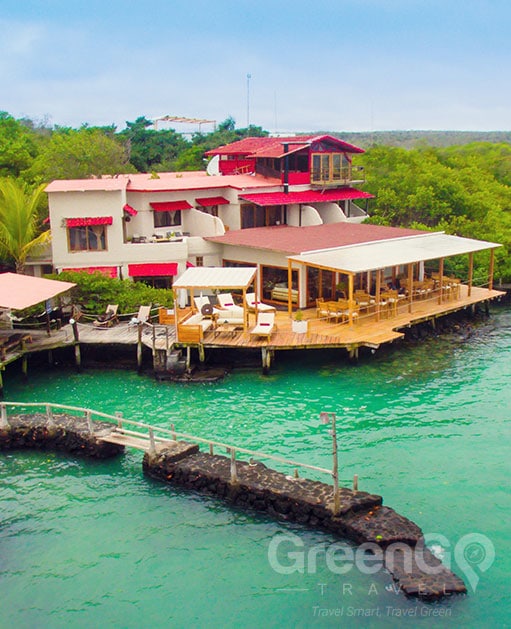 Red Mangrove Panoramic View

Aventura Lodge
Built in 1995, this lodge has a unique architecture design which blends with mangrove forest and seafront, its location allows you to observe the mangrove ecosystem in action as well as the best view of Puerto Ayora's bay.
Isabela Lodge
Separated from the ocean only by a broad, white sand, palm-lined beach, our oceanfront Lodge has a beautiful wooden deck by the sea for all to enjoy as well as a roof top terrace with sea vistas for miles. All guest rooms have 2 queen beds and a private bath and 3 guest rooms have amazing sea views.
Divers Lodge
Located in a quiet area, few blocks from the pelican bay fishing market, souvenirs stores, galleries, jewelries and ATM bank.  9 rooms are available; several of them stand out from volcanic rock details of the islands.In our cafeteria you can enjoy a delicious American breakfast.
History & Location
Red Mangrove Galapagos Lodges was born in 2007, since then the lodge has been sharing the wonder and excitement of adventure travel with people from all over the world. The first year was the begging of operations at Red Mangrove Aventura Lodge, located in Puerto Ayora, Santa Cruz. As of October 2008 Isabela Lodge was aquired. With the addition of this  lodge, Red mangrove was able to offer guests the epitome of land-based packages that offer even more options and more flexibility than a cruise! We currently offer a varied menu of alternatives and each route has been designed with great care, thinking to make each day of your trip particularly memorable.
Red Mangrove Programs 2017
Red Mangrove Rates 2017 - 2018
* To view available deals for this & other cruises, check our offers
HERE
* Prices are per person, and subject to change without prior notice
* All prices are in USD
VIEW OTHER RATES
Itinerary

Length

Deck

Season

Cabin

Rate

No results
[one_third]
General Notices
All listed rates are in US$ Dollars
Tours may change without notice
Programs subject to GPS control
Verified information by operator
[/one_third][one_third]
Land Tours

Every day departures
Transfer out not included
1st & last day are mostly operational
Tours based in Santa Cruz & Isabela
[/one_third][one_third_last]
Lodging Only
Buffet Breakfast: $31 pp
Buffet Lunch or Dinner: $49 pp
Inquire rates for Quadruple rooms
Season requires from 2 to 5 nights
[/one_third_last]
[one_half]
Children Allowed: Yes
Considered Child: Under the Age of 12
Minimum Age: 6 years (younger under consideration)
[/one_half][one_half_last]
Child discount: none
Terms subject to change
Child discount restriction: not applicable
[/one_half_last]
[one_half]
Passport copy required for all bookings
Full personal details per guest is required for all reservations
50% is required as an initial payment to confirm Red Mangrove services
Remaining balance due for payment 20 days or earlier prior to the date.
[/one_half][one_half_last]
Cancellations 75 days + prior to booking = no fees
Cancellations 74 to 40 days prior to booking = 50% fee of the initial deposit.
Cancellations 39 to 21 days prior to booking = 100% fee of the initial deposit.
Cancellations 20 to 0 days prior to booking =100% fee of the booking cost.
[/one_half_last]
The above Terms & Conditions/Policies do not represent to a full extent all the terms & conditions by the Lodge, the most important and relevant clauses have been listed as a guideline, and are enforced by the tour operator to GreenGo Travel as your acting travel agent and subsequently to the end customer. In cases such as the initial percentage of payment required, the amount of days prior to cover the final balance & cancellation fees will be subject to our terms and conditions. A higher/lower initial payment, and additional time may be required to process your reservation.