Piranha Amazon Lodge Itineraries 2020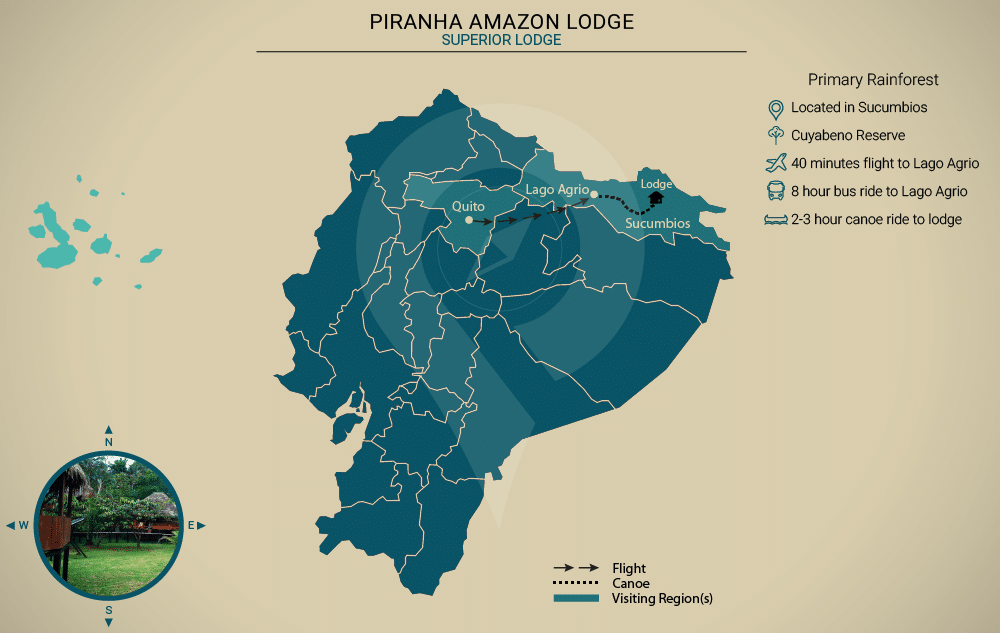 5

days
PIRANHA AMAZON LODGE
Cuyabeno Reserve
DAY 1 – QUITO – LAGO AGRIO – CUYABENO: Flight (9:15 am) or bus (trip the night before the tour – 8 hours) to Lago Agrio. Private ground transportation from Lago Agrio to El Puente. Canoe trip down the Cuyabeno river to our camp. Free afternoon. Dinner. Exciting night walk.
DAY 2 – CUYABENO RIVER: Breakfast. Walk in primary forest to learn about medicinal plants and biodiversity (flora and fauna). Lunch at the camp. Navigating the river to observe pink dolphins (conditions permitting). Return to camp. Dinner. Night canoe expedition in search of alligators.
DAY 3 – CUYABENO: Breakfast. Remo in a traditional canoe on Laguna Caimancocha to enjoy the uniqueness of nature. Lunch at the camp. Hike in the primary forest including lessons on the use of medicinal plants for survival. Before returning to camp, relaxing time in the Laguna Grande, where you can swim and enjoy the sunset. Return to camp. Dinner.
DAY 4 – CUYABENO: Breakfast. Visit the Shaman. Box lunch. Visit Siona Community Tarapuy where the naturalist guide will explain about the culture and traditions of native people. Return to camp. Dinner.
DAY 5 – CUYABENO – LAGO AGRIO – QUITO: Early morning bird watching. Breakfast. Navigating the Cuyabeno river back to the Bridge. Box Lunch. Transfer to Lago Agrio. Return to Quito by bus or plane (16h00).