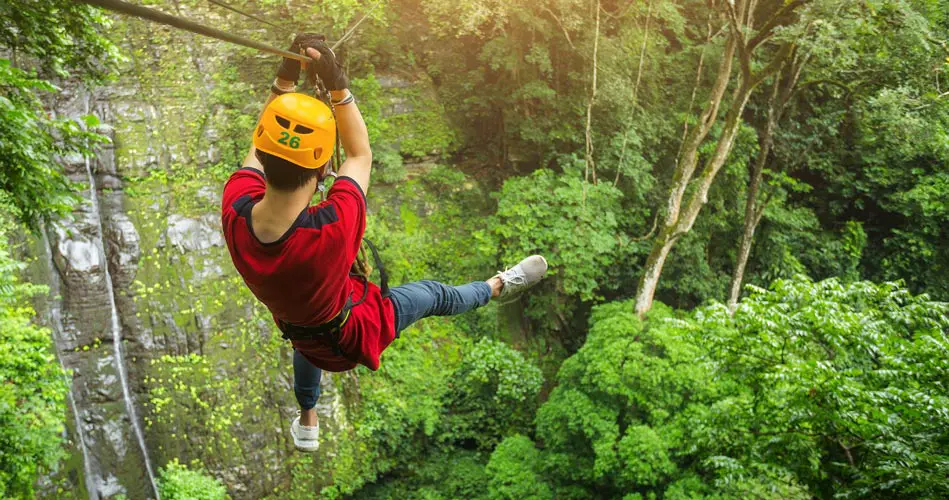 Mindo Rush Highlights 1/3
Canopy Zip Lining
Canopy Zip Lining is an amazing experience you should definitely try given the chance. Mindo cloud forest has amazing landscapes at every turn, and no better way of getting a panoramic view then from the tree tops! A safe infrastructure has been assembled throughout the forest connecting a network of Tyrolean traverse paths overlooking Mindo, the longest network connecting up to 12 different lines. An exhilarating and fun activity that will rush you with adrenaline, not suitable for the faint of heart.
Mindo Rush Highlights 2/3
Tubing
River Tubing is another invigorating way of complimenting your visit to Mindo, inflatable inner tubes will be placed in rivers, all you have to do is let the stream take you and follow along …without falling over. Guaranteed fun and excitement all supervised by local experts that know the area and rivers. Travelers can choose the river intensity they think they can handle, one way or another a fresh towel will be in order by the end of your tubing experience.
Mindo Rush Highlights 3/3
Hiking
Hiking through the cloud forest in Mindo will only enhance and add to the excitement along your tour. Activities like canopy zip lining will require about a 5 minute walk between paths, these are uneven and steep at times but completely rewarding with the amazing setting you find yourself in.
Last revision:
Jan 15, 2020
/ Valid until:
Dec 31, 2020
Certified tours by local authorities, compliant with local regulations.
Programs are private by default with certified English speaking driver-guides.
Regular vehicles used by default, a van or bus for groups above 4 guests.
Order of activities are not fixed & might change to optimize your experience.
Activities may be replaced/changed if they can be arranged in the allotted time.

Bathing suit & towel
Sport or trekking shoes
Light clothing & rainproof jacket
High factor sun block cream or gel
Bottled water to carry with you in tour
Digital camera or mobile phone
Cash for souvenirs, meals & tipping
Backpack to carry personal belongings
UV400 sunglasses with 100% UVB block
Passport copy, keep original stored in hotel
Children allowed: Yes
Children discount: 50%
Children minimum age: 6 years
Considered child: Under the age of 6
Restrictions: Accompanied with 2 adults
Discount & restrictions subject to change
View Terms & Conditions
Please check our terms and conditions for a full breakdown of applicable clauses that apply for day tour bookings.