Horseback Riding Highlights 1/3
Pululahua Crater
An impressive caldera now filled with great diversity and a small population, declared as a Geobotanical Reserve in 1966. With an altitude of 1800t to 3356 meters (5906 to 11011) feet, Pululahua stands true to its Quichua name meaning cloud of water. A rather consistent fog covering the caldera in the afternoons is one of the main attributes that nourishes the flora and fauna found in the caldera, home to a variety of orchids, mosses and lush tree vegetation.
Horseback Riding Highlights 2/3
Horses
A group of 27 horses: creole horses and several other cross-breads (as American Pinto, Andalusian, Anglo-Arab, Paso Fino, Polo Horse). All available horses are very well trained, sure-footed and forward going. Some have a gait. Horse size ranges from 1,40m to 1,68m heights (about 13 to 16 hands) and both, english and western tack is available. With this variety, your horseback riding tour can be adjusted to your individual needs, from beginner to advanced riding level, counting on some very relaxed horses but also some guys with a lot of spark!
Horseback Riding Highlights 3/3
Highlands & Fauna
The most notable feature you will notice while horseback riding in the Pululahua reserve is the impressive highland views. Rich flora and fauna with many species of orchids and tree formations cover the vast green landscapes throughout your galloping trail.
Horseback Riding Program 2019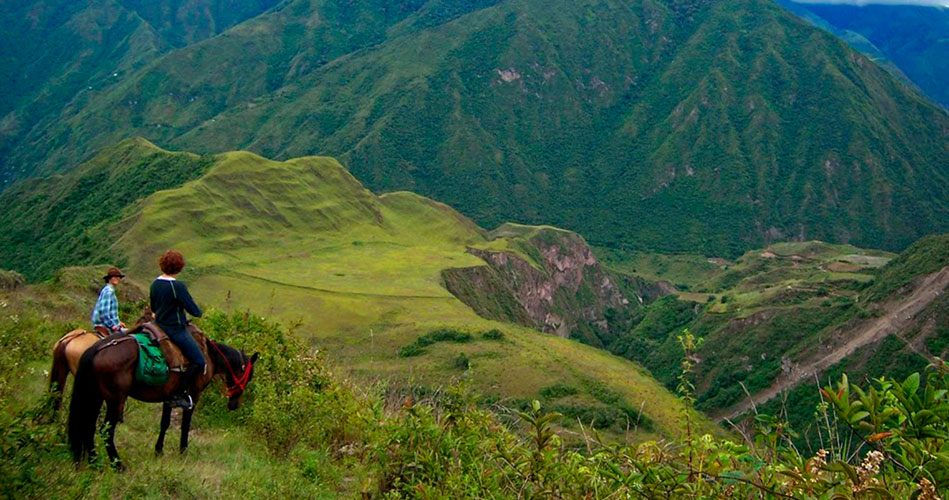 1

Day
HORSEBACK RIDING
Day tour
| | |
| --- | --- |
| Pickup: | Meeting point (magic bean restaurant, 9am) 90 minute vehicle transfer. |
| Ranch: | Reach the ranch, get acquainted with your saddled horse ready to depart. |
| Riding: | Begin your 4 hour trail of horseback riding circling the crater. |
| Lunch: | Lunch with a panoramic view of valleys & cloud forest covered mountains. |
| *Optional: | Optional photo-stop at the Ecuadorian monument Mitad del Mundo. |
| Dropoff: | Tour ends, drop off in meeting point at approximately 18h00. |
Available 09:00 to 18:00 any day of the week. *Optional stop is time & weather dependent.

Bookings are not processed on weekends. We require at least 4 days notice to properly set up day tours. Please keep this in mind before placing your reservation.