Arewarding and exhilarating horseback riding day tour that takes you to the north part of the city passing by outstanding volcanic views. Your tour starts with transportation from Quito to a ranch located inside the national reserve of Pululahua. From the ranch, robust and amiable mountain horses will take us through the stunning landscape of this ancient volcanic crater – the biggest one on the whole American continent and one of only two inhabited craters in the world – with its constantly changing landscapes and huge biodiversity. While circling the central lava cone, we witness volcanic history and nature, interesting geological formations, mineral avalanches blooming with wild orchids and traditional Andean agriculture. Riding time about 4 hours. Lunch with panoramic view over valleys and cloud forest covered mountains. Optional photo-stop at the Equator monument.
Horseback Riding Gallery
Attractions, people & surroundings
Horseback Riding Highlights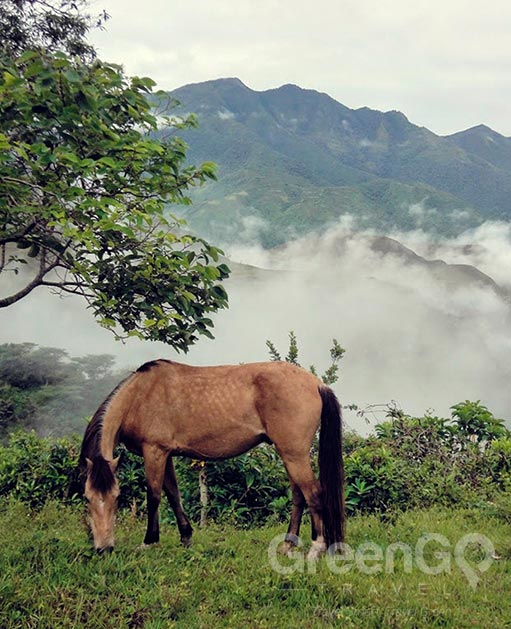 Horse out in the open

Pululahua Crater

An impressive caldera now filled with great diversity and a small population, declared as a Geobotanical Reserve in 1966. With an altitude of 1800t to 3356 meters (5906 to 11011) feet, Pululahua stands true to its Quichua name meaning cloud of water. A rather consistent fog covering the caldera in the afternoons is one of the main attributes that nourishes the flora and fauna found in the caldera, home to a variety of orchids, mosses and lush tree vegetation.
Horses
A group of 27 horses: creole horses and several other cross-breads (as American Pinto, Andalusian, Anglo-Arab, Paso Fino, Polo Horse). All available horses are very well trained, sure-footed and forward going. Some have a gait. Horse size ranges from 1,40m to 1,68m heights (about 13 to 16 hands) and both, english and western tack is available. With this variety, your horseback riding tour can be adjusted to your individual needs, from beginner to advanced riding level, counting on some very relaxed horses but also some guys with a lot of spark!
Highlands & Fauna
The most notable feature you will notice while horseback riding in the Pululahua reserve is the impressive highland views. Rich flora and fauna with many species of orchids and tree formations cover the vast green landscapes throughout your galloping trail.
Horseback Riding Program 2018
Pickup
Meeting point (magic bean restaurant, 9am) 90 minute vehicle transfer.
Ranch

Reach the ranch, get acquainted with your saddled horse ready to depart.
Riding
Begin your 4 hour trail of horseback riding circling the crater.
Lunch
Lunch with a panoramic view of valleys & cloud forest covered mountains.
*Optional
Optional photo-stop at the Ecuadorian monument Mitad del Mundo.
Dropoff
Tour ends, drop off in meeting point at approximately 18h00.
Available 09:00 to 18:00 any day of the week.

*Optional stop is time & weather dependent.



Bookings are not processed on weekends. We require at least 4 days notice to properly set up day tours. Please keep this in mind before placing your reservation.
Horseback Riding Rates 2018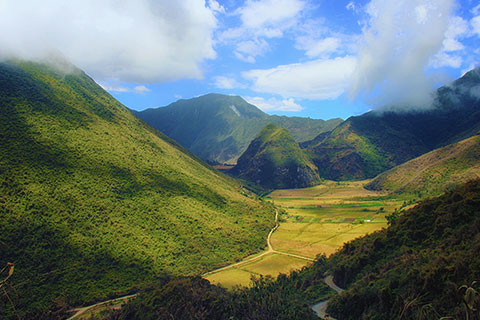 1 day – 0 nights
Horseback Riding Day Tour - Shared Nature Exploration
BOOK NOW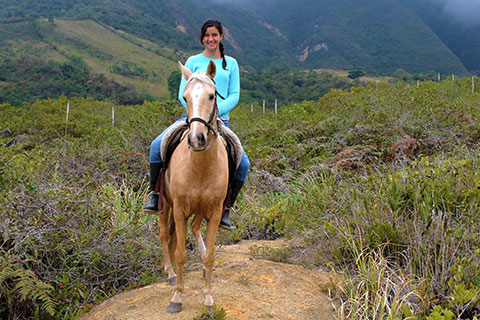 1 day – 0 nights
Horseback Riding Day Tour - Private Nature Exploration
BOOK NOW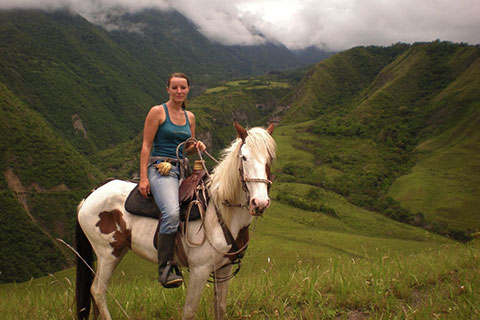 1 day – 0 nights
Horseback Riding Day Tour - Shared or Private Nature Exploration, Book Online Now
$95
private or shared tour
BOOK NOW
* To view available deals for this & other tours, check our offers
HERE
* Prices are per person, and subject to change without prior notice
* All prices are in USD
OTHER RATES, T&C, NOTICES
Itinerary

Length

Deck

Season

Cabin

Rate

No results
Horseback Riding Inclusions & Exclusions
INCLUSIONS
 

 

Transport (meeting point-tour-meeting point)

 

Horse & equipment (boots, helmets, chaps etc)

 

Certified bilingual guide

 

Box lunch & beverage

 

Activities as listed *entrance fees apply
EXCLUSIONS
 

 

Personal expenses & entrance fees

 

Tipping (optional)

 

Transfer to other locations

 

Single supplement, single guest rate applies

 

Othes meals
Last revision: 29-November-2017 / Valid until: 31-December-2018
Certified tours by local authorities, compliant with local regulations.
Programs are private by default with certified English speaking driver-guides.
4×4 vehicles used by default, a van or bus for groups above 4 guests.
Travel insurance not included! signing up means you accept responsibility.
Order of activities are not fixed & might change to optimize your experience.

High factor sun block cream or gel
Bottled water to carry with you in tour
UV400 sunglasses with 100% UVB block
Light clothing for different types of weather
Digital camera or mobile phone
Cash for souvenirs, meals & tipping
Backpack to carry personal belongings
Passport copy, keep original stored in hotel
Children allowed: Yes
Children discount: unavailable
Children minimum age: 6 years
Considered child: Under the age of 6
Restrictions: Accompanied with 2 adults
Discount & restrictions subject to change
View Terms & Conditions
Please check our terms and conditions for a full breakdown of applicable clauses that apply for day tour bookings.