Cotopaxi Summit is arguably the most popular tour for an active volcano in Ecuador, attracting climbers of all walks; all hoping to summit. Although not considered difficult among avid climbers, it is on the technical side of things, where crevasse rescue gear, ice axe, crampons and other gear are required for its ascent.
Cotopaxi Summit Highlights:
Known as the world's third highest active volcano, with a nearly perfect conical shape & only 2 hours away from the main capital acknowledges its popularity. An accredited mountain guide is required for those attempting to summit, climbs can be attempted year round, there is no precipitous change in weather where attempting to submit would be discouraged. Climbers reaching the summit are greeted with a 480 crater meters in width, a stunning surrounding landscape, the presence of fumaroles and a faint smell of sulfur and success.
Cotopaxi Summit Gallery
Landmarks, Landscapes & Surroundings
Cotopaxi Summit Highlights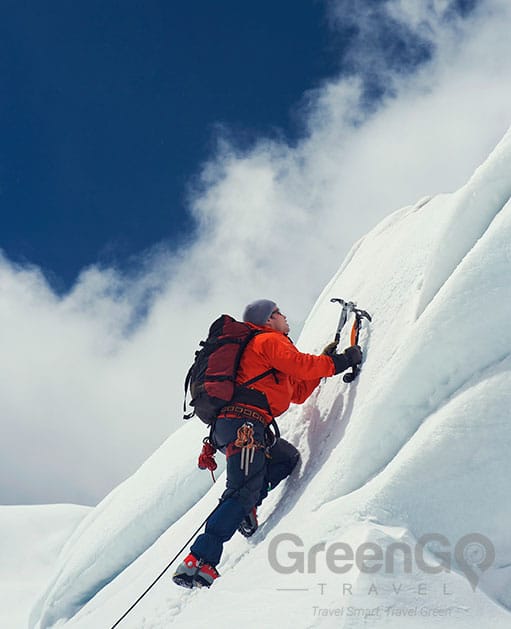 Climber with snow axe

Cotopaxi National Park

The Cotopaxi national park is a protected reserve encompassing over 333.9 km of forested surroundings with approximately 200 plant species. The area holds Cotopaxi volcano as it main attraction among other neighboring volcanoes. With an elevation of 5,897 m, the volcano is a beauty to behold and a clear landmark of the area. The park is home to many animals in wild like Andean Hawks, Condors, Horses, the Andean Fox, Weasels, birds & others. The park houses a variety of vegetation zones with humid mountain forests predominantly taking over low elevations.
Jose Rivas Refuge
A 45 minute hike from the parking lot will get you to the refuge at 4800 meters high. Built in 1971, extended in 1997 and refurbished in 2009, the refuge features a two floor construction, 50 bunks, bucket flush toilets, a fire place, lockers to store your extra baggage and gear, electricity and kitchen. The cost of staying at the refuge is included in your tour. Located in the northern flanks of the volcano, it can easily be spotted from afar on a clear day. Climbers will have a few hours sleep before departing the refuge at midnight in order to reach the summit at dawn.
Cotopaxi Volcano Summit

Summiting Cotopaxi has a positive success rate under the right conditions, acclimatizing is highly recommended and will increase your probabilities and avoid AMS symptoms. The glaciers can be reached with a 40 minute hike from the refuge. Here climbers will be briefed on the schedule and use of technical equipment to be implented the next day. The route is well crevassed to the summit, rompe corazones (heart breaker grade II/PD) is the only current route allowed. Two to three hours of steep terrain will hardly let you catch a break, with no good resting spots in sight; hence the routes name. It can take from 5 to 6 hours to summit Cotopaxi, this is based on weather conditions and pace of fellow climbers. A 2 to 1 ratio is standard, avid climbers can consider hiring a private guide that will follow their pace.
Cotopaxi Summit Program 2018
Hotel Pickup

Please be ready at your hotel lobby for an early pickup, 7h30am
Cotopaxi Park

Approximately 2 hours of travel to reach Cotopaxi National Park
Jose Rivas Refuge

Hike from the parking lot at 4550m to the refuge at 4810m. A small break & lunch
Briefing at Glaciers
An instructional briefing & use of technical equipment
Break & Supper
Return to the refuge for an early supper & a few hours of rest.
Cotopaxi Ascent
Depart the refuge at 01 am. Summiting can take from 5 to 6 hours
Summit & Descent
Enjoy the summit for 20 minutes. Descent to the refuge – 2 to 3 hours.
Quito Dropoff
Return to Quito, hotel drop off at about 3pm
Cotopaxi Summit Rates 2018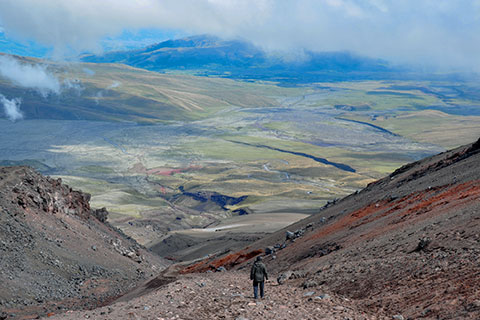 2 days – 1 night
Cotopaxi 2 Day Program - Above The Clouds - 2+ Guest
$290
shared guide & transport
BOOK NOW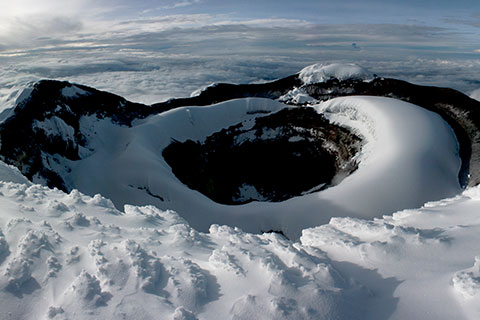 2 days – 1 night
Cotopaxi 2 Day Program - Above The Clouds - 1 Guest
$530
private guide & vehicle
BOOK NOW
* To view available deals for this & other tours, check our offers
HERE
* Prices are per person, and subject to change without prior notice
* All prices are in USD
OTHER RATES, T&C, NOTICES
Program

Length

Difficulty

Ratio

Guest

Rate

No results
Inclusions & Exclusions
INCLUSIONS
 
Transport (hotel-cotopaxi park-hotel)
3 meals (from lunch day 1 to lunch day 2)
Certified aseguim bilingual guide
Overnight at refuge, use of facilities
Climbing equipment & activities as listed
EXCLUSIONS
 
Personal expenses & *entrance fees
*Other equipment (check gear & clothing tab)
*Other clothing (check gear & clothing tab)
Tipping (optional)
Other meals
Programs shared by default with certified aseguim guides.
Entrance fee to Cotopaxi national park: free *subject to change.
2 passengers minimum required to operate, or private guidance.
Certified tours by local authorities, compliant with local regulations.
4×4 vehicles used by default, a van or bus for groups above 4 guests.
Rates are per person/ tour in US$ dollars, rates are subject to change.
Activities may be changed or canceled for weather or health conditions.
Last revision: November-30-2017 / Valid until: December-31-2018

INCLUDED
Gloves & Mittens
Ice Axe & Harness
Crampons
Carabiners
Double plastic boots (for crampons)
Gaiters
Helmet lamp
Basic sleeping bag
Basis snow-proof trousers
Basic snow-proof jacket *not goretex

EXCLUDED
First layer gloves
Wool Socks
Big backpack
Sunglasses
High factor sunblock
Bottled water
AAA batteries for head lamp
Waterproof & thermal jacket
Waterproof pants
Thermal Pants

Summit Clauses
There is no refunds if the summit is not reached.
1 – 2 ratio (1 guide for every 2 climbers), *not guaranteed.
It is recommended to consider a private guide for avid climbers.
Climbers accept applicable terms for direct summits when booking.
2nd attempts are not guaranteed, but can be pursued with the right conditions.
Foreseen reasons you may not summit
Lack of proper acclimatization or low fitness condition
Weather conditions like an avalanche risk, electrical storm & wind.
Shared guidance, fellow climber(s) cannot continue & no remaining guides.
Your guide can cancel the trek for weather or health related issues.
Please check our terms and conditions for a full breakdown of applicable clauses that apply for day tour bookings.
View Terms & Conditions