Cotococha Lodge Itineraries 2018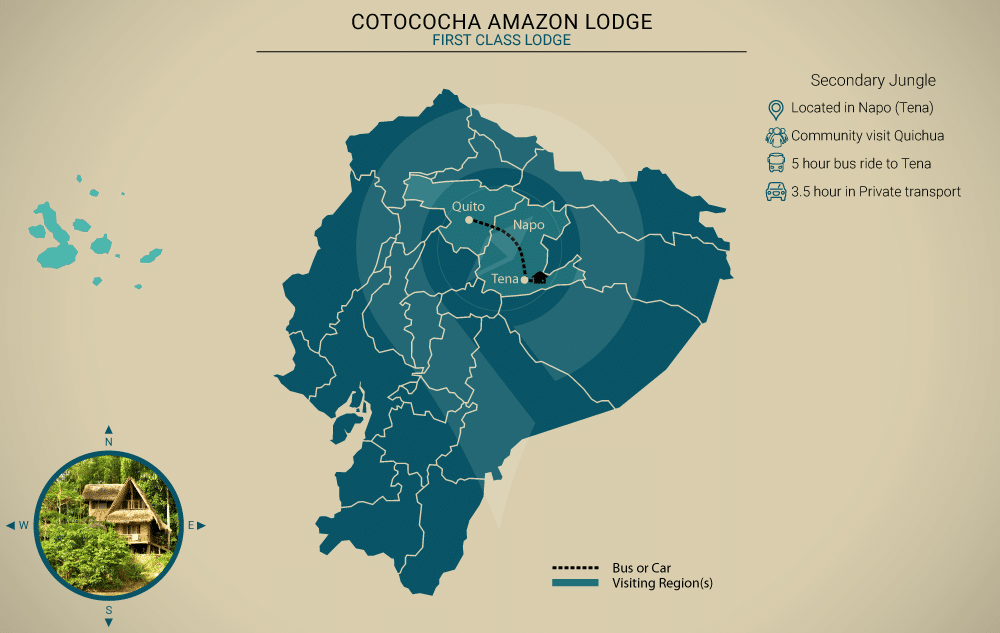 4

Nights
COTOCOCHA AMAZON LODGE
Ecuador Amazon Tour
DAY 1 – Arrival to the Lodge in the afternoon. After the long drive we can relax in our bungalow. Dinner.
DAY 2 – Early in the morning we'll have breakfast. Afterwards We will board a canoe and start our journey downstream through the enchanted Amazon Jungle along the imposing Napo River. Arrive to Arajuno River. Visit to Animal Rescue Centre "AmaZOOnico" which is specialized in the rescue of wild animals for specie conservation and reintegration into the wild.
Afterwards, we will enjoy a delicious lunch in the river shore, picnic style. We'll have the opportunity to swim in the river or just resting peacefully surrounded by a wonderful natural atmosphere.
We'll head back to the Lodge, but first we will visit a trap museum in a Quichua Community. We return to the Lodge by canoe. Dinner.
DAY 3 – After breakfast, we get ready with our rubber boots and water ponchos for 3 hours walking in a jungle forest. With an experienced native guide. We will enjoy a delicious picnic lunch in this natural surrounding. After lunch we come back and arrive to the Lodge to rest. At night, we are going to enjoy a delicious dinner and a relaxing time by the fireplace while enjoying a tropical cocktail or drink from our bar.
DAY 4 – After breakfast, we depart by canoe upstream for ten minutes, arriving to a small shore where we begin a fun and thrilling one hour walk. After our short walk, we'll find ourselves in a breathtaking cascade "Las Latas" where we will take a refreshing bath in its clear crystal waters and enjoy the surrounding views. We return to have lunch at the lodge.
In the afternoon we will visit a Quichua family and learn about their millenary culture and traditions su. After this amazing encounter with Quichua culture, we return to the Lodge by foot over secondary jungle pads. Upon arrival enjoy a snack. At night, after dinner, we will have our usual meeting around the fireplace to share our day's experiences.
DAY 5 – After breakfast, we must prepare for our drive back to the city. End of program.