Yolita Airfare Guidelines – Galapagos Flight Connections
All the details flight related to Yolita Galapagos Yacht
If you're looking for a way to cruise the Galapagos Islands in the comfort of a yacht, the Yolita should definitely be on your short list.
In this post I'll highlight the main features of the Yolita. I'll also go over how you can plan your flights for your cruise of the Galapagos based on the Yolita's itinerary. Connecting flights can be tricky, so I'll give you the exact flight information you need for a smooth trip.
Welcome to the Yolita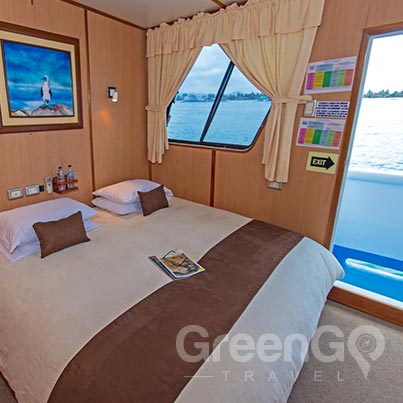 Yolita Double Cabin
The Yolita belongs to the category of "superior" yachts. That's the class between "basic" and "first class". If you're wanting to do an affordable cruise that's a step up from economy, this is the cruise to pick.
The reason to choose the Yolita is that it's known to be the most comfortable compared to the other yachts in the same category. The Yolita also provides many features not usually provided by other comparable yachts. This is the reason why a lot of travelers select this as their choice of a yacht to cruise the Galapagos Islands.
The highlights and benefits aboard the Yolita which can't be found in other cruises of the same category are:
8 spacious cabins with lower beds (as opposed to bunk beds, which is the standard in the superior class). These lower beds are convertible, which means the layout can either be a twin, or the beds can be put together to offer a double bed for couples.
An elegant dining room, lounge and bar which could be used for meals and briefings.
Seven dedicated crew members
One naturalist guide familiar with the local flora and fauna and certified by the Galápagos National Park Service.
This means that there is always someone on board to answer any questions you may be having with regard to the Galapagos cruise tour. Ultimately, the Yolita is the best in its class.
Features of the Yolita
Yoilta Meals & Activities
The Yolita offers a set of great services, especially for the price. It includes snorkel gear and wetsuits, which the other yachts in this category don't have. You'll get a much more "all-inclusive" experience on this yacht.
One thing to keep in mind is that the Yolita is a cruise intended for adults and does not allow children under the age of 10. So it's a great choice if you're planning on cruising without children. All of its services are focused on adults and you can have an amazing experience aboard it.
A comprehensive breakfast, gourmet Ecuadorian and international cuisine is prepared fresh on a daily basis. You can enjoy really great meals on board the Yolita. Paired with a great view on deck, you'll have a great experience.
If you're interested in getting to know more about the Yolita and what it has on offer for you, you can check out this webpage for more information.
Itineraries Overview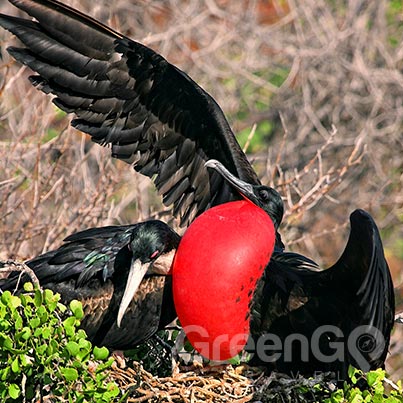 Male Frigate
The Yolita has two programs in its itinerary which helps it cater a wider audience. There are options for those who want to keep their travels short and sweet as well as those who want to make it longer.
This will let you pick a cruise based on what you're wanting to do in the Galapagos.
The Yolita has a great 8 day Western itinerary covering the Center, Western and Northern islands. This itinerary runs for 8 days only, which means there are no stops in between to load/unload passengers. This is the perfect choice if you're looking for an extended itinerary, covering as much island of the islands as possible.
One interesting fact about this itinerary is that it includes the island of Genovesa, a remote island towards the far north. This is a rare add-on in Western itineraries since it's in the complete opposite direction.
The alternate 8 Day Southern program is available in both 4 and 5 day trips. This Southern program focuses specifically on the Center, East, and Southern islands of the archipelago. Taking the full B itinerary, or the four or five day option is recommended if you're looking for islands with a lot of wildlife and wanting to avoid a lot of travel.
It's really up to you to decide on how long you want to spend in the Galapagos and how much you want to see. If you want to cover a lot of ground during your travels in the Galapagos then definitely pick itinerary A.
Seasonal Rates
Seasonal Wildlife
The Yolita has the year split down to two (kind of convoluted) seasons.
Low Seasons:
January 1st to February 28th, August 15th to October 31st and Dec 1st to December 14th, 2019
High Seasons:
June 15th to August 14th and December 15th to December 31st, 2019
Just because a cruise is available in high season doesn't mean that it has to be super expensive. You can always expect to find offers in either season, especially when booking closer to the departing date. This is of course subject to availability.
You're better off contacting the guys at GreenGo Travel. They can help you to decide on a particular tour package based on the time of year that suits you the most. For example, different times of the year will have different wildlife and animal behavior. Plan your trip based on what you want to see and experience.
If you want to catch a glimpse of the large painted locusts, the best time to see these guys is in the rainy season (March to May). The hilarious mating dance of the blue-footed booby could be seen if you come between June and August. The whale and dolphin watching season is from June to October. So you can decide on which experience appeals to you the most and try to plan your travel accordingly.
For a more detailed description of what you can see in the Galapagos, take a look at this post on Galapagos wildlife.
Yolita Airfare Guidelines

Galapagos Airline
The Yolita is really convenient for boarding and departure. Both 8 day itineraries set sail on Sunday, which is a very popular day of the week to get started and board a cruise.
The official airline to operate all Yolita's programs is AVIANCA
A & B ITINERARIES / 8 DAYS - 7 NIGHTS
Inbound Flight: #AV1632 / Departs UIO 07:15 / Arrives GPS 09:45
Outbound Flight: #AV1633 / Departs GPS 10:25 / Arrives UIO 14:50
Galapagos Airports: Starts and ends in Baltra airport
Operational Days: Sunday to Sunday
B ITINERARY / 5 DAYS - 4 NIGHTS
Inbound Flight: #AV1632 / Departs UIO 07:15 / Arrives GPS 09:45
Outbound Flight: #AV1633 / Departs GPS 10:25 / Arrives UIO 14:50
Galapagos Airports: Starts and ends in Baltra airport
Operational Days: Sunday to Thursday
B ITINERARY / 4 DAYS - 3 NIGHTS
Inbound Flight: #AV1632 / Departs UIO 06:50 / Arrives GPS 09:20
Outbound Flight: #AV1633 / Departs GPS 10:25 /  Arrives UIO 14:50
Galapagos Airports: Starts and ends in Baltra airport
Operational Days: Thursday to Sunday
Extended Visits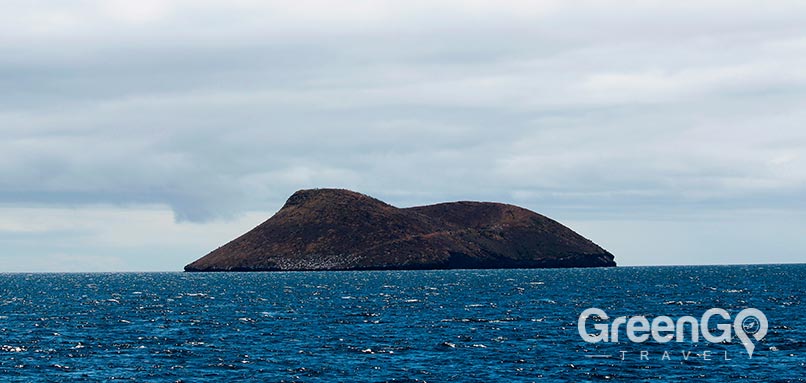 Galapagos Islet
The Yolita offers short trips so it can be combined with longer cruises, letting you explore the Galapagos even more. Extended programs can go from 11, 12, and up to a maximum of 15 days in length.
If you want any help to plan out your trip to make the most of your money, reach out to the pros at GreenGo. They'll take care of handling your trip and help you to have an amazing experience in the Galapagos Islands.
If you're already booked for your cruise, then you can check out the following articles to prepare yourself for an experience of a lifetime in the Galapagos:
Galapagos Cell Phone Coverage – A Traveler's Guide
Galapagos Clothing – What Should I Wear?
Do I Need to Watch Out for Bugs in Galapagos?
---