World Travel Awards – GreenGo travel for Ecuador's Leading Travel Agency 2021
The 2021 World Travel Awards vote has officially come to a close, with announcements of the top travel organizations across the world. Based in London, the World Travel Awards brand is recognized globally as the hallmark of industry excellence. The votes come from qualified executives working within travel and tourism and the everyday travelers from around the globe. Like the Oscars, the travel award ceremony is split into various categories – leading airlines, honeymoon hotspots,  beach resorts, car rentals, you name it. In this article, we'll be naming some of the winners of the top categories in South America.
The Winners of South America
South America's Leading Hotel 2021
The Sofitel Legend Santa Clara is a luxury five-star hotel located in one of the most beautiful destinations in South America, Cartagena, Colombia. The historical walled city was deemed a UNESCO world heritage site  in 1984, and the beautiful design and top-of-the-line amenities match the splendor of the city. If you're traveling through Colombia, no doubt the Sofitel is a trustworthy hotel for your stay.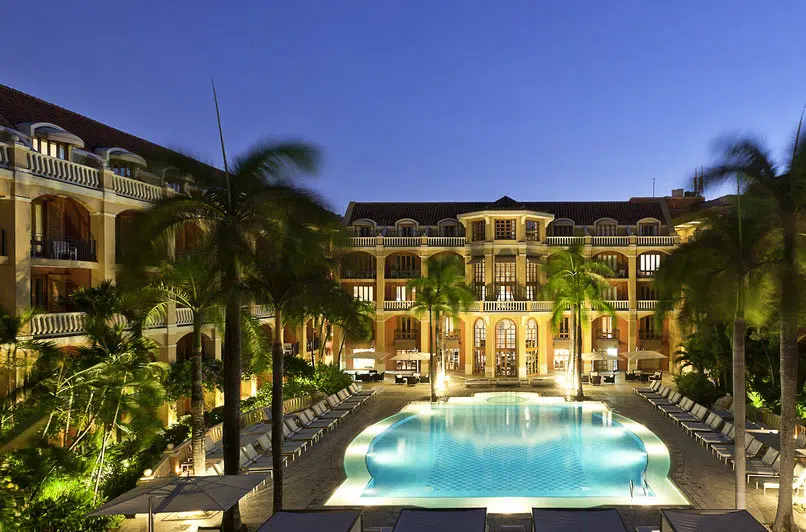 South Americas Leading Airline
The last two years have been hectic for airlines, with unruly passengers grounding flights, and massive delays due to COVID-19 and staff shortages. Airlines like LATAM were able to maintain their composure and come out on top in South America, offering clients the best in service while keeping flights going as usual during tough times.
Winner of South America's Leading Eco-Lodge
The world travel awards announced the Mashpi Lodge in Ecuador as South America's top Eco-lodge. It's no surprise, as the extravagant lodge is situated in one of the most pristine stretches of the Amazon, surrounded by a staggering 500 species of bird, countless reptiles and mammals, including monkeys, peccaries, and even puma. Eco-tourism is becoming more and more popular, as tourists look to immerse themselves in nature and experience wilderness in its purest form.  Eco-lodges mix in luxury – 5-star lodgings, delicious locally sourced meals, spas, and more – with nature, including cultural experiences with indigenous populations, nocturnal hikes, and canoe rides through the jungle.

World Travel Awards – GreenGo travel and Ecuador
Of the countries competing for the world travel awards, Ecuador came out winning many of the coveted awards, including South America's Leading Green Destination 2021, South America's Leading Nature Destination 2021, South America's Leading Whale Watching Destination 2021.
Proudly, GreenGo Travel is excited to announce winning the nomination and award for Ecuador's Leading Travel Agency 2021. Having achieved this award in the midst of a pandemic has been challenging, but demonstrates that with commitment and dedication, anything is possible! We dedicate this award to all our customers and suppliers. Although these last months have been hard, we thank all of our clients and supporters that kept our engines going, and for entrusting us with your dream holidays. This will only further motivate us to continue to work hard, and promote Ecuador and the Galapagos Islands as leading destinations worldwide!
Interested in seeing the rest of the winners for the World Travel Awards in South America?  Head over to the world travel awards page to take a look at the winners of the various categories. If you want to travel to Ecuador and the Galapagos Islands and get advice from Ecuador's leading travel agency, give us a chat and we'll show you around our beautiful country!
---