Planning an Alya Cruise in 2019 – Galapagos Cruising
When to come, the Weather, and the seasons of the Galapagos are some of the concepts within this blog. Moreover, information about booking the Alya cruise in 2019
Introduction
For this post, I've combined my own experience in Ecuador in combination with the feedback of the experienced travel agents at GreenGo travels to put together some guidance and tips for how to plan the best possible in Ecuador and for planning an Alya Galapagos cruise in 2019.
Ecuador is a hidden gem in South America that way too few people know about. It's one of the most bio-diverse countries on the planet and you could literally spend years here without coming close to seeing it all. I've been here for the past two years and still feel as if I have only seen a fraction.
One of the most unique things about Ecuador is that it's such a tiny country (4th smallest in South America), which means that all these ecosystems and adventures are packed in really tight!
When to Come
When people are deciding when to visit Ecuador, there are really only a couple of factors that usually come into play. I would argue this is more important when planning an Alya Cruise in 2019, as the seasons effect the animals and travel patterns.
Seasons back home: There are only so many times during the year when the entire family is available to vacation together. Or, you might be from a frosty area and need a break from the chill. For lots of people, this is the deciding factor. From here, it's just a matter of seeing what's available for you to do down here during this time of year. Trust me, there's always something really interesting going on.
Travel seasons in Ecuador: There are high and low seasons that will have a noticeable effect on the price of your vacation. You'll also need to book much more in advance during the high season.
Last-minute deals: Even though this is less common from what the guys at GreenGo have seen, spontaneous traveling can be a great way to pick up great prices on all kinds of travel packages. You won't have a lot of control over what you want to book (at reduced rates, anyway), but you can seriously score an awesome trip if you have the circumstances to pick up and travel on the spot. The main disadvantage here is that the large majority of tours here are sold out well in advance.
These are generally the building blocks that travelers use to plan their vacations. It's always a balance between when they're available and when's the best time to visit. This is especially true if there's a particular natural annual phenomenon that you'd love to see.
I can't help you much in determining when the most convenient time for your travels. That said, I can definitely help you out with the other factors like the weather in Ecuador, high/low seasons, and a few other travel tips that will help you to get what you want.
Weather in Ecuador
Since there are several unique climates in Ecuador, the weather takes a little bit of explaining. It's nothing like visiting Canada, with freakishly distinct scorching and freezing seasons. If you're not sure what I mean by that, try visiting Churchill in February.
For the most part, Ecuador has really awesome, mild weather. But there are also rainy, dry, warm and chilly seasons. The places where the weather will have the greatest impact on your vacation are the rain forest and the Galapagos, so let's focus on those two.
Weather in the Galapagos
The Galapagos Islands are wettest from January to June. This is also when the Galapagos is the warmest. Even though it's considered the hot and wet season, it's nothing like the torrential downpours that you might hear about in other corners of the earth. It's actually pretty tame.
If anything, you can expect that it'll be wet during the afternoon. All the extra water makes the islands explode with vegetation. This also means that there's a steady supply of food for the animals. Because of this, the wet season is a great time to see breeding rituals and nesting for a significant amount of the animals in the archipelago. For example, the ridiculous strutting of the blue-footed boobies during the mating season can be seen from June to August. Definitely Instagram-worthy!
While the land is booming with activity, marine life is a little lower than typical. The rainy season comes hand-in-hand with calmer, warmer waters, which a lot of the marine animals aren't too crazy about. While it's more comfortable for diving and swimming because of the temperature, the most interesting things are happening on land. This is also a good time for planning an Alya Cruise in 2019 for anyone that wants the calmest, most stable time on the water possible.
The dry and cool season is from July to September.
There is plenty of snorkeling in the Galapagos
The Humboldt current brings in cool water that really attracts some awesome marine life.
If you want to spend your time snorkeling and diving, this is definitely a season that you don't want to miss.
This current brings in water from deep in the ocean that can bring the temperature down by an average of about 15 Fahrenheit (about 10 Celsius).
It also pumps out an enormous amount of nutrients from those depths.
This means that the marine wildlife flourishes all the way up the food chain. If you want to see dolphins, whales, and sea turtles, this is the time to start booking an Alya Galapagos cruise for the 2019 season.
Ultimately, the best season to visit the Galapagos will depend on your interests. If you want to spend most of your time on the land, come between January and June. If underwater is where you want to be, come July to September.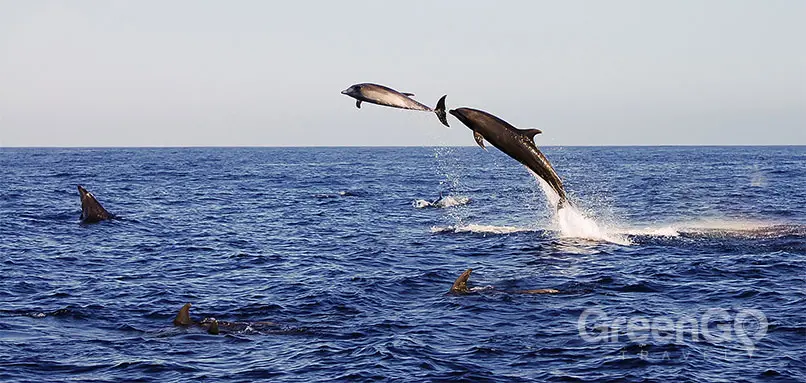 On a Galapagos vacation, you will likely see plenty of Dolphins
Weather in the Amazon
It shouldn't come as a surprise that Amazon has a lot of rain. That said, it is pretty easy to predict year-round, although this area is never truly "dry". Everything is relative.
The heavy rain season is July and August. This is when you might want to avoid the rain forest and enjoy the Galapagos instead, although some people love it. The disadvantage of coming at this time is that hiking and exploring can be pretty intense. River flows are really strong, too; the water can move really fast with this much rainfall.
The medium rain season is May to June. The rain is pretty steady, but it's manageable.
The light rain season is January to April. This is a great time to visit the Amazon since the rain isn't too bad (again, everything is relative). You should be able to go about all your planned activities without too much disruption.
The "dry season" is from the end of September to December. During this time, the rivers can drain water faster than the sky can produce it. This means that some of the smaller rivers might dry up. Some of the lodges might be hard to get to if they depend on a full-sized river for access. Rivers make for very convenient and economical roadways.
This is the best time to visit for hiking and exploring. Since the weather is so manageable, you'll be able to spend the majority of your time enjoying to the forest instead of running for cover. As long as you can get to the lodge, that is.
High and Low Seasons
High and low travel seasons are pretty similar in comparison to the US. This is because so many of the tourists visiting Ecuador are American.
For example, many Galapagos cruises are more expensive during popular travel times, like Christmas, New Year's, Easter, and summer break. In terms of how much more expensive they are, there's no set standard. For the sake on an example, though, the Alya Galapagos cruise is 25% more expensive during these times. Keep this into consideration when planning an Alya cruise in 2019.
Aside from holidays, the Galapagos doesn't have much of a high/low season distinction. If anything, September would be a low season. Many cruise ships use this month to go in for maintenance and refurbishing. This is usually a good time to look for discounts.
Planning Your Trip
The Alya deck with a nice hot tub for relaxing
That should be enough information to give you a rough idea of when would be an ideal time to visit Ecuador and the Galapagos. The "best time" to visit really just depends on what you want.
The wildlife in Ecuador follows annual patterns. If there's something in particular that you're interested in seeing, then picking a date that corresponds to wildlife in this area can really help you personalize your trip. Alternatively, the timing of your trip could also save you a lot of money.
For example, let's say you want to see Galapagos marine life and get a great deal. The absolute best time for you to come is in September when the Humboldt current brings in a ton of ocean activity. You'd be able to score a phenomenal deal for booking a luxury Galapagos cruise like the Alya and thoroughly enjoy snorkeling in a totally unique environment.
Or if you want an Amazon adventure, skip the worst of the winter and come down in February. Two weeks in an eco-lodge could be exactly what you need to break up the cold.
Ultimately, if you talk to one of the trip planners from GreenGo about what you're interested in, they'll make some tailored recommendations for you to get the most out Ecuador and planning an Alya cruise in 2019
If you want more information on what's going on when in the Galapagos, then check out this article about the wildlife.
---