How to get to Galapagos Islands✈️
Looking for an answer on how to get to Galapagos islands? Luckily, it is a pretty straight forward process, with very little hassle. However, it is important to take into account a few steps to get to the destination without any issues.
Looking for an answer on how to get to Galapagos? Luckily, it is a pretty straight forward process, with very little hassle. However, it is important to take into account a few steps to get to the destination without any issues.
Getting to the Galapagos Islands
Step 1: Flight to Ecuador
The first matter to address in getting to Galapagos is your international flight to Ecuador, as there are no international flights directly to the Galapagos Islands. The first stop will always be the South American country of Ecuador, and after a domestic flight to the Galapagos Islands (Galapagos is owned by Ecuador). With this in mind, you have to do a little research about which city in Ecuador you want to land in and potentially explore. Why is choosing the city important? Every booking company will recommend this Galapagos Islands tip: Fly into Ecuador a minimum of 48 hours before your flight.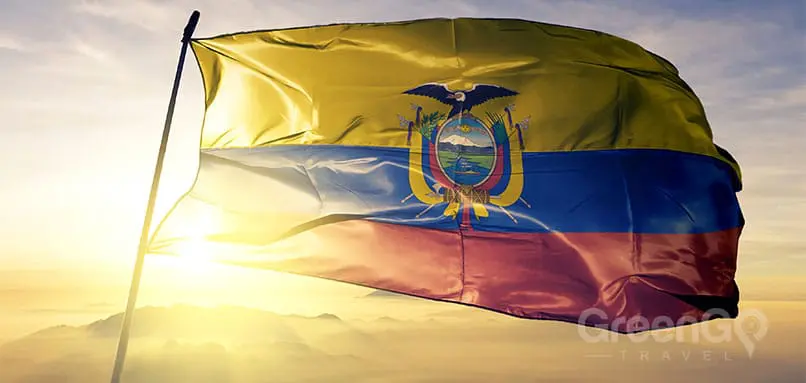 The condor perched at the top symbolizes country shelter and protection
The foremost reason for arriving early in Ecuador is to prevent any issues that may arise due to a delay in your international flight or domestic to Galapagos. Leaving early will provide you with plenty of cushion to get to your Galapagos flight on time. Once your cruise has embarked, it is not coming back for anyone!
The second reason is that Ecuador is a gorgeous destination worth your attention. Within the small country, you will find unbelievably delicious cuisine, an amazing diversity of nature (The Amazon rainforest, a landscape of snow-capped volcanoes, Islands) fascinating architecture, and captivating history. One of the best parts is that this country can be very cheaply explored, and you can see a lot in a short period of time.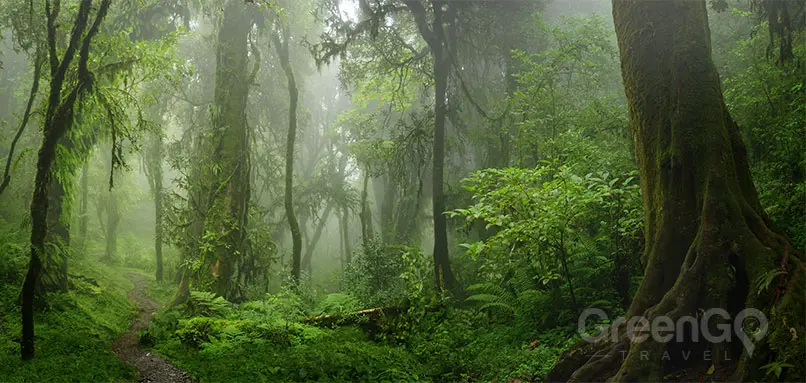 The Amazon rainforest is a bucket list destination with unrivaled nature
Step 2 Choosing between Guayaquil and Quito – How to get to Galapagos
The two most common cities to visit are Guayaquil and the capital city Quito. Each has its own charm, attractions, and reasons to visit that are explored below. This is the best way to find the top prices from your departure airport to Ecuador.
Visit the google flights website
Enter your departure airport and Ecuadorian city of choice.
Click the calendar button and then the reset button
scroll through the dates to find a date and price that fits your ideal vacation plan
Quito Attractions – How to get to Galapagos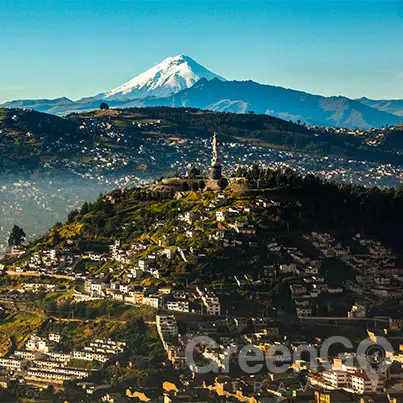 Quito, also known as the face of God
Find the fascinating citadel of Quito sitting in the clouds, above 9,000 feet (2,850 m) in altitude. This high elevation makes it a little harder to breathe, but you will have spectacular weather (not too hot, not too cold) and stunning views.
Quito is a great destination to visit, due to its intriguing history and beautiful culture. On December 6, 1534, Quito came into the dominion of Spanish rule, controlled by king Philip II. This reign would last for almost 300 years.
During this reign, a wealth of sculptures, paintings, and architecture flourished. Exploring the streets in the colonial center of Quito, you will discover remarkably designed churches and city squares. This city along with many others of Ecuador has hybridized with the Ecuadorian indigenous culture and cuisine, molding together a beautiful culture.
Must-see Sites in or Near Quito 
Banos Day tour
Teleferiqo
Capilla del hombre art museum (Chapel of Man)
Guayaquil Attractions
One of many of Guayaquil's magnificent structures
Guayaquil is the second-largest city in Ecuador and the nation's main port.
This city also was under the dominion of Spanish rule, producing a beautiful historic center full of stunning architecture.
Guayaquil is a wonderful place to visit for its superb seafood.
Take a look at encebollado and ceviche for an idea.
Visit Cocao farms and enjoy the delicious high-quality chocolate, stroll along beautiful beaches, and tour the architecture rich colonial center.
Must-see sites in Guayaquil
Guayaquil City Tour
Metropolitan Cathedral of Guayaquil
Las Peñas
How to get to Galapagos from Quito or Guayaquil?
Before reading on, it is important to know that your Galapagos tour agency/cruise line will generally arrange the flights for you. This is because the itinerary you choose dictates which airport you will fly into and out of. The price begins at 300 dollars for Guayaquil and 340 for Quito. So how do you get to the Galapagos Islands from Quito or Guayaquil?
By Air
There are daily Galapagos Islands flights running out of Guayaquil and Quito's airports. The three companies traveling to the Galápagos Islands are Tame (www.tame.com.ec), Avianca (www.avianca.com) and LATAM (www.latam.com).
There are two-morning flights daily from Quito via Guayaquil to the Isla Baltra airport. There is also one or two morning flights to the San Cristóbal airport (1½ hours). Returning flights depart midday of the same days.
Mariscal Sucre International Airport – How to get to Galapagos
If you choose to stay in Quito for at least a night, you will have already had the experience of traveling to the Mariscal Sucre International Airport. The taxi will cost roughly 20 – 25 dollars by uber or taxi depending on the location of your hotel. If you have little Spanish skills, uber is recommended, or transportation provided by cruise company if you choose this route. Most cell phone providers have an international plan you can activate, or you can ask the hotel to call you a taxi and negotiate the price.
From Quito, you will take a 50-minute flight to Guayaquil, takeoff to landing. This stop is to pick up the passengers going from Guayaquil at the José Joaquín De Olmedo airport.
José Joaquín De Olmedo airport
From the José Joaquín De Olmedo airport, without changing planes, you will immediately fly an hour and forty-five minutes to Darwin's paradise. How far is Quito to the Galapagos Islands? The distance is 1,329 km or 825 miles. From Guayaquil, the distance is 1,238 km or 769 miles.
By Sea – How To Get to Galapagos
Getting to the Galapagos Islands is possible, but there are some things you need to know. You can hitch a ride on a cargo ship from Guayaquil for approximately 150 dollars, with three days at sea. However, we don't recommend this as these ships have nowhere near the comforts of the boats you will find in the Galapagos Islands.
Departing Galapagos Airport 
Once you have arrived at one of the two Galapagos Island airports, your next moves will depend on how you are traveling. If you are going with a cruise line, you will be guided to the port by a member of the cruise line staff. They will help you with your bags, and you will be on your ship within an hour or so of landing.
If you are a backpacker going to the Galapagos Islands without a trip planned, you will take a bus that leads to a water taxi. After taking the water taxi, you will purchase a taxi trip to the main city where you can find a hostel or hotel, and start booking your day trips!
Was this helpful?  Let us know in the comments. Interested in booking a trip? Speak with one of the Greengo Travel agents, free of charge!
---