Grand Queen Beatriz Galapagos Cruise Highlights
Spend a few minutes reading this article to see exactly what benefits the Grand Queen Beatriz has to offer and what separates it from the other cruises in its class.
The Queen Beatriz Galapagos Cruise is a newly released ship (2018) to the Galapagos fleet, and it has a TON to offer.  If you are researching Galapagos ships, the Grand Queen Beatriz Galapagos cruise highlights put it at the forefront of first-class cruises.  Spend a few minutes on this article to see exactly what benefits the Grand Queen Beatriz has to offer. Additionally, learn what separates it from the others in its class.
The Yacht – Grand Queen Beatriz Galapagos Cruise Highlights
The Grand Queen Beatriz has a sleek and elegant design. For example,  the brand new wood flooring, stylish and comfortable furniture, and all in large living areas. Perhaps best of all the enticing sun deck Jacuzzi to relax in between those incredible excursions.  The Arctic Humboldt current flows into the area. Thus, water can get quite chilly despite the hot air temperature. This makes the sun deck Jacuzzi an amazing addition!
Warm up in the Jacuzzi of the Grand Queen Beatriz
A Presence in the water
The ship is one hundred and thirty-four feet long and thirty-one feet wide. It is truly a presence in the water! Therefore, it does well in combating the rocky motion of traveling through the ocean. For those of you worried about seasickness, the immense size of the ship is one greatest benefits of the Grand Queen Beatriz Galapagos Cruise
Facilities – Grand Queen Beatriz Galapagos Cruise Highlights
The facilities of the Grand Queen Beatriz Cruise is one of the primary highlights overall. The living room is spacious enough for all sixteen guests and has plenty of entertainment options. This includes a TV with a DVD player, books, and board games.
The Sun Deck
An excellent spot to enjoy the Galapagos Landscape, relax like an iguana, and soak up some rays. But don't forget your sunscreen! The UV on the equator is powerful and will burn fast! Once a week, enjoy an amazing barbeque on the deck.
Dining Room and Bar
Three times a day, you will dine on cuisine provided by professionally trained chefs. The meals are indescribably good, and you will never go hungry with the snacks between excursions.  Moreover, the bar is fully stocked and the cocktails onboard are delicious.
The food on Galapagos cruises are amazing
Accommodation –
Grand Queen Beatriz Galapagos Cruise Highlights
Standard Cabins
The design of the five standard cabins onboard the Grand Queen Beatriz is spectacular. I would describe them with four c's. Commodious, cozy, chic, and comfortable. Moreover, one of the biggest benefits of the cabins of the Grand Queen Beatriz Galapagos Cruise is that the designers thought of everything you could need.
Reading lights, a desk for charging and playing on your laptop, nice compartments to keep your clothing and personal items. They also installed hair dryers in the bathrooms.  No lugging heavy items in your luggage. There is even a safe to protect any important items.
Immaculate and stylish
Junior Suites
There are four junior suites on this ship. One of the biggest highlights of the Queen Beatriz Galapagos cruise is the private balconies. Not all first class ships have these! I had one on my cruise and I used it pretty frequently to take quick breaks. Great place to read your book, and relax with a cocktail.
Inclusions – Grand Queen Beatriz Galapagos Cruise Highlights
Bilingual National Park Guide
 Non-alcoholic beverages (coffee, tea and filtered water) available 24/7
Cabin Toiletries
All meals and snacks onboard the Queen Beatriz
Snorkel Equipment and Wetsuits
Transfers to the airport and back to the Islands
All excursions
Accommodation
Exclusions
Tips
 Alcoholic Drinks
Galapagos $100.00 Entrance Fee
$20.00 Galapagos Control Card
Round trip Flights
Amazing variety of Itineraries – Grand Queen Beatriz Galapagos Cruise Highlights
After being on two Galapagos cruises, I can highly recommend to all future guests that itinerary and Galapagos Island choice be a top research priority.
Lucky for you, one of the great benefits of the Grand Queen Beatriz Galapagos cruise is the variety of itineraries. Additionally, there are numerous duration options. There are four itinerary choices. Two them can be broken down into smaller duration cruises of four or five days.
Not every guest is the same, and some don't want to be on a ship for longer than five days.  I think that in five days you can see an incredible amount of the Galapagos Islands. However, you could also go ten times on eight-day cruises and not see it all. It all depends on how long you are willing to stay on board!
Another great aspect is that all of these itineraries hit islands that have tons of wildlife! You will see a lot of new creatures every single day.
Below, I will go into all the itineraries. I will only be discussing a few of the highlights, as there is much to be seen, For full details, see the Queen Beatriz Cruise Page.
Itinerary A: Four, Five, or Eight Days
Penguins on Las Tintoreras
Highlights include snorkeling the clear waters of Punta Carrion, witnessing the shark colony of Las Tintoreras, and viewing the wall of tears. You will visit the wildlife abundant Floreana with it' many sea lions.
The Charles Darwin research center sits on Santa Cruz. You will learn about conservation efforts and breeding methods. Following, watch the adorable and playful sea lions pups of Sante Fe. Additionally, you'll view one of the largest settlements of Galapagos land iguanas.
Later, visit Espanola Island with amazing snorkeling.
You will see reef sharks, turtles and many species of tropical fish, including surgeon and angelfish.
Snorkeling on kicker rock is one of the best snorkeling destinations on the planet. You will see all sorts of amazing creatures! This is one of my all-time favorites in the highlights of the Grand Queen Beatriz
Itinerary B: Four, Five, or Eight Days
Showing off his impressive neck for the ladies
Highlights include walking the Moon-like landscape of Bartolome Island, the powder-soft Espumilla beach and observing the fascinating history of Buccaneer cove.
Visit the Charles Darwin research center of Santa Cruz, and later see boobies, frigatebirds, and sea lions of North Seymour Island.
Additionally, you will tour the amazing island of Rabida with its red sand beaches, unique animals, and vivid colors that will leave you breathless.
The last day has one of the best beaches on the planet. Bachas beach possesses the beautiful Galapagos flamingos and the softest sand I've ever felt!
Itinerary C: Eight days
Witness giant Galapagos tortoises feeding in their natural habitat on Santa Cruz in the misty cloud forests. On South Plaza Island, marvel at the land iguanas, sea lions, Galapagos Hawks, marine turtles, and lava lizards. The snorkeling here is also spectacular!
The island of Española has almost the entire world's population of waved albatross, with 12,000 breeding pairs! Additionally, you will see the incredible booby colonies here. Other hotspots include San Cristobal, Bartolome Island, and Santiago.
Itinerary D: Eight Days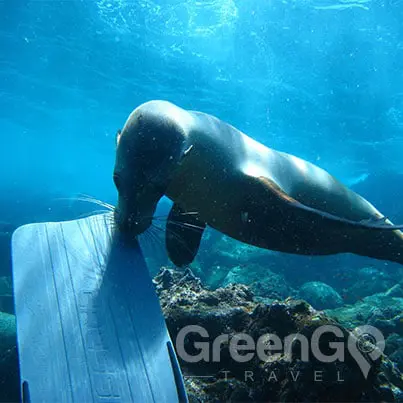 These sea lions are always curious to see snorkelers
Visit the highlands of Santa Cruz, the Frigates and Boobies on North Seymour.
Paddle through the sea turtle and shark breeding areas of Black Turtle cove.
See the gorgeous lagoons of Rabida Island full of wildlife.
Swimming with many sea turtles is one of the highlights on Isabela Island.
On Floreana, you will see the marvelous pink flamingos in their natural habitat and waters full sharks, turtles, and more.
Important Note on Itinerary C and D
With the eight-day itineraries, you won't be stopping to gather new passengers. Thus, you'll maximize your time with fun excursions!  During the day, you will be participating in three activities a day include hikes and snorkeling excursions.
Final Notes – Grand Queen Beatriz Galapagos Cruise Highlights
If you are considering a Galapagos first-class cruise, the benefits of the Grand Queen Beatriz Galapagos cruise make it a top choice. Picture yourself sitting on a private balcony as you voyage to the next island, sipping a professionally made cocktail, right after eating one of the best meals of your life.
Sound like a good deal?  Talk to the Greengo staff and plan your dream vacation!
---