Galapagos versus Hawaii (Infographic)
Choosing between the Galapagos Islands and Hawaii is a difficult choice. In this blog, I'll go over some of the highlights of each and let you make your decision.
The Islands of the Galapagos Archipelago and Hawaii are both desirable dream vacations. I was fortunate enough to spend a week on the Island of Kauai in Hawaii, and then a few years later experience an amazing adventure voyaging the Galapagos on a Cruise Yacht.
Although these trips were similar in that they are full of beauty, they truly felt like they were on opposite ends of the spectrum because of their differences. Either trip you choose, it is impossible to have a bad time. So in this blog, I am going to help you choose between the two.
Galapagos
Snorkeling in the Galapagos
A vacation to the Galapagos Islands is a trip for those who are seeking a visually stunning adventure full of excitement and luxury.
There are few places on earth that compete with the Galapagos in witnessing the spectacular.
You will observe remarkable creatures and roam along with breathtaking hikes.
Pristine snorkeling trips amongst the coral reefs will put have you in an underwater Atlantis teaming with life and vivid color.
And when it comes times to rest and voyage to a new island, you will be aboard an elite luxury cruise comfortable beyond measure with staff to cater to your every need.
In terms of cruises, Galapagos is the champion.
Maximize your Galapagos Experience
The ultimate way to experience the Galapagos Islands is aboard a Yacht or Catamaran. There are many different itineraries and vessels to explore the Galapagos.  Each one of these is unique, but they all provide excitement-fueled adventure.
You will be choosing ships with varying capacities, anywhere from under sixteen and up to one hundred. My vessel had about forty guests. Although it may seem like a lot, the ships are spacious enough that you never feel crowded, and you are split into smaller groups for adventures!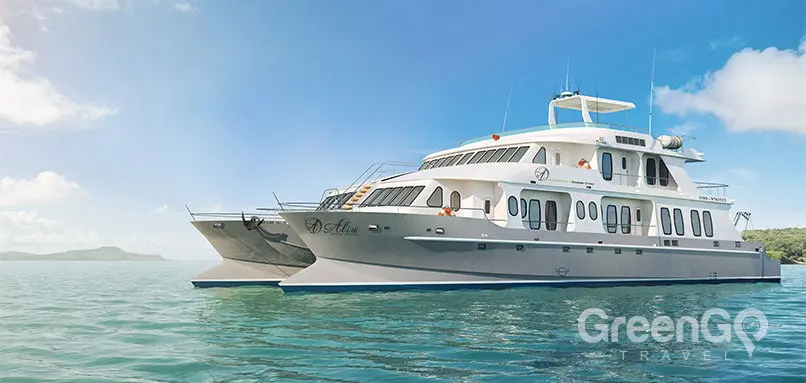 Alya cruise ship on crystal waters
Daily Activities
Generally, your day will include three or four daily excursions on different islands of the Galapagos. These excursions include snorkeling, (Glass bottom boats are available for those that prefer not to swim but still want to see the reef) trekking, and visiting areas where you will witness many striking creatures. After all this activity, you will be exhausted. This is where the facilities and amenities on the ship shine.
Facilities and living areas
Many Galapagos cruises have heated Jacuzzis, astonishing private balconies, top of the line sun decks for relaxation, and gyms to get in a quick workout. Three meals will be prepared each day, where you dine on cuisine prepared by professional culinary experts. I have to say, you will be sincerely excited to eat because these chefs are unbelievably talented. I honestly have never eaten so well in my life. On my cruise, the buffet-style breakfast looked like something out of a movie, as there were so many options to choose from. In the Galapagos versus Hawaii debate, I say the food wins on these cruises over Hawaii.
During cocktail hour and after dinner, you can enjoy beautifully crafted cocktails or fine wines in one of the many extravagant living areas. It was during these hours I had the opportunity to converse and become closer to my family after being apart for some time.
Cabins
I've been on both a typical Carnival cruise and a Galapagos cruise. The Galapagos cruise cabins absolutely blow the regular cruise cabins out of the water. These luxury cabins are truly like hotel rooms, but with a better view that keeps on changing! You will have air conditioning, hot showers, sizable and comfortable beds, and electrical outputs to charge all of your technology. Although we didn't spend very much time in the rooms as we were out exploring, the time spent was very cozy. These shorts periods spent in the room were mainly for a quick recharge and a few minutes on Wi-Fi to post pictures and connect with friends across the world. For sleeping purposes, I was out like a baby along with the rest of my family!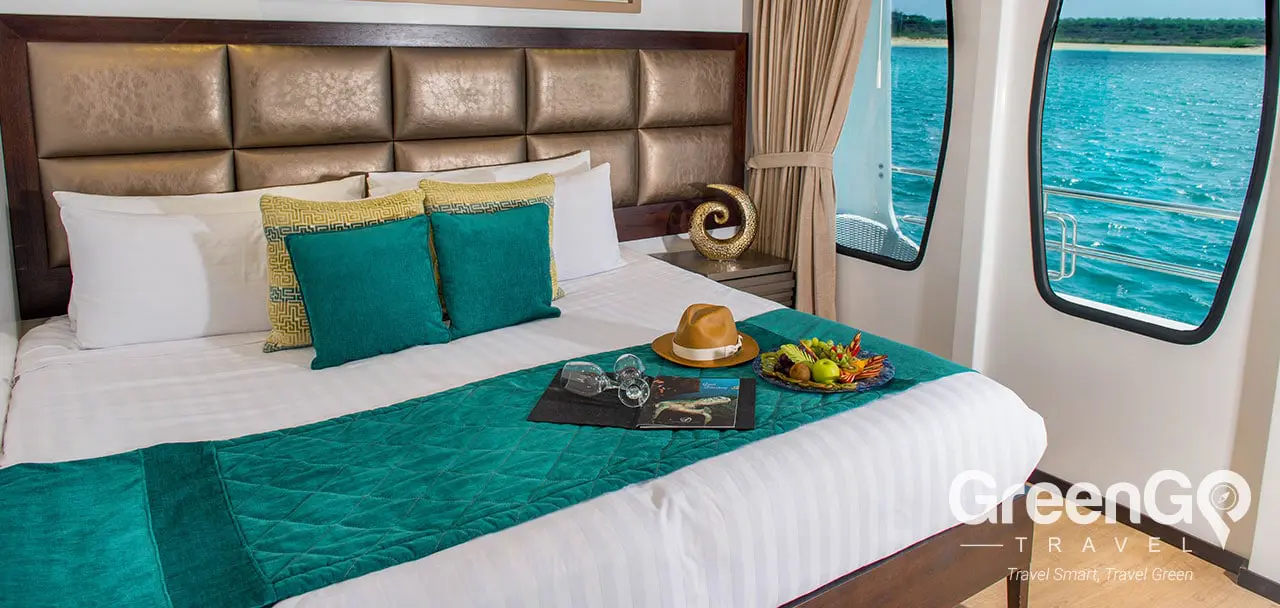 Beautiful cabins are provided by all cruise ships
Free inclusions
When you book these cruises, you generally have numerous free inclusions. The best is the free stays at five-star hotels in the big cities before and after your trip. Moreover, most cruises provide basic snorkeling equipment and wetsuits. Lastly, you will have free professional assistance for any airport transportation.
Hawaii Introduction
If your sole desire in a vacation is to relax on the smooth sands of a stunning beach with a cocktail in hand, you may want to look into Hawaii. This trip is a major upgrade from the regular beaches you may have visited in the past, as Hawaii boasts some of the best on the planet. All within the same day you can take surfing lessons with your travel companions, explore a land jam-packed with giant waterfalls, and enjoy the Island culture by dancing and feasting at a Luau.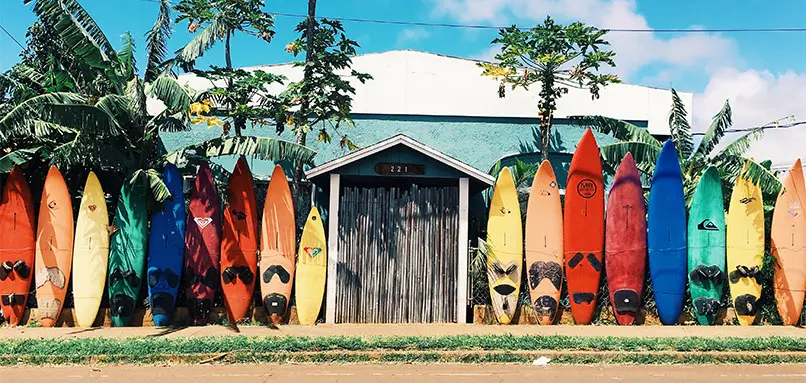 Beaches, Nightlife, and Waterfalls
Hawaiin is filled with gorgeous waterfalls.
Waterfalls
have always captivated travelers for their magnificence, and Hawaii is full of them.
Many of these thundering waterfalls include amazing hikes that lead to the base where you can cool of in the cool waters.
If Luau dancing and barhopping is something you are looking for, Hawaiian nightlife is spectacular!
You will find a plethora of tropical cocktails and exotic bars for a long entertaining night. Here you can also meet interesting locals and learn about the culture.
If there is anything to brag about these Islands, the Hawaiian beaches are definitely at the top. The tourism business in Hawaii on all the islands is thriving. Because of this, the beaches are not only naturally gorgeous but also very well maintained. It is hard to top lying on the smooth white sands of the Hawaiian Islands with the azure waters ahead if relaxation is what you are looking for.
Comparison
Whatever trip you choose, I find it hard to believe anybody could be disappointed. However, I will try my best to make the option easier by describing some important aspects of the trips that could tilt your decision in deciding Galapagos versus Hawaii
Wildlife in Galapagos versus Hawaii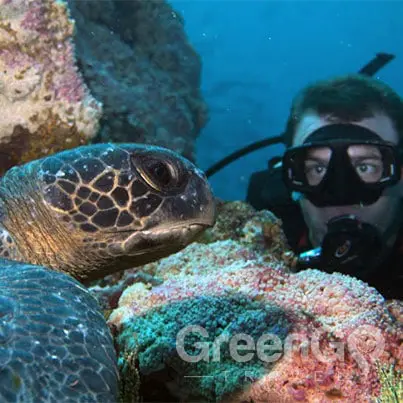 Fearless animals of the Galapagos
One the best benefits that the Galapagos Islands has to offer in the Galapagos versus Hawaii comparison is the
unrivaled diversity of animals.
These creatures have been evolving without interruption for thousands of years. Because of this, you will be able to get extremely close to the animals.  Closer than anywhere else on earth!
To say that the Hawaiian Islands do not have wildlife would be a lie.
It is even the first place that I ever got to see a whale! Nonetheless, the exposure that you have in the Galapagos Islands is unparalleled. It is up there with the big boys such as the African Safaris in Kenya.
 Adventure in Hawaii versus Galapagos
Along with this diversity comes the unbeatable thrill of adventure.  There are so many incredible places to see. Thus, you will never be bored, not even for a moment. One of the main issues that the Hawaiian Islands have is that unless you choose one of the larger islands, your adventure options are limited.
After you visit two or three waterfalls, take a surfing lesson, and go snorkeling, you may be itching for the next activity. Normally, a snorkeling adventure will cost one hundred dollars per person. However, in the Galapagos, you are going every day! These adventures are never-ending, and you avoid the "antsy" feeling that creeps in after a few days of a long vacation without activity.
 Galapagos versus Hawaii- All inclusiveness
Instead of planning your trip day-by-day, hotel-by-hotel, and activity-by-activity, a Galapagos cruise prepares everything for you. It can be difficult to plan a trip from scratch, especially when there is input from the whole family. With the Galapagos, you only have to decide on the ship, the capacity, and the itinerary that interests you the most.  For some of the best deals and offers, check out this link
Although there are many choices in itineraries and ships, you can easily narrow down what interests you in a few days and have your trip planned quickly. An important factor worth mentioning is that although Galapagos is adventure packed, all age groups can enjoy. We had all age groups aboard my cruise, with adventurers up into their seventies and eighties enjoying the trip and experiencing the wildlife.
Beaches and Relaxation
The locals of the Galapagos Islands
If there is one factor in the Galapagos versus Hawaii debate that Hawaii has an upper hand in, it is the beach atmosphere.
There are many of the beaches in Galapagos that are equal in beauty, however, they are left for the creatures to inhabit. You will not find a waiter bringing you a strawberry daiquiri from a tiki hut with beach chairs fifty feet from the water.
That will be waiting for you on the cruise as you move onto the next destination!
Many travelers fly to Hawaii for honeymoons and relaxation. You can easily read a book or two on the beach, and soak up the sun for long stretches of time without moving an inch.
If you are looking for pure relaxation and nothing more, Hawaii might be your best bet. If you are looking for something where adventure is sixty percent adventure and forty percent relaxation, Galapagos is for you!
Galapagos versus Hawaii. Which do I choose?
When it comes down to it, this is truly a matter of preference. If you want a genuine adventure that also allows for relaxation, the majority of people, my self-included, agree that Galapagos is unbeatable. My grandparents have been on all seven continents and visited over one hundred and fifty countries, and the Galapagos is in the top three. (Amsterdam in spring and African Safari two and three) I haven't been to this many, but I must say I agree. It is truly a destination that holds a place in the hearts of all visitors. After visiting, you will have unforgettable memories to cherish forever.
Check out some of the Galapagos experiences and reviews other visitors have had on their Galapagos Cruises.  As you scroll through the website, you will notice a chat box pop up.  Ask any questions and the GreenGotravel staff will be happy to answer!

Did you find this article helpful? Are you considering a holiday in the Galapagos? Our trip advisors are here to help! We have the fastest & most efficient service in the market! Our travel planning services are free, with no payment or commitment involved.

Speak with a trip advisor today
Your dream holiday is a click away!
---