Elite Galapagos Cruise in 2019 – What to Expect
The Elite Cruise made all the improvements from the widely popular sister ship the Endemic. This cruise is now to top of the line on the waters. Read over basic information and itineraries and start planning today!
The Elite Galapagos catamaran is brand new vessel that was launched in the summer of 2019. A sister ship of the already popular Endemic, this vessel was specifically built to cruise the Galapagos.
This catamaran, along with its itineraries, are all planned based on the successes of the Endemic. The result is a refined experience aboard a state-of-the-art vessel.
There is no such thing as the "perfect" cruise for everybody. Every individual has different tastes, needs and preferences. So instead of trying to sell you on a particular itinerary, in this article I'll walk you through a series of guidelines that will help you pick out what works best for you.
As a general outline, here are the most common factors that influence a decision when it comes to picking out an itinerary:
Starting day of the week
Available lengths
Islands included in the program
Full navigable vs connected itinerary
Availability
Elite Galapagos Cruise in 2019 – Starting Day of the Week
The Galapagos is an extremely regulated area. Learn more about some of the rules that help preserve the magic of the park. With so many endemic species in such a tiny, delicate area, it needs to be. It's this tight regulation that's keeping tourism in this area sustainable.
This is why Galapagos cruises are nearly set in stone. To prevent damaging the ecosystem, the park authorities carefully monitor and regulate how concentrated tourism is in any particular area.
In other words, cruise launch dates, duration, and routes are closely scrutinized and run on a weekly basis. A particular itinerary will start on the same day of the week, year-round.
For people with a limited amount of vacation time, this often plays a large role in how they can maximize their time in the Galapagos. By coordinating weekends and holidays, you can usually squeeze in a little extra exploring in this unforgettable area.
Available Lengths
A standard cruise in the Galapagos is 8 days, but there are a few options if that doesn't suit you. Some programs are also offered in half itineraries of 4-5 days in length, and others can be combined to make for a total of up to 15-day cruises.
The Elite has four different programs to give you as much flexibility as possible. It has the standard 8-day 7-night cruises, as well as the shorter 4-day 3-night and 5-day 4-night itineraries. Some of the itineraries can also be combined for longer stays.
Which itineraries can be combined will depend on the order of the programs. A GreenGo travel advisor can help you work out when these programs are scheduled so that you can know what can be combined.
Islands Included in the Program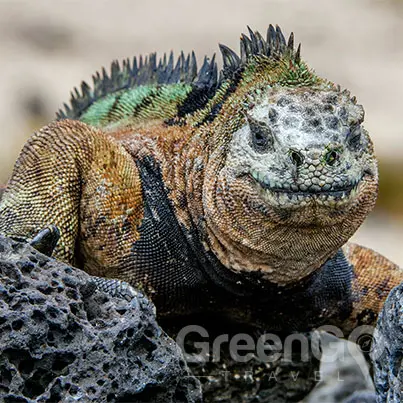 Although ugly, they are quite elegant in the water!

Each itinerary will take you to different areas in the Galapagos, with very minimal overlap.

The Galapagos is an archipelago of 21 different main islands, along with a few small islets. What's really cool about this is that there are many species that are entirely endemic to a particular island.

That means that each island is a totally unique experience. For planning trip, take a close look at what each individual island offers so that you can coordinate your personal interests with the ideal itinerary for you.

For example, ridiculously ugly marine iguanas can be found in different colors on different islands. Other islands are full of Galapagos penguins. Some areas have amazing volcanic hikes, others are known for great snorkeling and marine life like large schools of sharks.
Full Navigable vs Combined Itinerary
Full navigable means that there are no stops to load/unload new passengers. A combined itinerary has at least one stop on the way.
The advantage of a full navigable program is that you're not wasting any time at port. Your entire adventure is spent enjoying the Galapagos to the full.
The advantage of a combined itinerary is greater flexibility. You have way more options in terms of start and end dates.
Even with a combined itinerary, though, you won't be left bored while you wait. The ports are full of interesting shops and local people that can enrich your vacation in other ways. Really it all comes down to your personal interests.
Availability –
Elite Galapagos Catamaran
Early bird gets the worm. Don't miss out on views like this.
Popular cruises aboard ships like the Elite have pros and cons.
The obvious advantage is that you know they're great, otherwise they wouldn't be popular.
The disadvantage is that you will probably need to book way in advance.
Some cruises are fully booked well over a year in advance during high season.
In other words, if you're looking for some great last-minute deals, you'll probably have really limited options.
This just means that you'll have to balance the benefits of a good discount with how open (or not) you are to losing a bit of control over what you'd like to do in the Galapagos.
Itinerary Overview – Elite Galapagos Catamaran 
With all that said, let's take a look at the highlights for what's offered with the Elite Galapagos Cruise in 2019.
Itinerary A
This program is available for eight days only, meaning that it can't be split up into shorter cruises. Less control over your start and end dates also means that you're spending more time enjoying nature.
This itinerary will cover a lot of the Galapagos. It starts with the eastern island of San Cristobal and extends to the far west. This includes Fernandina Island, which is understood to be the youngest island in the archipelago.
A high-level overview of this program is that it consists of a lot of time cruising the water, and gives you one of the most varied programs available in terms of what you'll see. Since you're covering islands on opposite ends of the Galapagos, you'll get a really unique contrast of flora, fauna, and landscapes in the islands.
Nothing but crystal waters and sapphire skies on Gardner bay
Itinerary B
This itinerary is extremely flexible in terms of planning. Take either the full 8-day program or you can split it down the middle. The two halves of this connected itinerary are identified as itinerary C and D respectively.
Itinerary C
Despite being the shortest itinerary of only 4 days and 3 nights, this program has great value for the amount you're spending. It covers some of the most popular islands and you'll see some of the Galapagos' most iconic animals.
Compared to other short itineraries, this one will give you the fullest view of the islands. This 2019 Elite Galapagos cruise itinerary is suited for people that want a quick glance of the islands and catch all of the main attractions.
Itinerary D
This 5-day 4-night itinerary will start you off in the central islands, heading North. In the highlands, you'll very likely get to see lots of giant tortoises in the wild. Heading North to Santiago island, you'll get amazing, scenic landscapes and get acquainted with the land iguanas and other endemic species in this area.
The last stop is the remote island Genovesa, which is known as a bird paradise. If you want a short but balanced itinerary that focuses equally on land and marine life, then this is a serious contender.
Ultimately, though, there's no "wrong" choice for touring the islands. Each area offers a truly unique experience that you won't find anywhere else on the planet. With a place as isolated and individual as the Galapagos, you'll get an adventure that you'll never forget.
Almost to the end, with two last things! Make sure your Galapagos travel and flight plans go smoothly.
This guide will help book your passage to the Elite Galapagos Cruise in 2019 in the most efficient and safe way possible.
Lastly, if If you want to get to know the Elite better, both in terms of the ship itself and the itineraries it offers, you can find the complete information page here.
---